Shaheen Bagh spurns Delhi ban orders
Govt to invoke Epidemic Act to clear gatherings of 50 or more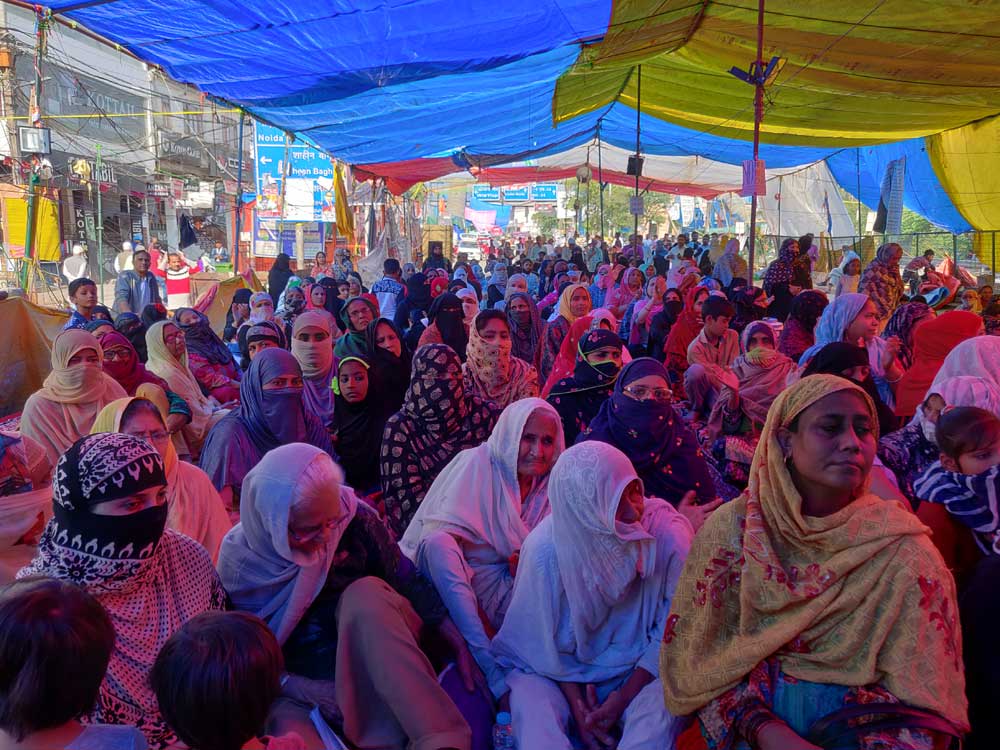 ---
---
Protesters at Shaheen Bagh have summarily rejected Delhi government's order to limit gatherings to 50 people or less, potentially setting up a confrontation with authorities likely to invoke provisions of the Epidemic Act to try and clear the sit-in.
'Inko sirf behkana hai… kabhi nahi uthenge (They just want to mislead... We'll never leave),' said nonagenarian Asma Khatun, who is part of the triumvirate of "Dadis of Shaheen Bagh".
Bilkis (82) and Sarvari (75) are with her on this, saying the only thing that would make them disband the protest would be the government repealing the controversial Citizenship (Amendment) Act or CAA.
'Humare bacchon ko marwa diya, maaon ko jalwa diya (They got our children killed and got their mothers burnt),' said Sarvari, asking where chief minister Arvind Kejriwal was when "we Muslims" were being killed in Delhi.
'Sau bandook chala lo tab bhi nahi marenge jab tak khuda nahi chahega (We won't die even if you fire 100 guns),' added Khatun.
Sit-in protests against the controversial act, deemed to be discriminatory while granting citizenship to persecuted religious minorities of select neighbouring countries, have been continuing at Shaheen Bagh and Jamia Millia for over three months now.
Since then, however, attendance at Shaheen Bagh has thinned to a few hundred all of whom are easily accommodated under the tent that had been erected at the site. Those manning the stage at the site, however, claimed that crowds swelled significantly during the evening when people return from work and join the sit-in.
The Shaheen Bagh gathering has inspired several groups to undertake similar protests in Delhi and other parts of the country. In Delhi, at least 10 sit-ins are being held at Hauz Rani, Inderlok, Shahi Idgah and many other areas in Old Delhi. In violence-hit north east Delhi where protests were being held in seven localities, only one sit-in is still on at Seelampur.
'We don't fear coronavirus. We fear this black law. We fear separation from our loved ones. When we won't have enough proof and documents, then children will be separated from their parents, wives from their husbands,' Noor Jahan said while addressing Monday's gathering on loudspeaker to loud cheers.
Earlier in the day, Delhi chief minister Arvind Kejriwal told reporters that his government had banned religious, social, cultural and political gatherings as well as protests comprising more than 50 people in the national capital until March 31 on account of the coronavirus threat.
He also clarified that DMs and SDMs had been instructed to take action against those who did not comply with the government's in line with the Epidemics Act.
Under the act, first enacted when bubonic plague struck Bombay in British India, a state is accorded special powers to contain 'any dangerous epidemic disease'. Those who violate government measures can be punished under IPC Section 188 leading to a fine and imprisonment.
The Delhi government, which had shut down cinemas and malls earlier, also closed down gyms, nightclubs and spas till March-end.
Kejriwal also said that the government would take measures to disinfect auto-rickshaws and taxis free of cost to prevent the spread of the disease. Metro coaches and public buses were already being cleaned and disinfected every day, he said.
According to the Union health ministry officials, the number of coronavirus cases in India has risen to 114. The figure includes 13 people who have been discharged after they recovered and two fatalities.
Delhi has so far reported seven positive cases.
Shaheen Bagh ki Auratein have rejected @ArvindKejriwal govt's order restricting gatherings, including protests, to 50 or less #ShaheenBagh #ShaheenBaghProtests @Shaheenbaghoff1 pic.twitter.com/Ndm05F4W5P

— فرقان أمین | furquan ameen (@furquansid) March 16, 2020