What's behind the rise of public pujas in Bengal?
Populist politics mean year-round pujas and festivities in Calcutta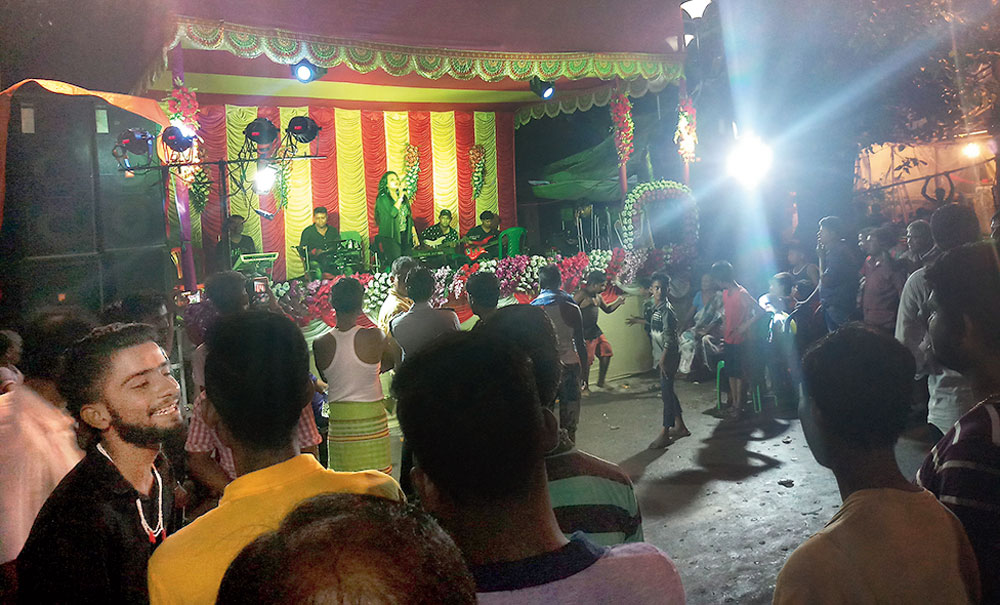 Baba Loknath birthday celebrations at Belgachia
Image: Swati Chakraborty
---
Published 23.02.19, 05:21 PM
|
---
In February, on the occasion of Saraswati Puja, a culture club in Canning in Bengal's South 24-Parganas ordered a 45-foot high idol. "The head alone measured eksho aangul or a hundred fingers [an artisans' measure]," says Prasun Dey, an artisan from Kumartuli, the idol-makers' hub in north Calcutta. He continues, "This is the first time I got to work on such a huge idol. The craze for big Saraswati idols was a new thing this year. Most of the para [neighbourhood] clubs ordered idols that were over 10 to 12 feet in height. In fact, the sale of smaller idols dipped a little this year."
Dey's surprise must be read in conjunction with the fact that Saraswati Puja in Bengal has always been a quiet, domestic affair. It never had the ostentation or public appeal or the attendant commerce that has for long typified Durga Puja.
The meeting with Dey takes place after Saraswati Puja. That day Kumartuli looks deserted — shops shut, hardly any people around. Says Dey, "They are taking a fortnight's break. Everyone will be back a week before Dol [the name for Holi in Bengal] and start work on Bal Gopal idols."
Like giant Saraswatis, puja pandals for Bal Gopal or the child Krishna were also hitherto unheard of in these parts, but no one is batting an eyelid now. Indeed, BJP president Amit Shah's quibble notwithstanding — he had accused the Trinamul Congress (TMC) of not allowing immersion of Durga idols and also claimed that schools in Bengal had not been allowed to celebrate Saraswati Puja — the last five years have witnessed a proliferation of all manner of public pujas in Bengal.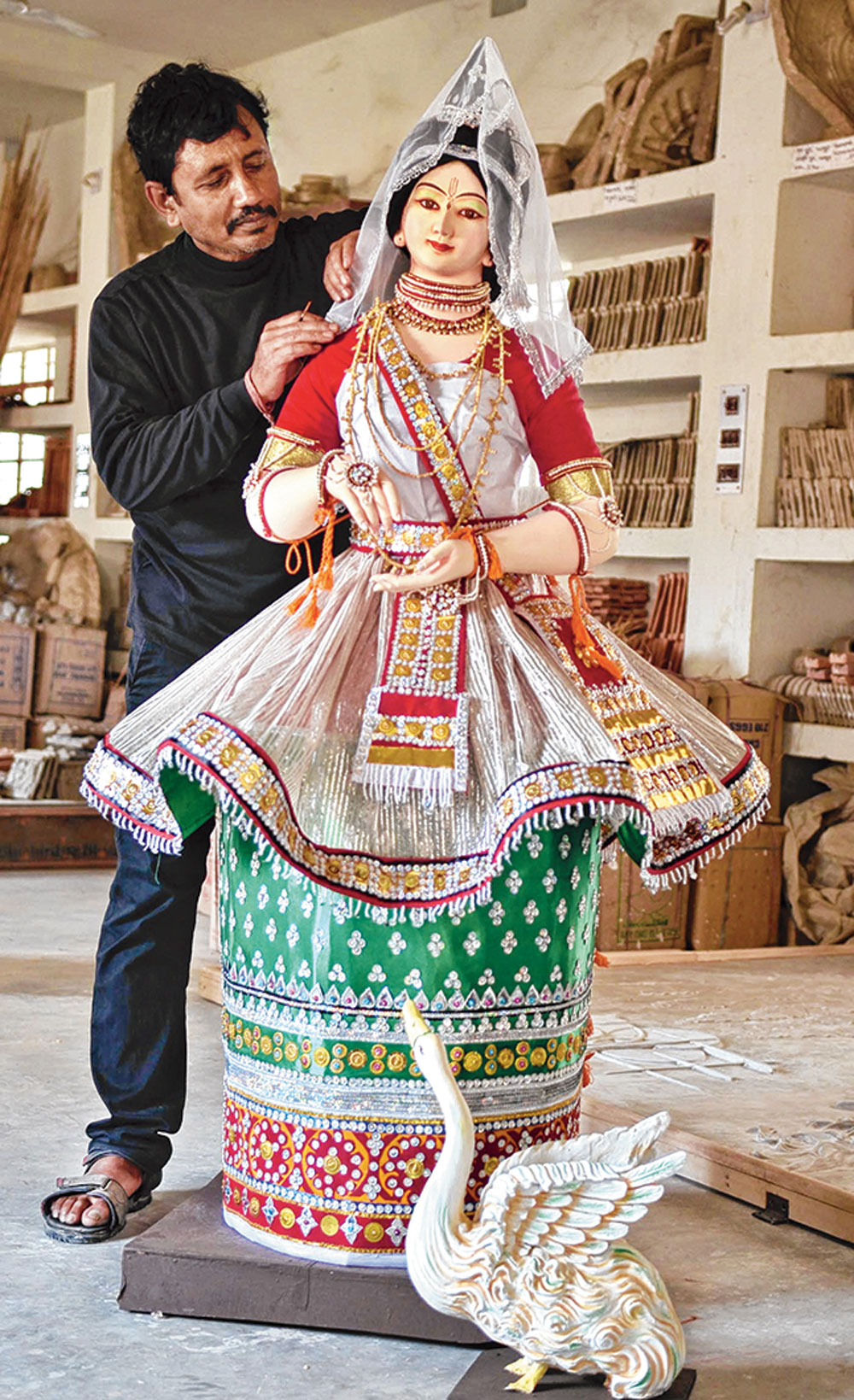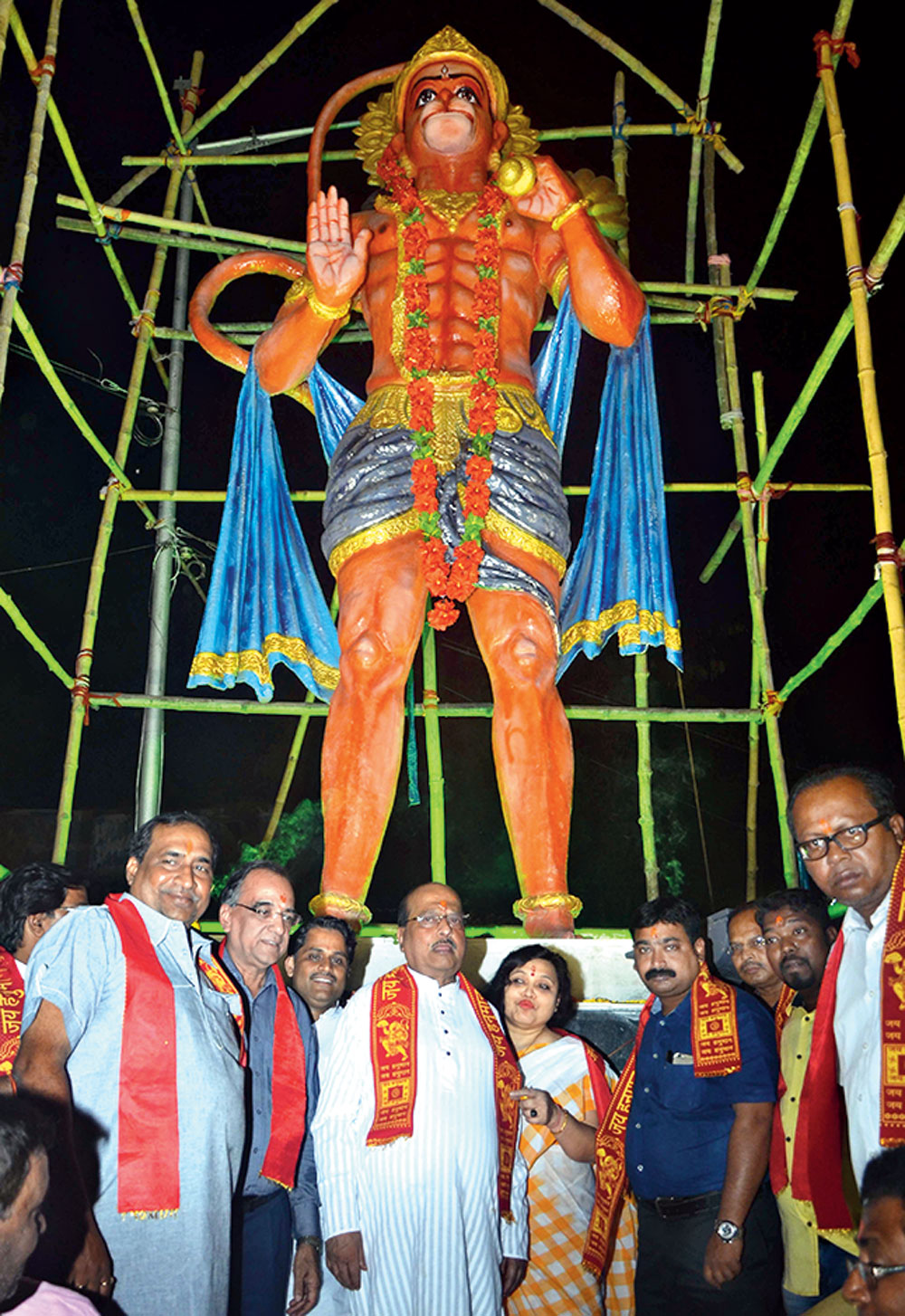 Weeks before Saraswati Puja, long after Durga Puja and Kali Puja, street corners in Calcutta had sprung Poush Kali Puja pandals. Before that there was Jagadhatri Puja, once typical of Chandernagore alone, and Vishwakarma Puja, once restricted to factories but now celebrated with gaiety and Bollywood numbers at every other street corner. The state government, in fact, declared a half-day holiday last September for Vishwakarma Puja. Even Sitala Puja — Sitala is an incarnation of Durga and is supposed to be the one to heal pox — which was once a low-key suburban ritual, is now a thing to reckon with. It was reported last year that the area under the Tollygunge police station in south Calcutta, had had 16 Sitala Pujas between April and June. What with DJs and loudspeakers playing music till late into the night, it was supposedly a policing challenge.
Dey, who is clearly doing brisk business, rattles off, "We have been making idols of Santoshi Maa, Hanuman, Maa Manasha, Baba Loknath, Maa Sherawali. These days customers come to pick up Ganesh idols with band-baja." In 2018, there were 1,200 community Ganesh Pujas in Calcutta and the suburbs. Babu Pal, secretary of the Kumartuli Mritshilpa Sanskriti, an association of artisans, elaborates, "Sherawali Puja is new to Calcutta. We get orders almost every week; there is no specific date for this puja. I have also made Jagannath idols lately, of three feet and more. Earlier we would not have much work after Kali Puja, but now we have work throughout the year."
The demand for idols is apparently so huge that Kumartuli alone cannot cater to the requisitions of the culture clubs, and idols are now being made in Howrah and in some other parts of south Calcutta.
Basu does not decry the proliferation of pujas either, but he comes across as a purist and nitpicks about the nature of worship and the spirit behind it all. He says, "The problem is that in Bengal, the TMC has not been mindful of the devotional spirit in the religious festivals. They're trying to convert all pujas into fun and games. In other states, there are people who do Ganesh Puja or Matarani Ka Puja — but they have religious fervour. Here, TMC is converting everything into feasting and festivity." Basu makes it clear that while some of his party people may be attached to a Durga Puja committee here and there, they like to keep things conventional and traditional. And Bengal RSS spokesperson Jishnu Bose's stand is: "The government is trying to do damage control for the blasts in Khagragarh, Dhulagarh, and the attacks on Hindus in Kaliachak… The RSS does not get involved in any religious festivity until and unless it is something related to the nation — say, for example, the worship of Bharat Mata."
A professor of History and one who has been studying the visual culture of the city calls the whole thing "the festival mode of politics". She does not wish to be identified but she does speak at length about how all pujas are derived from a master template. She says, "It is a form of populist politics where a huge investment of the party and of the government is in supporting a continuous round of puja and festivity in the city in the name of secular politics. I am not saying that [TMC's brand of] politics itself is strictly religion-driven politics, though that itself will become a competitive field between the BJP and the TMC." She hastens to add, "Whether religiosity amongst people has increased is something nobody knows; it is difficult to gauge."
Artisan Prasun Dey had spoken of Notun Para in northeast Calcutta's Belgachia, which in the face of the increased demand has come to be the second Kumartuli.
Driving through Notun Para, I notice an idol-maker working on what looks like a many-headed god. When asked what it is and who it is for, he replies, "The five-faced Hanuman has been requisitioned by one of the local clubs. You know, it is the trend these days, to worship Ram and his loyalists."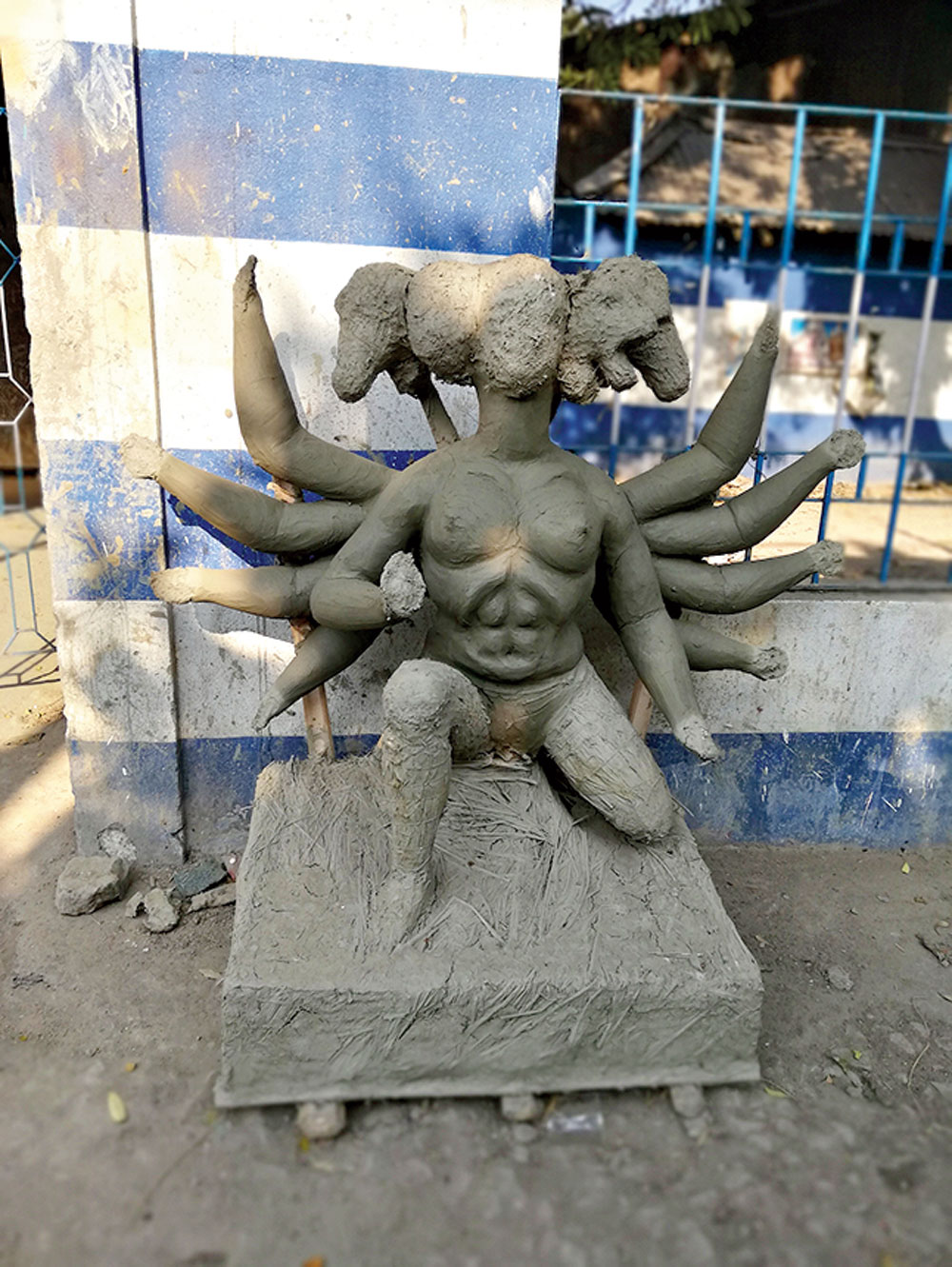 CPM MLA and party spokesperson Sujan Chakraborty offers his explanation for the phenomenon. He says, "The Mamata Banerjee government has done so much for Muslims that now it has to counter it with such things. The chief minister has proven that she is one of the Muslims and now she is trying to prove that she is more Hindu than the Bharatiya Janata Party (BJP)."
Puja patronage apart, Chakraborty offers a psycho-socio rationale as to why the common man is buying into this puja culture. He says, "Religious festivals are integral to our culture. But we have to remember that religion is something we fall back on when we feel weak. With TMC ruling the state, people's problems have increased. Unemployment has increased. Crime has increased. Young men and women do not have any proper engagement. To keep them happy and make them believe that they are happy under this regime, the government is pumping in money for more and more festivities."
Chakraborty refers to how before Durga Puja last season, the state government doled out Rs 10,000 to each of the 28,000 Puja committees across Bengal. He tells The Telegraph how in the last seven to eight years, the number of clubs has multiplied. He says, "During the Left regime there were clubs. But now you will find temporary bodies coming up in neighbourhoods and those supposedly helming these collect money and organise sponsorship for pujas that were never heard of."
Indeed, during the Chhath Puja last November, the West Bengal government announced a statewide holiday of two days. It was said to be the TMC's way of wooing the one crore Biharis living in the state. According to a 2018 report in The Telegraph, the mayor of Asansol was mobilising funds to build 10 sun temples in the area before next Chhath.
Nayana Sen, a resident of Patuli in south Calcutta, is amused by the scale in which Ganesh Puja was celebrated across the city this year. She says, "What was once celebrated among the Marwari and Gujarati business communities has now become a neighbourhood puja. It was a three-day puja with musical events."
A resident of Salt Lake, Prafulla Sen, points out that this year in his block in the satellite town, Saraswati Puja was a three-day affair. He says, "There was the entertainment part with musicals, etc. and there was the social responsibility part with distribution of warm clothes and other things among the needy. That is how the local councillor packaged the puja."
Till the time of going to press, TMC's minister of state for information and cultural affairs and tourism, Indranil Sen, remained unavailable for comments on the matter. But both the state BJP chief, Dilip Ghosh, and Sayantan Basu, who is the BJP state general secretary, are willing to share their views on the subject, each with a distinctive take.
It is difficult to disentangle the critical from the casual in Ghosh's observations. He agrees that the number of pujas has increased, but then so has the population. Besides, pujas are a way of earning money and a way of "channelising chit fund money"; they also provide employment. He agrees they are extravagant affairs but he does not say for once that all this will change if there is a change of guard in the state. Instead, he states: "Political leaders are patrons of the many Durga Pujas. Shopkeepers and promoters are investing money in these and all kinds of religious activities. And this will not change even if the government changes, these people will get other political patrons and the practice will continue."b