Tea planter's punch
Nestled inside sprawling estates and with their heritage charm intact, tea planters' bungalows are popular holiday destinations in Assam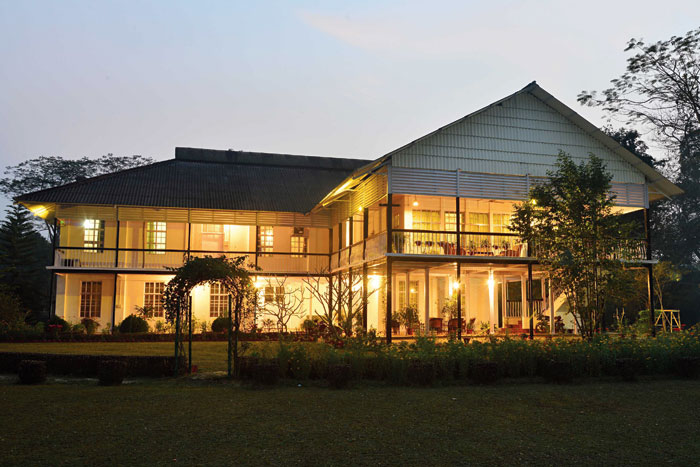 Chameli Memsaab Bungalow is a double-storeyed chang bungalow (built over a three-acre area of Cinnamora Tea Estate and surrounded by rain trees.
Pictures courtesy: The company
---
Published 03.08.19, 01:17 PM
|
---
When M. Rajendran visited a friend in Chariduar in Assam's Sonitpur district, he also decided to stay a weekend at a tea bungalow. "I was impressed with the manicured tea bushes and the well-laid-out gardens. One could also walk through the estate on the narrow paths between the shrubs," he says. And after sitting through a tea talk and tea sampling at the bungalow, he swears he never knew anything about tea, despite being a tea lover.
The first impression that soothes the senses as you travel across Assam is that of oceans of green flanking the road — a sight that is as refreshing as the morning cuppa that comes from there.
Inarguably, tea is one of the prized exports from Assam that has people the world over addicted to it. It is not a surprise that Green Tea — Elizabeth Arden's perfume range with the classic green tea top note — is a rage among fashionistas. So is tea tourism in Assam now.
Heritage bungalows on sprawling estates, where once the bada sahib or estate manager lived, have long been offered to tourists in Kaziranga and Northeast travel packages. Now, however, these tea bungalows have emerged as tourist magnets themselves, pulling in domestic and international travellers who are willing to traverse the extra rickety mile from the airport to experience the planter's life.
"I loved the silence around the tea bungalows. It offered a refreshing change from hectic city life. Also, there is the historical element about a heritage property that is fascinating," says S. Pravin, a management professional from Secunderabad.
Like him, many professionals from the metros are choosing the serenity of the tea estates over white noise and flocking to these heritage buildings in droves. Move over Italy, tea gardens now are sought-after venues for destination weddings as well. And corporate junkets to Bangkok are getting cancelled for more meaningful team-building exercises in a cha baagaan.
Rajib Barooah owns one of the oldest tea estates in Pulibor near Jorhat. His Haroocharai estate has been operating since 1904. He says: "I have been having foreign tourists over for lunch for 11 years. They have been coming here for the river cruise as part of tea tourism. They requested for a homestay and I started off with four rooms. In fact, I had to add three more guest rooms and again I am planning to add two more because the inflow of tourists has gone up. They want the tea garden experience."
Puroni Bheti Retreat in Haroocharai was opened to tourists four years ago. Puroni Bheti means 'old foundation' in Assamese, says Barooah. The outhouse on the tea estate was refurbished keeping the architecture intact.
Like Puroni Bheti, other tea bungalows, too, are colonial spaces that are now being fitted out with modern amenities including wall-mounted TVs, plush bathroom fixtures and, of course, Wi-Fi. Mancotta Chang Bungalow (a chang hut or bungalow is built on stilts to prevent it from getting inundated by flood waters) near Dibrugarh was the official residence of the superintending manager of Mancotta Tea Estate. "Duncan Hayes was the last serving British manager to have lived here. The bungalow does not use iron nails in its flooring. The wooden nails used are said to be handcrafted by Chinese artisans," says Rishi Saraf, managing director of Purvi Discovery, a tourism firm that handles Mancotta, and Chowkidinghee Heritage Chang Bungalow, as well as the latest addition to the lot, Wathai, in Limbuguri Tea Estate. Located on the banks of the Dibru River, Wathai was named after a village within the estate. And Chowkidinghee Heritage Chang Bungalow is said to have been named after a Khampti leader from the 19th century.
Chameli Memsaab Bungalow is a double-storeyed chang bungalow (built over a three-acre area of Cinnamora Tea Estate and surrounded by rain trees. It has been a hot favourite with Japanese, Korean and American tourists. "It was built by Jorehaut Tea Company which set up in Jorhat in 1859. Now it has been named after the Assamese version of the film Chameli Memsaab, which was shot in the bungalow in 1975," says Hardeep Singh Matharu, marketing head of the bungalow now owned by Bokahola Tea Company.
The award-winning film based on the story by Nirad C. Chaudhuri starred George Baker and Binita Borgohain and had music by Bhupen Hazarika. Apart from the warm hospitality, narratives and organic food, guests here also get to spend an evening at the Jorhat Gymkhana Club, or play golf with the planters.
Tourists staying at the heritage bungalows are spoilt for choice today and they are not complaining. There are village tours, visits to Sunday market or haat, cookery classes for people who want to learn to cook the local cuisine, tea sampling, visits to tribal hamlets and tea factories, boating, fishing and other activitiees that were popular pastimes of the gori memsahibs are now on offer to visitors at these heritage properties.
Apart from Naga, Assamese and Khasi food options, tourists at Puroni Bheti are offered garden fresh tea of different grades as well as green, white and oolong tea from various gardens. "Hand-rolled orthodox tea and green tea are popular," says Rajib Barooah.
At Mancotta, one can go horse-riding on a stallion from the stud farm. The staff can also organise a picnic on a river island, complete with a ride in a country boat and lunch hamper (October-April). Wild Mahseer, named after the game fish, is the heritage bungalow in the Balipara division of Addabarie Tea Estate in Sonitpur. Apart from snug suites in the wooded property, on offer for the tourist is a visit to the greenhouse with rare plants and herbs maintained by energetic team of Balipara Foundation on the estate and a shopping trip for unique hand-woven shawls made by the Mishings — a tribe that crossed the Himalayas thousands of years ago and still maintains their culture and tradition.
Wild Mahseer general manager Hardev Singh says: "We have upgraded some houses in the surrounding villages as homestays. The tourists like them. These are fully-furnished rooms. Villagers take care of the tourists. We also sell goods manufactured by women from surrounding villages. They use vegetable dyes for making traditional clothes such as mekhola-sador."
Singh adds: "We also take up reforestation. Tourists can participate in our reforestation activities or go on a jungle trail at the property. We have renovated two bungalows and we do book them for weddings on prior notice."
Matharu of Chameli Memsaab Bungalow says: "In winters, the place is let out for weddings. We organise conferences and reunions regularly."
"There is so much I could do during a three-day family vacation. I visited a tribal village and noted bird sightings. I took a tour of a tea factory and saw how the fresh leaves are cleaned, dried and powdered to make dust tea. I will plan a longer stay next time," says Angelina, a copywriter in a Mumbai-based ad agency.
On an average double rooms in with breakfast come for anywhere between Rs 8,500 and Rs 25,000 including GST at 18 per cent on basic rooms and 28 per cent on premium ones. Also, some properties offer discounts during off season or during the monsoons.
Additional activities such as visiting tribal hamlets, going on boat rides, or horse riding are usually extra, but tea sampling and tea awareness workshops are complimentary.
Tea bungalows are preferred getaways for celebrities too. Almost all the heritage bungalows have hosted stars. Noted BBC presenter and writer Michael Palin stayed at Mancotta Heritage Chang Bungalow while researching for his book Himalaya which was turned into a TV series in 2005. A few years ago Aamir Khan decided to celebrate wife Kiran Rao's birthday at Wild Mahseer. Waheeda Rehman was one of the recent visitors here. International filmmakers and musicians have stayed at Puroni Bheti.
A special category of tourists who visit tea bungalows are backpackers walking in with nostalgia and a sepia-toned photograph of a relative who stayed at the property many decades ago.
"One of the highlights of tea tourism has been the visits of families of former tea planters. Some of our recent visitors have been Martine Watson and Simpson Watson from the UK. Their father served as manager in Limbuguri Tea Estate during the 1950s.
We also had Julia Newtons Howes, Zoe Edwards and Ross Edwards from Australia. Their family stayed at Chowkidinghee Heritage Chang Bungalow in 1957.
Anne Louis Saxton visited us from the UK. Her father was the manger of Mancotta Tea Estate way back in the 1940s and Mancotta Bungalow was his private bungalow. It was a nostalgic visit for Jill and John Smith from the UK. Their friend's mother got married and lived at Mancotta Bungalow," says Rishi Saraf.
Looking for a zestful vacation with a generous helping of history? Head to the tea bungalows of Assam.