Snow and Sashimi in magical Japan
From snow in the northernmost prefecture of Hokkaido, the energetic city life in Osaka to the cultural and tranquil beauty of Kyoto, the Land of the Rising Sun is a bag of surprises during winter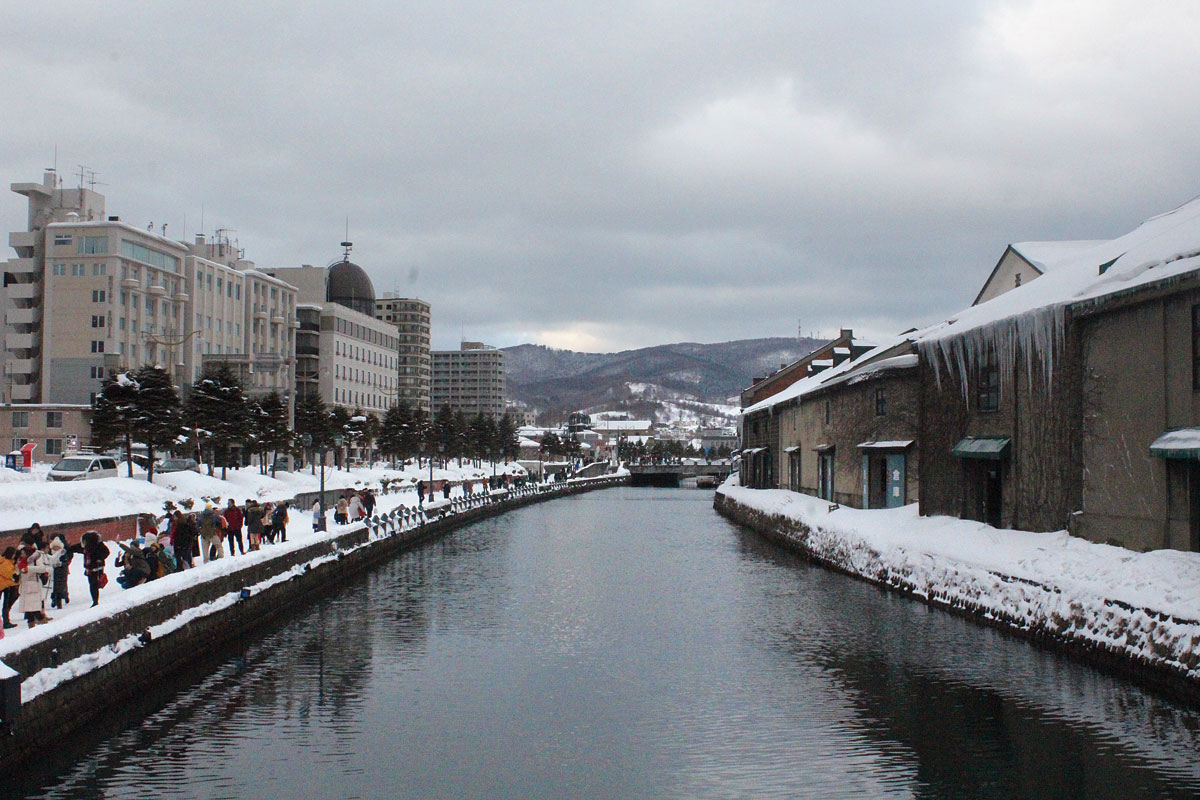 Otaru Canal
Nandini Ganguly
---
Published 30.03.19, 03:02 PM
|
---
Intriguing, mysterious, bizarre and bustling. These are words that spring to mind every time I think of Japan. With the most polite people with smiling faces, the country unfolds itself in more ways than one. My first brush with the Land of the Rising Sun in the summer of 2017 left me awestruck, wanting for more. But little did I know that two years later I would be on yet another Japanese odyssey. This time, to experience winter.
When one pictures Japan, it's usually in hues of cherry blossom that spring brings and then autumn's bounty of fiery-red leaves. Since the Japanese winter is not much spoken of, I didn't know what to expect. Will it live up to the expectation? Will it be as beautiful as it had been the first time? Armed with the warmest clothes a Calcuttan could think of, I boarded a flight on an invitation from the Japan National Tourism Organisation.
A cold gush of wind — the kind that chills your bones — hit me as I stepped out of New Chitose Airport, and I immediately knew what I was up against: -11°C read the weather app on my phone.
The penguin walk
Day Two took us from one prefecture to another, Hokkaido to Osaka on a two-hour-long flight. But before that, we had one more stop to experience. It was time to tap the child in me.
Asahiyama Zoo in Asahikawa district is the northernmost zoo in Japan and one of the most popular ones. Large glass windows, bubble domes and open spaces let you take a peek into the natural behaviour of the animals. Penguins swimming overhead while you walk inside a glass tunnel, spotted seals taking a dive in the aqua tunnels and polar bears playing among themselves, cold climate species live in a habitat that's closest to their natural ones in Asahiyama Zoo. One of the most popular attractions at the zoo is the penguin walk that lets you take a closer look at the penguins as they waddle through. You can almost imagine the tiny army posing for the cameras and waving at the excited tourists and locals alike. Their black backs glistening in sunlight made for quite a sight.
Day Two of our trip done and it was time for Osaka — Japan's third-largest city to welcome us with its trademark flashy billboards, a variety of street food, neon lights and kitschy pubs. Upon reaching Osaka (Itami) International Airport, we had dinner at the Osaka Umeda branch of Banjara — a restaurant serving Indian food. Osaka was going to be our home for the rest of the stay in Japan.
Universal Studios Japan (USJ) — the first theme park in Asia built under the Universal Studios brand — is easily accessible from Osaka by train. With nine sections — The Wizarding World of Harry Potter, Hollywood, Amity Village, Jurassic Park, New York, Minion Park, San Francisco, Universal Wonderland and Waterworld, a trip here can take an entire day, at least!
The young girl in me was excited all over again at the thought of revisiting the nostalgia that had filled me up the last time I visited USJ. Be it sipping on butter beer, lunching at Hogsmeade, or experiencing the exhilarating Flying Dinosaur Ride, USJ is for the young and young at heart. Rain played spoilsport but it couldn't dampen my spirit because our day was still not over.
Evening at Osaka was reserved for the vibrant and engaging Dotonbori, the downtown area with a canal through it. With countless restaurants, food stalls and shopping arcades, it won't be wrong to say that this is the heart of the large harbour city. Day Four over, it was time for me to look forward to the place that had my heart — Kyoto, the old capital of Japan. Wrapped in a white blanket
One of the things that stands out about Japan is its cuisine. Bold yet subtle flavours, fresh ingredients, and the care with which each item is made and presented, is something that one needs to learn from the Japanese. The art of creating food, theatrics that are often involved in it, aesthetics and manners of eating, will make you sit up and take note.
After spending nearly a day in airports (thanks to long layovers), dinner at a traditional Japanese seafood pub — Sapporo's Seafood Robata Nemuro Hamaichiban — comprising some sashimi, Japanese grilled fish and glasses of Yuzu Shochu (a distilled alcoholic beverage typically made from rice, sweet potato and barley) was what I needed to replenish.
After a hearty meal and an ice-breaking session with my fellow travellers, we headed to Keio Plaza Hotel Sapporo in Chuo ward. 12.30am, I tucked myself in bed, smiling at the thought of what awaited me.
We made an early start the next day. A one-and-a-half-hour scenic drive later from Sapporo, we arrived at our first stop in Hokkaido — the Kiroro Ski Resort in Yoichi district — to experience the majestic snow-covered tourist spot.
A quick inspection of the resort before heading out in the snow: -15°C on the outside. Battling strong, bone-chilling wind, I couldn't help but stare at the stunning sight. For someone who comes from a place where 10°C is peak winter, all the snow with a touch of dull green in the form of trees was nothing less than a fairy tale. I felt wrapped in a white blanket.
Skiing is a popular sport in Japan and Hokkaido is a paradise for winter sports because of the powdery texture of the snow (a result of cold air blowing in from Siberia) here.
Apart from skiing, there's also snow rafting, tubing and other activities that families can indulge in at the resort. Stopping by a sushiya
Almost an hour's drive later, we stopped for lunch at Otaru Nihonbashi in Otaru. Even though there's more to Japanese cuisine than sushi, a trip to Japan is incomplete without tucking into the delicacy. The port city of Otaru that lies north-west of Sapporo has a canal running through it with old offices and warehouses adding a character that will remind you of a bygone era. It is also known for fresh seafood that's used to make sushi and Otaru Nihonbashi is one of the most popular sushiya (sushi restaurant) in the harbour city.
The traditional setup at the restaurant with tatami mats (a straw floor covering in traditional Japanese homes, also found in restaurants) and low seating in the warmth of a spacious room, is what made the difference for me. Nigiri, maki with squid, salmon, uni (gonads of sea urchin), tuna along with miso soup and a hot cup of matcha, well satiated my hunger and craving for traditional Japanese sushi and not the hybrid version served in India.
I remembered Otaru being completely different than what I was seeing this time. The colours were now muted with a snow cover. What remained the same were the streets filled with tourists and shops selling everything, from knick-knacks to silver jewellery, pretty-as-a-picture desserts, clothes and souvenirs. The sides of the famed Otaru canal were lined with snow. The harbour city looked like a picture postcard.
Apart from ski resorts, fresh seafood and hot spring, if there's anything else that Hokkaido is known for, it's Sapporo beer. The beer museum housed in the same compound as Sapporo Beer Garden in Higashi ward, still retains it's red brick walls that once played host to a sugar factory and then a malting plant. Enriched with a history that's more than 100 years old, this Hokkaido Heritage site lets you drink draft beer directly from the brewery while relishing some Genghis Khan — fresh Hokkaido lamb and veggies that you can grill on your own on a special metal skillet. The meat is accompanied by a sauce with lemon and apple accents.
Kimono experience
Kyoto is what you imagine Japan to be, quintessentially... a time warp that is culturally rich with the kind of charm that pleases and soothes your senses. By road, the journey from Osaka to Kyoto was roughly an hour. Before heading to the sites for the day, we were taken for a quick Japanese makeover — a kimono experience, complete with accessories and hairdo.
The strict step-by-step and complicated process of wearing the kimono almost took me to a meditative state but what was interesting to watch was the kind of precision and discipline that was being followed in making someone wear a piece of clothing!
What we usually see, the outermost layer of the Japanese costume, is the kimono with different colours, vibrant patterns and materials like silk, brocade, cotton and satin along with an obi belt which helps in securing the kimono and lending good posture. What one wears underneath is as elaborate — undergarments called a shitagi and juban, along with sheets of cloths and belts to secure everything in place.
Interesting fact: Kimonos are wrapped around the body from left to right while those of the dead are wrapped right over left. Also, kimono is usually worn during winter while in the summers, yukata, a more comfortable version of the kimono made with cotton, is preferred.
Dressed and feeling like a local, off we went to Fushimi Inari-Taisha, a beautiful shrine known for its thousands of torii gates stretching till the forest of the sacred mount Inari. Famished after climbing up the stairs and clicking tonnes of pictures, we headed for lunch at Minetora in the Fushimi ward. The Kaiseki (traditional Japanese multi-course meal) had it all — from udon to unagi (freshwater eel) with sticky rice to miso soup, tempura, sashimi… phew! My second-last meal in Japan turned out to be the best. It's the nuanced flavours in Japanese cuisine that are unmatched.
Next stop? Sagano Bamboo Grove in Arashiyama. Travelling to Kyoto is slow, it's like going back in time. The tall bamboo trees give you a sense of calmness and make you wonder what stories would they tell us if they could talk. A short walk through the groves and then back to Osaka by road brought an end to the five-day trip.
From the powdery snow in the northernmost prefecture of Hokkaido, the energetic city life in Osaka to the cultural and tranquil beauty of Kyoto, the Land of the Rising Sun is a bag of surprises during winter. The white cover on the streets makes you look at the country in a different light. In one word, it's magical.
There are no bins on the road because you are expected to carry your trash with you. You will find people queuing up — on platforms to board trains, on the escalator and so on. People are mindful, polite and respect each other's space. Trains run exactly on time and when I say "exactly", I mean not even a second late. You can also lie down on a street corner and not be bothered about someone stealing your belongings.
Japan is an experience. Maybe with Japan, forever isn't enough.