Badminton on Mount Titlis
The Telegraph watches a game of badminton in Switzerland, 10,000ft above sea level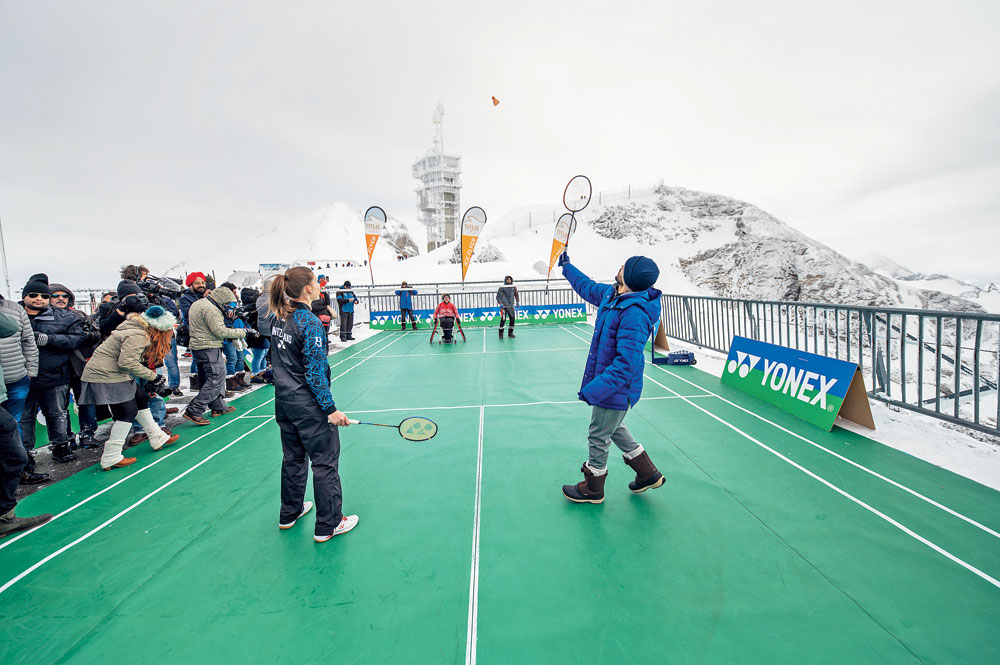 Parupalli Kashyap, Sai Praneeth, Sabrina Jaquet and Karin Suter-Erath play badminton on Mount Titlis, 10,000ft above sea level
Pictures: The author and Engelberg Titlis
---
Published 23.03.19, 06:32 PM
|
---
I am a sheet-katurey Bengali, often the first one to get my woollens out and still waking up from under my beloved lep even after Bawshonto eshe gechhe starts playing on the neighbourhood microphone every Dol. I become the intrepid Shankar while poring over Chander Pahar but sigh tumse na ho payega every time I watch Zindagi Na Milegi Dobara. I have only been on two holidays, ever. And, that too with the red parental guidance alert glowing bright. Solo travelling is romantic, but what about dacoity?!
It's no wonder then that my first thanda thanda cool cool snow moment happened at a very ripe age — in fact just last week — in Switzerland. Ahem! Better late than never!
Now let me tell you why I was 'chilling' in Switzerland. The picture-perfect country is all set to host the BWF Badminton World Championships 2019 in August. "What do people say when they think of Switzerland? They say mountains. And, what comes to mind when you say mountains? They say snow," said Robbert de Kock, president, Swiss Badminton. Now put two and two together and what do you get? Badminton on snow. Badminton on Mount Titlis. Badminton at 10,000ft above the sea level. Master stroke!
Strong gusts of wind wouldn't let players Parupalli Kashyap, Sai Praneeth, Sabrina Jaquet and Karin Suter-Erath quite master the strokes though. The coloured shuttle cock went here and there, hovered in the -14°C air as the panoramic backdrop of Titlis stood witness, almost laughing at us mortals who tried in vain to capture its majestic beauty, with one hand at a time. My leather gloves weren't allowed by my iPhone to access its hallowed keys and if you took out both hands, chances were that you could end up with the cold biting into your skin and sucking the last throb of sensation out of it.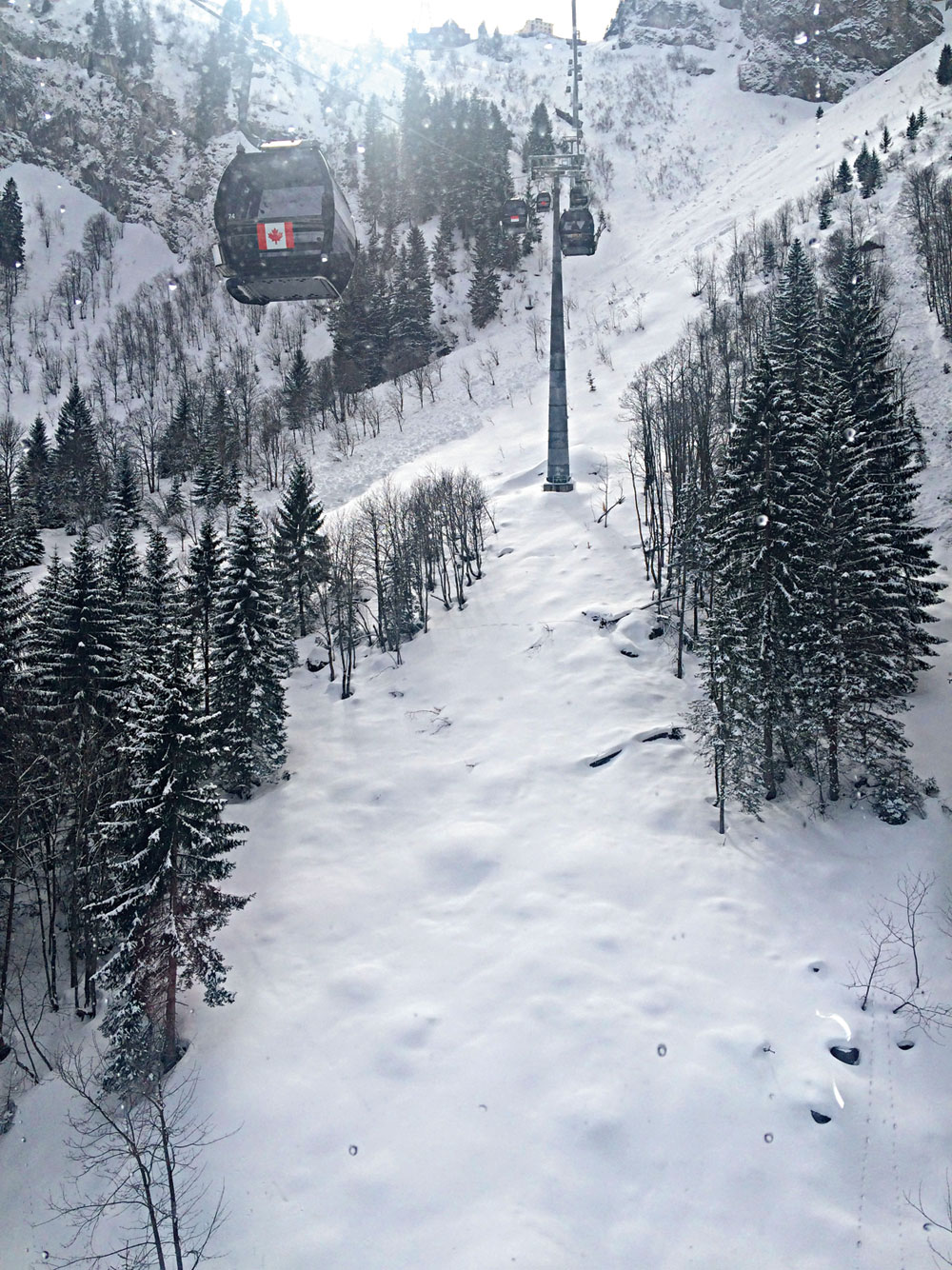 Buried under four layers of clothing, snow boots and polaroid snow goggles on, the neck warmer travelling up to my nose, I felt quite like a mountaineer, my chest swelling with pride. It was destined to go all kaput within seconds though, when I had to chase down Sai and Kashyap on the snow, for bytes, saving myself from snow bites all the while! My feet dug deep into the mounds of salt-like snow, the ascent steep. Heaving, I caught up with Sai who was on the phone with his mother, showing her the breathtaking beauty that he was surrounded by. Panting would never be the same again and my nose could have refrigerated half a kilo fish! I bid goodbye to Sai and hiked up to meet Kashyap on the Titlis Cliff Walk. I followed the players inside the Titlis glacier cave, winding its way, iridescent. I took my hands out of my glove to feel its cool breath. Such a cocoon!
On our way up to Titlis in the cable car, I could hardly take in the view of the range, what with strapping gentlemen and sporty ladies cramming 'the world's first revolving cable car'. They were going skiing. While you can walk down (five minutes) from the Engelberg railway station or take a bus to the valley station, Dollar and Admiral hooved us to it.
On our way down to the valley station again, the Titlis Xpress cable car dropped us off at the Trubsee middle station for some fun and games.
Before I could fathom what was about to happen, Rayomand Choksi, who knows Titlis like the back of his hand, pushed me down on a snowtube. 'You will find out what happens,' echoed as I went hurtling down the snow path, screaming. I did find out. This time when I went balancing. Switzerland brings out the child in you.
As the last gondola was about to whoosh off, I finally had my Yeh haseen vaadiyan moment as I rolled on the snow.
So, what if all my pictures are in the same jacket?!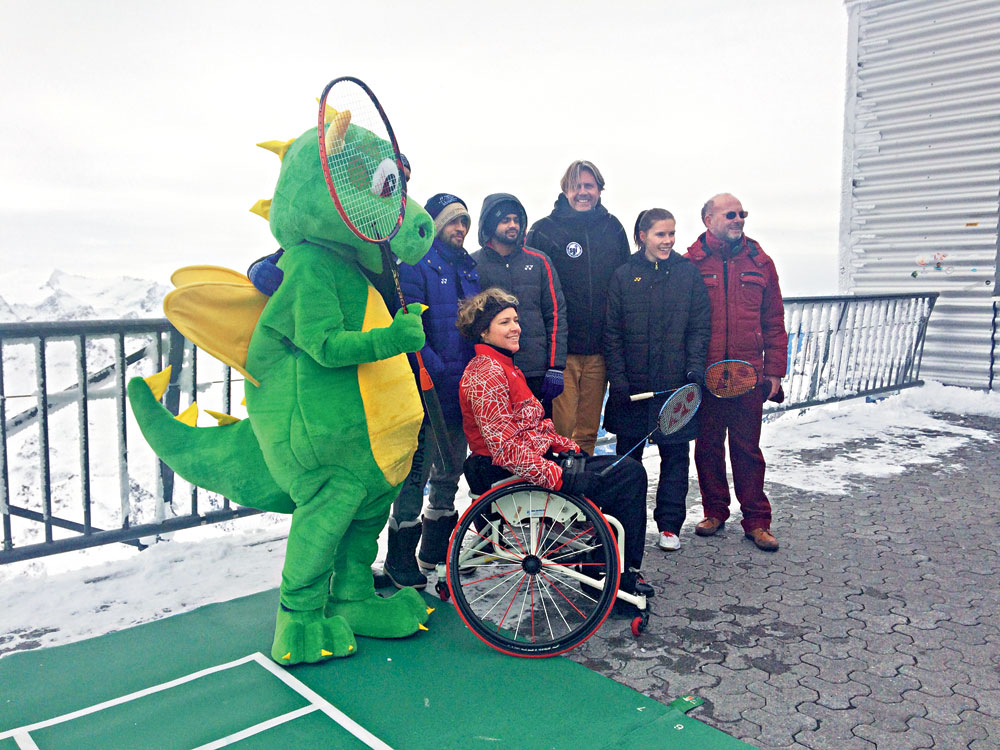 The badminton trip to Mount Titlis was to celebrate the then ongoing Swiss Open and the upcoming BWF Badminton World Championships 2019 in August in Basel. "The world badminton championships are being held in Switzerland again after 1995 (Lausanne). There are a lot of activities that we have developed this year in the run-up to the Championships and to make badminton actually more popular in Switzerland. It is also a good opportunity of promotion of badminton in Switzerland," said Robbert. While Saina Nehwal, P.V. Sindhu and Sameer Verma's names rolled off his tongue, like Sachin Tendulkar and Virat Kohli's do here in India, no brownie points for guessing who is the poster boy of sports back home — Roger Federer. "You talk about a unique personality, unique results.… It is once in a lifetime you would meet someone like that. And, he is a nice boy, you can talk to him," said Robbert.
Charles A. Keller, the technical director of Swiss Open and the president of the World Championships filled us in on the facts to remember. "It is the first time in sports history that two world championships will be held together, in one place, at the same time — the world championships and the world championship for para badminton. We expect around 30,000-40,000 spectators in Basel. There will be approximately 300 athletes from more than 50 nations. This will be the 25th edition of the world championships," he said.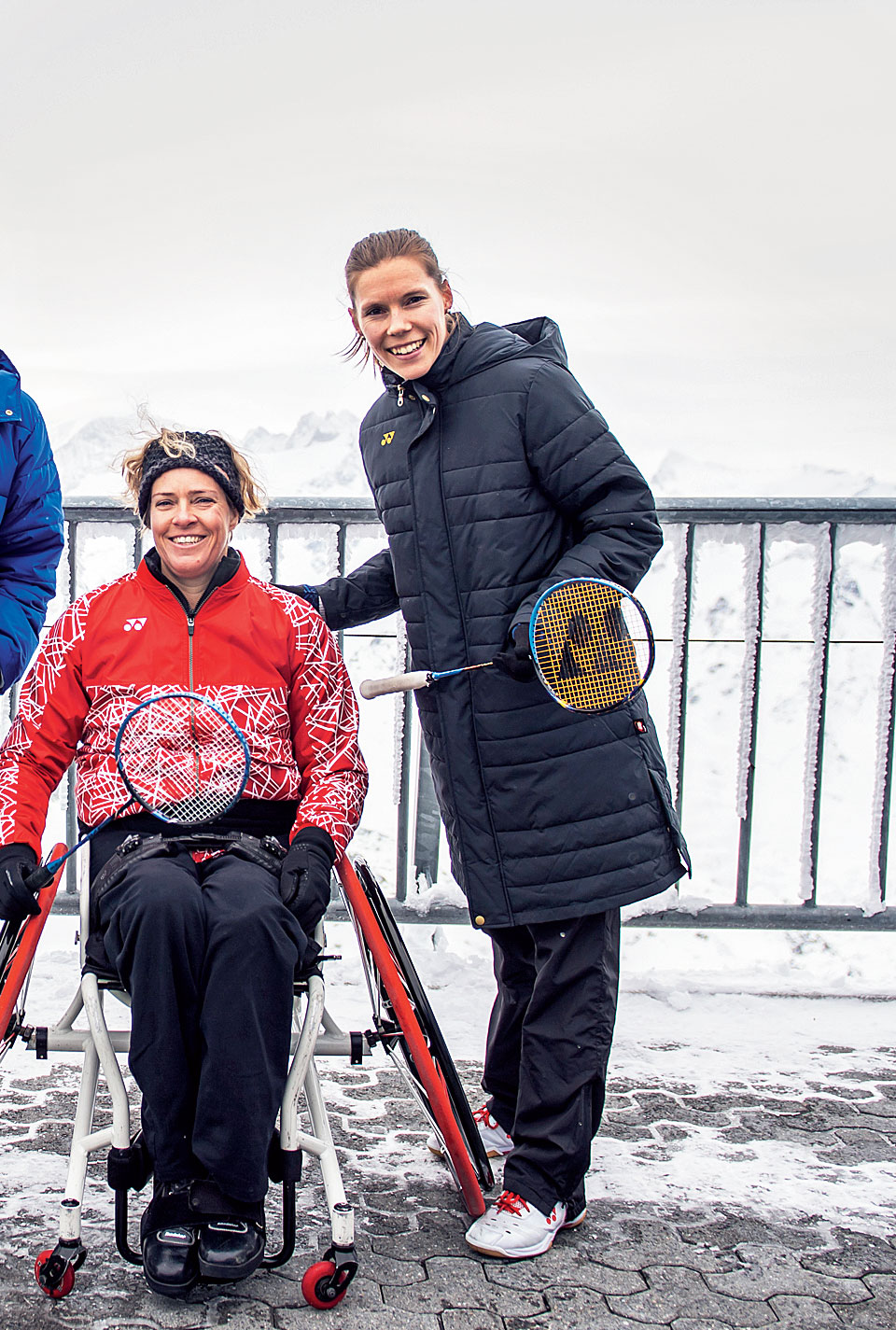 Para badminton player Karin Suter-Erath has seen Saina Nehwal play in Basel and connects India with Bollywood movies. "I know about the Bollywood movies. I used to play wheelchair tennis before and we have a Swiss wheelchair player whose mother is from India. So, sometimes she sends pictures," smiled Karin, who has also played handball. What's the secret to keep going at 47? "The secret is the love for the sport. I really love what I am doing but it also needs hard training and some talent too. I have been focused on badminton for more or less 10 years. It is a fast sport and physically very interesting, very tough but tactically it has everything that I love to play," she said.
She trains 15 hours a week. "Most of it is badminton but physical activity is also important. We go to the gym but I also do athletic training... training in the chair with weights and heavier balls," she said.
The chair's customisation is of utmost importance. "It is important that the wheelchair fits you. In sports chair, the wheels are wider for stability and you have a wheel behind. Then you have straps to compensate the functions you don't have. You are strapped well, so you can focus on playing badminton. With wider wheels, it turns faster and are much more mobile," she said.
The only lesson her body has taught her is that it needs more time to recover now. "I need to ensure that my shoulder is doing it. I need the physio more than I would 20 years ago!" she smiled.
The wheelchair doesn't make her feel "less good". "I can manage my life. I am working and driving my own car. For me, it is very important to be independent.... If you are here somewhere in the mountains, it is not that easy of course, but in my daily life, I can do anything," she said. Her top tip? Believe in yourself.
Swiss badminton player and world number 40, Sabrina Jaquet, had just one tip for Sai and Kashyap. "I told them to have warm clothes!" she laughed when we caught up with her over lunch. "As a kid I was a lot in the mountains, so were my parents… skiing. Now I don't get the time and it's tricky with injuries. I go once a year," she said.
Playing in the mountains were "wow" though for Sabrina who picked up the badminton racquet when she was 12. "Which was also quite late. I was not taking it seriously in the beginning, but then it became a passion and I did more and more. I love the game... it is so much fun to play. I love to push myself to practise hard. I do weight training and agility training. I do my weight training twice a week," smiled Sabrina who rated both P.V. Sindhu and Saina Nehwal as "great".
What else does she know about India? "All that I know about India is that it is huge! So many people. I have played there many times," she said.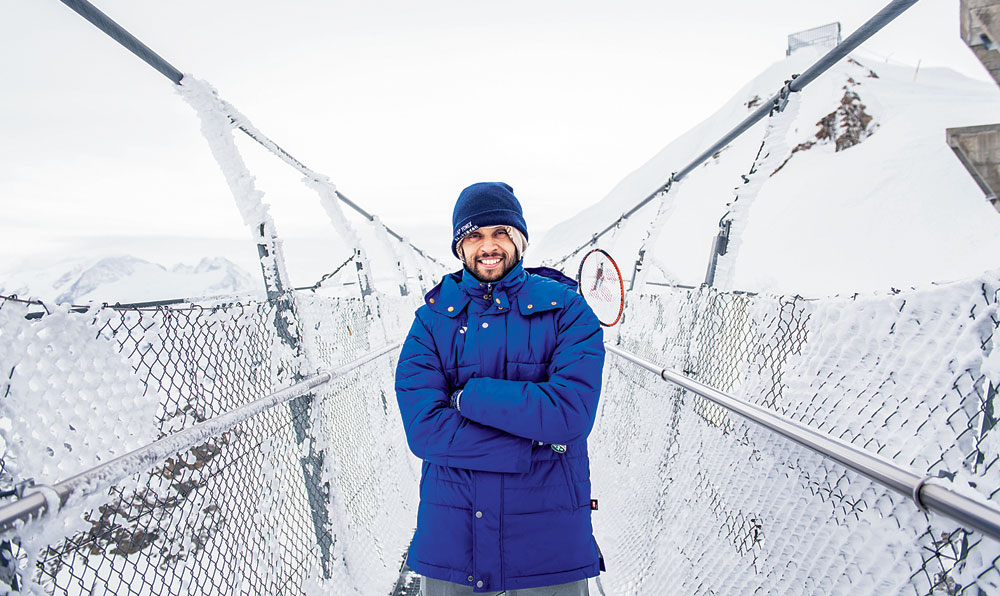 Parupalli Kashyap was missing wife and ace shuttler Saina Nehwal who was supposed to play at Titlis and had to drop out due to ill health. "I am just loving it and I miss Saina. I am missing her a lot. This place is pretty romantic. Beautiful place. We have seen it in Bollywood movies, which I watch with her all the time. She would have loved this. Maybe next time. I just did a video call with her," he smiled. The experience of playing in the mountains? "It was tough with the feather shuttle though...," he said. He doesn't get to travel much for pleasure and doesn't remember his last holiday, but found the Titlis experience "amazing".
Life hasn't changed much for him post-marriage. "We haven't even moved into our house yet because of the continuous tournaments. We've been very good friends since childhood and in a relationship forever, I think. Marriage was always on the cards for a long time. Finally it happened and now we are back to routine again. Probably in the next few months it might change," he smiled.
There is no place for ego, right? "This question you ask her. She is always competing with me! I am never competing with her. I am always happy when she wins. I am lucky to have a partner who knows me inside out," he laughed.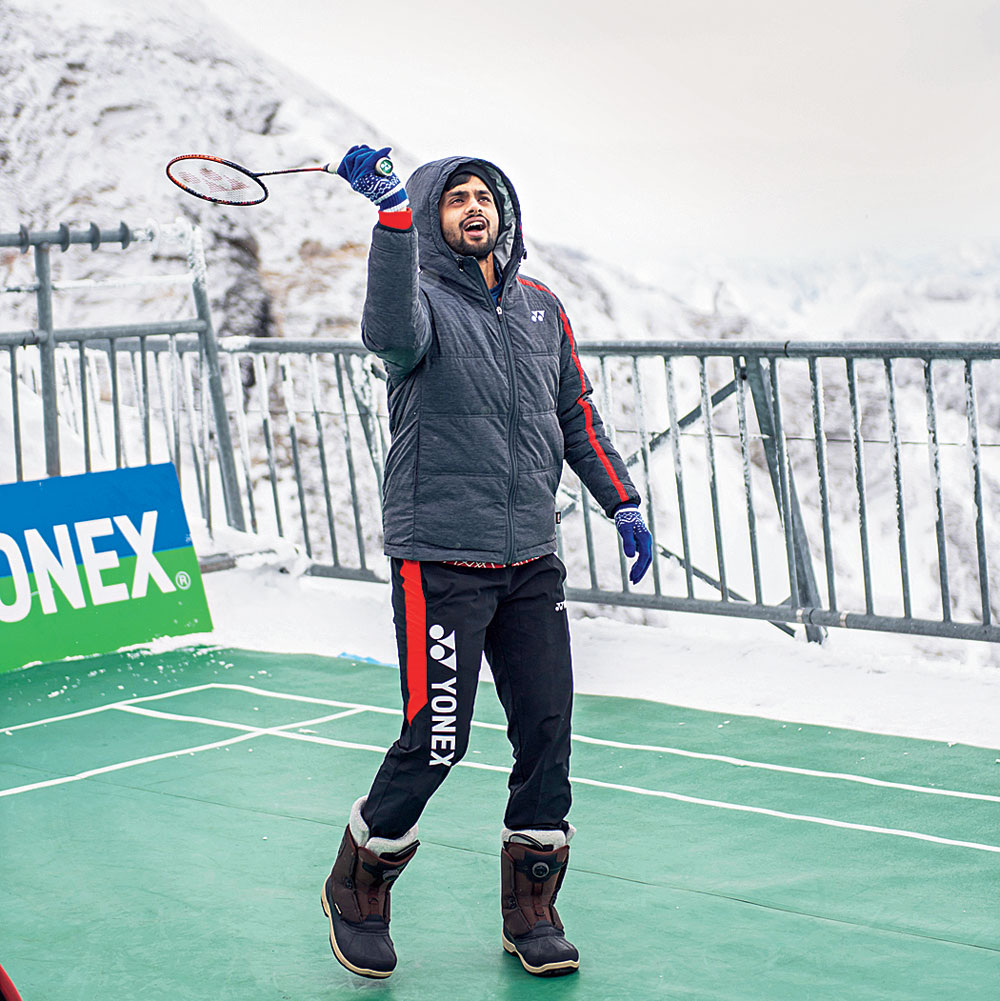 This was Sai Praneeth's "first time ever" at Titlis. "It was a very nice experience. I really enjoyed playing here. I have been in Switzerland for Swiss Open three to four times," said the Hyderabad boy who would eventually land the runner-up slot at the just-concluded tourney. Was there a trick to ace the ice? "There is no trick really to play on the ice, but I don't know whether I'll come back here again or not, so it was great to experience it," he smiled from under several layers of clothing. "We are managing somehow (the cold)," smiled Sai who considers Switzerland as one of his favourite destinations.