This perfumer can neither confirm nor deny special fragrance for Meghan Markle
Floris, the 'secret' 200 year-old regal brand, has seen double digit growth in the past five years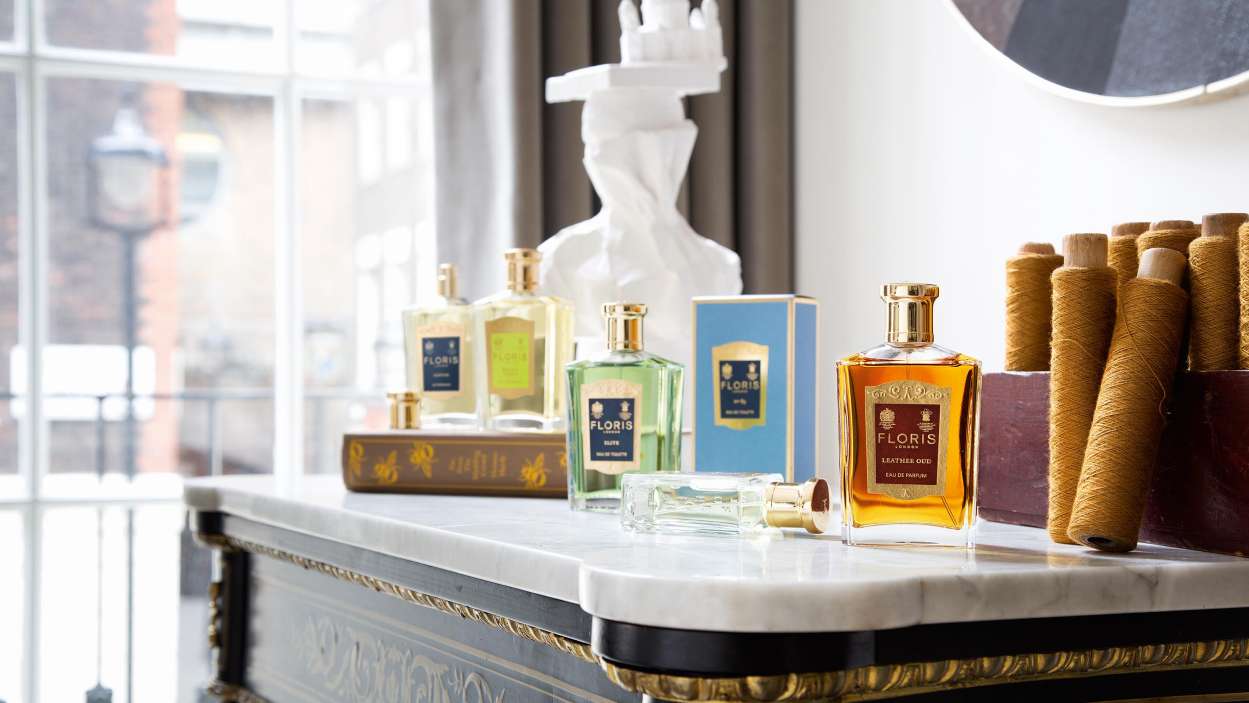 Floris, the perfumer to the House of Windsor for 200 years almost never speaks about what products members of the royal family use
Image courtesy: Floris
---
Published 13.10.18, 05:15 PM
|
---
By the time the famous Great Exhibition of 1851 came by, Floris was famous enough to have 112 perfumes "for the handkerchief" exhibited in the show that was put up at Hyde Park—a hop, skip, and jump away from the perfumer's headquarters. It was a member of the Floris family who knew Florence Nightingale as a client. She wrote a letter to him in 1863, thanking Mr. Floris for the "beautiful sweet-smelling nosegays". In 1870, Mary Anne Floris married James R.D. Bodenham, starting the Floris-Bodenham line, of which Edward is the latest representative. By the 1930s, the Floris name had spread enough for Winston Churchill to be a regular customer. He bought the fragrances Special No. 127 (top notes of bergamot, lavender, orange and petitgrain; heart notes of geranium, neroli and rose; and base notes of musk and patchouli) and Stephanotis, both still sold under the Floris Classic Collection. ('Top', 'heart', and 'base' refer to the three stages and time periods in which a perfume unfolds once worn. Top notes are the ones smelt first, while heart and base follow afterwards.)
The 1950s opened the U.S. market for Floris; it was selling Rose Geranium perfume to one Marilyn Monroe Miller in 1959 and packages of the perfume were transported to the Beverly Hills Hotel in California for her. By 1989, Floris had enough clout with the royal family in Britain that when its new factory was opened at Devon, Princess Diana came by to grace the occasion.
Edward Bodenham says until about five years ago, it was the Floris family that was running all aspects of the business. But now there is a CEO, Jon Graham, who has hired a whole marketing and retail team to help with expansion around the world. Italy has been a strong Floris market since the brand entered the country in 1976; Germany, France, and Australia have been generating strong business, and West Asia has also been a particularly strong market, contributing immensely to the double-digit growth the company has seen in the past five years. The push overseas has also meant that from contributing an insignificant amount, the international sales of Floris brought in 30 per cent of the revenues last year.
And it is optimistic about its new launches. "We have built a substantial $2 million Middle East business in a little under three years with ambitions to double this over the next three years," says Graham. "There is great interest in the brand from all corners of the globe," he explains, "and a hunger in the customer saturated with choice to discover products and brands that are less 'cookie-cutter'. We fit that bill perfectly. We're a 'secret brand', we're just whispering a little bit louder."
In the past few years, Floris products have appeared on the shelves of tony stores like Harrods, Selfridges, John Lewis, and Peter Jones in London. "The shop on Jermyn Street is a real destination and we cannot replicate it. But we have strategically grown our footprint by placing our products at the right locations in the United Kingdom," says Graham.
However, Floris is yet to really crack the U.S. market, says Bodenham. "We do see that we have a local customer in America through sales from our online website. But we have not yet been able to really grow our presence there," he says, adding that attempts are on to change that. Floris now has a warehouse in New Jersey so that orders from the U.S. can be sent quickly and cheaply to customers.
At the same time, as the idea of terroir (natural environment) becomes ever more important in luxury, the company is also making a special effort to use and promote indigenous British products like blackcurrants, English hops, and oats. Differentiation has been introduced in packaging too—for instance, the men's skincare range has been re-titled The Gentleman Floris (it even has its eponymous web-based sales portal) and its design and colouration is denser and masculine. "Originally, the business was mostly male-focussed but over time the women's business has really grown, and at the moment it is pretty equal, roughly 50-50," says Bodenham. "The name Floris, you know, sounds quite feminine, full of flowers and so on, so we wanted to add the word 'gentleman' before it to clearly explain to the customer that this is a product for men."
To promote the men's range, Floris has been organising pop-up barber sessions that teach men "the art of shaving" (always hot water to soften the stubble, face scrub twice a week to get rid of dead skin, etc.), and sessions with whisky maker Glenfiddich and famed cigar maker Sautter.
This is an interesting moment in the history of perfume when the clock is turning on the gender divide. The history of perfume began with both men and women wearing the same essential oils like rose, lavender, and geranium and then, around the late 19th century, it sort of bifurcated into speciality scents for men and women. And now, slowly, the trend of unisex perfumes is on the rise again. In total, Floris has a range of 26 fragrances—10 for women, five for men, and the rest, unisex.
There is also another kind of demand which is quite new—that of a bespoke service. Floris offers two kinds—a $570 two-hour service where customers come in, try out a range of perfumes, and mix and match alongside a Floris perfume maker to create something they like. "At the end of two hours, what they have is a completely unique fragrance that has been made just for them and according to what suits their nose the best," says Bodenham. And they also get to carry home a 100-ml bottle of the perfume they have just made, the recipe for which is noted and kept carefully for the customer to return and order more of the same anytime. "Once you create this peculiar scent that belongs only to you, we will never reveal its ingredients and proportions to anyone else, nor shall we ever sell it to anyone else. It will forever be there for this one customer." The cost of the first bottle of perfume is included in the consultation charge, and each subsequent bottle costs about $204.
Floris also offers an even more evolved and elaborate bespoke perfume-making experience for $5,700 in which the customer comes to Floris for a series of consultations spread over any amount of time—the number of consultations or total time-period is not specified. At the end of each consultation, the customer takes home a testing bottle of fragrance to wear and try out and get feedback, and then return to tweak the formula further. At the end of this process, the customer is given five 100-ml bottles to take home whose price is included in the consultation fee. Each subsequent order costs $204. Eau de parfum is more expensive than eau de toilette because the former has a greater proportion of essential oils and less alcohol. The most inexpensive thing that Floris sells is a hand cream for $30.
Through the years, the most exciting perfume in the Floris range is perhaps still Special No. 127—a favourite of Winston Churchill, and actor and former Argentine first lady Eva Perón. The perfume was originally made for Russia's Grand Duke Orloff in 1890. "When Darkest Hour, the film on Winston Churchill during the war, was being shot, the assistant of the lead actor, Gary Oldman, bought bottles of Special No. 127 because the actor wanted to wear the perfume to get into the skin of the character," Bodenham tells me. "That is the power of scent."
(This article was originally published in the September 2018 issue of `Fortune India`.)

The perfumer to the royal House of Windsor for 200 years almost never speaks about what products members of the royal family use on a day-to-day basis from their collection. "The royal family do not have a bespoke fragrance created for them, but they choose whatever they like from time to time from the existing collection. Though we do deliver any special requests they might have," says Bodenham. For instance, about 15 years ago, Buckingham Palace wanted a different soap size (from the 250 gm and 75 gm that Floris already had), and so a new 100 gm soap was made on request.
But it isn't for perfumes or soaps that Floris first received a royal warrant. It was for combs. In 1820, Floris received its first royal warrant—for smooth-toothed combs—from King George IV. The combs had other famous takers—like Mary Shelley, the author of Frankenstein, and wife of poet Percy Bysshe Shelley, who also bought hair and toothbrushes from Floris. Military legend T.E. Lawrence, more famously known as Lawrence of Arabia, and veteran English actor John Gielgud were also regular customers.
Now, Floris holds royal warrants both for Queen Elizabeth II, the long-reigning monarch of the House of Windsor, and the Prince of Wales. And, over the years, it has received a total of 17 royal warrants which it keeps framed and lined in a room at the shop-office on Jermyn Street.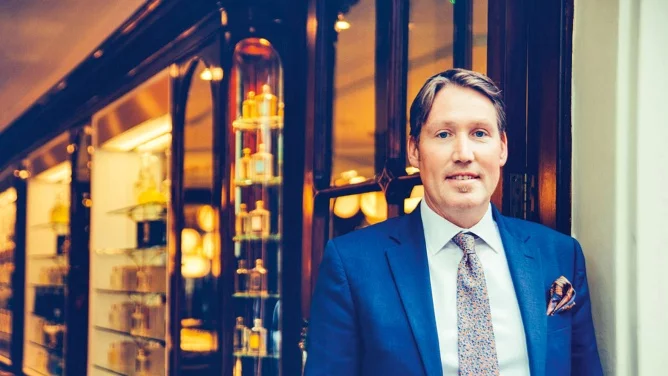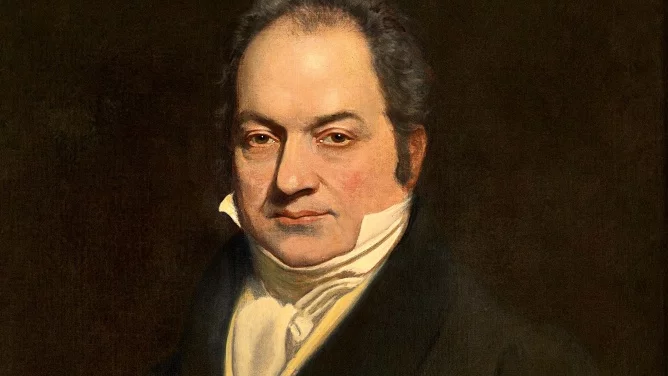 The shop was opened by Juan Famenias Floris and his wife, Elizabeth, to sell perfumes, combs, and shaving products for the men who passed by the fashionable St. James's Street with its many gentlemen's clubs. The Floris family still entirely owns and runs the business. Floris had been a barber at a hotel nearby before he started out on his own. He knew the importance of keeping many products; in fact, Floris still sells a rose mouthwash which is a throwback to its men's grooming past. In the past couple of years, Floris has taken this legacy even more seriously by launching a dedicated men's grooming line, including moisturisers and face scrubs.
"Many of our early customers had country homes and London flats. And they would buy products for themselves. First, we used to make products only for men and then we noticed that the men were often looking for something of excellent quality to buy and take back to their wives and partners in the country. That's how we expanded to making women's perfumes," says Bodenham. Juan and Elizabeth soon realised that their real passion was making perfumes and since then their children and inheritors of the business have been trained in perfumery in France at Grasse, one of the world's great perfume hubs, and Paris.
You may well have heard that Floris, London's premier perfumers since 1730, made a special fragrance for Meghan Markle when she got married to Prince Harry, sixth in line to the throne of England, but Edward Bodenham couldn't possibly confirm or deny it. Quite like his ancestors have never confirmed nor denied that Queen Elizabeth II wore White Rose by Floris (supposedly because it reminded her of carnations, her favourite flower) for her wedding to Prince Philip in 1947.
I am sitting in the basement smelling room and office of Bodenham, perfumery director and ninth generation owner of the fragrance makers to royalty. To arrive at this room, one passes through the elongated shop floor at the entrance of the Floris building and then is guided to a slim door on the right hand corner of the room. The door leads down a series of stairs that opens to a wide room which is a cross between a medieval accountant's warehouse and an equally old chemist's laboratory. This is appropriate because, in fact, it is a room full of old leather-bound ledgers of customers of Floris over the centuries and vials of multi-coloured perfumes.
What Bodenham can confirm though is that they did make a perfume for the wedding of Kate Middleton, Markle's sister-in-law, when she got married to Prince William, second in line to the crown. Called the Wedding Bouquet, the fragrance that Bodenham sprays a little on smelling paper for me, is delicate and soothing, with top notes of lily of the valley. "It was in keeping with the mood of that occasion," says Bodenham at the company's store-and-offices at 89, Jermyn Street in London. "The mood of royal occasions is very important to us."
The perfume that Floris created for the Meghan-Harry wedding is rumoured to have notes of citrus, bergamot, orange blossom or neroli, green tea, and ginger, and is inspired by its Bergamotto di Positano eau de parfum.