The world and back
The sweetness of the near overwhelms; no scope to hunger for the far, wrote Tagore. The Telegraph reports a trend that resonates with that sentiment in part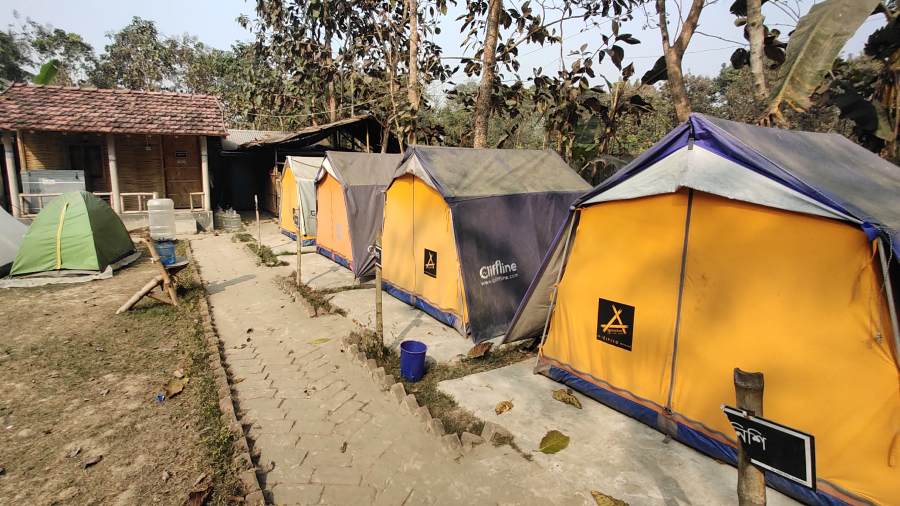 ROUGH RIDES: Backpackers' tents by the Ichhamati river in Mangalgunj village in North 24-Parganas
Courtesy, Best Exploro
---
Published 17.04.22, 12:44 AM
|
---
Monidi'r Bhaater Hotel or rice hotel in Belpahari in Bengal's Jhargram district is a much sought after stop. Monidi started her journey in the tourism sector 20 years ago when she got a loan of Rs 1,000 from a self-help group. She got herself a saucepan, a wok, a spatula and a lantern and started a tea and fritters stall. Around 2015, when the area started getting pucca roads, she found that a lot more people were stopping by and many of them were looking for a full meal. Fast forward a couple of years. This time round, people came by looking for a place to stay. "They were mostly surveyors and officers who came down from Calcutta," she says. Quick on the scent of business, Monidi made the transition to a rice hotel and also opened a homestay. "But the last three to four years, tourists have started coming to Belpahari," says Monidi.
When the pandemic struck, airports closed down, trains came to a halt and long-route Volvo bus services shut shop too. But irrepressible tourists refused to be cooped up home for long;  they now began to look out for destinations within the home state.
"The suburbs have a lot of unexplored destinations," says Soumen Sadhukhan, who acts in Bengali TV serials and also runs the YouTube channel "Ghurte Jabo", wherein he posts information about places such as Taki in Basirhat subdivision of North 24-Parganas, Bankura, Jhargram, East Midnapore, East Burdwan, Katwa, Kalna, Nadia...
This January, Pranab Bhattacharya saw one such video on the Jhargram Rajbari. He, along with 13 other friends, decided to spend a weekend there. He says, "The rajbari itself is a new thing to see. It is a family get-together away from home and monotony." The group was a mixed one — people holding 9-5 jobs, retired bankers, students, housewives.
Rahul Adhikari, who is also a resident of Belpahari, opened a homestay in 2021. He says, "I could not find a job during the pandemic and this was a good business to start. It was almost a zero-investment project. Generally, people ask for two things — a hygienic bathroom and an AC room, and those I had."
Uttam Kumar Hui lives in a village close to Kharagpur. Like Adhikari, he too has turned his house into a homestay. "City people seem to be taken with mud houses," he says and adds that in the last two years he has had guests throughout the year — on weekends and weekdays, on special occasions and in "lean season".
Rishav Talukdar, who is the owner of travel agency Best Exploro, joined hands with Izifiso, a travel group, to set up tents in Mangalgunj in North 24-Parganas. He says, "It is just beside the Ichhamati river. Across the river lies the Bibhutibhushan Wildlife Sanctuary. But if you are not going there, you can still visit a bungalow from the British era which stands there and there are rumours that it is haunted."
Talukdar is a resident of Taki. In his earlier avatar as a guide, he used to take tourists to the banks of Ichhamati during Durga Puja. It is on the Indo-Bangladesh border and people from both countries immerse their idols in it. The golpata forest is nearby. The Taki Rajbari is yet another attraction. Talukdar says, "Now, people come throughout the year. Mostly college students, young couples and at times corporate groups come for picnics."
But these days many people want to stay overnight and so guesthouses have mushroomed all over the place. It seems six or seven are under construction and will be ready by year end. "It will mean, the place will develop, people will be employed and it will boost the rural economy as well," adds Talukdar.
Homestays have come up in Purulia too. "The Ajodhya Hills have always attracted people. There is the hill, the river and a fort from the Mughal era," says Mrinal Mondal, a resident of Salboni block of Jhargram. Mondal often travels on work to Purulia.
The district has at least three tourism circuits — Ajodhya, Panchkot and Purulia. The Ajodhya circuit houses Bagmundi village, which is the hub of mask makers. Besides, there are a dozen ancient temples, artificial water bodies, and Bamni and Turga Falls. The Panchkot circuit boasts of the historic site of Garpanchkot, temples, the Panchet Hill and the Panchet Dam, and the Rakab forest. The last circuit has the district science centre, a national wildlife park and the Saheb Bandh — a large waterbody full of water lilies.
 Sadhukhan has written about Pathra in Nadia, which is home to many ancient temples. He also talks about Natungram in Kalna block,  which is known for its wooden dolls, and Moynagram in East Midnapore, which is famous for its goyna bori, an indigenous savoury item. Talukdar says, "The pandemic may have hit the larger tourism sector, but in this instance, for the rural economy it has been a blessing."