Winter of content
The Telegraph takes stock of the ever-growing list of fringe lit fests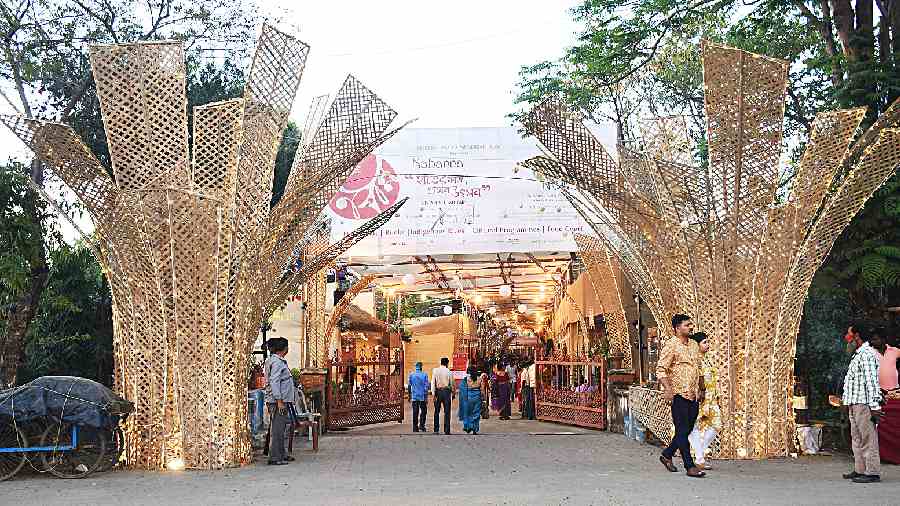 BOOK INC: Discussions on art, weaves and Tagore find space alongside the latest book about climate change at the Nabanna mela.
Courtesy, Nabanna Facebook page
---
Published 29.01.23, 04:20 AM
|
---
January is the month that sees authors from across the country, and even the world, descend on Calcutta as the city holds its two marquee lit fests. Yes, two because the range of interests of the curious readers of the City of Joy — and books and food and films — cannot be encompassed by one. In fact, they cannot be encompassed by even two; there is now a whole range of little lit fests in and around the metropolis.
This year, both the Tata Steel Kolkata Literary Meet, also known as Kalam, and the Apeejay Kolkata Literary Festival had sessions on food, featuring food writers as well as chefs. Karen Anand released her autobiography while Michelin-star chef Vikas Khanna was here to promote his book of fiction. Both spoke of the Calcuttan's love for food and their love of Calcutta food. "Food, travel and wellness writing are going to be the next big things," says editor, writer, scholar Anjum Katyal, who is also the former director of the Apeejay Kolkata Literary Festival and curator of the NEW Festival of Arts and Ideas in Santiniketan.
Calcutta's newest literary fest is right on trend. Jugal's Literature Festival, to be held on February 11 and 12 at the Town Hall, claims to be the world's first literature festival on mishti or Bengali sweetmeats. Named after the south Calcutta sweetshop that is hosting it, the lit fest will feature people as diverse as British chef and restaurateur Asma Khan, food writer Colleen Taylor Sen, food blogger Indrajit Lahiri, who is better known as his YouTube avatar Foodka, endocrinologist Dr Sudip Chatterjee and public health researcher Dr Sylvia Karpagam.
"Not only will it be the first literary fest on mishti in the world but also the first ever literary fest on food," says Lahana Ghosh, scion of Jugal's and the one who dreamt up this fest. Food is the only medium where we do not see discrimination. "We have accepted and incorporated various influences in our food without any complaint," she points out. This festival, which brings together the twin loves of Calcutta — food and culture — bears watching closely.
Little literary fests focus on topics that the mainstream fests just glance at in passing. "Rainbow writing, women's writing, niche writers, genres that are not yet popular — these put the spotlight on a lot of deserving work," says Katyal. "The smaller lit fests are highlighting a lot of vernacular literature," says Malavika Banerjee of Kalam, talking about how there are now well-known Urdu, Hindi, Malayali lit fests. Kalam, of course, has a series of Bengali sessions while Apeejay hosts the Bangla Sahitya Utsav, which went from an evening affair to a three-day event in the last eight years. Whole families descend on the Oxford bookstore on Park Street to attend the school and college adda as well as grab a chance to get books autographed by their favourite authors.
"There was a lot of interest in the utsav, which is why we started holding more sessions," says Swagat Dasgupta, CEO, Oxford. Despite fears, interest in Bengali literature hasn't petered out. This time, there were discussions on contemporary Bengali literature, children's literature, comic writing and, of course, detective fiction. There was also a session on the influence of literature on Bengali cinema. The bookstore holds a Hindi and an Urdu lit fest in Delhi.
"These fests are important to spread awareness," says Meenakshi Sanyal, queer activist, feminist and co-founder of Sappho for Equality. "There should be lit fests for marginalised writing." There used to be a rainbow literature festival in the city organised by the queer forum but it went the way of many good things, laments Sanyal.
The People's Literary Festival claims to focus on literature ignored by mainstream festivals. Conceptualised by the Bastar Solidarity Network and entirely crowd-funded, it brought luminaries such as revolutionary poet Varavara Rao to Calcutta for its first edition in 2018. A bright flame while it lasted, the pandemic seems to have brought it low with nobody quite sure when, and if, it will hold its next edition.
The NEW festival — it stands for Nabanna Earth Weekend — that Katyal has been curating for the last three years has, on the other hand, gone from strength to strength. Its focus is social and environmental consciousness, craft, sustainability and local food. All hot topics the world over. To be held this year on the weekend before Holi, this lit fest is an offshoot of the Nabanna crafts mela, where local artisans sell sustainably-made crafts and weaves. "The spirit of this festival is very different from the big Calcutta lit fests," says Katyal. "While we get big names here too, the atmosphere is warmer, more intimate, more Santiniketani." she adds. Discussions on art, on weaves, on Tagore are just as common as sessions on the latest book on climate change or organic living.
Is it mere happenstance that Kalam this year had a session on the textile and design heritage of India, its innovations and its future? Are mainstream festivals showing us a glimpse of what little lit fests focus on or are the little lit fests now influencing their big brothers?