The Telegraph She Awards 2018 saluted seven wow women from bengal. t2 cheered them on
The Telegraph She Awards 2018, presented by IIHM in association with Senco Gold & Diamonds and StarOm Realty, with co-sponsor Kutchina, television partner ABP Ananda, radio partner 91.9 Friends FM, event partner Cherry Tree, invitation partner The Entertainment Design Company, celebrations partner Ballantine's Stay True, and hospitality partner JW Marriott Kolkata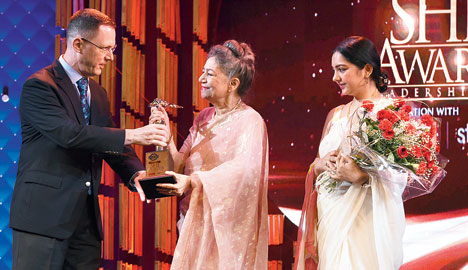 ---
---
WHAT: The Telegraph She Awards 2018, presented by IIHM in association with Senco Gold & Diamonds and StarOm Realty, with co-sponsor Kutchina, television partner ABP Ananda, radio partner 91.9 Friends FM, event partner Cherry Tree, invitation partner The Entertainment Design Company, celebrations partner Ballantine's Stay True, and hospitality partner JW Marriott Kolkata
WHEN: March 29
WHERE: JW Marriott Kolkata
THE CEREMONY: The Telegraph She Awards was instituted in 2016 to recognise women achievers from Bengal or with a Bengal connect. The second edition celebrated seven extraordinary women, who were chosen by a panel of jury. The awardees were felicitated with
The Telegraph She Awards trophy designed by Narayan Sinha, and gift hampers from Senco Gold & Diamonds. "They are women who have excelled in their fields, and their stories inspire us to believe in ourselves and follow our dreams," said actress Swastika Mukherjee, the emcee for the evening.
SOCIAL DEVELOPMENT: ALOKA MITRA
ALOKA MITRA receives her trophy from US consul-general Craig L. Hall and actress June
Her story: She founded Women's Interlink Foundation, a non-profit organisation that works on integrating women, child and community development projects. For the past 48 years, Mitra has been helping women from the less privileged sections of society claim their rights.
Q: In the five decades that you've been working in this sector, what has been the biggest challenge and how did you overcome it?
A: One of the challenges is how the hundreds of women who have been trafficked can be empowered and given a good life... giving them the opportunity. This work is very challenging but the beauty of it is that if you persevere, stay focused and work hard, and if you win, you don't win personally. That's where all of us come in.
ENTREPRENEUR: MADHU NEOTIA
MADHU NEOTIA receives her award from actor DEV, SUVANKAR SEN, executive director, Senco Gold & Diamonds, and Joita Sen, director, Senco Gold & Diamonds
Her story: She has played a pivotal role in providing women and child healthcare in Bengal, with a slew of centres of which The Bhagirathi Neotia Woman and Child Care Centre on Rawdon Street remains the star. She's also the lady behind The India Story, a much-awaited lifestyle event on the city's annual calendar.
Q: What is your biggest takeaway from the initiatives you are pursuing in women and child healthcare?
A: It has to be the constant care that we must keep giving because that's the only thing that can make a difference, whether it's nursing, administration, or behind the scenes. It's our job to make people feel comfortable.
HALL OF FAME: ARUNDHATI BHATTACHARYA
ARUNDHATI BHATTACHARYA is inducted into The Telegraph She Awards Hall of Fame by fashion designer and last edition's She Award recipient ANAMIKA KHANNA and filmmaker ANIRUDDHA ROY CHOWDHURY
Her story: The former chairperson of State Bank of India is the first woman ever to head India's largest public sector bank, where she had started out as a probationary officer in the 1970s.
Q: You were a student of literature who entered the world of finance and rose to the top. Was not having a background in economics ever a hurdle for you?
A: Not really, because I think if you really want to do something and find it interesting, you will always find a way of learning what you need to learn. One needs to be learning throughout. And if you continue to do that, learn from whoever comes your way, then I think it is not such a difficult job.
PERFORMING ARTS — FILM: RITUPARNA SENGUPTA
RITUPARNA SENGUPTA receives her trophy from actor Prosenjit and SANJUKTA BOSE, director, IIHM
Her story: She's the leading lady of Tollywood, having done 200 films in her 25-year career and having ruled the box office for over a decade, often with Prosenjit as her co-star. Her work in art-house cinema has been significant too.
Q: We all want to know what's the secret behind your energy and your indomitable spirit...
A: I don't know how it comes, how it begins, how it ends. I hope it never ends for me. I still feel like a little girl who wants to do so much in life. I love my craft, I love my work. I have such a beautiful fraternity who love me, who give me so much of inspiration, energy. I am here to do a lot more.
PERFORMING ARTS — THEATRE: USHA GANGULI
USHA GANGULI receives her trophy from actress KOEL MALLICK and filmmaker ANJAN DUTT
Her story: Through the Hindi theatre group Rangakarmee, which she formed in 1976, Ganguli tells soul-stirring, thought-provoking stories of the unsung and the
oft-forgotten.
Q: What inspires you to keep pushing the envelope in theatre even after so many years?
A: Every day I get around 10 calls from people and all of them want to do theatre! The younger section of the society is interested in theatre. They know the power of theatre because this power can change society, create social awareness and make them fighters.
EDUCATION: SUDHA KAUL
SUDHA KAUL receives her award from danseuse Tanusree Shankar, actor Abir Chatterjee and Namit Bajoria, managing director, Kutchina
Her story: She founded the Indian Institute of Cerebral Palsy (Taratala) to provide support and care for people with cerebral palsy after her son Arjun was diagnosed with the condition, and since 1974 has been teaching and mentoring children with cerebral palsy to lead a fuller life.
Q: Every time there was a setback in your journey, how did you motivate yourself to carry on?
A: Since I work with children, I think a smile on a child's face is enough motivation. I have a lot of faith in children and that's how we moved forward.
CORPORATE: NAMRATA DUBASHI
NAMRATA DUBASHI receives her award from fashion designer Kiran uttam ghosh and vishal jhajharia, managing director, StarOm Realty
Her story: She is one of the 10 per cent of women who make it to partners in top management and strategy firms. The IIM Bangalore alumnus heads eastern region operations for McKinsey and Company.
Q: What is your message for women who are balancing home and work and aspire to play a greater role in leadership?
A: I think the next decade is going to be about the war for talent and war for talent cannot be won without women leading the charge. My one message for women is to define what's non-negotiable and fight every step of the way to protect it.
Meeryung Hall, a trained soprano singer from the US, and Rabindrasangeet singer Sasha Ghoshal (far left) set the tone for the ceremony with a powerful rendition that comprised Tagore songs like Tumi robe nirobe and Tumi shondharo meghomala and also popular English numbers like Stand By Me and What a Wonderful World. They were accompanied on the piano by Soumitra Sengupta (above).
OFF-STAGE MOMENTS
"IIHM has always been a great supporter of women empowerment and it's our honour and privilege to be associated with this awesome initiative by The Telegraph. I thank The Telegraph for organising this huge event, which was absolutely fascinating. We saw the power of 'she' as each of the super champs came up on stage to receive what's become a very prestigious award for women leaders," said Suborno Bose, CEO and chief mentor, IIHM.
"This is the second time we have associated with The Telegraph She Awards. The concept of the awards merges well with the thought of our brand. We shouldn't forget that it is women who are actually making all the difference in the world today and Senco Gold & Diamonds, for the past 80 years, has been in the role of adorning women in beautiful jewellery," said Suvankar Sen, executive director, Senco Gold & Diamonds.
"The Telegraph She Awards really inspires as it recognises women who have achieved so much and gone above and beyond despite the difficulties they have faced. It showcases super achievers from different fields," said Vishal Jhajharia, managing director, StarOm Realty.
"Kutchina is a brand for women and the Kutchina Foundation deals with women empowerment, so associating with The Telegraph She Awards was a direct connect. I liked the classiness of this event. It was so crisp and to the point," said Namit Bajoria, managing director, Kutchina.
SOME OF THE SHE AWARDS 2016 WINNERS...
DINNER
STARS FROM THE MENU
REGAL RED AND FREE-SPIRITED SUMMED UP THE DECOR
The stage: They create. They lead. They inspire.
These three lines captured the essence of The Telegraph She Awards 2018 and the decor at JW Marriott Kolkata Banquets lived up to the theme. The highlight of the decor? The 40ft x 28ft stage done in red, gold and black. "The trophy has an image of a euphoric and emancipated woman, the one who is liberated, and I took a cue from it for the decor. This red installation hanging from top is like the swirl that is formed when you toss a ribbon... like a free-spirited woman. This structure was wrapped with red wool by 12 artisans for two days," said scenographer Swarup Dutta, who conceptualised the decor along with Rishabh Bapna, director of Cherry Tree, the event partner. "We wanted to raise the bar this year and create an experience," added Rishabh.
The centre of the stage had a round LED screen that was framed by panels of 200 rods, looking like a wind chime. "The circle symbolises womanhood and we hung various mild steel rods cut into different sizes all around the screen," said Swarup.
THE BAR: The 32ft-long bar was literally "lit" up with lights and mirrors. Rose petals scattered below the lamps added a warm tone.
THE ENTRANCE: An 8ft-tall rotating statue — a replica of the golden She Awards trophy (above) — stood at the entrance to the banquets, and became the most clicked backdrop of the evening. Above it hung a stunning tiered chandelier made of red roses. "We used red roses everywhere because red was one of the theme colours. The rose globes (below) on the dinner tables made everything look so classy," said Rishabh.
Pictures: Rashbehari Das, Pabitra Das, B. Halder and Arnab Mondal