The humble bicycle goes posh
The premium avatars are popular with the growing number of enthusiasts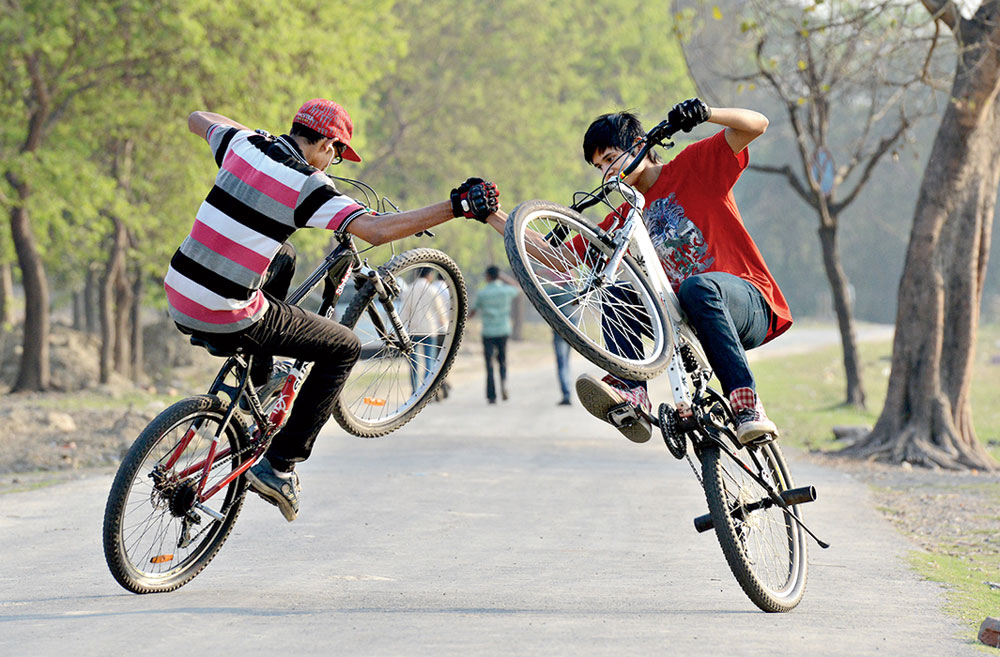 Wheelpower: Consumers choose bikes to suit their riding rhythm
File picture
---
Published 27.10.18, 05:09 PM
|
---
Communications specialist Nishant Maheswari rides a Specialized Rock Hopper, while finance professional Subhajyoti Sensharma owns a Trek 1.1 and a second-hand Raleigh.
It is not as if all the orders are from Calcutta alone. "I got an online order from Purulia recently for a Giant Rome XR2 [a Taiwanese brand] priced at Rs 87,000. Even the rural populace has money in their hands and are looking for premium products," says Patil. Small towns such as Kohlapur and Nasik apparently yield more sales than Pune.
And while it seems that the onus of keeping the standard cycle afloat rests largely on the various state governments — they do the needful by marrying it into their many sops — its trendier counterpart depends on its features for its own growing following. What differentiates the Giants, Specializeds and the Treks from popular Indian brands are the components and the body frame. "Not only are the imported bikes far lighter in weight, the components last much longer than our Indian brands," says Maheshwari. That is why while Hero and Avon still sell the highest in terms of numbers, international brands such as Cannondale, Trek, Specialized, KHS, Giant and Polygon are slowly making inroads into the market.
According to veteran cyclist Dickie Saluja, buying the right cycle is an art. "There are different types of cycles for different purposes with different geometries. While you have the on-road bikes with super slim tyres and tight geometry, mountain bikes are for off-roading. One should buy a cycle to fit one's riding rhythm," he says.
And the neo bhakts of the cycle are creating their own orders. In Calcutta alone there are three active cycling groups — Discover on Wheels, Cycle Network Grow and Pulsing Pedals.
Discover on Wheels organises brevets and long-distance endurance rides. When it was founded three years ago, there were hardly seven or eight riders. "Today we have 35 to 40 cyclists," says Maheswari, who is one of the founders. "Cycle Network Grow is an open community of 400 riders," says club member Ashish Bajaj.
"We keep organising events such as the May Monthly Challenge, wherein 350 cyclists from 20 states participated. The riders have to ride for 22 days a month with a daily commute of 15 kilometres. These are endurance events, at the end of which they are given certificates," he adds. There are other groups who do serious cycling — 40 to 50 kilometres on the outskirts of the city — every day.
But as Saluja points out, Calcutta is yet to catch up with Bangalore and Pune, which are the cycle cities of India.
Pal agrees. He says, "In our club [Discover on Wheels], we have about 10 cyclists who go on regular rides every week. If we have an event, that number climbs to 30-odd. But that's a paltry number when compared to other cities."
From being the sole source of hope and livelihood for a father and son in post-World War II Italy, as shown in Vittorio De Sica's Bicycle Thieves, the two-wheeled vehicle has come a long way. Of course, it remains an invaluable mode of transport even now, but lately, Indian metros, including Calcutta, have come under the spell of the 'other' cycle.
The 'other' comprises the mid-premium and premium bikes from domestic and foreign makers alike.
India is the second-largest manufacturer of cycles in the world — China is the largest. In recent times, the sale of standard commuter cycles — which comprise 92 per cent of the 16 million cycles sold every year — has registered a steady decline. UP Cycle Stores, an old shop in central Calcutta's Bentinck Street, that has been in this business for three generations, confirms this. Ashish Gupta of UP Cycles says, "There is almost no sale of standard cycles. The drop in sales is about 200 per cent over the last several years."
The spike in demand of the premium cycles is not as spectacular as the drop figures, but one thing is for sure: it is happening and it is picking up. "In Calcutta, every year we sell 16 or 17 cycles priced Rs 1 lakh upward each," says Pravin Patil of the Pune-based Starkenn Sports Pvt. Ltd. Advocate Sumanta Gupta bought a Giant Defy 5 cycle for Rs 55,500. He knows someone who owns a Trek X-Cabiler 8 that comes for Rs 1 lakh-plus.
Mediaperson Supratim Pal rides a Specialized Roubaix Compact Sora — once again a Rs 1 lakh-plus ride. "Specialized Bikes is an imported brand and is not available in Calcutta. I got mine from BumsonTheSaddle, a cycle store in Bangalore," says Pal, who used to be the Calcutta representative of Audax Club Parisien, a 102-year-old cycling club based in Paris.
Pal, who has shifted to Pune since, has in his garage a Trek 4300 D and a twin suspension cycle Firefox Colorado. While the Trek cycle cost him Rs 37,000, the Firefox, an Indian cycle, cost him Rs 24,000.