A wine-on-wheels balancing act through Napa Valley
Touring the legendary vineyard region of the US on a bicycle, the toughest choice is – to taste or to drink up?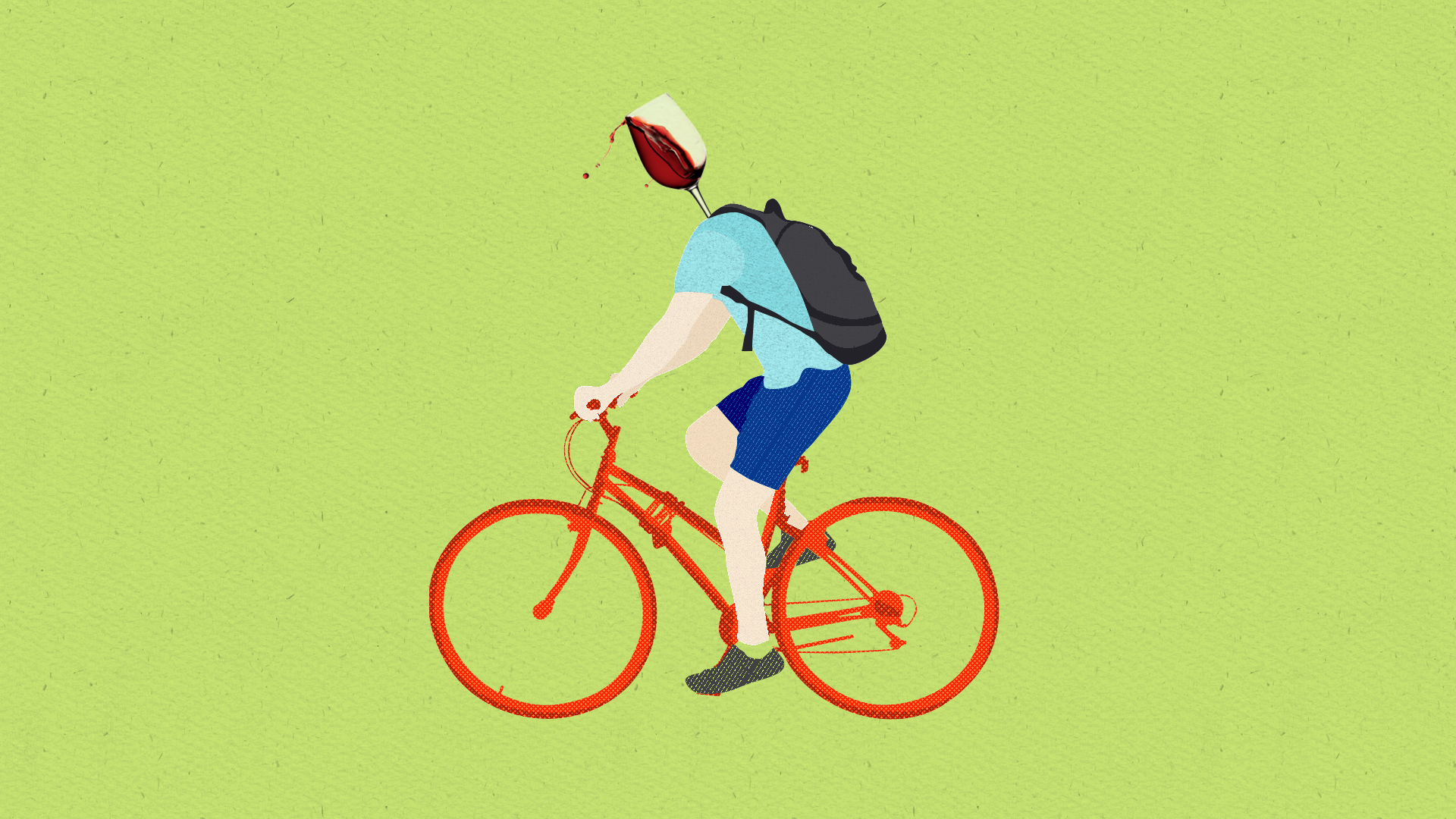 Cycling enthusiasts can take a cycle tour through Napa Valley, California
Illustration by Rahul Awasthi
---
Published 16.10.18, 11:46 AM
|
---
I'm a MAMIL – a Middle Aged Man in Lycra. The word was coined with a touch of derision towards gentlemen, of somewhat advanced years, who make cycling their preferred form of exercise and, therefore, don the tight-fitting Lycra jerseys. But I wear the term (perhaps not so much the Lycra) with gentle comfort. Cycling has become an essential part of my life and when I travel for holidays, I try and add an element of it to my trips.
In that context, I'm in sunny Southern California, San Francisco. Of course, as San Francisco is the gateway to Napa, I'm going to grab the opportunity to visit some wineries and sample their good stuff. Maybe even on a bicycle.
A little search for 'cycling' and for 'wine' connects me to Gears & Grapes and Danny, who organises trips on bicycles through the Napa, Sonoma, Russian River and Dry Creek valleys. This week's selection is Napa. We're picked up in a van at our meeting point opposite the public library. There are only three of us -- Felix and Valerie, a honeymooning couple from Minnesota, and yours truly. We're ready to ride and imbibe.
Check Box:
When to go: This is Southern California - you can go year round!
Where to stay: The Scarlet Huntington on top of Nob Hill and the Taj Campton Place which has a wonderful Indian chef with 2 Michelin Stars.
Things to keep in mind: Dress light but carry a warm layer. Bicycling shorts and jerseys are preferable but a non-cotton t-shirt (to keep the sweat away) and base layer will do.
Things to do:
1. Alcatraz tour
2. Yosemite National Park
3. Carmel - Clint Eastwood was mayor
4. Golf at Pebble Beach
First stop is Domaine Chandon (DC), part of the Moet & Chandon group, which also has a winery in India. It makes its sparkling wines using the methode champenoise, used in Champagne, France. Of course, they may not call their product Champagne -- only the wine made in the French region can.
It's a beautiful summer day but cool enough to warrant a long-sleeve cycling jersey and also perfect for the cold sparkling wine we are beginning our day with.
DC has a tasting menu that allows a flight of three to four wines for between $20 and $25, with tasting notes appended. But it is flexible and allows you to swap out selections so your flight is tailored to your palate. I do my swaps and end up with four sparkling wines, the Brut Classic, the Blanc de Noirs, the Reserve Brut and the etoile Brut. The last two are only available at the winery. It becomes clear that all sparkling wines are not the same. As I concentrate on isolating the nuances, the notes of apple, pear (Brut Classic), spiciness (Blanc de Noirs), hazelnut (Reserve Brut) and caramel (etoile Brut) become evident.
By the time we're done, Danny has set up our bicycles. With a small test run to adjust seat height and air pressure, we set off along the Napa Vine Trail, a tarmac bike path that runs next to the highway and leads to a handful of wineries.
We miss the turn at Oak Knoll that Danny has asked us to take and end up three km further down the trail. It takes a phone call to put us back on track. What should have been about six miles become 10. Fortunately, the road is relatively flat and free of traffic, except for runners and other cyclists. When we get off the trail we're on tarmac, shared with normal traffic but, almost always, with a hard shoulder or bicycle track on either side.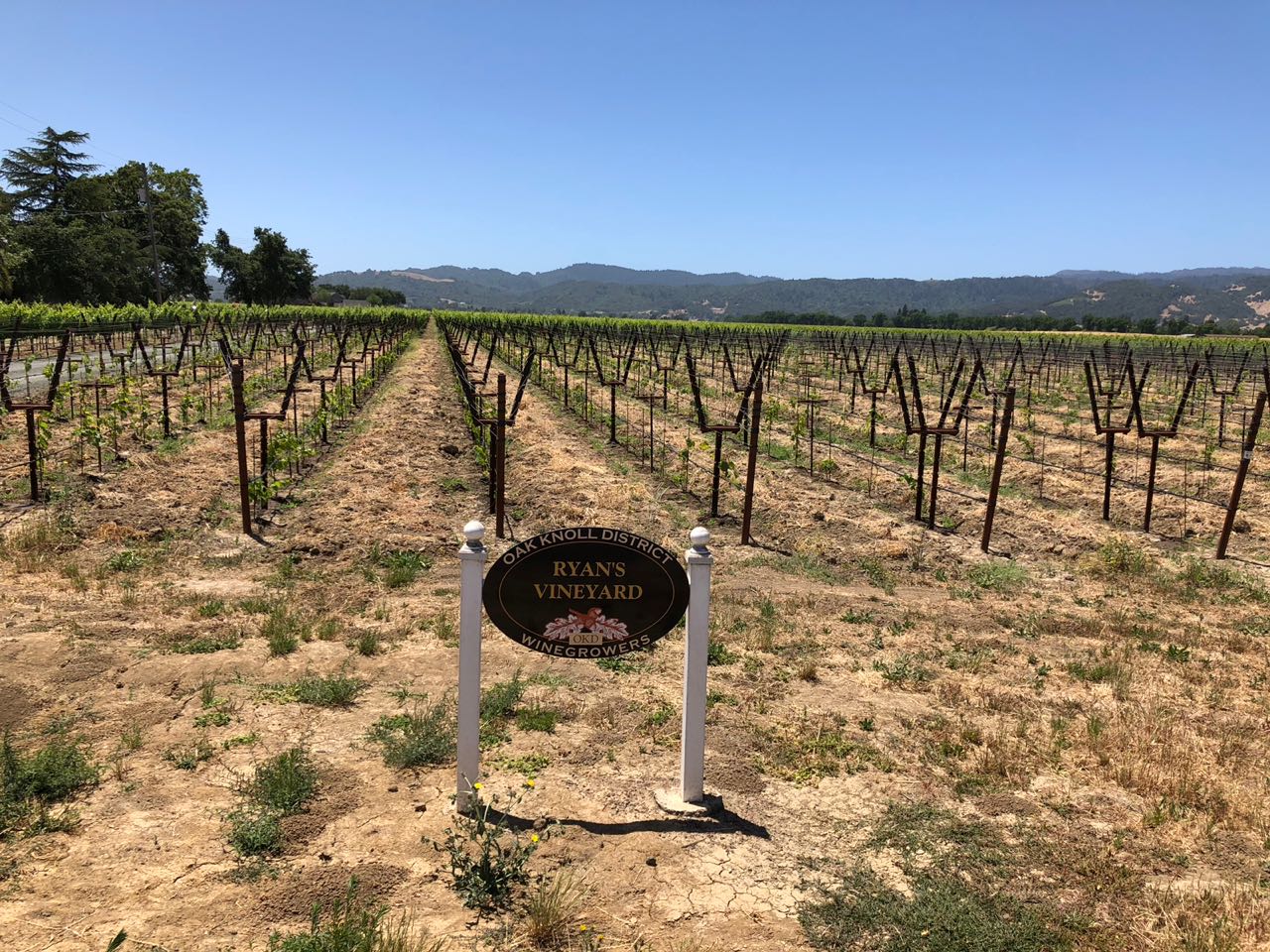 The next winery, Monticello, is named after Thomas Jefferson's estate. There's a scale model at the entrance. After the gluttony (or the beverage equivalent thereof) at Chandon, I decide to strategise and only taste wines I think are going to be exceptional. I have to, if I'm going to ride with any hope of safety. The waiver form has branded the thought firmly on my mind.
So at Monticello I only taste their banner offering, Cabernet Sauvignon, a tribute to the grape that put California wines on the map at the judgment of Paris in 1976. This is their Corley Reserve. Powerful, fruity, dark berries and obvious tannins. I'm so taken with this wine that I buy a bottle, which will occupy one place in the quota for baggage and duty-free allowances.
We sit down in the garden, with our glasses, to a picnic lunch of prosciutto, salami, cheeses, pasta and salad. Then we're ready to ride out to the next winery – Judd Hill. The road is a continuation of the road to Monticello and we're doing a loop to each of the next two wineries.
Judd Hill is a small, family-owned boutique winery that limits its production to 5,000 cases to be able to control the quality of its wines. It is going to be the last but one winery on our itinerary. So the strategy to limit myself to a few wines is instantly revised. I'm once more the wine-slut I set out to be at the start of the day.
We have four wines on our menu here, the 2017 Sauvignon Blanc, the 2016 Viognier, the 2015 GSM (Grenache, Syrah, Mourvedre – a Napa blend that many wineries do) and the 2013 Lodi 'Old Vine' Petit Syrah. Winemaker Eric adds a fifth, the 2014 Cabernet Sauvignon – nice of him and very Napa in nature. I'm not impressed by the Petit Sirah, but the others range from pretty good to delicious.
By now my palate is a bit fuzzy. I'm wishing I had spat out some of the wines I tasted instead of swallowing them.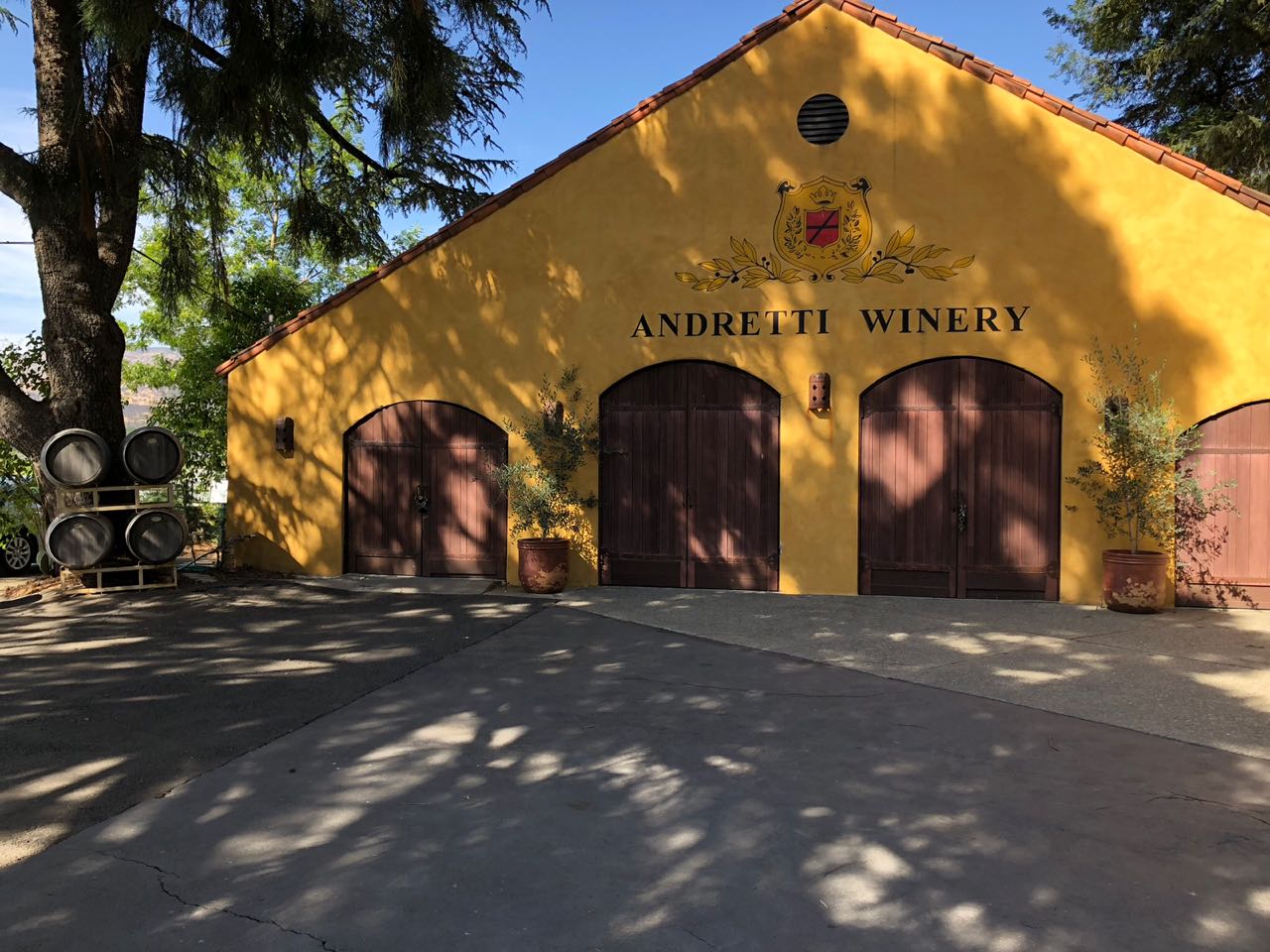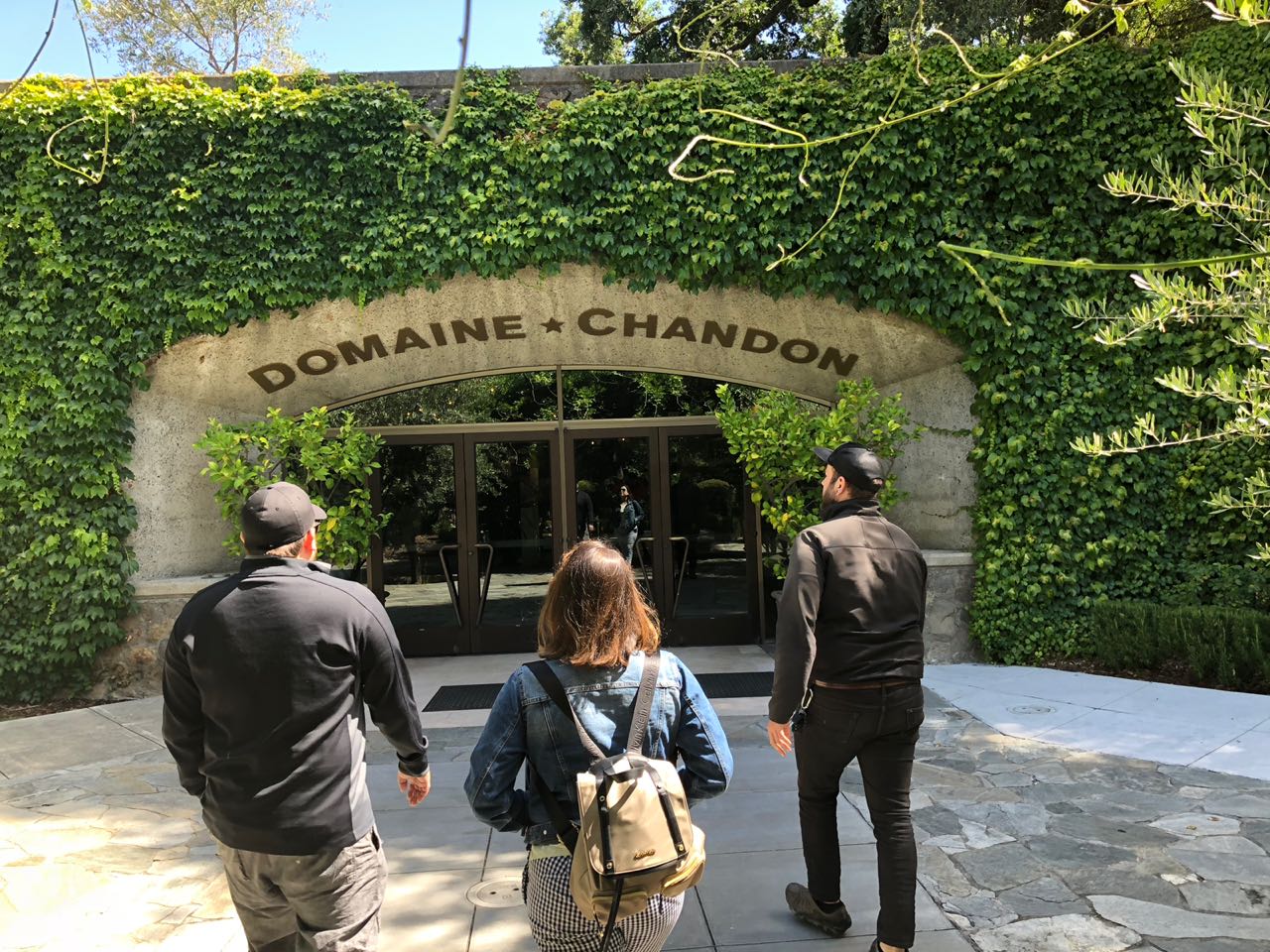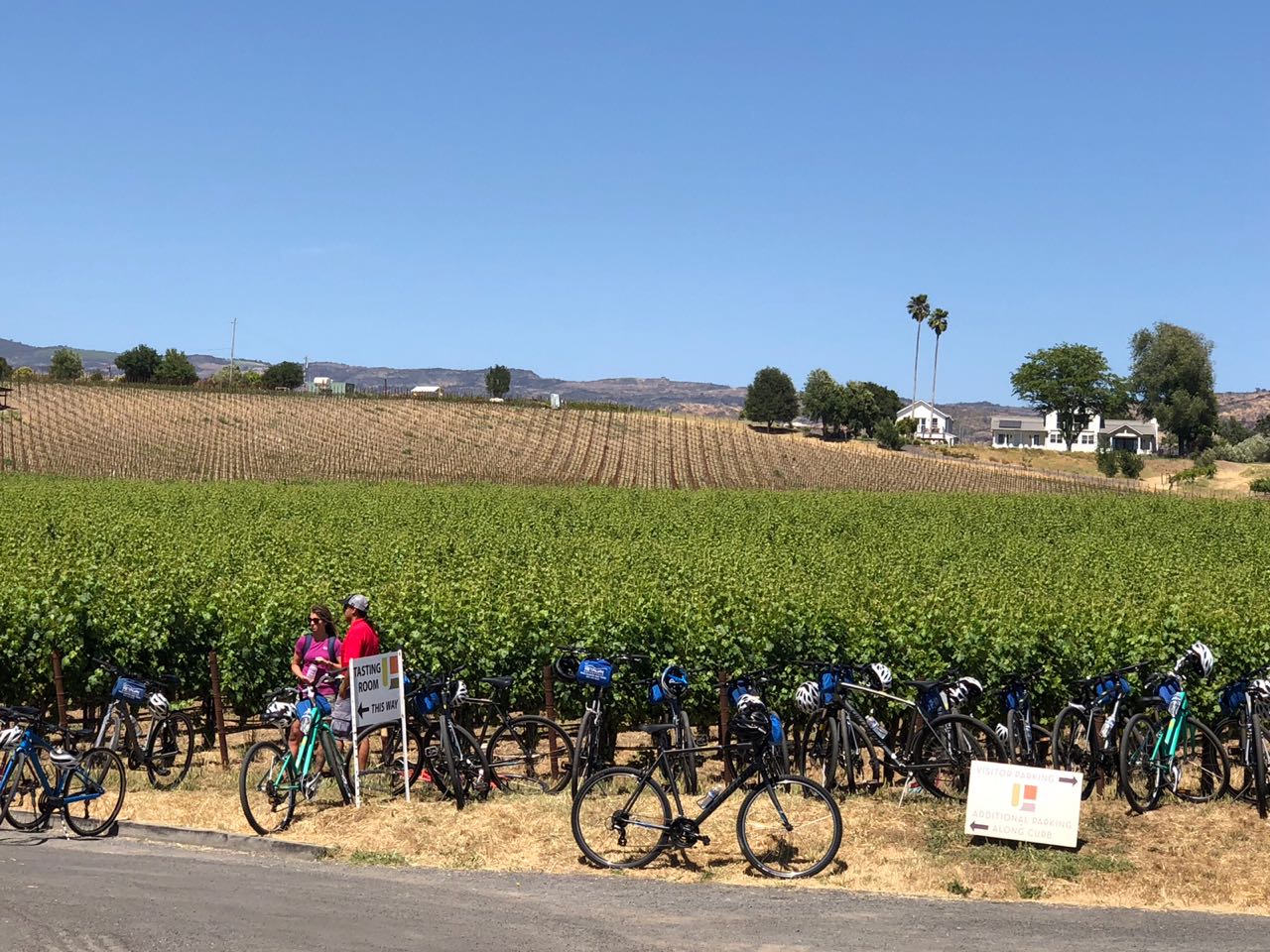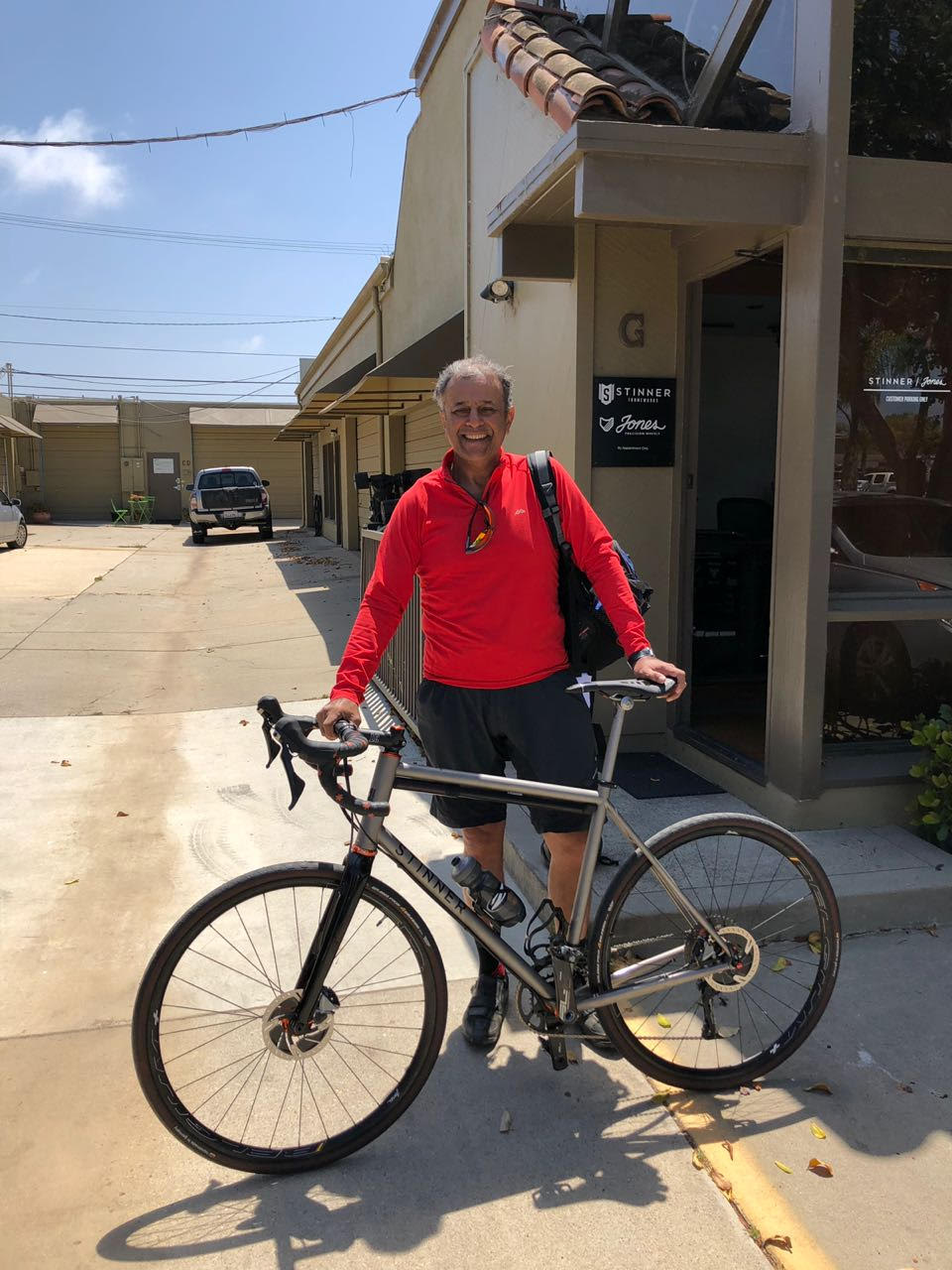 We're off to the last winery on our list, the Andretti Winery, which has Mario Andretti, the NASCAR racing driver as partner. It is another five odd miles down the road. In addition to the traditional Napa grape varietals, they have Tuscan varietals as well – Sangiovese, Barbera and Dolcetto. This flight is on our tasting menu today.
The Andretti winery seems influenced by the architecture of old Sicily – wrought-iron balconies, wrought-iron tables and chairs and a cobblestone courtyard with a fountain. Remember Godfather II?
I have to confess that my tasting notes here borrow heavily from those provided by the winery. After 10 glasses of wine, even when sized only to taste, and despite the 20-odd miles of cycling to work it off, the sharpness of my palate has been somewhat blunted.
Given that we're not riding any more, we feel free to indulge ourselves. We go through another four tastings - the 2016 Pinot Grigio, the 2013 Dolcetto, the 2016 Barbera and the 2016 Sangiovese - before calling it a day.
The bikes have been loaded back on the van. I'm in that wonderful drowsy state of mind brought on by a combination of physical effort, wine (not just any alcohol), good food and good company. Despite Danny's efforts at pointing out things of interest on the way, I listen only with half my mind.