The stylish Bachchan
Shweta bachchan and Monisha Jaising on dressing millennials with their fashion label MXS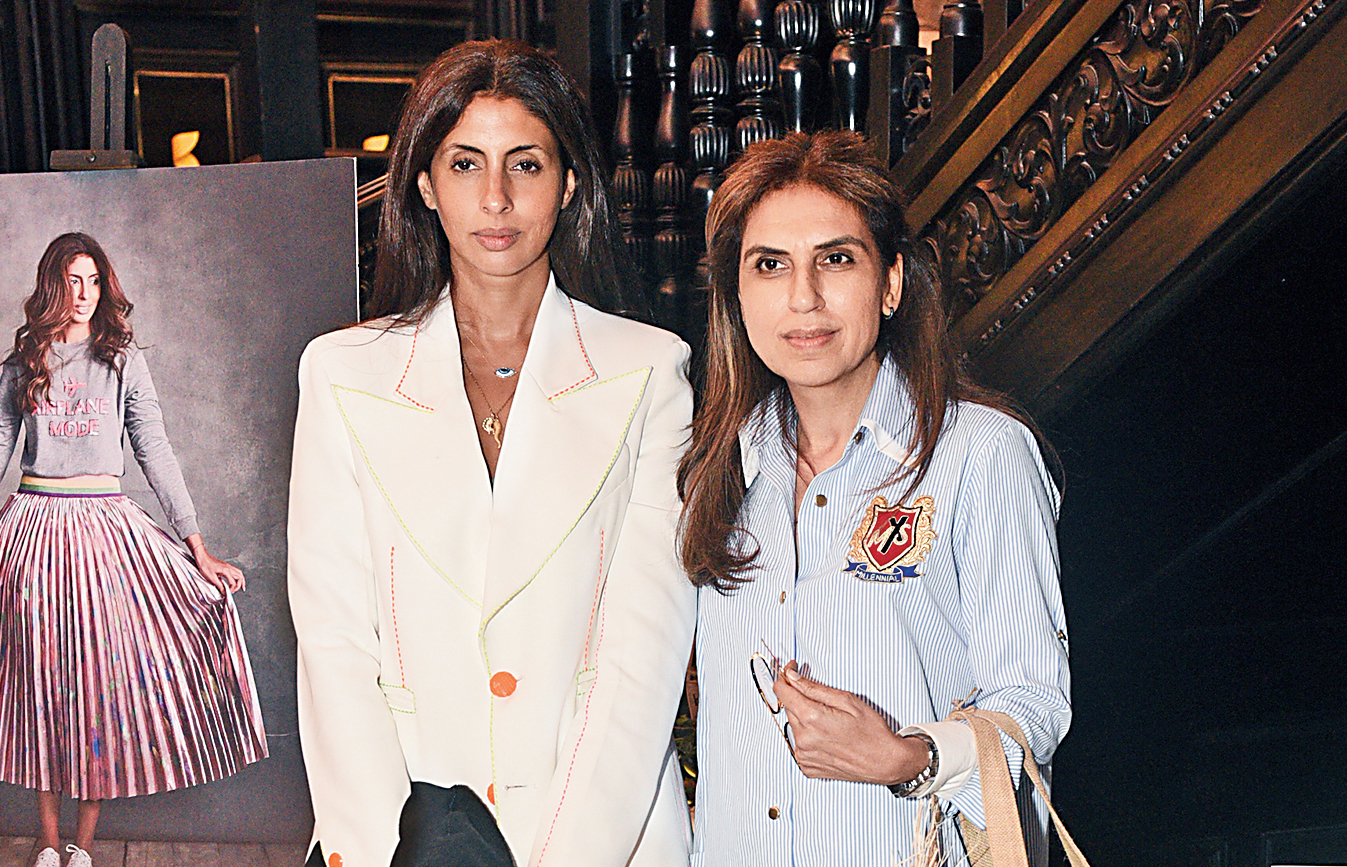 Shweta Bachchan and Monisha Jaising, founders of high street luxury pret brand MXS at Galleria 1910.
Picture: Rashbehari Das
---
Calcutta
|
Published 30.04.19, 03:25 PM
|
---
Collaborations are the flavour in fashion and are being seen across all segments of the industry — from luxury wear to casual pret. MXS, a luxury pret label, is a collab between design veteran Monisha Jaising and Shweta Bachchan. The duo brought their six-month-old brand to Calcutta for a pop-up recently at Galleria 1910. "This lovely young lady (Avani Saharia, presenter of the MXS Pop-Up) loved our stuff and has been following our brand since its inception in September 2018, and her enthusiasm for the brand and the impact that it can make in Calcutta was so great, she won us over and we are here!" They sat down for a t2 chat for more on the label.
Tell us how the label was born...
Shweta Bachchan: Monisha and I know each other socially, our children are friends and then we have a lot of friends in common. It was a friend's birthday and I had asked Monisha to make something for me and it was stunning!
Monisha Jaising: It was like a collab because it was her vision and I converted that into the garment.
Shweta: Then I told her that we should do something together, and first we thought in the space of a capsule collection, then it turned into MXS and it worked out so wonderfully for both of us. For me, you know I don't have a formal background in fashion but it's like going to fashion school... Monisha has been so patient and generous with her knowledge and her time. Our team is a very young team and a lot of young women design and sell. That's so encouraging and they push me to do more and I for a newcomer…
Monisha: I wouldn't say she is a newcomer, because as we all know, she has been a style icon for the whole country. Even though a formal education in any field guides you but then it is something that comes from within that actually gets out the best.
Who is a MXS shopper?
Shweta: A MXS shopper is all of the lovely ladies who have been here today, some of them have come with their daughter, some with their mothers, some with their daughter-in-law, aunts, sisters… it's actually been very heartening to see that. This is where we want to reach out, we want women of all ages and profiles to come, find something and go home happy. It's been so fulfilling to see that.
Monisha: I was speaking to Avani, and she said you know whatever I liked my mom liked as well and I was like this is it! If my mom likes something that I pick up and both ways then there is something definitely right about it.
Shweta: Monisha and I are both mothers and we have young children. I have a daughter who borrows frequently… and so to have a collection where different age groups can come and pick from....
How do you divide up your work within the brand?
Monisha: She looks after the designs and I look after the production.
Shweta: No, we both collaborate!
Monisha: Since I have been in the profession for so long, people always ask me 'oh did you do the design?'.
Shweta: This is a proper collaboration, no one piece goes to the sampling stage unless it is approved by both of us. Have you found your style DNA. If yes, how would you define it?
Shweta: Our style DNA would be casual-chic. We both kind of dress similarly, we both like comfort.
Shweta, you have grown up surrounded by fashion icons and very stylish people… did that have an influence on your style?
Absolutely! Because I feel it depends a lot on what you are exposed to. I feel my style today is a collaboration of both my parents' styles. My mother is very simple, elegant and paired down, while my father likes to experiment with colours, prints and he likes to take chances… and so I am a product of that. One thing that both have taught me is quality, it is everything. And with the MXS garments we don't like to use anything that is not good quality, whether it is embroidery, embellishments or our materials, everything has to be of good quality.
Then, of course, travel exposes you to a lot of cultures… that also has an influence.
Is there any particular celebrity's style you loved while you were growing up?
My mother and I still look upto her today. She is so classy!
Monisha, which era do you look back to when it comes to fashion?
I think when I was in fashion school in the '80s, which a lot of people would disapprove, but I feel that was the time when so many experiments were going on. It had deconstruction to power shoulders…
What are the current trends you are following?
Monisha: I think streetwear has become very popular globally, a lot of music and sport icons have a lot to do with it. And sport and music is a language that everyone speaks. What we do at MXS is a lot of streetwear and we treat it with luxury, so basically you can wear it to a party. Athleisure streetwear is also presented in a nice, luxurious way.
Shweta: Another micro trend is men's suiting. You have suits, tuxedo pants, thin striped shirts, cricket sweater, sweatshirts with a crest, blazers… that is a micro trend we at MXS are looking at and experimenting with.
There are so many fashion labels, each doing well in their own way, how do you plan to make MXS stand out?
Monisha: Good product for a good price always works and if you have that mantra you are sorted. At MXS we are always working towards a great product. We want our customers to buy them and value it.
From Rihanna's Fenty to Anushka's Nush to Sussanne Khan, Malaika Arora and Bipasha Basu's The Label Life — celebs have stepped out with their label. Besides your own which other brand do you follow?
Shweta: I like Victoria Beckham! She is fantastic and her silhouettes are great. They are simple, she plays with colours and she is growing with every collection.
Monisha: She is great and even her journey... she has no formal education in fashion.
This is for our readers, if you could suggest what to wear at the following occasions:
First date: I will always tell her to wear a jeans with a T-shirt or a nice white shirt and never be overdressed. I will never ask her to wear a dress.
A cocktail party: I actually prefer wearing mid-length dresses. Young girls can wear a nice dress or a skirt, paired with a nice shirt, belt.
The brand is very vibrant and young, how would you define the style of a millennial?
Shweta: When we were growing up, we dressed according to what we saw around us... if you were a '80s kid you would dress like the '80s, but what I feel wonderful about kids today is that they are inspired by the '80s, by footballers, musicians, James Dean… the leather jackets, by Micheal Jackson, and I think that's fantastic because they are absorbing from all around them and different eras of fashion. From the '50s tulle skirts, then can cans are a huge thing.... I think that's wonderful because you have such a huge canvas now to create. Shweta, talking about millennials, I have to ask you about Navya. Not only is she beautiful, her sense of style is impeccable. Does she update you with what's trending worldwide?
Shweta: Yes, she does update me. She will pick something up and ask 'what do you think about this?'. And I always agree with her because I think she doesn't really go wrong. She is young and easy. She is a regular college-going kid and that's how she dresses. If she is on a holiday, she would buy something and say 'see I picked this up' and it's always fun to see what she gets.
Same with your son, Agastya?
Shweta: Boys are not so interactive but it's funny because with Agastya, who lives abroad, when I go to visit him, he will be like 'Mumma take me shopping'. He studies in England, so his style is very British, a little formal. Then when I go to shop for my father (Amitabh Bachchan) because he doesn't get so much time to step out, Agastya will see the shopping and say 'why didn't you get me these'! And I am like 'you don't wear all these colours and funky things'! (Laughs)
Shweta, you also write, what's next after your debut novel Paradise Towers?
I am due to write another book, I have a story but I haven't put pen to paper or finger to keyboard.
You started your career post 40, was that a conscious decision? What message do you have for women out there who are still dreaming of doing something in their mid-life?
Shweta: Give it a go, it's not impossible!