The Loom Art by Aarushi Kilawat is championing the cause of the handloom and handwoven
We are trying to make silhouettes which are upbeat and interesting with a lot of cuts. That's the whole idea, but the crafts we use are very traditional, says the designer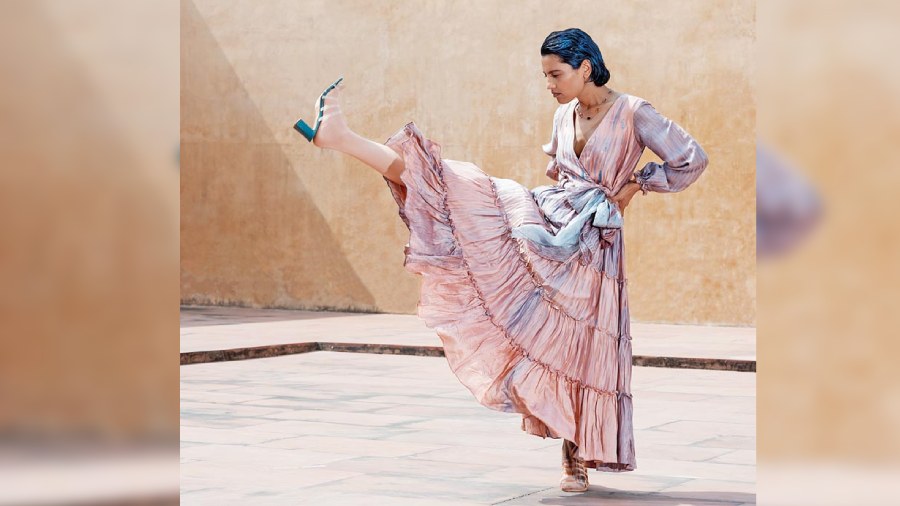 ---
Published 20.05.22, 01:52 AM
|
---
Minimal and easy on the eye, The Loom Art has a certain casual effortlessness that is so striking. Launched five years back by Aarushi Kilawat, sustainable is the philosophy. Aarushi is a fashion design graduate from Pearl Academy and has specialised in print textiles and fashion styling from Nottingham Trent University, UK. The little details in her collections add to the chic factor. The five-year-old Jaipur-based venture works with multi-brand stores across the country and internationally. A flagship store is also in the pipeline. We chatted with Aarushi on her vision and the new line of jewellery she has launched. 
How did The Loom Art start? You always wanted to come back to India and work, right?
Yeah, actually, I was studying and then I came back and I was working with a designer in Bombay.... I felt I was not doing something that I really wanted to do all this while. I saw what I wanted to do for the larger good and the places where I was working, I couldn't really see that kind of environment. I came back to Jaipur and decided to do something of my own. Maybe I won't be able to bring about a tremendous amount of change in society, but probably I could take one step at a time and be a part of the change.
The clothes look amazing. The treatment is traditional but the expression is modern...
That's what we are trying to do. We are trying to make silhouettes which are upbeat and interesting with a lot of cuts. That's the whole idea, but the crafts we use are very traditional. They have a story to tell. What have you added to The Loom Art bouquet over the years?
When I started, my main purpose was to work with handwoven fabrics. That was the initial idea and that has always been the idea. As the name 'The Loom Art' suggests, we only wanted to work with handloom. In the first two years, we were mainly doing khadi and cotton. Our embroideries are our core strength. I have always wanted to narrate a whole lifetime of stories via the embroideries we create. Kantha has been one element that I have always worked with in the last five years. We have modified it, added a couple of variations, tried it with different things together. It has remained our core strength of craftsmanship all through these years.
Earlier we used to do only solids, kantha and embroideries. Now, we are also doing a lot of textiles. We have developed this Arashi shibori, one-of-a-kind pole-wrapping technique of shibori, not very known. We have started doing new crafts to add some fun to the fabric itself, but we stick to our goals of only working with handloom and handwoven fabrics. Now we work with a lot of cotton-silks, Chanderi silks, pure silks and variations of fabrics also, like jamdanis. We have included a larger palette of fabrics.
Has it been challenging to champion this cause?
Hundred per cent it is. Earlier I used to feel, people were not really willing to spend a bomb on an outfit. They would go and buy fast fashion, but now people are aware and educated. They know what slow fashion is and what fast fashion is. It has been challenging in the sense that since the pandemic, there's been a certain price hike even at the ground level, which has led to a tremendous hike in the end product price point that the consumer would buy. It's very difficult to stay true to your ethics, while you also have to make the consumer understand that you are not just buying but investing. Also because of social media, everything is out there, immensely available. To make people understand why you are a certain way and why your brand is a certain way and why you have to invest, I think that is very challenging. You have also launched jewellery recently...
The idea was to widen the horizon. We also supply to the global markets and work on different channels. I am not a jewellery designer but I have always been interested in designing products, ever since my college days. For the jewellery line, I knew this was the need of the market. I don't want to bling things up. In jewellery also, we are planning to work on the lines of sustainability in a way that what we are making is gold-plated, 22-carat and also planning to give a lifetime warranty to our clients. You can sustain it for a longer period of time. We can replate it 10 years later and make it as good as new.
We have a range of earrings, necklaces, bracelets and charms. These days people want to stack up the charms and mix it up. The collection is called Cosmic Dream and the new clothing collection we have launched in Lucid Dream. They are correlated. You will see a lot of enamelling, unicorn horns, moons and stars. Aarushi's day-to-night combinations...
For day looks, if you see The Loom Art, we are not really colour-bound. I love whites and also like to experiment with lots of colours. Some days, it's going to be a plain white outfit, with sneakers (I only wear sneakers). There are these stackable rings that I have, small charm earrings. And probably a watch with a stack of bracelets. For the evening, you will see me wearing electric blue or a shade of pink or maybe even a red. I would go for a statement galaxy hoop or a drop, and some rings.
-