Payal Khandwala on giving the classic a twist
We can't take our eyes off designer's collection of jamdanis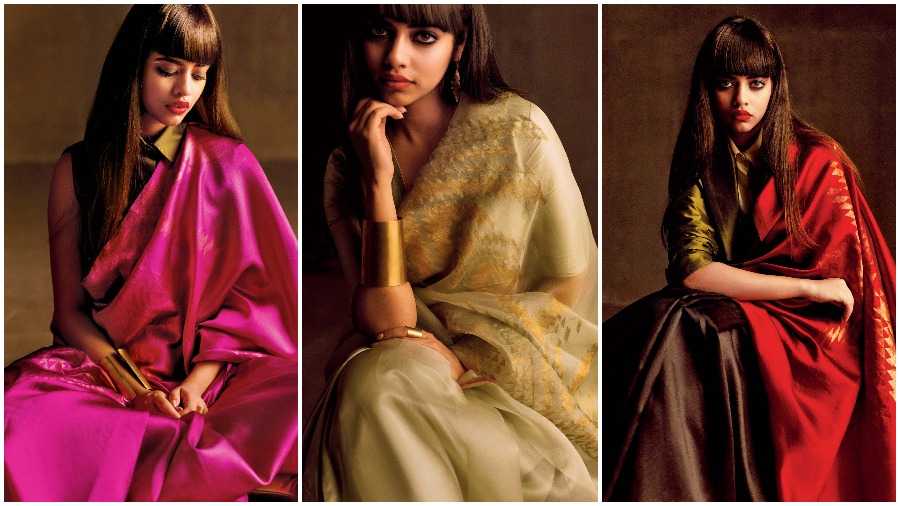 ---
Published 31.03.22, 05:12 AM
|
---
We are catching up with fashion designer Payal Khandwala on a Monday morning. While we still have the Sunday hangover, Payal says she doesn't have Monday morning blues in particular. "I have everyday blues, because every day I want to get a maalish or something and try to find a way to be on vacation, in my head. So, every day is like a Monday, it's also like a Sunday," laughs Payal, known for her gorgeous colours and practical spin to tradition. Her limited edition of jamdani saris is a tale of stunning contemporaneity. Cool, chic and global. Payal takes us through the idea behind the collection and why she has learnt to let go over the decade.
The saris look stunning. It's amazing how you've made it all eveningwear. People usually associate jamdanis with a certain easy-breeziness...
This was exactly my purpose. I am so glad that you have responded to it like this. I have a few jamdanis that I love and when I was digging into the craft, it's actually quite a painstaking craft in itself. It's mathematical and meticulous and I just felt that it still takes that same amount of time, energy and labour and love to make something, but then people can't really wear it to an appropriate function because the end product feels more daywear. They are both beautiful but it has a different vibe altogether. When I was reading a bit about the history of Dhakai jamdanis, initially only royalty could afford it because it was so expensive just to weave it. It could ultimately be such a beautifully quietly luxurious textile but somehow if I reach out for my jamdanis, they were never my choice when I felt I had to dress up and make it a bit more formal. There are brocade saris, Kanjeevarams that we turn to sort of instinctively now and I didn't see why this couldn't be amongst those. It's such a superior craft and requires such skill. That was the beginning. I was like, if I love this weave and what it looks like and if I had to take a sari to a spin that was a jamdani, how would I like to see it, what would I wear? For everything, if it's not there, I just make it. (Laughs) It was made in Phulia, West Bengal.
The shoot looks stunning...
My love affair with colours is just a perennial obsession. We wanted to use our signature silks and organzas and colour-block it in some cases, keep it modern and do away with the borders. Even the pallu sort of starts and ends... and in some cases, you don't quite know where it starts and ends. We have treated it more like a textile and I wanted to retain what they do with the weave and not steer too far from the roots and origins of how it is woven. Everything has its limitations and we don't want to make one giant polka dot and say it is a jamdani. We have used typical geometric motifs. We have made the florals a bit more graphic and created our own pattern.
In terms of the saris, it is an extension of what we do. I wanted the styling to be a little more versatile. Yes, of course, the middle parting and hair down is so elegant, so classic and timeless, the constant struggle with saris is that there are two off-shoots. Either there is kind of this middle-parted (look) and it is lovely, and then there is a sari draped into a gown and worn with a bralette or corset and there are people like me who are sort of somewhere in the middle, but we want to wear the sari just as a sari. But then how do you style in a way that makes it feel more current? There are these little questions that will a fringe work and shouldn't you wear a bun or a long braid? You don't need to do any of that stuff because the sari is so versatile and so timeless.
We did the blouses so that if my mom's looking at it she doesn't feel 'Oh my god, I have to wear a jacket and a shirt and a tank top and how would I pull that off?' But for a younger audience, it updates it in a way that makes it a little more familiar that, 'Oh, I have a white shirt, I could wear that with a shirt'. I wanted to show it in different avatars just to show people that it is possible to do it this way.
The collection is also young...
I just wanted to make it a bit more relevant and give it a fresh look. I haven't done anything other than infuse it with what I do. I wanted to introduce the organza a little bit because it even allows the weave to pop a little more and exist in its own way and brings more focus to the weave and how complex it is. Just fine-tuning it. I am not a textile designer to begin with. I wanted them to do what they do because they know how to do it.
Reinventing is the way forward...
It is nice to do things that factor in your new life. The youngsters are doing what they do, living young and thinking they'll never get old and we have careers, jobs, kids, families and our lives are different. Reviving something that happened a 100 years ago, happened in the context of what women were doing then and what their lives were like then. Women's lives are different now. I kind of keep that in mind even when I am making clothes. I don't put can cans when I make a lehnga. I feel it is not practical.... It would be nice to wear a sari that doesn't weigh 15 kilos.... It's an extension of the context.
Our lives are changing every day. How we want to be perceived is also changing. Women are fighting for equality and how you are perceived and dress is such a big part of it. We spend so much time presenting ourselves to the world. I love being stylish, but I'd also want to be able to sit on the floor and cross my legs. Then you can be yourself and an equal.
What about your personal jamdani collection?
I have four saris. One is in Dhakai muslin and two are in cotton and one is in mul. They are all in quiet colours.
The brand turns 10...
Now that I think about it, I don't know where the 10 years went. When I started, I had come back from New York and I had been painting for 10 years and every time I wanted to go some place, I couldn't find anything to wear and I had to put it together myself and I felt there were other women feeling sort of a vaccum in pret with separates. I had no factory or assistants. I just made 16  garments and thought if nobody buys them, I'll wear them! Now 10 years later, I feel that's kind of incredible. I thought it was fun exercise I suppose at that point.... We have tried so many different things, we have experimented and learnt from our mistakes. From a team of one, we have a team of 90 people. After every release I feel I am done. It's been rewarding.
You have been able to carve out your signature in a sea of sameness...
That partly comes from the fact that I can be a bit of a control freak! (Laughs) I have learnt to let go a little bit. When you paint, it's you. But in fashion, it's teamwork. My team is my backbone. I am not dyeing the fabric, weaving it, sitting and printing it... so, at every point I have to learn to let go. We don't have a head designer. I am a pencil-paper kind of person. I need the dummy and fabric.... I only make clothes that I like to wear. Even if I like something in theory like JLo wearing hot pants, but I don't wear hot pants. So, I won't make them.