Of nail art, skin care and more
Nusrat Jahan and Mimi Chakraborty checks out a new salon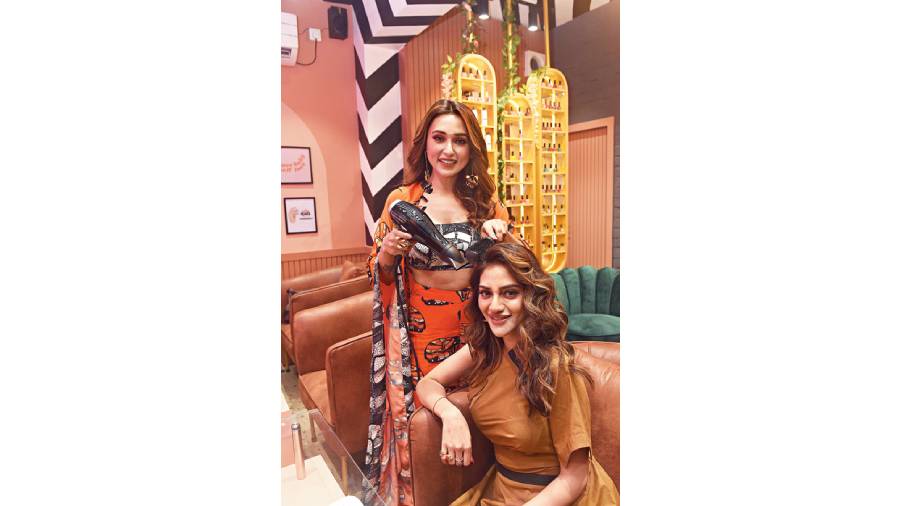 Actress-MPs Nusrat Jahan and Mimi Chakraborty dropped by Bello Sirena, a quirky, pretty and colourful pamper point on Lord Sinha Road. The 460sq ft salon offers specialised services in nails and hair.
---
Published 06.04.21, 12:12 AM
|
---
I was never conscious or concerned about beauty at a young age. I used to just wish for long hair. Since I was a kabaddi champion, my mother used to chop off my hair so that no one could pull me from behind. So, I used to tie parandis with clips at times. Lip balms are something I am absolutely obsessed with. My mother's special stress-free hair oil works wonders for my hair. Removing your make-up, cleaning the skin and using sunscreen are the most important steps of my daily beauty ritual. I have been doing nail art for seven years now. Initially, when I used to go and ask for nail extensions people would stare at me in surprise, as they were still not aware of it. We were the first set of actors (points at Nusrat) who started doing it. I really like the decor of this place and it is very positively done. It is very motivating. One can sit and chill and do their nails — Mimi
We are in a profession where we have to get ready every day and look prim and proper. So the day we are not prim and proper and we post no-make-up looks or no-filter looks, that's the day we feel most beautiful. You know as little girls, I think, we all tried to dress up. I used to use my mom's kajal and make-up and try and look like her, but ended up looking like a mess though. The definition of beauty has changed with time and I am so glad that people are becoming more acceptable. One beauty product I am totally obsessed with is a moisturiser. Our elders used to pass down a lot of tips like using neem and sandalwood for pimples and they work great. Regular cleansing, toning and moisturising is very important for me. Aloe vera gel is one beauty tip that we both shared with each other and others. Nail art is something I have been indulging in for a long time. We (points at Mimi) have the same person doing our nails since the beginning. Place matters, and sitting here one can comfortably get their nails done — Nusrat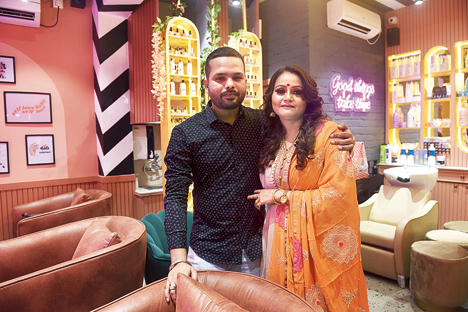 "My wife used to run a salon even before she met me. But she always wanted to open a new salon. So, this is my gift to her. She is going to run it. Since it is a ladies parlour, so with the decor we wanted to attract women of all age groups. Sarah Hasan and her company did the decor for us. Presently, we are giving services related to nails, pedicure, manicure and hair. We will soon come up with skin services and skin products of our own brand too. The place is centrally located with college and residential complexes around so we are hoping for a good clientele," said Price Singh, owner. Wife and co-owner Lakshika Kaur added: "I like dressing up. It was my dream to open something like this."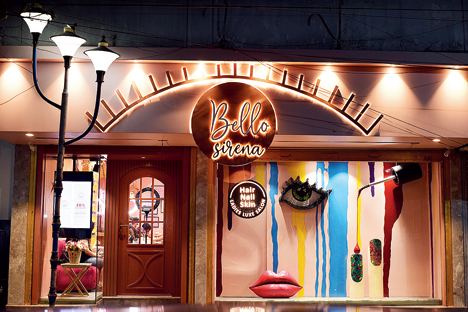 What: Bello Sirena
Where: 9C, Lord Sinha Road
Timings: 11am to 8.30pm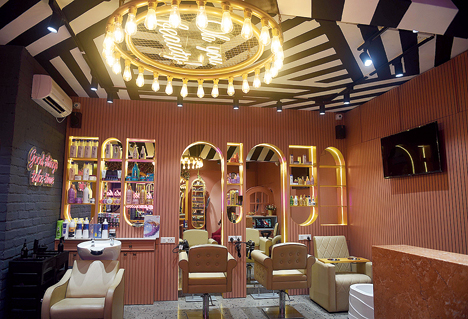 The interiors decorated with shades of candy pink, black and white, fun glow signs, quotes and artificial florals give a fancy vibe to the place. Divided into two sections, the nail art station offers services like long-term and short-term nail extensions, cutting, filing, gel coating and customised nail art. The other section offers hair services like cutting, hair treatment and hair colour, pedicure, manicure and shampoo stations.
Pictures: Pabitra Das