Mapping the journey of 'Suta'
The Telegraph finds out the heart-warming story behind the brand loved by people of all age groups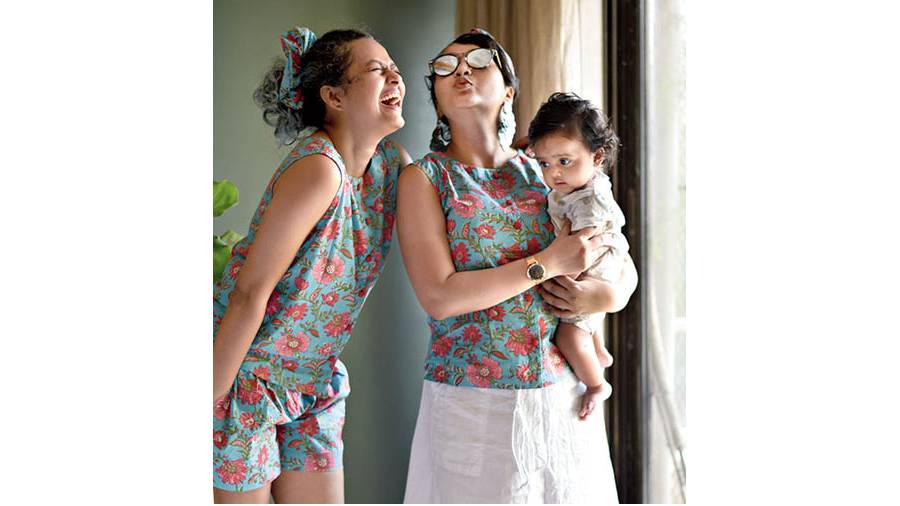 (L-R) Sujata and Taniya Biswas in their loungewear collection
---
Published 13.07.21, 12:34 AM
|
---
Then: Two weavers. Now: 14,000. What started as a passion and love for textiles for Bengali sisters Sujata and Taniya Biswas, is now a successful "mindful apparel brand" called Suta, a portmanteau word combining both their names. Helping weavers to work towards making a positive impact on society and spread love and warmth to create a happy little world, Suta is so much more than just a fashion brand. Known for their super soft saris (that will immediately remind you of your grandma's old saris) and stunning blouses, Suta has now rolled out a brand new range — loungewear. The Telegraph chatted with the sister duo on the brand completing five years, complementing each other's skill sets while retaining the same vision, their love for loom, draping celebs and more.
Tell us the story behind Suta. How was it born?
Sujata: We love saris. While growing up we used to go to our dida's house where we would see washed saris hanging for drying, the beautiful smell, then we would see mom and aunts wear saris regularly, so beautifully and in a prim and proper way…. So when we were doing corporate jobs, we often had colleagues who would ask, "How do you wear a sari?" "Koi occasion hai kya that you are wearing sari?", "Where will we get good tailor, petticoat, blouse?"…so these got us thinking and we wanted to solve these issues. We wanted people to start wearing saris again, especially youngsters because if you start at a young age you will love it even more. Although we started with dresses as well but sari took centre stage. Also when we were in corporate we would be thinking that are we impacting anyone, that led us to think about the weavers who have no constant supply of work. So Taniya and I thought if we take 10 weavers on board we will promise them 365 days of work…. We started with two weavers, now we have around 14,000 weavers and craftsmen.
That's a huge leap in five years…
Sujata: Yes, when we started we had a total of five people… two of us, two weavers and another employee. Now we have 100-plus employees and 14,000 weavers and craftsmen.
When you look back what would you say has been the biggest highs and lows?
To us it doesn't feel like five years! When we visit the villages and the weavers say they bought a bike with the Suta money is when we feel proud and get goosebump moments. Since the last four-five months we dedicate to one NGO, which is a big high for us. Low, I would say, is when people are sabotaging and then trolls, because they very hurtful. That aside of course there are things like cyclones, flooding which hampers the work, but those are something we can't do anything about it.
You have recently launched the loungewear collection. What made you get into a new vertical?
Last year during Covid-19 there was such terrible condition in India that most of the weavers were not able to get food. And we grew three times from last year to this year financially, this happened because we were trying to help the weavers. See, the major problem with a company like us is the supply, and here we had many weavers who didn't have work. So we decided to cut the salary of some of the employees to get more weavers. We were getting a lot of calls that some of these weavers have piles of fabrics but no one to buy as most stores were shut. That was very sad and hence we brought a lot of inventory which were lying with them and that fabric is the focus of this collection. This is the first time we didn't design and we used the fabric as it is because we were trying to help people. We were initially thinking of making blouses out of it but then we focused on comfort wear just how we had started Suta, with comfortable pants and dresses.
Tell us about the collection…
Sujata: We made something which was not just comfortable to wear at home for all the virtual meetings but also to step out in. Like kurta tops which one could wear with jeans and step out. Kaftans, spaghetti tops, long pants, besides nightwear too. All our stuff have pockets, which is so important now to keep masks, sanitisers…
Taniya: Then some are nursing-friendly because I was breastfeeding my baby during this phase so we wanted to include that too for some of our tops. This collection was made keeping in mind all kinds of people.
Sujata: This collection has a varied range of colours and block prints.
We also noticed a cute applique collection on your Instagram page…
Sujata: So, this was a two-year-old project when we had met this weaver. We have grown up in Odisha and as a child we used to go to Pipili, so we know the beautiful intricate work that craftsmen there do and we wanted to incorporate that in our saris. The collection is also about bringing the inside out… the animals, the dreams that we have.
The pandemic wrecked havoc in every industry. How did you guys deal with the crisis?
Sujata: The worst thing was people losing jobs. During this time Taniya and her husband, my husband… we were staying in the same house and we wondered how we can help these people. Initially even when we did a pay cut, we made sure we paid them when the lockdown was lifted. But this was the time we had set a lot of targets as well...
Taniya: Even when we were scared, we wanted to keep the people busy in the company so that they don't get depressed. We created a lot of content, website updating and of course did our best in giving weavers work, which has probably worked for us and we did very well financially.
You have an initiative called Suta Earth, what does that deal with?
It is to bring back things that are not getting used, they should not end up in the dumpyard. We thought of what people don't throw away usually... bags! We Indians collect bags like crazy, so we thought why not saris that will end up in a kachra, or has a hole… give it to us, we will wash it, clean it and make bags and give it to you. Making a bag with those old saris is costing me four times than making a new bag... in washing, cleansing, making pockets, putting drawstring… you will love owning one, or gifting one. Not to forget it has so many stories attached to various saris, motifs, colours from so many places. So we love this idea of circular economy, where you are actually reducing waste. Also we have been planting 500 trees, earlier we used to plant 300, that's one more thing we are doing.
From a middle-aged woman, a millennial to a grandmother, I have seen people of all age group wear Suta saris. How does the brand stay versatile?
When we started we thought of who would wear us and the strongest points that came out was someone who is independent, not money-wise but mentally. Someone who values comfort over looks and yet makes a statement. People who are not scared to make decisions are the ideal Suta customers. And it doesn't matter whether they are 16 or 80. When we first made a sari the idea was to make a plain mulmul, which one could wear to a party, wedding, office… depending what kind of blouse you choose. Hence our choice of blouses are varied, for various occasions. So many celebrities have worn your saris and blouses…
Sujata: So many of them and it makes us so happy! Because we never knew this would happen, we are from a small town... we have grown up in Bihar, Tatanagar, Bhubaneshwar… so Bollywood for us is a huge thing. I remember the first time someone from Dharma Productions came in saying Karan (Johar) sir loved this look and then she showed my photo... (laughs) that was a big moment… it was for Lust Stories, where Kiara (Advani) wore our saris and they picked the exact look that I had worn, and it was a big thing. Then Mani Ratnam, Anil Kapoor productions… we kept getting cheques and orders.
Taniya: I think the industry started knowing us because we were very honest and warm in how we dealt. Even Swastika (Mukherjee) once came to our house, she wanted a sari and a blouse urgently!
Sujata: Mithila Palkar sends voice notes saying her ajji wants a sari, 'can you send it', and I am like 'Oh my God'! Then Rani Mukerji, Kajol… recently Pooja Bhatt in Bombay Begums. She carried some of our saris so well. In Mission Mangal, Vidya Balan wore us, then Sonakshi Sinha's mom one day came to our store with the Suta logo in her phone!
I love how Sujata models for all the collections!
Sujata: When she went to IIM Lucknow, I gifted her a DSLR, so all my Suta photos, Taniya clicks.
Taniya: I had a knack to learn photography and when I got the camera in Lucknow I learnt a lot over there.
Sujata: You will laugh if I say this, initially Suta was a product photography page, and we used to shoot products and we did pre-wedding shoots too. Our page was called As I See. Then we made some clothes and I wore the mulmul dresses and Taniya used to click mera mundi kata huya pictures for the longest time (Laughs).
Taniya: And in one picture I clicked her full image and told her lets post this as it is looking good. We posted it and got many compliments so then we continued from there and yes, saved money as well.
Every designer or brand has a fave motif, a fabric… what would Suta signatures be?
Taniya: The meow sari and the machhli sari with fish and octopus are very popular prints for us. Fabric has to be mulmul and silk.
Picture courtesy: Suta