Mumbai-based jewellery designer Renu Oberoi's pieces have worn by Bolly ladies quite often. In Calcutta for the Trunk Show of Renu Oberoi and Maheka Mirpuri at Aauris on October 26, the designer shared her style faves with t2.
What kind of jewellery would you recommend for the festive season?
To be honest, I don't think jewellery is something that is trend or season-based. It is something that is classic and can be passed down generations. It is something that you should be able to pull out after 10 years, wear it in winter, summer, any time.
Wearability is one important factor people buying should keep in mind. I see people spending crores in buying a piece of jewellery which eventually just lies in the bank. My aim is to design jewellery that is so versatile that you can actually wear it to a wedding, dress it down and wear it to a cocktail party or even to a lunch. It's wearable, versatile and lightweight.
I do a lot of colours and I only use precious stones like rubies, emeralds and sapphires. I also do a whole range of pink and yellow sapphires, and combinations that have semi-precious and precious together. Like rubies with turquoise.
What's a classic look for you?
A classic would be a nice pair of earrings. You can never go wrong with that... long earrings or a nice big stud.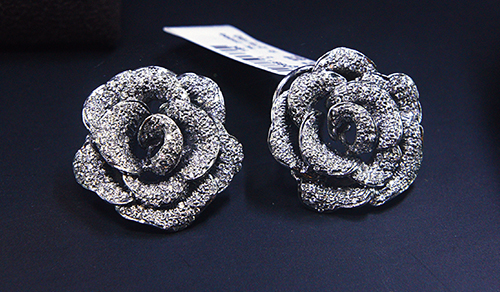 Oberoi's first design was in full-cut and rose-cut diamonds Image: Rashbehari Das
What's the first piece of jewellery you ever designed?
My logo is a rose and it was the first thing I had done in full-cut and rose-cut diamonds and I have done hundreds of pieces of that.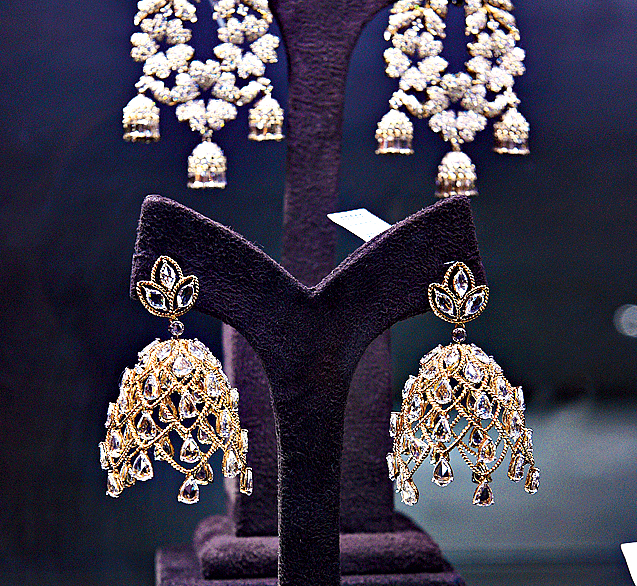 Jhumkas can be worn with long dresses, saris, kurtas Image: Rashbehari Das
What's your signature piece?
Jhumkas are my forte. I love it because it's a heritage from the time of the maharajas. I tweak jhumkas and make different kinds, to be worn with long dresses, saris, kurtas.
One jewellery mistake people mostly make?
I feel people in India don't understand when they buy jewellery that there is a lot of value addition that the designer puts in. When Indians buy jewellery they want to pay for the raw material only and that's a mistake because that's not how you judge a piece of jewellery. You judge it from the aesthetic point of view, the way it is engineered, and the quality of diamonds and the way it is set.
What are the key points one must remember while buying...
Wedding jewellery: For wedding jewellery one needs to be practical and sensible, like go for something you would reuse. I do a lot of large diamond maangtikas with large earrings. What I tell people is that you are anyway wearing a heavy lehnga, if you wear heavy jewellery, then both will get lost, nothing is going to stand out if you wear everything. So just wear a big maangtika, long earrings and put your hair up in a bun. So the jewellery will stand out and so would your outfit.
Festive jewellery: It would depend on what you are wearing. Like say a funky pair of jhumkas with a lehnga. If you are wearing a kurta, then a pair of nice long earrings.
Workplace jewellery: It should be really simple, something like a pearl and diamonds, or small diamond studs or hoops.
Five staple pieces one must possess:
A nice pair of emerald earrings, a pair of diamond earrings, a nice ring which doesn't have to be big but nicely designed and may be a nice tennis bracelet. And if you have extra money, then you can have another nice bracelet.
What is the perfect engagement ring for you?
I am not too much into solitaires because I feel it's very basic. Being a designer I feel there is no aesthetic value to it. To me, solitaires are done to death. If you really want your woman to stand out, I would invest in a really expensive emerald or ruby and set two smaller pieces of diamonds around it. That would really stand out.
Which era would you time-travel to for design inspiration?
I think the 1800s because I like art, so a lot of art deco architecture.
Define your label Renu Oberoi in five words.
Luxury, comfort, value for money, bold and dramatic.
Bolly stars from Sonam Kapoor Ahuja to Aishwarya Rai Bachchan and Jacqueline Fernandez have been spotted in your pieces. Tell us what they like...
Sonam (Kapoor Ahuja) likes minimalist jewellery and she goes for edgy stuff. I feel celebrities now are going for really small pieces like studs, unless they are going for events like IIFA, where they wear long earrings or a neckpiece. Otherwise mostly people are into more subtle, single pieces. Jacqueline has worn my jhumkas at a couple of events. She likes chunky stuff. Malaika Arora Khan and Shilpa Shetty mostly only wear my jewellery. They are style icons and they know exactly what to wear and how to wear, from big earrings to four bracelets together.