Aditi Rao Hydari on what goes into her skin and haircare regimen
The fresh-faced beauty, whose radiance has lit up the screen in many a film, recently graced the launch of The L'Oréal Paris Hyaluron Moisture Range for hair care in Mumbai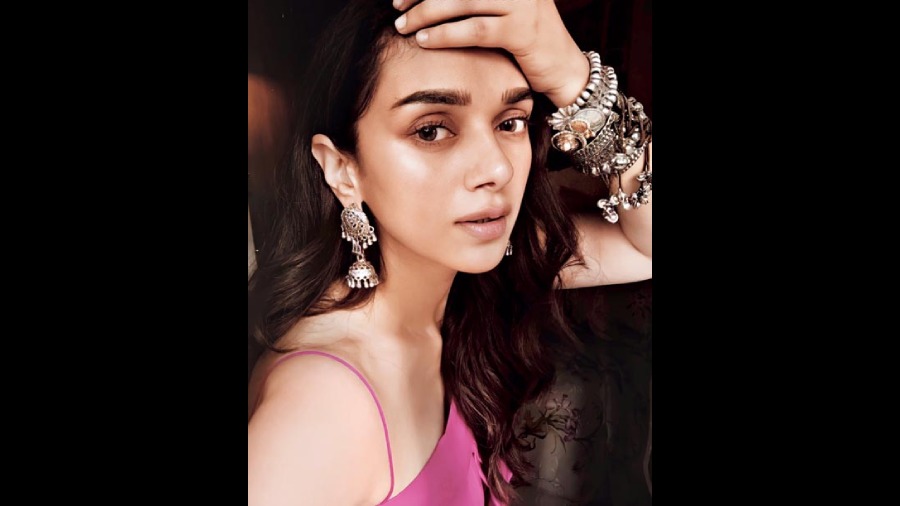 ---
Published 14.09.22, 04:23 AM
|
---
Porcelain skin' is a term synonymous with Aditi Rao Hydari. The fresh-faced beauty, whose radiance has lit up the screen in many a film, recently graced the launch of The L'Oréal Paris Hyaluron Moisture Range for hair care in Mumbai. The Telegraph chatted with Aditi on her skin and hair must-dos.
You have flawless skin. Is a large part of it genetic or has it come about after years of careful care, or is it a mix of both?
There is no denying that a proper skincare routine plays a big role in making my skin look healthy. I ensure to drink plenty of water and eat healthy since that is a golden rule to get glowing skin and, moreover, it keeps you fit. And, of course, genetics is the cherry on the cake for me. So I would say a good mix of both genes and daily habits.
What are the must-dos for your skin during this part of the year?
I always keep my skin moisturised, since, during autumn, our skin tends to become dry. Proper lip care is also important since our lips tend to get chapped during the season. And I never forget my SPF. No matter what the weather is like, sunscreen is a must.
Are there any ingredients from your kitchen that play an important role in your skin and haircare regimen?
Ice-cold water splash in the morning is super refreshing for the face. For haircare, I use aloe vera. It is miraculous for the hair and skin.
Having used the L'Oréal Paris Hyaluron Moisture Range, I can  say that it's an important part in every woman's haircare arsenal. What has been your experience with the range?
I absolutely loved using the Hyaluron Moisture Haircare Range, especially the night cream which is my favourite of the lot. What I love about it is how it leaves my hair deeply hydrated. Moreover, there is no need to rinse it out, it leaves behind no residue and there is no weigh-down the next morning.
I think the all-new Hyaluron Moisture Range is a true game-changer. The products developed by L'Oréal Paris have been a combination of science and technology. The Hyaluronic Acid-enriched serum was a great success for the brand and now that they have introduced it for haircare, I truly think it is revolutionary!
Are there some myths related to skincare and haircare that you would like to bust?
I have heard a lot of people say that you do not need a sunscreen on a cloudy day, which is not true. Another myth is that it is okay to sleep wearing make-up now and then. It is important to take off your make-up before going to bed in order to let the skin breathe.
A haircare-related myth that I have heard a lot from people is that you do not need to use a conditioner after every wash. Conditioning your hair is equally important to ensure the hair remains hydrated for longer.
'Porcelain skin' is a description of yours that you must be familiar with. What is the secret to that?
I cannot do without serums. My skincare routine is incomplete without the L'Oréal Paris Revitalift Hyaluronic Acid Serum. It is extremely important to keep the skin hydrated at all times to ensure it looks fresh and dewy, and this serum does just that.
What is that one skincare habit  that has almost never failed you?
Staying hydrated at all times really goes a long way. I make sure to carry a water bottle with me no matter how busy my schedule is. The best and the most important tip is to be happy because nothing gives a glow like happiness does.