A wedding collection that's bold, colourful, and quirky
Jewellery designer Harshita Sultania puts together a new-age bridal lookbook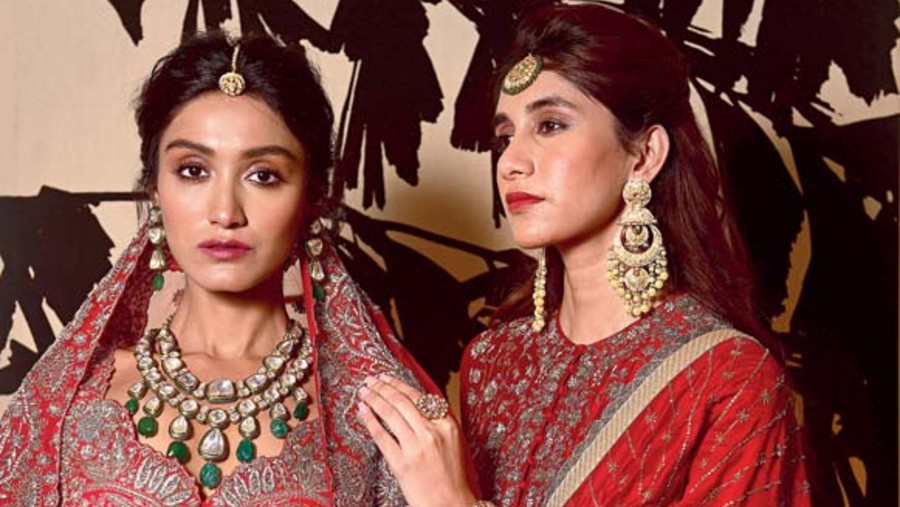 For the bride and her sister
---
Published 10.02.21, 12:21 AM
|
---
We caught up with designer Harshita Sultania of Harshita Sultania Jewellery at Bombaim on AJC Bose Road to get a sneak peek into her new wedding collection. You can catch her at 6 Little Russell Street, where the label shows by appointment.
What's the vision behind the collection?
The vision behind the collection is to create pieces that are more usable. Pieces that you don't just buy for one occasion and then never use again. All our pieces, therefore, are versatile. For example, our bracelets can be worn as chokers, our studs can be worn as rings, and our earrings can be worn as headpieces. We want to make jewellery more fun and usable. I think people look at fine jewellery as a huge expense and something that they can't wear all the time. So we're trying to change that perspective of the people in Calcutta through this collection. 
What would you say is unique about this collection?
What's unique about this collection is that we've tried to play around with a lot of gemstones, so we've used things like emeralds and tanzanites. We've tried to add a lot of colour to our pieces, which is something that I think is lacking in Calcutta. If you take a look at the other cities like Delhi and Bombay you will see these young, fun jewellers doing very colourful and fancy pieces. But you don't get to see that here in Calcutta. Every time I interact with my clients they're always telling me that pieces that are wearable aren't available here. So that's something that I've tried to incorporate in our new collection to fill that gap.
What's an ongoing trend that you're loving?
I'm loving the trend of using pastel gemstones like Russian emeralds and fluorites in jewellery. These are a couple of gemstones that we have ourselves used in several pieces. Additionally, the trend of using pastel gemstones for summer weddings is something I'm loving right now. We are working on more pieces that have baby pink and baby blue. Nowadays, people don't opt for loud wedding colours any more. They just want to look fresh and feel light, so that's what I try to channel in my collection as well —pieces that are light, wearable, and fun.
If you could describe your brand in three words, what would they be?
Bold, colourful, and quirky! I have a lot of fun making these pieces because we don't restrict ourselves to the traditional settings. So that's the message I want the pieces to send out as well. I describe my collection as "candy-coloured" because of how colourful we make them. That's our signature style. Even this wedding collection is not restricted to weddingwear only. Each piece, including the bridal look, can be worn as separates. A lot of our chokers can be worn at birthday parties or anniversary parties too.
How would you go ahead with modernising traditional Indian jewellery?
We have used meena in a few of our pieces but we try to combine it with fine diamonds or Russian emeralds. So if you contrast a dark traditional colour like dark green with light-coloured stones, it gives it a slightly modern touch. We don't think that you should be wearing a lehnga from 2021 with jewellery from the 1800s. So that's a trend we're trying to instil: With your clothes upgrade your jewellery too!
Sangeet look This one's specially curated for all the bridesmaids! The elaborate lehnga-choli set by Aisha Rao (courtesy Bombaim) is paired with minimal but big polki pieces to make a statement while keeping things subtle. The necklace is a simple single line of polki, paired with a chunky flower pendant to help the bridesmaid make an impact. The bracelets are unique and can be worn later as a choker, and the pieces are lined with traditional meena work, sporting real emeralds to match.
For the bride and her sister
For the main event, the Jayanti Reddy (courtesy Bombaim) bridal outfit has been paired with layered and chunky neckpieces made of gold, polki and emeralds. The earrings chosen are minimal and light to keep the attention on the neckpiece, and can be paired later with a sari or a Chinese collar. Each piece in the bridal set can be worn as separates. The sister of the bride has chosen another Jayanti Reddy piece, with huge statement earrings to make up for the lack of a neckpiece. The earrings are lined with gold and embedded with pearls and brilliantly cut polki to glam up the look.
Post-wedding look This look is for the after-party where the bride can let her hair down in a peacock blue NGB outfit. The bride is styled with a diamond choker embedded with blue sapphires to add to that midnight glam vibe, which is paired with simple diamond studs to match. The bracelets have diamonds and polki and are set in blue enamel — pieces that are simple and elegant that you can easily wear again with any other outfit.
Mehndi ceremony The lemon yellow Mrunalini Rao lehnga (courtesy Bombaim) is paired with green-and-red jewellery to create a subtle contrast. The bracelet worn by the bride is a unique piece made of dark red pearls and dark green meena to create that stark contrast with the outfit. The delicate choker is made with several pearls to catch the light as the bride walks, and is paired with subtle drop earrings that are again made of pearls.
Engagement party look The shimmery peach sari by Jayanti Reddy (courtesy Bombaim) is paired with a polki choker embedded with colourful tourmalines in shades of purple, pink, and green to make for a stunning neckpiece for any bride at her engagement party. Paired with big statement studs to go with the classic updo, the earrings are subtle and light. Complete with a matching bracelet, the bride is ready with the perfect look to start her wedding off with a bang.
Summer wedding This one's specially made for summer weddings. Pictured here are the bride's best friends dressed in Rahul Mishra (courtesy Bombaim), and decked with extremely light pieces, high up and away from any interference with the clothes or hair. Both Tanisha De and Samira Grewal are sporting chokers made with fluorites that give it that light green colour, and are paired with smaller earrings perfect for any updo. Tanisha is sporting a statement emerald at the centre of her choker with minimal polki work to bring on that shine.
Pictures: Pabitra Das
Styling: Neha Gandhi Binjrajka
Hair & make-up: Abhjit Paul
Models: Tanisha De and Samira Grewal
Location: Bombaim