A look at Araku, a collaborative collection between MISHO x ARAKU Coffee
Inspired by the tribal women of Araku, Andhra Pradesh the jewelary collection pays homage to #beingshe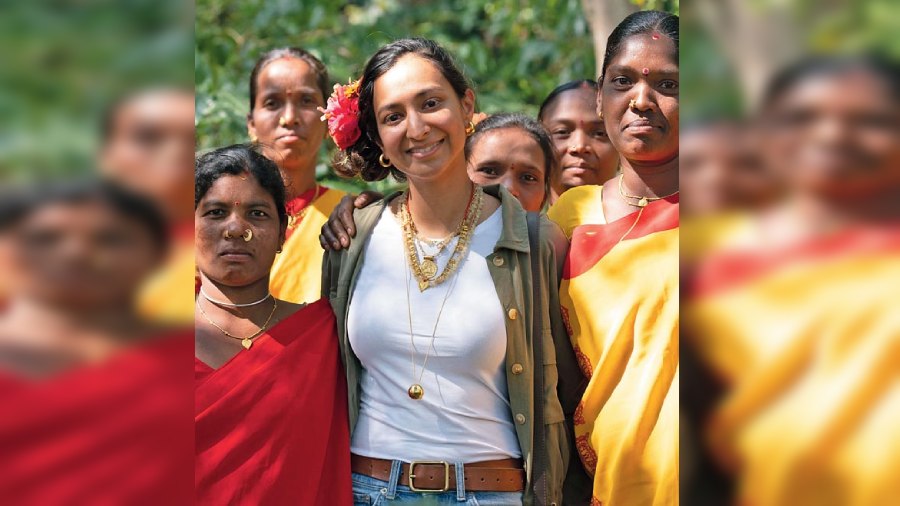 The women farmers of ARAKU with Suhani Parekh, creative director, MISHO, in the valley
---
Published 04.05.22, 02:12 AM
|
---
Minimal yet striking. That's Araku, a collection born out of the MISHO x ARAKU Coffee collaboration that is inspired by the tribal women of Araku, Andhra Pradesh. ARAKU is "India's first coffee to shape the complete seed-to-cup journey" with flagships in Paris and Bangalore and is supported by Naandi Foundation, a public charitable trust. We caught up with Suhani Parekh of Misho whose travel to Araku gave shape and soul to the collection that features bronze and sterling silver to 22k gold-plated bronze, black onyx, corals, malachite, pearls and lapis lazuli.
This is a unique collaboration...
Absolutely! It's one of the most fun collaborations we have done. It's so unconventional. People normally wouldn't think of putting jewellery and coffee together, but I think they work very well. I am a big fan of Suhani's work and she is a dear friend. I caught up with Suhani over a cup of coffee and she was asking me about my journey with ARAKU and what got me working with them. The transformative journey of these farmers is inspiring for anyone to delve into or engage with. The third wave of Covid had not yet hit us and she had a little window.... It was really done with no intention of doing such a big capsule of an edit.... They took her to a jewellery museum and she entered their homes to see their jewellery... (the collection) came about organically. I was touched (when I saw the collection).... You want to be able to be a part of this journey and system to do more
- Aditi Dugar, chief brand advisor, retail & lifestyle of ARAKU Coffee
What was exciting for you?
Aditi (Dugar, chief brand advisor, retail & lifestyle of ARAKU Coffee) told me about Araku and the work that Naandi Foundation is doing. It sounded interesting and before we actually even discussed any idea of a collaboration or what we are going to do, she was like 'Suhani, get on a plane and go up the mountains and see it for yourself because once you see it, you'll understand it'. I am always up for travel and adventure and the story sounded amazing. Once you are up there, it's amazing.
The effort that the Naandi Foundation has put into the region is unparalleled. You meet the tribal women, the farmers and you see their lives and culture, it's impossible not to be inspired. It was an amazing experience to see how they have transformed the region, to see the people, to connect with them, and of course, see their jewellery and see what their everyday life looks like. At the end of the day, something had to come out of it. It was such a different space for me as well. I feel as designers, you keep going to the same place for inspiration. I am inspired by art, architecture and travel and this was an unconventional setting and it's impossible not to be inspired. I was already sketching the designs on the flight back.
I also love the aspect of giving back and collaborating with a charitable institution. I know this is with ARAKU but even the Naandi Foundation is connected here. Their work ethic is incredible. Tell us about the collection...
The collection is quite extensive. We have almost 35 styles and different kinds of pieces, from your mini hoops and your statement chokers to your larger statement earrings. The red of the coffee cherry and the green of the forest (inspired us); you saw the body pieces in those colours. A lot of the pieces were inspired by the women's jewellery itself where we have reinterpreted them to create more modern, contemporary, wearable pieces. A lot of the pieces are inspired by more occasion-driven tribal pieces. They have these super-heavy brass anklets that they wear for their special occasions. The shape and the texture on it are stunning and one would literally weigh 10 kilos. We have been inspired by their form, but we have taken it to a different space, like we have made them into a super light pair of earrings. We have created a couple of pieces with the coffee beans that the farmers gave us. We have cast coffee beans and created jewellery pieces out of them. It was a combination of different elements.
What have been your personal takeaways?
For anyone who lives in a city and is used to the fast-paced city life, it is definitely refreshing to take a step back into the country life, like a farmer's life. It is a beautiful routine. They wake up, look after their plantations, sing their songs together, pluck their cherries and have their lunch over there. The plantation is in the middle of an island, in the middle of a lake and the women live in the nearby villages. Every morning they take their boats and go there, spend their day and come back. It's a different life from what we live. It's really beautiful to see people live in different contexts because this is what we have become used to.
Finally, are you a coffee person?
Absolutely! That was one of the incentives. I am a big coffee person. I like it black... in its truest form.