Platocracy
Vegetarianism by diktat — and the throttling of choice over what we put on our plates — has become a politically sanctioned scourge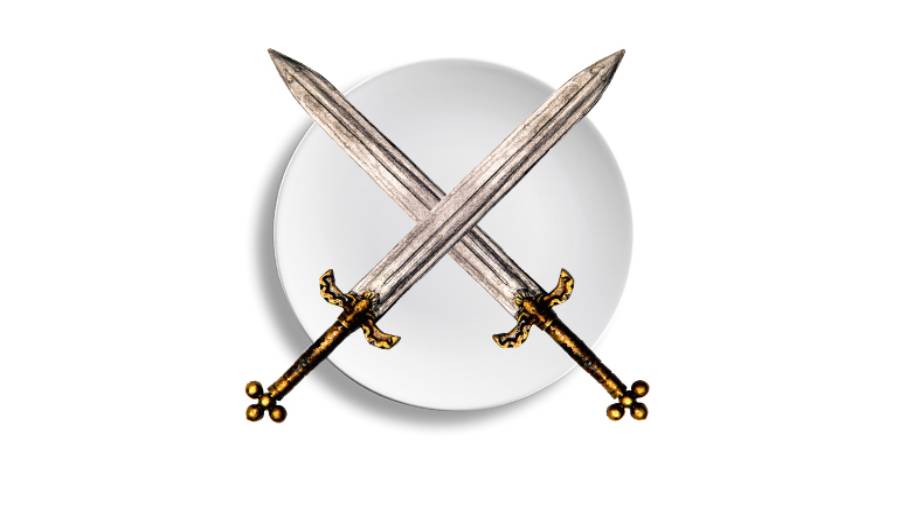 ---
Published 19.09.21, 12:34 AM
|
---
When the BJP MP Parvesh Sahib Singh Verma introduced a private member's bill in the lower house of Parliament in December 2018, seeking a ban on non-vegetarian food served at functions and meetings organised by the Government of India, he invoked Germany. "Consumption of non-vegetarian food not only causes rampant abuse and killing of animals but also has devastating environmental impact. Germany has also introduced it for the same reason."
The agenda to enforce vegetarianism in right earnest started in 2015. Maharashtra banned eggs from anganwadi and day-care centre meals. The one-day ban on slaughter and sale of meat during the Jain festival of Paryushan Parva was extended to eight days in an area in Bhayander (West). In 2017, Gujarat enacted a law making cow slaughter punishable with life imprisonment. The BJP-ruled South Delhi Corporation proposed a ban on the display of non-vegetarian food outside eateries for reasons of hygiene and "hurt sentiments". Over a dozen students of Hyderabad's Osmania University were arrested for trying to organise a beef festival. In 2018, the Vishva Hindu Parishad pressurised the Modi government to enforce a nationwide ban on cow slaughter and beef sale, including the BJP-ruled states in the Northeast.
That year, when research scholar and activist Swati Narayan mapped states that served eggs in its midday meals and anganwadis, it turned out that 14 of 19 BJP-ruled states did not allow eggs notwithstanding the Allahabad High Court ruling that "food that is conducive to health cannot be treated as a wrong choice". In 2019, there were reports that the NGO Akshaya Patra Foundation had stopped using onion and garlic in midday meals and didn't resume though the children started skipping meals. In the meantime, schools in Lakshadweep saw chicken and meat disappear from their midday meals. Some 2021 trends. The municipal corporation of Gurugram has decided to keep meat shops closed on Tuesdays. People for the Ethical Treatment of Animals (Peta) asked Amul to start making vegan milk and dairy products.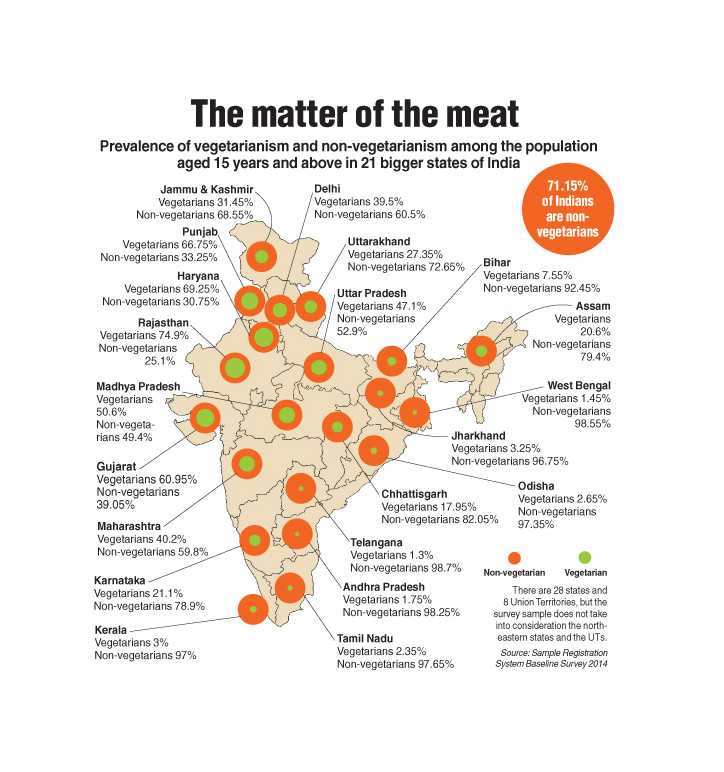 The agenda is not restricted to unsuspecting children; it does not stop with the closure of abattoirs either. In 2018, the Railway Board announced that no non-vegetarian food would be served to passengers on Gandhi Jayanti. The circular read: "October 2, 2018, 2019, 2020 can also be celebrated as a totally vegetarian day... on Indian Railways premises. All the railway staff will be requested to observe the day as Vegetarian Day." The plan met with countrywide uproar and was scuttled, but in 2019, Western Railways decided to enforce this. This year, Peta is urging PM Modi to declare Gandhi Jayanti as National Meat-Free Day.
Even the skies were not exempt. In 2017, government carrier Air India announced that passengers flying economy class on domestic routes would not be served non-vegetarian food. A year later, this decision was revised — non-vegetarian food would not be served on flights up to 90 minutes duration. A source in the catering department of Air India de-nies any political involvement behind these moves. He says, "In the economy class, the number of passengers crosses 100 and sometimes 200 when it comes to an Airbus. Managing huge volumes is difficult. However, for the business class which has fewer passengers, we do provide non-veg food. It is a matter of convenience."
The advocates of vegetarianism do not care for things such as a region's culture and established food habits. A bill was tabled in the Assam Legislative Assembly on July 12 by the new chief minister Himanta Biswa Sarma, seeking a ban on the sale and purchase of beef or beef products in areas "predominantly inhabited by Hindu, Jain, Sikh and other non beef-eating communities", or "within a radius of five kilometres" of any temple. On July 3, Nagaland banned the sale and consumption of dog meat; Mizoram had passed a similar order in March. In Goa, though, the BJP leadership is happy to have beef served because banning beef would be electorally counterproductive.
West Bengal — where the Trinamul has been in power the last decade and a huge percentage of the population comprises non-vegetarians — is also witnessing the vegetarianism subterfuge, albeit with less ambient sound. Ahead of the 2019 general elections, WhatsApp was thick with forwards shaming fish-eaters. BJP national secretary Sunil Deodhar had told The Telegraph: "If the BJP comes to power, cow slaughter will not be legal… Where the majority does not want to eat beef we want to bring in laws, and where the majority wants to eat beef, we will convince them not to." That June, the Kolkata Beef Festival was first renamed Kolkata Beep Festival, and then cancelled following threats to the organisers.
And just because there is no state-backed policy, it does not mean that the vegetarian Taliban are not at work here, taking their cue from greater powers. A public relations officer at a reputed private south Calcutta hospital who does not want to be identified confirms that vegetarian meals are de rigueur in many private hospitals. She hastens to add that it has to do with quality check. "People in the management want it that way. It is difficult to manage non-veg and veg meals together. Also, in the dormitory system, patients who are vegetarian cannot stand the smell of non-veg curry. Besides, vegetarian food has a very high protein level, etc. etc."
Dietician Ranjini Datta has a discrimination story of her own. She had enrolled her little boy in a south Calcutta playschool. Some days later, she was summoned by the authorities and asked to pull her child out of the institution. She says, "Among other things, the class teacher chastised me for the chicken nuggets in my son's tiffin box. She said that other children might feel bad. She also added that non-vegetarian food was unhealthy and unhygienic." Many private school canteens have turned strictly vegetarian without much ado, all in the name of "nutritional value". Another mother, who did not want to be identified, said her daughter who is a student of the junior section of a reputed city school often comes home crying with the story that classmates refused to play with her taunting, "You eat fish, so you are dirty and black."
Overtly, covertly, the advocates of vegetarianism have seasoned a dietary choice with their politics and prejudices. Riding on commemorative events, they have tried to give the issue a nationalistic colour. Other moves, such as no meat sales on earmarked days on religious grounds or no meat sale within such and such distance from temples or monasteries are hammering in ideas of purity and pollution. Ideas that have started to jump out of the plate and started to curdle what was once a great big melting pot.