Tracking some personalities we spot while video conferencing with colleagues or friends
A fun list of personality types that we spot during video conference calls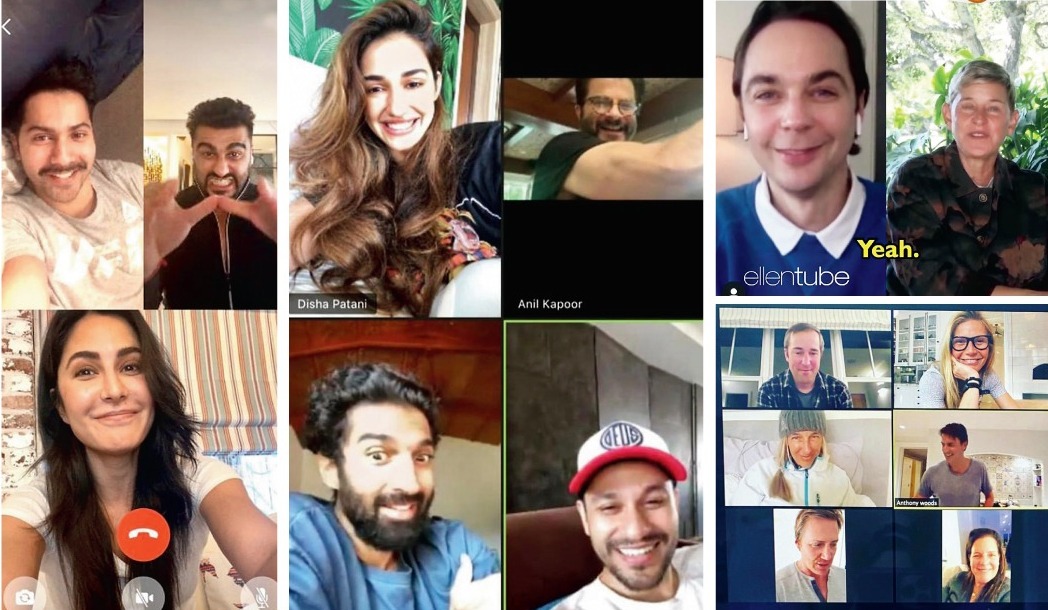 ---
---
With most of us working from home and staying in during the current pandemic situation, video calling has been a go-to to stay connected. The Telegraph draws up a fun list of personality types that we spot during video conference calls. Which one do you relate to?
Types of people in a video conference
The Prim and proper: Let's accept it that when it comes to video conferencing or even video calling an office colleague, we often do a quick makeover. Like throw a beautiful dupatta over a basic kurti or just add a pop lipstick while you are still wearing your shorts and tee, because after all, who is going to see your full figure, right? *wink* But in almost every Zoom or any other chat room, we all have this one friend who is extremely well-turned-out. From blow-dried hair, nice dress to even the lipstick matching her outfit and mani, she believes in being her perfect self, even if it's a VC where barely one's face is visible.
The lazy bum: Ah! Some of you must have already identified with this one. Just the opposite of Mr/Ms Prim and Proper, the lazy one will take the least effort in looking presentable. They would probably be spotted wearing a one-day old tee, unkempt hair (because, of course, they woke up late and barely made it to the video conference, duh!) pyjamas and probably looking sleepy and wearing a bored expression. With the lockdown in full swing you may even spot them with unruly beard and hair which they simply didn't bother trimming during quarantine. Sigh!
The multitasker: With almost two months of lockdown, we have realised that work from home is difficult, especially during trying times like this. Irrespective of your gender, one needs to do a lot of household chores alongside your office work. So the multitasker would probably chop veggies, talking to their child who has suddenly walked in and made an appearance, or eating or folding clothes! Don't be surprised if he/she shouts out to someone "turn down the heat after two ceetis" in between a discussion on video call.
The mute master: Yes, the name says it all! This participant is very much a part of the video chat and would be diligently nodding his head while often looking slightly away from the screen. Ask him a random question about his take on the plan being discussed, he would probably appear blank. What why? Because Mr Smarty Pants has been in the middle of a climax of his fave Netflix series or would probably be engrossed playing an online game with his friends while keeping his microphone on mute all this while! Often heard saying "Sorry, the network has been wobbly, I missed that bit... what were you saying?" Ooops!
The tech noob: Well well, technology is always not simple and it certainly is not simple for many people, especially if you are a boomer or err… not! There would always be a technically challenged colleague who is forever trying to set up or join the chat and spends a lot of time just figuring things out and well perhaps end up not figuring out, well… anything! "Ei, ki hochche… why can't I see anyone? Hello! Can you hear me?" or even worse, would probably get fed up and get up thinking they have exited the chat when in reality they have just minimised it and yes, of course, everyone else in the video call can still actually see and hear them. Oh lord!
The screamer: "YA MAN, IT FEELS SO SCARY AND UNREAL. I CAN'T TAKE THIS ANYMORE. HOW ARE YOU ALL DOING?" Yes, yes we are talking about that person who literally SCREAMS while on video conference! We do know we are not sitting close to each other nor hanging out at each other's houses but hey, you need not scream your lungs out! Simply adjust the volume on your device and that would give everyone (in the video conference room) and your quarantine partners at home some relief! We can hear you mate, just calm down.
The virtual traveller: How many of you have joined a video group chat and have suddenly seen a friend sitting in front of Leaning Tower of Pisa? Yes, we are talking about the friend who loves her vacays and has been literally living on her throwback snaps, so much so that they decide to even change their background image (option available on some video calling apps) to exotic locales they have been to in the past. While it's a nice way to camouflage that famous chair on which you have piled clothes through years, but constantly changing one's background is a bit… annoying.
The awkward one: With everything going digital now, students now have to attend online classes. Are you a teacher who is often interrupted by a student's father who walks into their son's room wearing his lungi to tell the kid to go and eat, leaving you embarrassed?! We understand that we all are at home but hey, can we have some social manners, too?
The social media junkie: That person who would join a video conference and wait for a moment to sneakily (or not) take a screenshot or flip out their phone and take a snap of the computer screen so that she can upload it on her IG almost immediately! With nowhere to go and not much to do, a quick update that you are connected to your friends toh banta hai boss.
The enthu cutlet: Last but definitely not the least, is our super charged-up energetic video chat mate who wouldn't let anyone talk! She is so overjoyed seeing her friends and colleagues online that she would go on talking and seldom giving the other person a chance to talk. Not getting to meet your friends or chat with your workmates could be upsetting and hard, we feel you but shouldn't we just let others participate too? After all, they must be missing you too.