'The TMC's work does not filter down'
Tribal activist Laxmi Mandi chats about battles lost, won and continuing in Jungle Mahal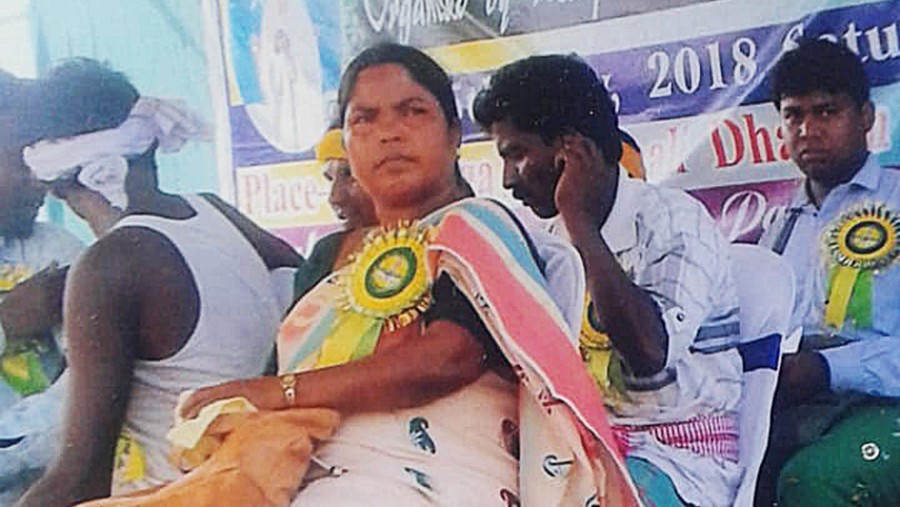 ---
---
Didi has done a lot of work for the people of Jungle Mahal but not everyone in the Trinamul (TMC) party is like her," says Laxmi Mandi. Laxmi — who has a reputation of being quite the activist from the Adivasi community — lives in the Salboni block of Bengal's West Midnapore district. West Midnapore, which is part of the tribal belt of Jungle Mahal alongside Bankura and Purulia districts. "My village has 30 to 35 tribal families. They are chiefly farmers," she says.
Laxmi herself works at the forest department by day and on weekends she works in the fields — these days she is sowing paddy. She has also founded the Salboni Jana Kalyan Samiti — the nomenclature is also the purpose. Last year, when three Adivasi women — two sisters and their mother — were labelled daini, or witches, beaten up and ostracised by the community, Laxmi first arranged for the victims' medical treatment and then ensured that the village eventually took them back. Not long ago, she also helped a minor girl secure a caste certificate after local authorities had turned her away. A caste certificate is an important piece of document and is needed for concessions and waivers in educational institutions; it is also needed for employment. Says Laxmi, "I wrote letter after letter to the local authorities and then to the block development officer. When none of them responded, I wrote to the district magistrate." Finally, the caste certificate was issued. She continues, "Didi does her work but it does not filter down. And that is why the BJP is gaining ground."
Jungle Mahal might be geographically remote but it is very much at the forefront of Bengal politics. There are 40 Assembly seats, key seats that determined the outcome of the 2011 state elections. In its own lair, the ruling CPI(M) lost to the TMC. In 2016, the BJP did not win any seats from this region but made considerable gains in terms of vote share. Jungle Mahal has six Lok Sabha seats as well; five of these were bagged by the BJP in the 2019 general elections. With the Assembly elections only months away, it was no surprise when home minister Amit Shah came appealing this November, "Give the BJP government a chance." And no sooner did the TMC strongman from East Midnapore, Suvendu Adhikari, switch over to the BJP, than he too travelled to Jungle Mahal. The chief minister herself inducted Jungle Mahal's own and face of the Lalgarh movement, Chhatradhar Mahato, into the TMC earlier this year. None of this is a coincidence.
Does Laxmi know Mahato? Mahato, who was the boss of the People's Committee Against Police Atrocities. The man who has some 39 cases pending against him, including involvement in Maoist activities under the Unlawful Activities Prevention Act and the murder of a CPI(M) leader in 2009. Mahato, who was arrested in 2009 and released earlier this year.
Yes, she knows him. She met him when the Lalgarh Movement — the tribal movement backed by Maoists against alleged police atrocities — was at its peak. Silence. And then Laxmi hurriedly adds, "You want to know about my life, is it? You want to know about the life of the people of Jungle Mahal? I will tell you."
Laxmi starts to talk about her mother and her growing up years in a family of five. She says, "My mother raised us. She worked as a farmhand and would earn between Rs 2 and
Rs 3 a day." It seems, another way of making money on the side was by collecting kendu leaves — required for rolling bidi — from the forest and selling it to mahajans.
But whatever her mother earned was not enough. Laxmi's mother and her elder siblings would go in search of roots in the forest. "There is a kind of tuber which when boiled tastes like rice. That was our staple," she says and continues fondly, "but since I was a toddler, my mother used to make some rice for me alone. My elder brother and sister would fight for the starch." And then adds softly, "This is the story of every other household in Jungle Mahal."
Laxmi was not sent to school; daughters were seldom sent. But she would watch the boys walking down to the village school every day. She says, "I had no one to play with during daytime, so, one day, I decided to go to school. I used to squat in one corner of the room and wait for playtime." One day mastermoshai, the schoolteacher, summoned Laxmi's mother and entered Laxmi's name in the school register.
One of her poems — she writes essays and short stories too, and has reported for Sar Sagun, a newspaper in Santhali until 2018 — reads, "Amay niye bhabbe na Ma/ Meye hoyechi bole/Kom kichhutei hobo na Ma/Nai ba holam chhele... Oh mother, don't worry about me because I was born a girl/ I won't fall behind, mother dear, no matter that I am not a boy."
A year later, Laxmi was sent off to the Adivasi boarding school in Salboni. "It was free of cost — food and lodging. We were given vegetarian food throughout the year except for two occasions — once before the summer vacation and once before Durga Puja," she recalls. And then some officer paid a visit to the school, for "inspection". Says Laxmi, "The inspector wanted to meet the youngest member and I was summoned. He asked me what kind of food was served to us and I told him. Once he was gone, the teachers and the elders chastised me — 'Couldn't you say eggs are served once a week?'"
Laxmi says it was during her time in the boarding school that she learnt to protest against oppression and malpractices. She says, "The hostel superintendent treated the tribal children like her servants. But I refused to do her personal chores. Sometime around then, I decided I would not put up with this attitude of the upper castes."
Right after her school-leaving exams, Laxmi started working as a labourer in a local farm. She says, "We were paid at the end of the week. But the tribal people employed there had to pay a cut of Rs 5 per day to the Citu union." Laxmi soon discovered that this was something every tribal living in Jungle Mahal had to pay. "I refused to pay up," she says.
That episode did not have a filmi ending for all of Laxmi's bravado. Her own people did not support her.
Laxmi talks about the corruption rampant in Jungle Mahal in her growing up years. She recalls her first voting experience. "I was a minor but the then ruling party registered my name in the voters' list. The government needed votes and over my objections, I was listed a voter." However, when she did vote, she voted for a local party instead.
She says, "Somebody had peeped into the cubicle and seen what I had done. That night goons ransacked our home. The police refused to take down my complaint." Laxmi eventually had to shift base with her mother.
All this happened before the Lalgarh Movement of 2008. According to Laxmi, it was such incidents of police atrocity backed by the ruling political party that had led to the people's revolt. What happened from then to the time she joined mainstream politics is one chapter Laxmi does not want to stop at, at least not now.
But that does not go to say that she is in any way ashamed of her political ambitions. She talks about the panchayat elections of 2013. "I was the only person who could have and should have been the TMC candidate (from Salboni Block 3)." But that did not happen; instead a general candidate was fielded from an ST seat. A furious Laxmi decided to field independent candidates from 15 booths of Salboni Block 4. She continues, "I registered as an independent candidate from my block. Out of 15 seats, we won seven, the TMC got six, the CPI(M) and the CPI got one each. Since we were the majority, we accepted the support of the Left parties and formed the panchayat board."
That night, according to Laxmi, the other independent candidates who had won were picked up from their houses and rape charges were slapped against them. The following morning, when she went to the Salboni police station to have them released, she too was arrested. While the rest of the people were presented before the magistrate, Laxmi was put under house arrest.
Laxmi says she does not know to this day what exactly happened behind the scenes that day but for all practical purposes that was the end of her political innings.
She is not bitter though; on the contrary she claims she is much engrossed in the workings of the Salboni Jana Kalyan Samiti. She says, "Now the place has developed much — there are pucca roads, Didi chhute chhute ashen... Didi visits Salboni often. Many schools have come up too."
What does she make of the BJP? She replies without a pause, "They are trying to prove that we are Hindus. What kind of attitude is that? We are not Hindus. Our religion is Sari and it means eternal truth."
Têtevitae
1972: Mandi is born to Mangal and Sundari Mandi in Godamauli in Bengal's West Midnapore district
1978: Starts going to Parini Chowk Prathamik Vidyalaya and later shifts to Salboni Nichumanjari Uchcha Balika Vidyalaya, from where she appears for her Madhyamik exams but doesn't qualify
1998: Contests in the panchayat elections on TMC ticket but loses
2006: Clears Madhyamik exams
2007: Starts writing poetry in Bengali and Santhali. Regularly contributes to Neer, a Bengali Dalit women's magazine, and in Adal Badal, a Bengali regional daily. Becomes member of the Bengali Dalit Sahitya Samity
2013: Contests in panchayat elections as an independent candidate, loses and resigns from active politics
2014: Forms the Salboni Jana Kalyan Samiti and becomes a full-fledged social activist
2015: First collection of poetry, Tuka or A Bird's Nest, in Santhali language is published
2019: Is recognised as a social worker and felicitated by the Mahila Samity of Kalyani