The Stone Hinge
Once upon a time there was a boy who worked tirelessly so his art could keep pace with his ever-wandering heart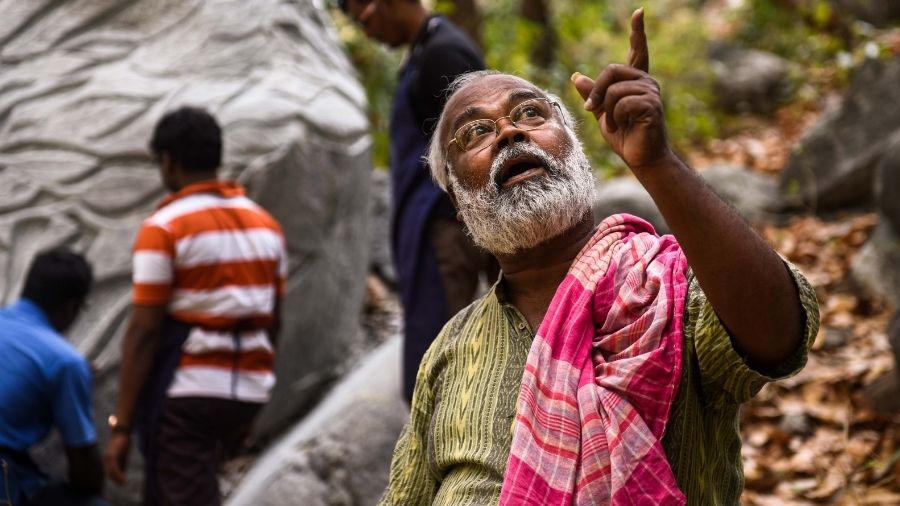 ---
---
The ground-floor studio in central Calcutta where I am meeting sculptor Chitta Dey is anyway very small. Moreover, it is cramped with sculptures, canvases, framed paintings, easels, paints and paintbrushes. The man himself is sitting at a drawing board with sketches strewn all over — amoeba, starfish, corals, snails, worms, snakes, birds, dinosaurs... "All these will eventually turn into sculptures on the hills," explains Dey. He is 64 and bursting with a creative restlessness, which means a permanent state of dislocation. He is sometimes in Calcutta, sometimes in Bansitanr village near Purulia, at other times in transit to other places. These days he is busy saving rocks in Purulia's Matha forest range from the stone-mining mafia. Not for no reason has it taken me months to track him down.
This Calcutta neighbourhood is as cosmopolitan as it can get. Dey tells me he still wakes up to the muezzin's call for fajr prayer and naamkirtan emanating from the nearby Charaktala temple. There are several churches as well and Sunday mornings are alive with their tolling.
Dey's father Kali Krishna was a manager at a coal depot close by. His mother Prabhavati Devi was a housewife. The family had moved to this para from their house in Taki, 70 kilometres northeast of Calcutta, by the Ichhamati river. Though Dey and his folks would visit the country home at Taki four times a year, one can tell that Dey loved city life always. He says, "I loved the hustle-bustle, the crowds, the whistles of suburban trains."
He tells me he went to the now defunct Surendranath Collegiate School nearby but had little interest in formal education. Roaming the streets and looking at people labouring for a living fascinated him. He says, "Sometimes I drew sketches of coolies loading or unloading sacks of vegetables at Koley Market or scavengers clearing manholes." He was also a fan of radio dramas and Bengali programmes such as Shishu Mahal and Galpa Dadur Asar. At one point he got involved with a children's theatre group and toured the cities and small towns of Bengal. He learnt at the feet of the skilled harbola, or mimicry artiste, Rabin Bhattacharjee.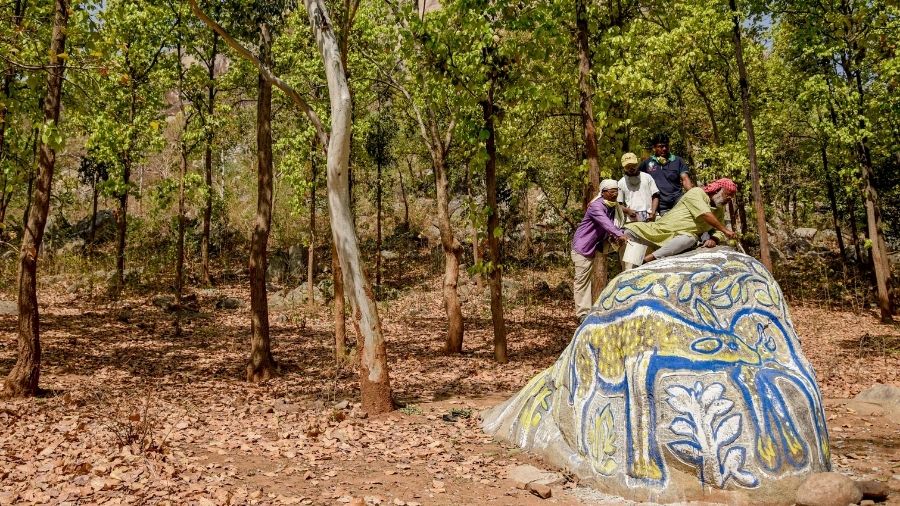 As I come to understand while listening to Dey's narration, there is a certain pattern to his seemingly accidental living. He appears to have an uncanny gift of ploughing back into life every interest he might have ever chased.
When there was a need to supplement his meagre income, a young Dey would help children in the locality complete their drawing projects and decorate pandals during Saraswati Puja for a small fee. Still later, when he had chosen an artist's career, he tapped into his memory of the Koley Market days and chronicled Calcutta's working classes through assiduous photography and videography over two decades — he calls the project Komorer Nichey Kolkata, Calcutta below the Waist.
Then again, during one of his childhood gallivanting with theatre groups, he made acquaintance with actor-director Bibhash Chakraborty in Berhampore. Once again, some years and much persuasion later, he joined Chakraborty's theatre group. He says, "My primary job was to build sets for plays, but I started dabbling with make-up, costumes, setting up lights and would even play bit roles occasionally." Soon, he became the backstage in-charge and was paid Rs 150-200 per month. This was the late 1970s.
When he joined theatre, the lessons he had learnt from the harbola were quite useful. He says, "I could mimic many birds, animals, sounds of running trains, storms and even cloudbursts with accuracy."
There is that humdrum saying that goes — exception proves the rule. Always seeking out masters in some art or craft from whom he could soak up a new skill, at some point Dey took lessons from Debu Banerjee in playing the harmonium. But this time, the guru said to the disciple: "Tomar hobey na... You are not made for this. But you are a good listener." Never one to brook a personal failure, Dey took the listening bit seriously. He points to a music system in the studio and tells me, "When I paint or sculpt at home, the music keeps me going."
Dey was 21 when, on the suggestion of a colleague, he decided to join the Government College of Art and Craft. But his immediate family, his older brothers did not like the idea. They had their reasons; their father had died and given the deepening financial crisis, they wanted him to step into Kali Krishna's shoes at the coal depot. Says Dey, "I ran away from home and took refuge in the world of theatre." The art college plan was shelved for a while.
Another couple of years went by. In 1977, there was a grand exhibition of scale models of theatre stages at the Academy of Fine Arts. Once again haphazard experiences dovetailed into a suspended life goal. Says Dey, "Unlike other art directors, I used lights and unique props to recreate the minuscule stage of the play Chakbhanga Madhu." The effect must have been spectacular because the then newly sworn-in chief minister, Jyoti Basu, came to inaugurate the exhibition and was taken with Dey's creation. It came up that the young artist had no formal education in art. Theatre personality Jochhon Dastidar, who was present on the occasion, took Dey under his wings; he persuaded Dey's family and helped him join the art college eventually.
Once again passion and necessity braided themselves in with fortune. In the 1980s, Dey started working as an art director for television serials produced by Sonex, founded by Dastidar. Sonex productions' Tero Parbon, Uranchandi and Shei Shomoy — all Bengali serials on Doordarshan — were big hits. Dey started getting work in Bengali films. He was also earning handsomely.
And then? "I felt straitjacketed. I wanted to break free and be an artist." And so he did.
From painting to sculpting was a short leap. Says Dey, "I got interested in sculpting during my theatre days. When the legendary artist Shakti Sen tutored me on the art of make-up, he told me to think of it as an act of sculpting." Now, working on his own, Dey started to experiment with different media, from clay to sheet metal. Gradually, he shifted to bigger sculptures. Bigger and bigger, till one day he found himself wishing he could sculpt a whole hill.
The story of Dey and his Pakhi Pahad is well known. How Dey travelled across India with toposheets and sketches looking for a 400-foot hillock. The headline of The Telegraph story from 1993 reads: "An artist hunts for a hill of his dreams". One day, Buddhadeb Bhattacharya, the then information and culture minister, summoned Dey to his office and urged him to look to south Bengal for his dream hill. After a month's search in Purulia, he found it. "I spotted it from the top of a crowded public bus. The Adivasis told me they called it Murra-Buru, meaning 'bald-headed hill'." Now all he had to do was etch 105 birds on it in a way that all of them would be visible from the foothills.
The itinerant weaver of experiences and causes, at some point Dey got lifers from jails across West Bengal, Jharkhand and Maharashtra involved in this initiative. Thirty years on, however, Pakhi Pahad is on pause owing to red tape and funding problems.
Nandadulal Mukherjee, art professor and former principal of Visva-Bharati's Kala Bhavana, is impressed with Dey. Says Mukherjee, "He has blended art with social work. Pakhi Pahad is generating employment for rural folk and has turned the obscure hill into a hotspot of cultural tourism." Dey's next plan — though he is reluctant to spell out the details — is to set up a museum on ancient rock carving along the Matha foothills. And in the meantime, there is the save-the-rocks project.
Says Dey, "I have got involved with the local people who are fighting to protect boulders and rocks from illegal stone-crusher owners. We are carving images of rare birds and animals on the rocks. Once a piece of rock is carved, the Adivasis believe it gets deified; no one dares lay a finger on it then." It is common knowledge in these parts that the stone mafia employs Adivasis and other locals to break or source boulders illegally.
So far, Dey and his team have sculpted over 30 such boulders and made basic sketches on 50 more. The project has generated employment for local sculptors. And the forest department and district administrators are also helping him in this effort.
Purulia's divisional forest officer Ramprasad Badana is quite excited about this . He says, "Once the engraving is done, it adds value to the boulder. It helps sensitise locals about wildlife and diversity too. Ultimately it helps in conservation of the forest area, makes our job easier."