The phenomenon called Naomi Osaka
A powerful backhand, abundant aces, a great serve, steely resolve and resolute athleticism define her play on court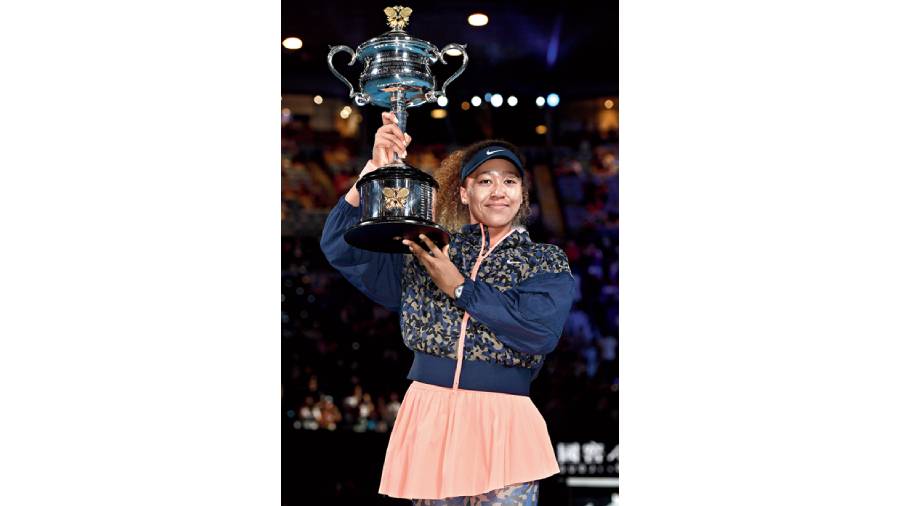 ---
---
When we talk about a star in the WTA world of tennis, we usually mean someone who packs in a punch on the court as well as makes noise off it and the last in recent times that someone other than Serena Williams hit the decibel level (quite literally, one might add) was when a 17-year-old Maria Sharapova beat the aforementioned to win at Wimbledon in 2004. What happened next was a media frenzy that soon saw the two at the top of endorsement lists as they became "tennis dahlings", seamlessly walking off courts and on to countless red carpets across the world.
Since then, an injury-ridden Sharapova has retired after winning five Grand Slams while Williams is still continuing strong with 23. We were just getting used to the ubiquitous Williams triumph at every major tournament, barring the occasional upsets that threw up names such as Garbine Muguruza, Caroline Wozniacki, Angelique Kerber and Simona Halep most recently — all of them great in their own right but not enough for the kind of stardom that makes for a phenomenon. In came the then-20-year-old Naomi Osaka who was behind the stunning 2018 upset at Flushing Meadows that kept Williams from clinching a historic 24th and officially owning the contentious "GOAT" moniker. Imagine the headlines that could have been if Williams won!
However, what the world got was a dramatic women's singles final that saw Williams in a war of words with the match umpire, accusations of sexism, the crowd booing and Osaka in tears as she delivered a poignant winning speech: "I know that everyone was cheering for her (Williams). I'm sorry it had to end like this. I just want to say thank you for watching the match." And what happened on that podium in September 2018, shared by tennis greats Chris Evert, Billie Jean King and Williams, was that a star called Naomi Osaka was born, who went on to win three more Grand Slams, the latest of which was on February 20 in Melbourne.
On first look, Osaka is a shy girl who loves keeping her headphones on and usually always has a straight face. However, her press conferences and her social media accounts offer occasional glimpses of her candour peppered with some self-deprecating humour. Born in Osaka, Japan to a Japanese mother and a Haitian father, Osaka had shifted to the United States aged three, where her father took inspiration from the story of the Williams sisters and decided to train Osaka and her sister, Mari, alike. She took up her mother's surname and despite holding dual citizenships of USA and Japan and identifying herself as a proud Black Japanese-Haitian-American, Osaka represents Japan due to practical reasons that were decided for her by her folks. And just like her mixed heritage and dual citizenship, her personality, too, cannot be put into a single box. She can be shy but when she speaks, the world takes notice. A case in point would be when she most recently made her stand against the repeated police violence that the Black community in the US have been facing for years, be known at a time when not much noise about it was being made in the world of tennis. Osaka, who eclipsed Williams and Sharapova by becoming the highest-paid female athlete ever between June 2019 and June 2020 (earning $37.4 million cumulatively in prize money and endorsements), is clearly not scared of speaking up for issues she feels strongly about.
In 2018, Osaka achieved what no Japanese singles player, man or woman, had ever managed — winning a Major. In 2019, she became the first woman since Jennifer Capriati in 2001 to win a Grand Slam title right after winning her first one and also proved to naysayers that her preceding US Open title was a fluke by no means. With her 2021 Australian Open title where she beat American Jennifer Brady 6-4, 6-3 in 77 minutes at Rod Laver Arena, she has now become only the third player after Monica Seles and Roger Federer to win in their first four Major finals. This is also her fourth Major title in the last eight she has played in.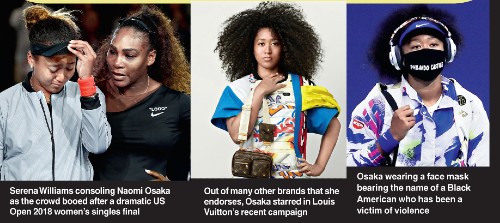 A powerful backhand, abundant aces, a great serve, steely resolve and resolute athleticism define her play on court. But off court is when you see why Osaka is the star she is. Humility, dignity and graciousness peek out of her in everything she does — from accepting the proceedings of the night at her first Major victory with so much dignity to when she compassionately consoled a crying Coco Gauff and eventually was reduced to tears herself in the process. And even when she took the time out to ask Brady on Saturday what she liked being called — "Jennifer or Jenny?" — before she thanked her and congratulated Brady's team.
Osaka comes hot on the heels of a long line of female athletes such as herself who don't care about preening in front of the camera to win an audience but unapologetically and truly remain themselves. Though shy and soft-spoken, she does not shy away from wearing her activism on her sleeve as she became the first tennis player to refuse to play at the Western & Southern Open as a mark of solidarity with her fellow Black community in the US, who were protesting the police shooting of Jacob Blake. Later, she used the platform of the US Open last year to gain global attention to the issue by wearing face masks emblazoned with the names of Black American victims of violence. Osaka captures the best of the Gen Z spirit — using her voice and amplifying it through social media to stand for things that she deems right. And as a sign of a world now opening up to Osaka's brand of authenticity, she seems to be doing more than just fine commercially. From big names such as Nike, Louis Vuitton, Mastercard and Beats, she has been a part of multiple ad campaigns and stellar collaborations and even had Netflix announce a documentary on her last year — possibly pushed back due to the pandemic.
At 23, Osaka has caught the fancy of the tennis world and is already been likened to many greats. Yet at the post-match press conference after her victory in Melbourne, she said: "I'm taking it in sections. For right now, I'm trying to go for five. After five I would think about maybe dividing the 10, so maybe seven or eight. I don't like to take things big-picture. For me, I like to live in the moment." This perhaps comes from an acute awareness of the possibility of hitting a nadir after the zenith of fame, akin to her experience in 2019, when most memorably, she crashed out of Wimbledon in the first round. But it is this awareness that also makes her the sportsperson she is because how does one savour victory without losing some?
While many might still be waiting for an heir apparent in the realm of WTA as we look at the brighter prospects for the same within the ATP tour, I am inclined to say that Osaka's greatness has already started unfurling, irrespective of who precedes her. And therein lies the beauty of sports that it allows greatness of all kinds, which is often worth so much more than the competition itself.