The Irwins on daughter Bindi's big day and their time on the show Crikey! It's The Irwins
The second season of Crikey! It's the Irwins airs on Animal Planet on Thursdays at 9pm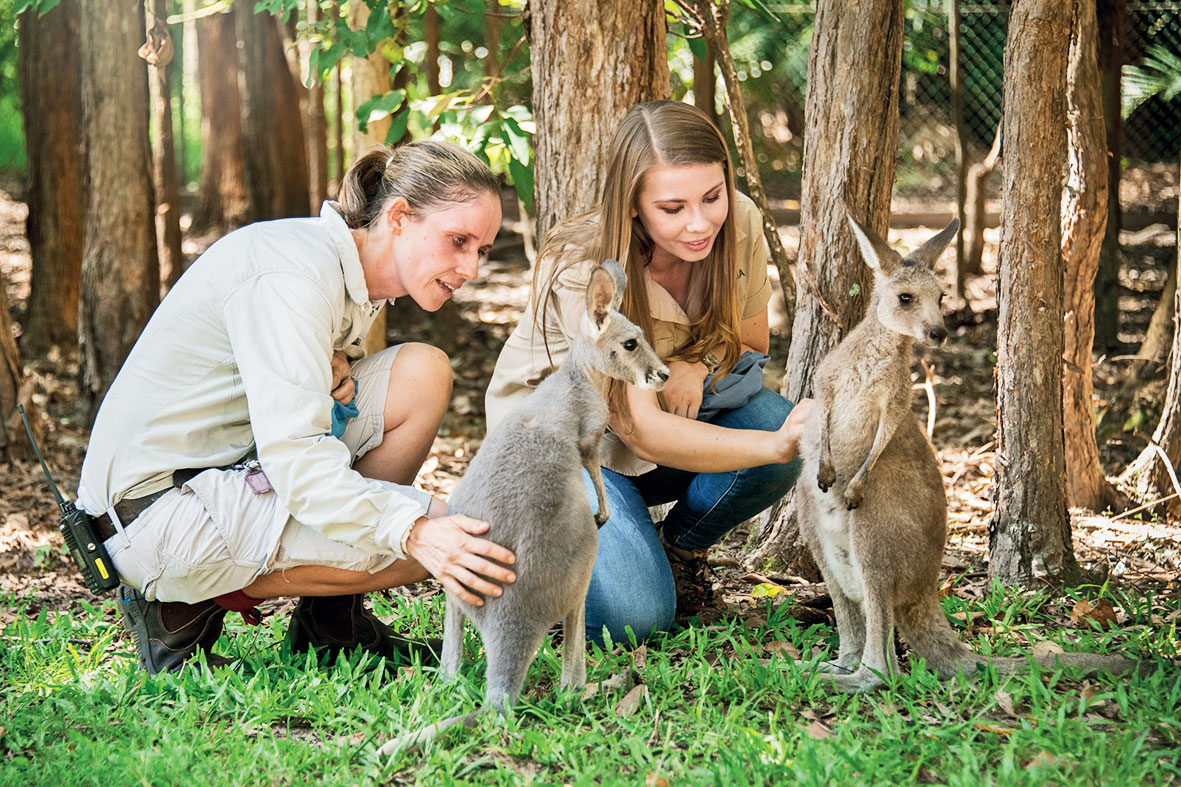 ---
---
Thirteen years ago, a sudden stingray attack took away the immensely popular conservationist Steve Irwin, but his family carries on his legacy, both in running the Australia Zoo and in producing television programmes centred on its inmates. The Irwins — Steve's widow Terri, daughter Bindi and son Robert — take questions from t2 as the family approaches a big day and the second season of Crikey! It's the Irwins beams (on Animal Planet, Thursdays at 9pm).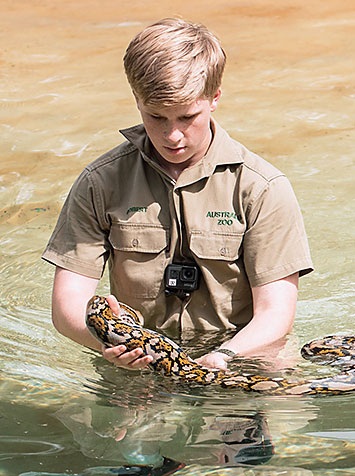 Bindi, congratulations! I understand the wedding will take place at Australia Zoo. When is the big day? Share your plans.
Thank you! Wedding planning is in full swing for us and it has been an amazing whirlwind. We're looking forward to celebrating our wedding day next year at Australia Zoo. Of course, the day will be filled with family, friends and lots of gorgeous animals. I actually found my dress in New York City while on a press tour for the second season of Crikey! It's the Irwins. I just put the dress on and knew it was the one. My mum was there, and she was crying, it was a very special moment for us. My lovely brother Robert will be walking me down the aisle, which is so special to me and we will definitely have animals incorporated into the wedding somehow! All of the animals at Australia Zoo are a part of our family so it just wouldn't be right without them.
Bindi, how and when did you and Chandler meet? How did he propose? Does he have any interest in animals?
I met Chandler at Australia Zoo, he was there visiting with his wake boarding team and I was the one giving the tour. The fact that we will be married there is just a full circle for our relationship, it's also where he proposed so we have a lot of special memories here. Yes, Chandler is definitely a wildlife warrior and is now wearing his khaki too! He does everything from animal rescues to jumping on crocodiles with the rest of our family. He is a perfect fit to our family and I'm so happy that I get to spend the rest of my life with him. He will be on the second season of the show and we will actually be showing our engagement story during the season finale! You will even see us do a koala release back into the wild, which is really special for us.
Bindi, what is your favourite corner or species or experience in the zoo?
I love crocodiles and snakes because I've grown up with them and as a family, we've always loved them, but I think that echidnas would have to be my favorite animal. An echidna is kind of like a porcupine — a blob covered in spikes with backward-facing feet and a really long nose. Echidnas are one of only two monotremes in the world (the second being the platypus), meaning they're mammals that lay eggs instead of giving birth to live young. They're kind of weird-looking, and I love them.
Bindi, since you have an Indian-sounding name, have you ever come to India or picked up any Indian connection by way of any zoo animals sourced from India or any other way?
My name comes from the name of my dad's favourite female crocodile at the Australia Zoo. My name is so special to me as it has a strong connection to India. I have a little collection of bindis that I have been gifted by lovely visitors to Australia Zoo. They mean so much to me. My dad lived in India many years ago for about 18 months, so I feel a great connection.
Terri, the zoo will soon turn 50. What are your plans?
Yes, we are so excited to celebrate this major milestone! You will see a lot of the planning for the anniversary during Crikey's season. For example, in one episode, one of our new projects includes building a brand-new home for the crocodiles in preparation for the 50th anniversary of Australia Zoo but, in order to do that, Robert and a team is tasked with moving all the crocs (by hand!), including Bosco, the zoo's most aggressive animal. It's an action-packed season!
Terri, tell us about some of the highlights of Season 2 of Crikey! It's the Irwins. I hear there was a dentistry procedure on a grizzly bear and the rescue of a fruit bat.
This season was a special one for me because I got to visit my wildlife friends in Oregon. My friends of a conservation group let me get up, close and personal with a grizzly bear when we checked out his teeth. We did have to remove a tooth, but it was something that I'll always remember.
I felt so lucky to help rehabilitate a fruit bat back to the wild after it was caught in a fence. Fruit bats are one of the most important pollinators in the world. They're also incredibly beautiful, they look like little dogs!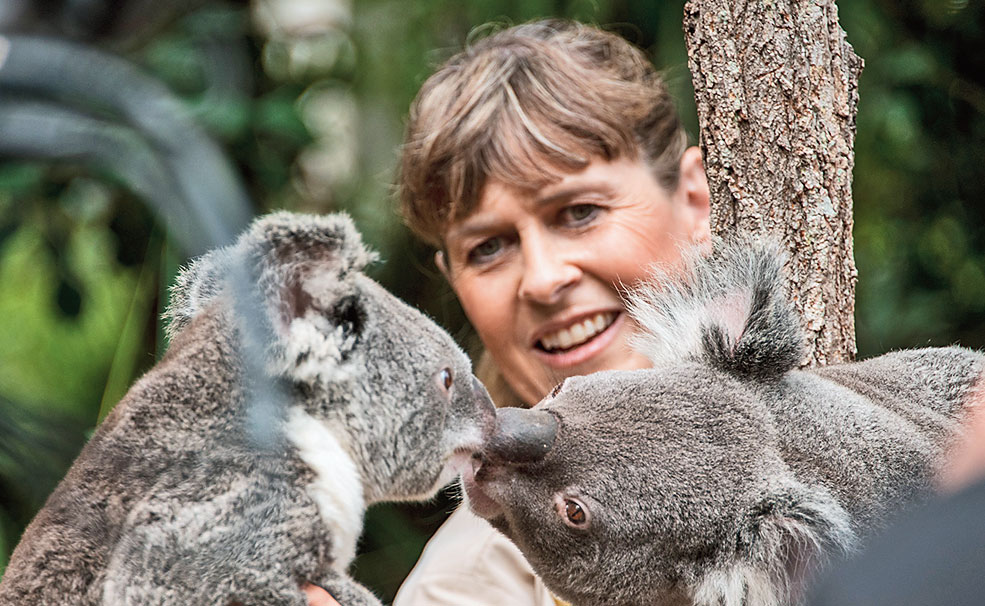 Terri, Steve was always exclaiming 'Crikey'? What does it mean?
Crikey! It's a great word and is used when you are excited, surprised or happy. For example, 'Crikey, I'm so excited to see you' or 'Crikey, that's great news!' While it is said in Australia, I do think Steve made it a more mainstream word that now is known around the world.
Robert, you and Bindi were practically hand-reared in the zoo. What is the best and worst part of life in a zoo?
Our house is right in the middle — we have crocodiles on one side and tigers on the other. We love living side-by-side with so many exotic creatures. I'll go around on my scooter and jump in with the tortoises to say 'g'day!' or wrangle some snakes. Every day is a new adventure.
Robert, what is the favourite or most thrilling experience of Season 2 Crikey! It's the Irwins for you?
I got to go to the amazing deserts of Arizona in the US to wrangle rattlesnakes for the very first time. It was really exciting! I was learning techniques passed down by my dad. But you will have to watch the episodes because it gets really intense when I come face to face with two of these highly venomous animals. It was such a fun trip!
Do you guys keep a pet at home? There was a pug on Robert's arm as he was working on a laptop in a recently posted picture on Instagram. Who is that fellow?
Yes, we have Stella the pug! Stella the pug works with us at Australia Zoo and loves to spend time watching the koalas nap — one of her favourite activities as well! She participates in a lot of our special events at the zoo and has made a few media appearances with us. She loves meeting all of her fans too. She is also an honorary Queensland Police dog and was given a police uniform, which she wears with pride when she patrols the zoo. She thinks she is a great security dog. Stella adores animals and helping others learn about all the amazing creatures roaming our beautiful world. You can follow her on Instagram too @StellaIrwinThePug.