Olympian archers roll out Covid initiative
Archer Rahul Banerjee elaborates on his and sister Dola's move to organise a free vaccination drive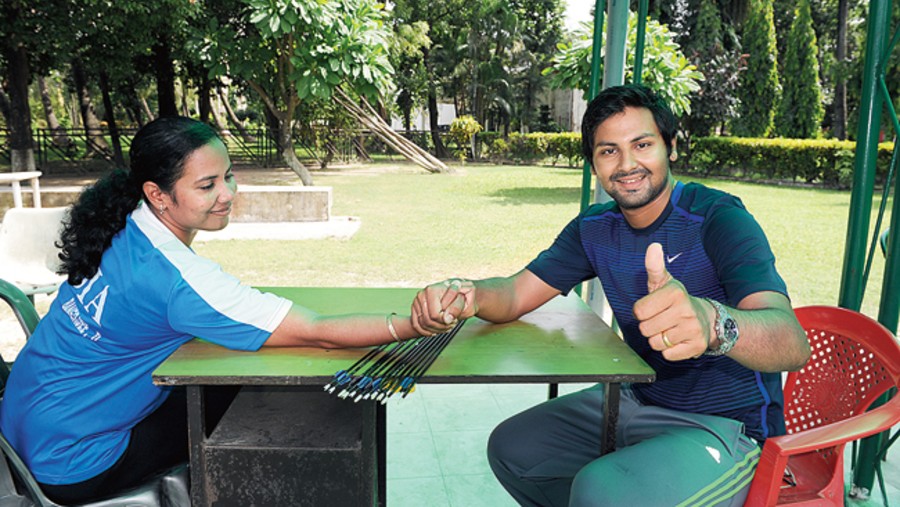 ---
---
Olympian archers, Arjuna awardees and Commonwealth Games medallists. These are among the many feathers in the caps of siblings Dola and Rahul Banerjee, household names and synonymous with archery in Bengal. The brother-sister duo have over the years started training kids too. "They are the future of Bengal. And, we want to give back to the sport which has given us everything," says Rahul when we caught up with him for a chat on a vaccination drive Dola and he are spearheading. They have been organising food for 150 daily wage earners through Round Table, which is also supporting them in the vaccination initiative and have plans of distributing relief to South 24-Parganas post cyclone Yaas, through sportspeople residing in those areas. Back home, his daughter Bannvi keeps him busy and amidst the chaos Rahul is aiming for the bullseye — the World Championship trial in August and training, fingers crossed.
Tell us about the vaccination initiative...
This is an initiative by Dola and Rahul Banerjee Sports Foundation in association with Calcutta Alipore Round Table 12 and Calcutta Alipore Ladies Circle 3. I have been a tabler since 2019. The infrastructural support has been provided by Globsyn. It's happening on June 4 at Globsyn Business School, Salt lake Electronics Complex, Globsyn Crystals, XI- 11 & 12, EP block, Sector V, between 11am and 5pm. We've collaborated with Apollo (Gleneagles). We are targeting to vaccinate around 300 people out of which 100-150 will be sportspersons who will be vaccinated for free. Most of them are underprivileged athletes. We have been planning this from April-end. Vaccination is the most important thing and shetai hochhe na. If you yourself are not vaccinated, how will you help the others?
How did you shortlist the names?
We have reached out to all the famous sporting stars from Bengal through a Google form. They have referred some athletes. There are many who would be travelling from as far as South 24-Parganas.
How life has changed since we last spoke?!
Ki bolbo aar. We travelled by car to Darjeeling in October and stayed in an Airbnb. We carried a sanitising machine and even our cook travelled with us. Post that I was in Jamshedpur for a while, from December to February end, training under Korean coach Lim Chae Woong at Tata Archery Academy. All camps and training centres are shut, including SAI (Sports Authority of India, Salt Lake). We were running our own training centre in Rabindra Sarobar. It's shut now though. Even our academy in Jhargram is also shut. We are conducting some online classes to ensure that the kids don't forget their techniques. Last February there was a junior world championship trial and two of our kids did exceptionally well with just 15 days training. That was a piece of good news. Ebhabei chalate hochhe.
Life has changed in a big way. I have not been on a flight for 15 months. I also had a daughter (Bannvi) last February. So, we are being extra cautious. We had thought of travelling in 2021 when things are fine, but the situation got worse.
My last tournament was the Olympic trial in November 2020. We practised for 15 days. This year we have the World Championship trial in August. I am training for that regularly at home. I had taken a break from training post a shoulder injury. Then we became busy with relief work Amphan and there was no target too till October. I trained in our Jhargram academy.
You need full-time training for sports. With so much uncertainty, there is nothing to look forward to. We have lost count of days it seems, but have now resolved to make Sundays count. Puro lyadh khabo and we'll watch movies.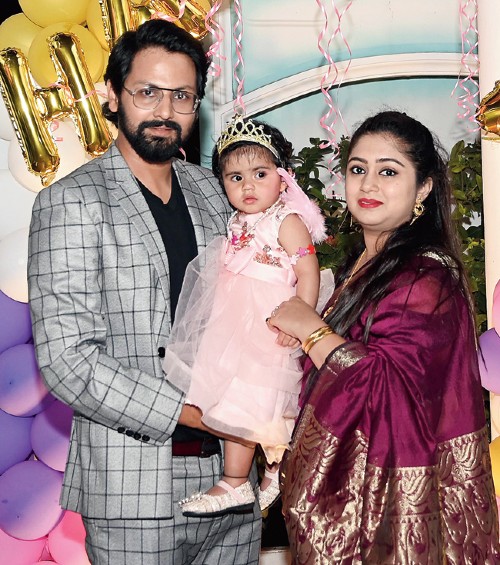 It is a good thing though that you are getting to spend time with your daughter. What does Bannvi mean? Does it have anything to do with archery and arrows?
(Laughs) It didn't even occur to us actually. It means victorious. She's had us to ourselves for the first two years of her life completely, which would have been impossible in normal times. Baba ke dekhtei peto na. She made sure that things were a bit normal during her birthday. And then came another lockdown. I told her: 'Bhaloi plan korechish!' (Laughs) She is super active as a kid with no kanna kati. I was working out the other day and she gave it her all to lift a gym ball! She has kept us on our toes and our only breather is during the afternoon when she sleeps. She started walking when she was eight months and has travelled with us too, to Darjeeling, Kurseong and Jamshedpur.
How much are you enjoying fatherhood?
Full-time! I give her a bath sometime. Ghum parano... kole niye ghora... full timepass! A lot of our friends are saying time is dragging by but for us time is flying by! (Laughs)