JCB Prize for Literature 2019 celebrated the art of the written word under the clear Jaipur skies at Rambagh Palace
Rambagh Palace looked resplendent, with candles, lights and letters hanging from, as though, the skies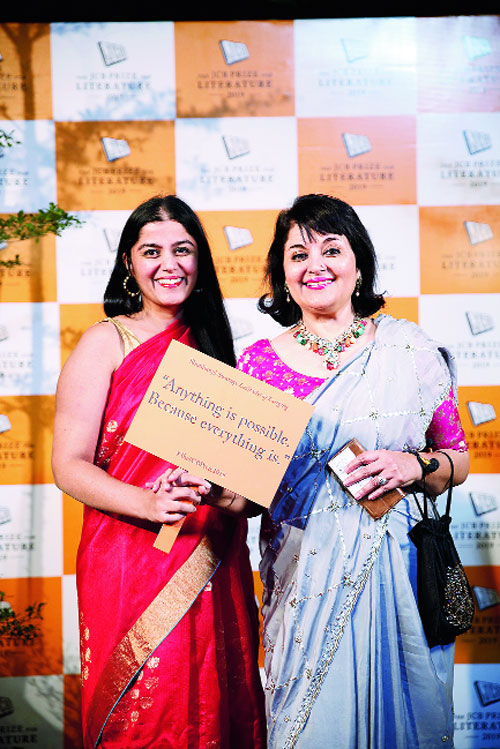 ---
---
In his poem So You Want To Be A Writer, Charles Bukowski writes "if it doesn't come bursting out of you/ in spite of everything,/ don't do it". These are lines, perhaps, every writer would agree with. For having the courage to put out stories that they believe in, every author deserves to be celebrated like they were at JCB Prize for Literature 2019 Awards night on November 2 at Rambagh Palace in Jaipur.
Rambagh Palace looked resplendent, with candles, lights and letters hanging from, as though, the skies. In its second year, the JCB Prize for Literature celebrates the finest works of fiction to emerge from the Indian subcontinent. What perhaps sets JCB Prize apart from their contemporaries is their focus on translated pieces of work which often fail to find platforms of equal stature on the world stage. "But is it really right to pit a translation against original writing in English?" was a question that seemed to hover over each dining table. We asked the two translated authors on the shortlist and both Manoranjan Byapari and Perumal Murugan were ecstatic that their book was being appreciated on this stage and that it had managed to find an audience so much larger in scale.
Last year, the first JCB Prize for Literature went to Benyamin for his novel Jasmine Days and the author was in Jaipur for the award night this year. "Life has indeed changed since the award last year," said the very amiable author who took home Rs 25 lakhs last year. "It's just book launches and literary events all the time for me but it's so good to be back here and I am supposed to be giving away the award (gestures at taking off a crown)," he laughingly adds.
JCB Group is one of the largest manufacturers of earth-moving and construction equipment and their dedication towards the arts and education has led them down this stellar path of the appreciation and recognition of fiction writing in India. The jury this year comprised author and critic Anjum Hasan; filmmaker and environmentalist Pradip Krishen (Chair); author K.R. Meera; author Parvati Sharma; and economist Arvind Subramanian. "This is a country built on texts and stories and it is imperative that we try to do something about that. At JCB, we also try to stimulate conversations around translations and Indian literature is a crucial way of bringing that together," said Rana Dasgupta, author and director of JCB Prize for Literature, at his opening address for the night.
Another question that kept coming up repeatedly in intimate conversations throughout the evening was, "Will the jury vote for the author or the book?" In attendance were four out of the five shortlisted authors — Roshan Ali, Manoranjan Byapari, Perumal Murugan and Hansda Sowvendra Shekhar, while the fifth author Madhuri Vijay was in Hawaii, preparing for labour. It was almost poetic how one of the greatest night of her life as she gave birth to another, was also when she was announced the winner of the richest literary award in India for her debut novel The Far Field.
Amidst glorious decor, food, drinks and company, the award function rolled well into the night and the next morning witnessed conversations around the pool at the JW Marriott hotel, where all the guests could be found catching up over coffee to combat the hangover of the night before. Topics for the morning session involved the likes of 'The future of storytelling', 'What makes a great novel?', 'Can the counter-culture change India?' and 'Is life different after section 377?'. When there are so many academic and far-thinking minds in the same room, the least one can do is insinuate stimulating conversations and these poolside sessions turned out to be just that. We immersed ourselves into the conversations around us and tried to take away as much as we could from every interaction. Here are few memorable moments from the weekend that was...