First Among Unequals
Profiling the man who has come to be the face of the aam Indian living his humdrum life in humdrum geographies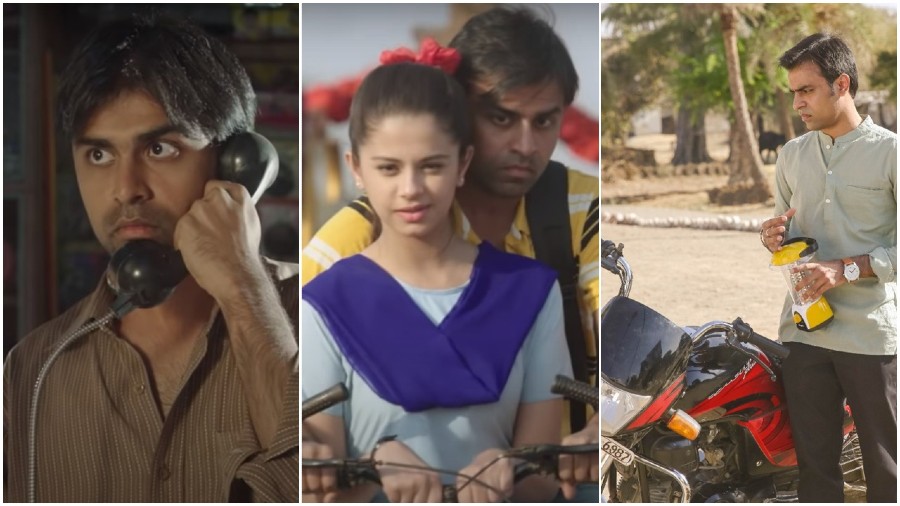 ---
---
Jitne bhi classes hum insaan ne banaye hain, I think I've played them all," says actor Jitendra Kumar. Fondly known as Jeetu or Jeetu bhaiya — after some of the characters he has played — Jitendra is the face of the common man in the recent crop of films and Web series on OTTs. In Shubh Mangal Zyada Saavdhan, he plays a gay man from Allahabad, a man who together with his boyfriend aims to change the mindset of his homophobic middle-class family. In Panchayat, he plays secretary to the sarpanch of a remote village named Phulera; an engineer who does the government job by day and prepares for his MBA entrance exams by night. In Chaman Bahaar, he is the ambitious paan shop owner in a small town in Chhattisgarh.
Director of Shubh Mangal Zyada Saavdhan Hitesh Kewalya says, "Earlier we would look for heroes in larger-than-life kind of stories, and that is why for 25 years Shah Rukh Khan, Aamir Khan, Salman Khan would do such characters. But now the trend is changing. We are looking for heroes from amongst our own." He continues, "Jeetu is a very regular image guy. If a guy like Jeetu passes you on the street, you'll not give him a second look." Says Apurva Dhar Badgaiyann, who directed Jitendra in Chaman Bahaar, "He is presentable, at the same time not extremely handsome like a heart-throb, he is likeable and he exudes a vulnerability. That image really works in his favour."
The 30-year-old Jitendra plays to his ordinariness, to how unremarkable he is. The civil engineer from IIT Kharagpur got his acting break in The Viral Fever videos — a YouTube entertainment channel. This was in 2012. Thereafter, he made a debut in Bollywood with Shubh Mangal Zyada Saavdhan.
Jitendra is well aware that he has come to commandeer a handsome following as the face of the aam Indian and takes it as a compliment. "That was the intention," he says. He plays a frustrated corporate employee in TVF Pitchers, a confused groom in Permanent Roommates and a compassionate teacher in Kota Factory.
Kewalya talks about how in the mid-1990s and early 2000s, crossover cinema and NRI life came to be the mainstay of Hindi films. "That was the trend. The economy was opening up and all that started reflecting in our popular culture. Our Hindi films have always portrayed a hero as someone who is dashing, exuberant and mostly an extrovert." But that has changed.
Jitendra himself adds, "We say we are a young country but there was no content for young people to watch. Connectivity, digital switch and smartphones have given us a new kind of content. We are now back to stories, to characters, to relatability."
Relatability. Critical word. No matter how fond the memory of joyous mustard fields, and Rahuls and Simrans serenading each other with Tujhe dekha toh yeh jana sanam, this is no time to be in tra-la-la land. Says Badgaiyann, "No matter how much our cinema has shown us there is a rich girl and a poor guy (or vice versa) and that their stories have happy endings, the reality is not so simple. Class aa hi jaata hai aage... a person's class is an important factor."
Jitendra believes that as an artiste his priority is to stay close to reality while portraying his characters. For the role of Billu in Chaman Bahaar, he spent time at a Raju bhaiya's paan shop in Raipur, where the film was shot, learnt a trick or two of the trade and also closely observed what was happening around the shop. "The basic things can take you close to the culture," he tells The Telegraph. Badgaiyann offers, "Paanwale bhi samaaj ka important hissa hote hain. In small cities, where there are no coffee shops or cafes, a paan shop or a tea stall is one of those places where people come together to chit-chat and have all kinds of discussions — political and intellectual."
It seems Jitendra is not new to this side of India. He is from Khairthal in Rajasthan's Alwar district, and has lived in different places through his childhood; his father, too, is a civil engineer and was posted in no one place. "I knew how small towns and villages were. I spent vacations at relations' homes in villages. So while shooting, these worlds didn't seem new. I have lived and seen this life," Jitendra says. Caste issues are also not strange to him. "Where I come from, caste is always a thing. We cannot escape from these things in this country," he adds.
According to Jitendra, shows such as Panchayat are important in that they portray the other India, which is as real as the much-portrayed India. He says, "The image most people had about a panchayat was five people sitting under a tree and discussing issues. But that is not how rural India is... Our education system also doesn't teach the basics to students. They know how Parliament works but not a panchayat."
Kewalya gives another perspective. He says, "Films are pieces of communication through which we try to reach a maximum number of people... If the characters are from a metro city all the time, somehow I am alienating my UP audience, my Punjab audience, my audience in Bihar. Also, in the last 10-15 years, a lot of migration has happened. Say when someone from Bareilly goes to Delhi for graduation or for a job, his roots remain in Bareilly. When a film showcases an aspect of Bareilly life, he will watch it with affection and interest."
In Chaman Bahaar, Badgaiyann has used the Chhattisgarhi dialect throughout. He says, "Places like Chhattisgarh suffer from an identity crisis but such films give them a pop culture identity. Chattisgarh waalon ke liye yeh film unki Sholay hai..."
And if that is the case, would that make Jeetu bhaiya Amitabh Bachchan?