Fire off a burn in the belly
A group of teens from underprivileged homes in Varanasi has come together with a dare-devil act. They tell that they mean it to be a springboard for dreams and aspirations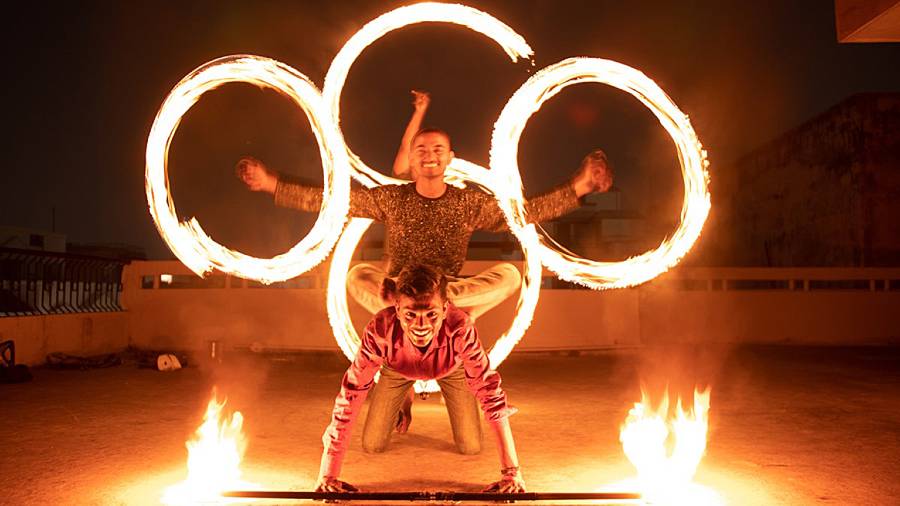 ---
---
Where they come from is who they are. "We come from families with a bad reputation," says Sagar Kumar Ram, who is also known as Sagar Juggler in and around Nagwa basti of Varanasi. The 17-year-old switches from English to Hindi with more confidence than ease, and proudly identifies himself as one of the founders of Kashi Fire Warriors, a group of 12 performing artistes based in the olden city. Friend and co-warrior Preeti Gautam provides the annotation to Sagar's opening comment. "Most of us are from the Chamar community," she says. Chamars, or Jatavs, are Dalits, occupationally cobblers.
The warriors are teenagers who like to call themselves fire-flow artistes. They dance, juggle, spin — all using fire — at weddings, college-dos, birthday parties, café openings.
According to Sagar, people are always willing to pay to watch a bit of dare-devilry. He says, "People do not care much for simple performances but when they see fire, they are interested." And so they perform fire jugglery, fire fans, fire flower sticks, fire hula hoops and fire Poi. Poi is a style of performing art involving swinging tethered weights.
In most cases, the money they earn goes towards funding their own education. "It helps us to not be a burden on our parents," says Sagar, whose father passed away when he was 11. Preeti is the youngest of three siblings. Her father, a labourer, is out of work and her mother works as a cook in a couple of households. Preeti loves performing with fire fans and hula hoops. "I like the freedom," she says. And adds, "Where I come from, girls are not allowed to go out much."
Taposh Vishwas's father committed suicide last year and his mother works as a domestic help to provide for him and his two sisters. He says, "In the Bengali community here, most of the boys get married early or start driving cycle-rickshaws." Abhishek Kumar is happy that he can add to his family's monthly income. Piyush Rao's mother has been ailing for 20 years from a respiratory problem. Piyush is excellent at acro-balance, wherein two or more people carry each other, in different poses and positions. Shivani Kumari's parents routinely get drunk and fight. Four years ago, her father hit her as well. That is how she came to have a ruptured eardrum. Shivani saves part of her earnings for treatment for the bad ear.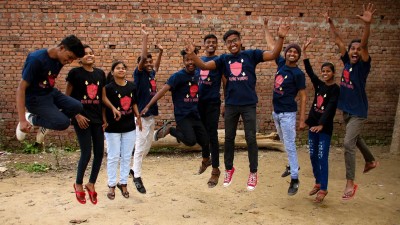 It all started with Sagar. When he was five, he joined Asha Deep Vidyashram, an NGO-run school in Varanasi. Every year in spring, a group of volunteers from the UK-based charity, Performers without Borders (PWB), would stop at Asha Deep and a host of other places across India. They taught Sagar and his friends clowning, juggling, walking the tightrope and other circus tricks. Their philosophy — to improve the mental and physical well-being of the disadvantaged young and enable them.
The year Sagar turned 11, he decided to form his own group. Along with friends Shubham Kumar and Arvind Kumar Ram, he started busking at the different ghats — Assi Ghat, Tulsi Ghat, Ravidas Ghat. Sagar says, "When I did a fire performance for the first time, a tourist gave me Rs 1,500 and told me I should continue doing this." It inspired him and Happy Talent Group was born in 2015. In 2019, the name change to Kashi Fire Warriors was worked out with an eye on social media following.
Sagar recalls how in the initial days the priests would shoo them away. "Sometimes they would say we were disturbing their puja, but we knew it was not just that. Sometimes they would call us out simply for being low caste," says Arvind.
Sagar is much too impassioned about the art of it, the act itself, to dwell on anything else. He says, "People think this is a kind of circus and 'circus' is not appreciated in India. They enjoy watching it but if you say this is what you are part of, their expressions change. They don't see the art." He knows now that things are somewhat different in other countries, he knows that countries like France have colleges where a serious study of these performing arts can be taken up.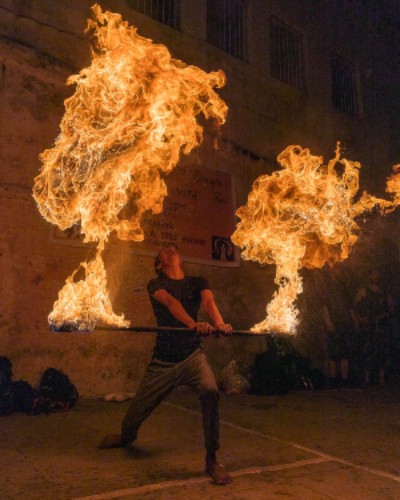 Like any warrior tribe, the fire warriors too take pride in their scars and injuries. Preeti laughs when she talks about the time her long hair caught fire while practising. Sagar says this is the reason why even the boys wear their hair really short. Everyone is well aware that fire artistes who perform stunts by blowing oil from their mouth are inviting cancer. They avoid such acts. And for the other acts, PWB volunteers have taught them to dip the Kevlar wicks of their fire props in kerosene or turpentine oil just before their performance, basically a safer practice.
Sagar talks about his friend, Gina, from the United Kingdom who helped them raise funds in August for their performance on unicycles stretching across 125 kilometres and over 11 hours. Georgina Disney aka Gina Bazinga, a professional clown and circus artiste, met Sagar when she was volunteering with the PWB. She says, "We believe that to make a lasting change in the lives of disadvantaged young people, you have to do more than just make sure they have the basics. Through teaching the performing arts, we help them build confidence, become empowered and overcome social barriers."
Of late, she has been developing a mentoring programme for the Kashi Fire Warriors that will support their transition to professional performers and also provide opportunities for them to improve their skills, knowledge, social and economic status.
The Kashi Fire Warriors, in turn, teach street children, and those living in orphanages and juvenile centres in and around Uttar Pradesh and in Bihar.says Sagar, "We wanted to teach them since we know what it feels like to be on the other side. We want to give them hope and confidence."