The rise of Billie Eilish
Delving into the world of the musician, the voice playing inside Gen Z heads, warning them of a future on the brink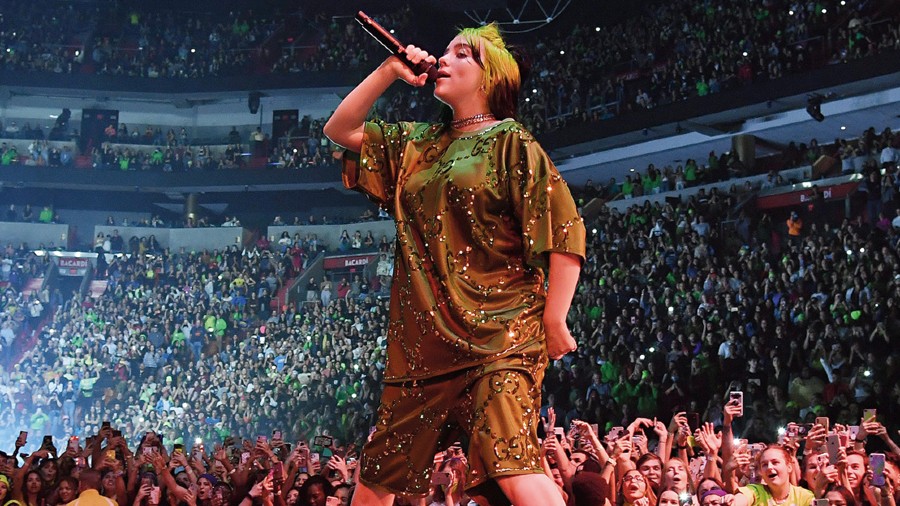 ---
---
Justin Bieber is 26 years old. More than a decade ago, he was considered a rule-breaker for harnessing the power of YouTube, but lately he has been traversing a road that's conventional. In 2007-08, Bieber's baby steps towards stardom and eventually the music charts with mop-top hair, were the stuff pop dreams are made of while a very young Billie Eilish and her elder brother Finneas O'Connell were soaking in every bit of the unfolding phenomenon from their Los Angles house. They finally met at the Coachella music festival in April 2019 with Eilish appearing overwhelmed meeting her teenage idol. It was more like the passing of the baton from Generation YouTube to Generation TikTok, Generation Clubhouse, Generation Streaming… all rolled into one.
Nineteen-year-old Eilish is symbolic of teenagers — outspoken, confrontational and angsty. The perceptive political voice (her plea to "vote the orange man out" in America didn't fall on deaf ears) is rising above the din to address issues bothering teenagers — body issues to climate change, democracy to the online life.
"I see all these faces. So many feelings and heartbreaks. Every single person in there is going through something good or bad, something horrible or amazing. And the least I can do is make art fit. I have the same problems. I don't think of them as fans. Ever. They are not my fans. They are like a part of me," the singer says without flinching, in the new Apple TV+ documentary film Billie Eilish: The World's A Little Blurry, which is as fascinating as her music.
It's an intimate dive into the extraordinary rise of a teenager, who once dreamt of meeting Bieber and having him work on a remix of her song. "When I was 12, I was not a fan of him. He was my first love. In my head he was in love with me," she says. "I have watched so many Justin Bieber videos… I have been crying so hard. When I get a boyfriend, I won't be with him and I love Justin Bieber. And I can't handle that."
Born of streaming
Captured through the camera of award-winning director R.J. Cutler, she comes across as candid as her music. Eilish's career didn't take off in the cliched way — being radio-friendly like Taylor Swift, or for that matter, Beyonce and beyond. Heck what, what's radio in her world? The pop star has risen from a bedrock of streaming-related figures. Before streaming, record labels worked with retailing giants — like Walmart or Target — to exclusively promote a new release for a period of time, to fetch heavy promotions. That's the old way of working. For her debut album, When We All Fall Asleep, Where Do We Go?, her label, Interscope, set the wheels turning with streaming services.
According to The Wall Street Journal, a week before the album appeared, a record 800,000-plus Apple Music subscribers had "pre-added" the album to their libraries. In other words, it will be on the collection of these subscribers as soon as the music arrives… something similar to preordering a download or physical album online before its release date.
Spotify offered 'The Billie Eilish Experience', a version of her album spruced up with visuals and videos interspersed among the songs. Apple Music had a video animated by Japanese contemporary artist Takashi Murakami and associated merchandise. On YouTube, she created a miniseries breaking down the making of three songs from the album. She ultimately swept the 2020 Grammys by blurring genres like pop, rock and electronic music.
There's also a part of her that connects with singers like Cyndi Lauper and Dave Grohl. In 1983, the video to Girls Just Want To have Fun opened up Lauper's "closet to people… her wardrobe". "I just wanted to show a little diversity on MTV, which didn't have much. I thought, let's show the neighborhood as it really is," the singer has said in an interview. Eilish reminds the 67-year-old of her 1983 self. "Something in her performance. And her hair. It's not about being an object."
Grohl, the Foo Fighters frontman, finds a similarity in the way the young singer captivates her audience like Nirvana did in 1991. Her music has no similarity with that of Nirvana but it's about how both captivate large audiences. The singer-songwriter and former drummer of Nirvana says that his daughters "are obsessed with Billy Eilish". "And what I'm seeing happening with my daughters is the same revolution that happened to me at their age. My daughters are listening to Billie Eilish and they're becoming themselves through her music. She totally connects with them. So we went to go see her play at the Wiltern, and the connection that she has with her audience is the same thing that was happening with Nirvana in 1991. The people in the audience knew every word. And it was like our little secret…. I don't care what sort of instruments you use to do it. When I look at someone like Billie Eilish, I'm like... shit man... rock 'n' roll is not even close to being dead," he has tweeted.
The message is not lost as Eilish, though seemingly unconventional, is walking down the same road as, say, the Beatles, whose music was handed down by her parents, shaping a part of her childhood.
"My family is the reason who I am. My mom taught me how to write songs. My dad taught me to play the piano, the ukelele. And I would do talent shows when I was little. Our family was one big song. I still make music in my brother's bedroom," she says in the film.
Like the Fab Four, she too wants full control over her work. "I could easily just be like, you know what, you're going to pick out my clothes, someone else will come up with my video treatments, someone else will direct them and I won't have anything to do with them. Someone else write my music, someone else produce it, and I won't say anything about it. Someone else run my Instagram. Everything could be easier if I wanted it to. But I'm not that kind of person and I'm not that kind of artiste. And I'd rather die than be that kind of artiste," she has told The New York Times.
There's also something conventional about the Los Angeles resident's lyrics. To an extent, the gloom-pop sounds of Eilish captures the aesthetic of nineteenth-century American poet Emily Dickinson, whose imagination — from time to time took a turn towards gloom-and-doom — soared, isolated from the world in her second-floor bedroom of her father's house. Like the poet, Eilish too lives inside her mind. Dickinson's 'Because I could not stop for Death/ He kindly stopped for me there is' can easily segue into Eilish's Step on the glass, staple your tongue/ Bury a friend, try to wake up.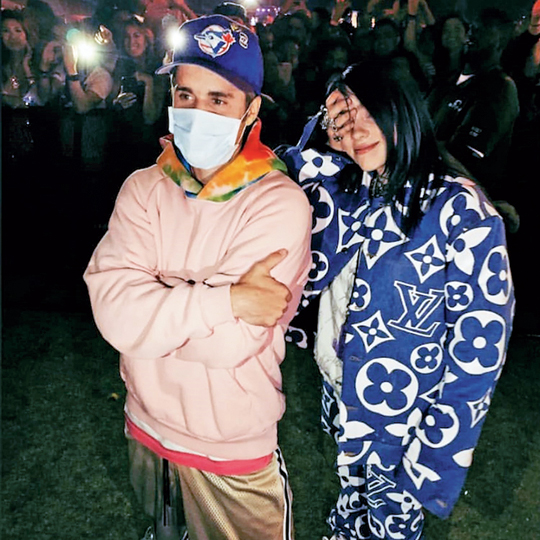 Baggy-sized world
Eilish is part of a wave that has some similarities to what we saw in the late 1980s. A band like Poison lost their power-ballad-mojo to the likes of Nirvana, Pearl Jam and Alice in Chains, who were addressing serious issues. The music of Eilish is part of the world embraced by Lorde, Grimes and the noir-ish Lana Del Rey.
A lot is riding on the singer who blew up when she and her brother — the homeschooled kids of two working actors in LA — uploaded the beautiful ballad Ocean Eyes on SoundCloud in 2015. It found support from the music blog Hillydilly while her brother cemented a friendship with the artiste's manager Danny Rukasin, who manages Eilish with Brandon Goodman. She went on to score a deal with the music discovery platform Platoon, followed by a contract with Darkroom, a partner label of Interscope Records. Apple bought Platoon in December 2018 and went on to support Eilish early, booking her at a South by Southwest showcase in 2017 and including her in its UpNext series.
Throughout, her music has been a take on dark, theatrical pop, well seen in the eeriness of Bury A Friend, the brooding images of You Should See Me in a Crown and the she-cares-to-not-care attitude in Bad Guy. And nobody can deliver a droll "duh" like her. Of course, "duh" was not the deciding factor when she was chosen to deliver the theme song for the upcoming James Bond film, No Time To Die. She is not a Shirley Bassey. But like the many musicians who have sung 007 title tracks, she too is the voice of a generation.
It's a generation for whom the Billie Eilish fever rages on, touching on all aspects — outlook to fashion. Mostly spotted in outsized clothes that seem to swallow her up while her hair is never missing a neon strand. "I never want the world to know everything about me," she said, when she starred in an ad for Calvin Klein. "That's why I wear big, baggy clothes. Nobody can have an opinion because they haven't seen what's underneath."
She further reflected on the topic during a conversation with Pharrell Williams. "It's a weird thing because I know a lot of what I hear is a positive or people trying to be positive about how I dress; how I am never really out there wearing nothing, or wearing dresses. I've heard that. [Even] from my parents, [the] positive [comments] about how I dress have this slut-shaming element. Like, 'I am so glad that you are dressing like a boy, so that other girls can dress like boys, so that they aren't sluts.' That's basically what it sounds like to me. And I can't [overstate how] strongly I do not appreciate that, at all. And they aren't specifically saying that, but it feels like that."
In an era when teenagers look at themselves through Instagram filters, Eilish is a refreshing change. True, she is the Internet's child but it's equally true that she never lets her guard down or compromises her dignity. The maestro of the streaming age keeps her message clear in interviews, like the one with The Guardian: "I have never done drugs, I've never got high, I've never smoked anything in my life. I don't give a f**k, I never have. It's just not interesting to me. I have other shit to do."
The Apple TV+ film captures a fragile artiste at a fragile time. Unconventional, some adults label her. Weird, some critics have called her. Frankly, she is the unsettling voice the world needs and youngsters are already listening to that voice. When she voted the first time a few months ago, her endorsement was clear and the man with the orange hairdo is long gone from White House. What will she question next? One thing is for sure, it will be as provocative as the title of her first studio album, When We All Fall Asleep, Where Do We Go?
The docu-film Billie Eilish: The World's A Little Blurry is streaming on Apple TV+
Figure this
76,500,000
She has 76.4 million followers on Instagram
49,736,031
She was named Spotify's "most streamed" female artiste of 2020. She garnered 49,736,031 monthly listeners on the platform
313,000
That's the number of copies her debut album, When We All Fall Asleep, Where Do We Go?, sold in the US in the first week of its release, without a major radio hit
176,000
Her debut album was the US's second-biggest vinyl seller in 2019, moving 176,000 units, after Abbey Road by the Beatles
11
She started writing music at age 11. Her time as a member of the Los Angeles Children's Choir helped her develop her singing skills and eventually her writing chops
5
At age 17 she was the youngest to be nominated for all four major Grammys in the same year. She won all four, plus one for Best Pop Vocal Album in 2020