'People will come back to hotels'
Meet Biswajit Chakraborty, the new GM of The Oberoi grand who comes in with a burst of optimism
---
---
A probashi Bangali who calls Bangalore his home and Calcutta a place he has "always dreamt of working in", Biswajit Chakraborty comes with 30-plus years of experience in the hospitality industry, having been the driving force behind many luxury hotels. Charkaborty has now taken over the reins of The Oberoi Grand and is the new general manager of the heritage property.
Welcome to Calcutta! Tell us a little about yourself and your decades-long journey…
This is my homecoming with The Oberoi Group because I have worked with them in three different properties before. In my whole career spanning 30-plus years, I have spent maximum time with them. I began my career with Taj Hotels, then joined Oberoi, launched Oberoi Bangalore, then Delhi. I was then chosen to head the iconic Hotel Yak & Yeti in Kathmandu. I later joined The Leela Palaces Hotels and Resorts in Kovalam. I was their first Indian general manager and I also won the first general manager of the year award.
Post this, I joined The Leela Mumbai. It took about three years to turn that property around. I then moved to Bangalore after seven-and-a-half years, joined the Mövenpick and moved that property up. I then got headhunted by Accor for Sofitel Mumbai BKC. They had just started (operations) and it turned out to be one of the most successful hotels in Mumbai and in the country. This was a remarkable story in my career. They got me transferred to Delhi to head their biggest property — The Pullman and Novotel New Delhi Aerocity. I was keen on coming back to Oberoi and I approached them and they were very kind to welcome me back.
You have never worked in the eastern region. What made you say yes to The Oberoi Grand?
I was emotionally connected because the formative years of my career was with Oberoi. It's a new city for me and The (Oberoi) Grand resonates. So, for me it's very prestigious and I am grateful.
To come in at a time like this must be a big challenge and responsibility in itself…
Twelve years is a long time with a company and I felt very secure here. It's been fantastic till now, especially the warmth of my colleagues and clients. Even without stepping out of the hotel, I have received a lot of love. This is one industry where you can't work from home so, it has been a challenge. But the industry has remodelled itself to a great extent. Home deliveries are doing very well and people have faith in the Oberoi brand. In my opinion, everything is cyclic. People will come back to hotels for an overall experience. As hoteliers, we will pay more attention to safety and hygiene like we have never paid in the past. We will be working on more digital platforms. I am positive and confident of bouncing back.
How long do you think it will take to recover, if one has to compare it to the hotel's revenue earned pre-Covid?
Industry experts say that to reach 2019 level of revenue, it will take till the end of 2023. We will revive but there will be setbacks.
What do you bring to the table in terms of knowledge and strengths?
I first involve myself deeply and understand the brand. Then I tailor the strategy and I work with my team very closely in a transparent fashion. I am very resilient.
You have worked with three major Indian brands — Taj Hotels, The Oberoi Group and The Leela Palaces Hotels and Resorts... is that an advantage?
Firstly, I have a sales and marketing DNA and you tailor your operations based on the customer. I believe in marketing as the biggest strategic bent. Working with other prestigious companies has given me a certain edge and broader perspective.
What are some of your short and long-term goals for the property, considering how the world around us has changed and is rapidly changing?
The (Oberoi) Grand is a one-of-a-kind hotel. You don't get this kind of a classic heritage hotel. I would want to revive the glory of the past, be it through menus, which are there in our records. But of course, we have plans of refurbishing in the future. We will bring elements of modernity, retaining the colonial and classical charm. We are using these two weeks to spruce things further. The engineering and housekeeping are working very hard. We are utilising the time for training, marketing.... I have been doing a lot of research and I want to bring back what The Oberoi Grand did best. You will see a lot of activities in the hotel in terms of food.
I think digital will be very big. There's no substitute for human touch in hospitality but safety norms will have to be followed. A lot of focus will be given to electronics. This digitalisation will help us get more into details.
What was your first impression of the property?
Our biggest strength is the heritage nature of the hotel. It's iconic and that's why I feel privileged. There's some culture that's been passed down and the detailing — woodwork, art, wrought-iron furniture in the balcony… these are not something you see in modern hotels. These combined with great service and good food is something that makes the hotel stand out. I had had the privilege and fortune of meeting Rai Bahadur MS Oberoi in my younger days. I know the legacy and this is where he started it all.
What's the key in staying relevant in the hospitality business?
We need to be abreast, irrespective of whatever or whoever you are. You don't underestimate your competition. I was very lucky that when I was a general manager at The Leela Mumbai, I went to Cornell (University) and I interacted with some of the best GMs in the world. That gave me a lot of insights. I think to stay relevant comes from knowledge, learning, understanding global trends and reading about your own industry and others too.
On the personal front…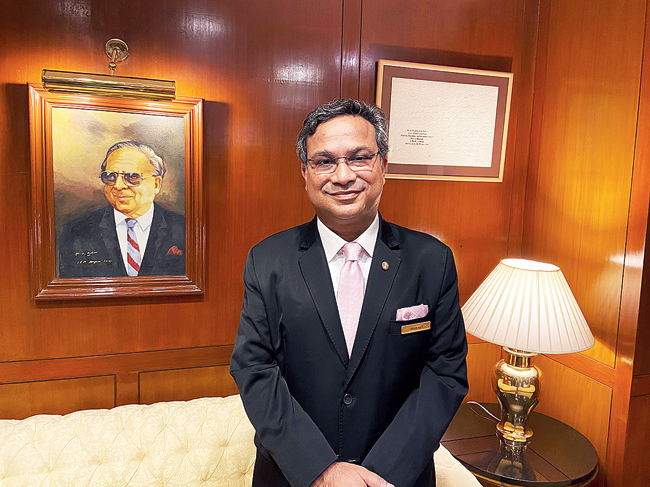 When not working: Reading, listening to jazz, practising archery
Dream property you haven't yet visited: The Oberoi Beach Resort Bali, since it's the first traditional Balinese-village-style resort that had come up there. And Amankora in Bhutan
Favourite Oberoi property: The Oberoi, Bangalore
Favourite cuisine: South Indian followed by Bengali and Punjabi