Andrew Ford, the first Australian consul general in town, says goodbye
He returned home in July, cutting short his tenure in Calcutta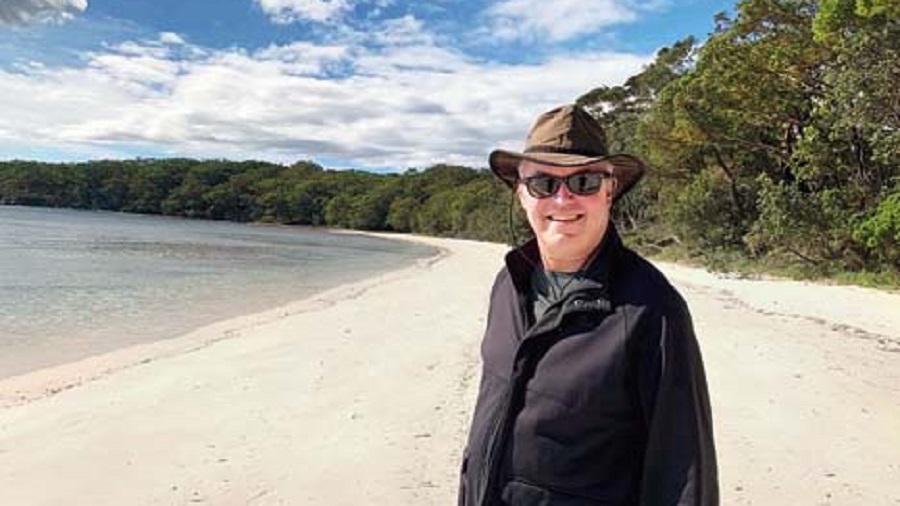 ---
---
Andrew Ford, who set up the Austrlian consulate general in Calcutta in April 2019, went back home on July 2. The consul general who, with his wife Christine, was a popular presence in the city's social and cultural circuit, responded to questions from The Telegraph over email from Canberra.

Why did you leave?
Christine and I had to finish our posting in Calcutta and return to Australia in July for personal and family reasons. I spent 15 months in Calcutta rather than the three years I had planned but in that time managed to establish Australia's new consulate general in Calcutta and build many good friendships.

Did you have to serve a quarantine period?
On arrival at the Sydney airport we were escorted to a hotel where we were required to spend two weeks in a small room. We were not allowed out and no one was allowed to visit us. Meals were delivered to our door and we got daily phone calls from a nurse to check on our health. We also had Covid tests on the second and 10th days and after all our tests were negative we were allowed to leave the hotel. That was a fabulous day!

Where in Australia are you from?
Our home is in Canberra and we are on our way back there after spending some time in Sydney seeing family, and some time enjoying the lovely Australian beach and bush.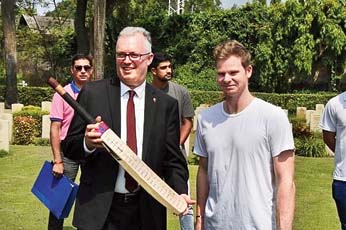 Your final months in Calcutta were quite eventful. The fire in your building in the middle of the lockdown must have been a jolt?
Yes, it was certainly a dramatic experience having a fire at our apartment complex, not something we ever had before. It was quite distressing watching the fire get closer and closer to our apartment. It took many hours to extinguish the blaze. We were very blessed to have mostly external damage to the apartment but because it came right underneath we needed safety checks to happen before moving back in.
We spent three months in The Oberoi Grand until our apartment was ready. During that time, of course, Calcutta also experienced Cyclone Amphan. This was our second cyclone in two years as we also experienced a very severe cyclone during our previous posting in Tonga (in the South Pacific).

How are you describing Calcutta to friends back home?
We loved our time in Calcutta. What we most loved was the people who welcomed us so warmly and made us feel at home. When my mother visited Calcutta earlier this year, her most treasured memory was meeting some of the friends we had made, some who were among the doyens of the Calcutta cultural scene, and even visiting their homes. It was very hard for us to leave the many friends we had made there and who unfortunately we didn't get to see after the lockdown began.
We also loved the history, culture and food of Calcutta. Some of our favourite places to take visitors included the Mallik Ghat flower market, Park Street, Howrah Bridge, Mother House, the Victoria Memorial and even some of the cemeteries, such as South Park Street and the Scottish cemeteries.
I also loved watching an IPL cricket game at Eden Gardens, in which Virat Kohli scored a century, and a soccer match at Salt Lake stadium, in which ATK scored in the last minute to equalise. I was a member of some historic clubs and enjoyed taking people for a meal to experience the old-world feel. I think people also need to experience the bustling streets of Calcutta — the sights, smells and sounds and the people going about their daily lives.

Which were your favourite places in Calcutta?
It's not so much about the place as the memories that were made there. I was privileged to be invited to many people's homes where I experienced great food, music and great company. That was one of the things that was so special about Calcutta — how generous people were in inviting us to their homes, clubs or restaurants. It's something different about Calcutta compared to every other city I have lived in around the world.

Did you develop a liking for any Indian dish?
Even before coming to India I used to love eating Indian food. Australia is blessed with many Indian restaurants and we also got to experience great Indian cooking when we lived in Malaysia previously. Christine had some fairly authentic curry recipes that we used to make at home.
What we discovered in coming to Calcutta is that Indian cuisine is much more diverse than we realised and is very regional. What we called Indian in Australia was mostly north Indian style. We had also experienced a lot of south Indian cuisine while we had lived in Malaysia.
I love almost all types of Indian food and some of my favourites include Murgh Tikka Masala, vegetable korma, aloo gobi and anything cooked in a tandoor. We have always loved Indian bread, particularly naan and roti. For lunch, I often enjoyed thali, biryani or dosa from one of the small cafes near my office. Coming to Calcutta, we discovered Bengali food and particularly enjoyed dishes with bekti, kebabs and even the humble kathi roll. I was also taken by friends to iconic places such as 6 Ballygunge Place, Nizam's, Aliah Hotel and Kasturi, where I got to taste many local dishes. And, of course, some of the best meals we ate were in people's homes.
I think the mark of how much I love Indian food is my willingness to eat it for breakfast. In all the other countries I lived in I needed to have a familiar western breakfast such as toast or cereal. But in Calcutta, I would often order parathas, luchi or dosas for my breakfast.

What were the high points of your tenure as consul general?
When I came to Calcutta, my job was to establish Australia's new consulate general there and for it to become a known presence in the city. I believe that my team and I achieved this. We further raised Australia's profile in the resources sector, where we were already known as a strong supplier of India's resource requirements but also for expertise in mining equipment, technology and services. We are also raising Australia's profile in sectors such as education, health, tourism and food and beverages.
Australia is blessed with a large Indian diaspora who have a great understanding of both countries. Our post in Calcutta, Australia's fourth diplomatic mission in India, is part of the growth in our relationship.
I was also delighted to host a number of cultural performers in Calcutta in dance, art, film and literature. It was also amazing to be able to promote Australian football in India, including in the village of Angrail near the border with Bangladesh. It was exciting as a new post to host our first ever national day event in Calcutta in February for around 200 guests. It was a great way to thank the many friends who had helped welcome us.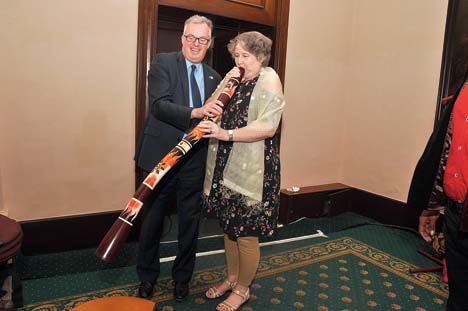 You met/hosted some prominent Australians while you were here.
Our shared love for cricket is one of the many things that binds Australia and India together. I grew up watching and playing cricket in Melbourne. So it was pretty exciting that on our very first morning in Calcutta, Christine and I met Michael Clarke at the breakfast buffet. We introduced ourselves and had a very friendly chat before he went off to resume his IPL commentary duties. We also met Steve Smith at our Anzac Day ceremony at Bhowanipore Cemetery where we honoured Australians killed in war. The third former Australian captain we met was Steve Waugh. We met him at Udayan, a home for children of families affected by leprosy, which he has supported for many years. I was also fortunate to meet both former number one cricket umpire Simon Taufel and Bengal's favourite cricketer, Sourav Ganguly, at the launch of Simon's book in Calcutta last year.

Anything missing in your Calcutta diary?
I would have certainly loved the opportunity to watch a Test match at Eden Gardens. I was also trying to find ways to be involved in the community more. I was able to do this through my church, Equippers Kolkata. The church has programmes to reach out to poor and vulnerable people. I also met NGOs assisting with providing alternative pathways for women who were in prostitution or victims of human trafficking.
I was also looking forward to travelling throughout my consular jurisdiction including Northeast India, which I never got to visit. I was fortunate to have made some short trips to Odisha, Jharkhand and Chhattisgarh. I'm glad I got to visit Delhi, Mumbai and Jaipur, see the magnificent Taj Mahal and also tigers in the wild at Ranthambore. And it was great that I got to visit Santiniketan also.

What comes next on the personal and professional front?
I will be having some time off in Australia catching up with friends and family and settling back into our house before working out what's next. After many years overseas we think we may spend some time in Australia again.