Soulful tunes
MUSIC: A seamless programme of high-level singing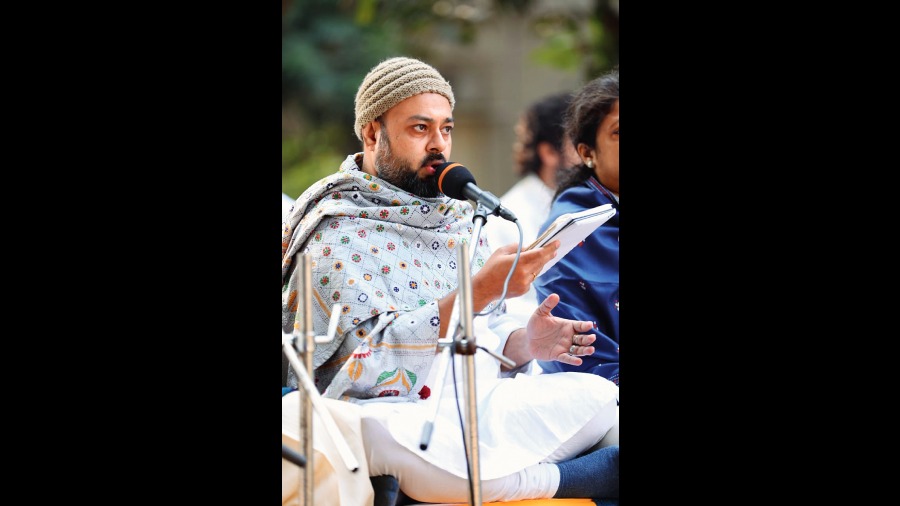 Priyam Mukherjee
Mohor-Bithika Angan and Banglalive.com
---
Published 12.02.22, 05:19 AM
|
---
A Shantiniketan group brought to the table a rare session of intelligent contemplation, edging the listeners towards a meditative state of mind. So strong was its flow of natural matching sounds — sometimes in chorus and sometimes with the accompanying musicians — that this morning session, heralded by Mohor-Bithika Angan and Banglalive.com, in a sylvan outdoor setting in Shantiniketan, lead to a seamless programme of high-level singing.
The awareness of artistic demands, coupled with practised delivery, made "Dhanya tumi dhanya" by Priyam Mukherjee (picture), a not-so-oft-heard Brahmasangeet (penned by Jyotirindranath Tagore), easily the dominant performance of the morning. Making clever changes to the rhythmic pattern of the song, synched with the percussion, Mukherjee's rendition was elegant and dramatic and was largely-controlled.
A clearly-inspired Ritoja Chowdhury brought back instant memories of the late Kanika Banerjee with "Bimalo anande jago re". The similarities in the style notwithstanding, Chowdhury breathed fresh air and individuality into the song. Taking cautious steps with "Chirobandhu chiro nirbhor", Ankan Ray focused on the melody and let it flourish.
Two other renditions that drew attention were "Tomari naame nayano melinu" by Sharanya Sengupta and "More daki loye jao" by Madhuja Chattoraj — both artists magnificently combined ease of delivery with dynamism. As always, Ritapa Bhattacharya struck a confident note with "Swapano jodi bhangile". With professional élan, she showed amazing breath control while using the Ramkali notes precisely. The accompanying musicians, Sougata Das and Sutanu Sarkar (both on esraj), must also be mentioned, who got ample opportunity to add textures before and in between the songs and did so with an emotional familiarity.