History retold through melody
Riddhi Bandopadhyay Music Academy students put up an engaging show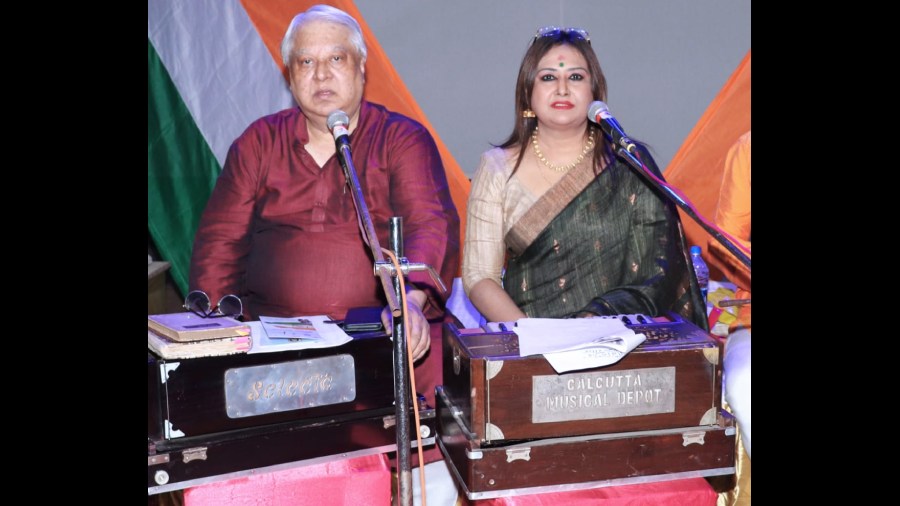 : Shadinatar Mancho Gaan Concert at Purbasree, EZCC Auditorium
Riddhi Bandopadhyay Music Academy
---
Published 12.03.22, 03:00 AM
|
---
A disappointingly sparse audience heard a wide collection of patriotic songs. It could be a daunting experience — if not for anything else, then for the sheer research that went into the Shadinatar Mancho Gaan Concert and the narration that was part of it. While it was largely engaging, the show was often marred by the unbalanced microphones and the overpowering accompanying music. The Riddhi Bandopadhyay Music Academy students put on the show at Purbasree, EZCC Auditorium recently.
Catching the percussive tapestries well and aided by his robust tenor, Debojit Bandopadhyay sang "Bande Mataram" (two different versions by Mukundodas and Bankim Chandra, respectively), bringing out an overwhelming emotion. His renditions allowed listeners to understand the sequence of the words that were leading up to the freedom movement. It showed his wide range as well as the essence of the songs. The flautist found gaps between his renditions to fill up with enchanting interludes.
Riddhi Bandopadhyay expressed the feeling of struggle in the Nazrul number, "Timirobidari Alokbihari", from the 1930 production, "Karagaar". She handled the complex song, especially the tail notes with their intricate edges, deftly. While this number showed her confidence, she had a shaky start with "Utho go Bharat Lokkhi" (Atulprasad), supported by the chorus which then brought about a balanced clarity. The chorus in fact did a blissful job of "Poradhina janani amaar" and "Dhono dhanye pushpe bhora" among other songs. Riddhi's other notable song this evening was "Jol jol chita digun digun", conveying a buoyant effect of a marching number.
A word of advice — with a large stage like this it would have been appropriate to place the dancers in the front corners rather than the middle because the view of the singers was often blocked.