Badshah now has a global reach with a collab with J Balvin — Voodoo
The most interesting aspect of the collaboration is how Badshah goes mainstream with his rapping while J Balvin has the chance to become a household name in India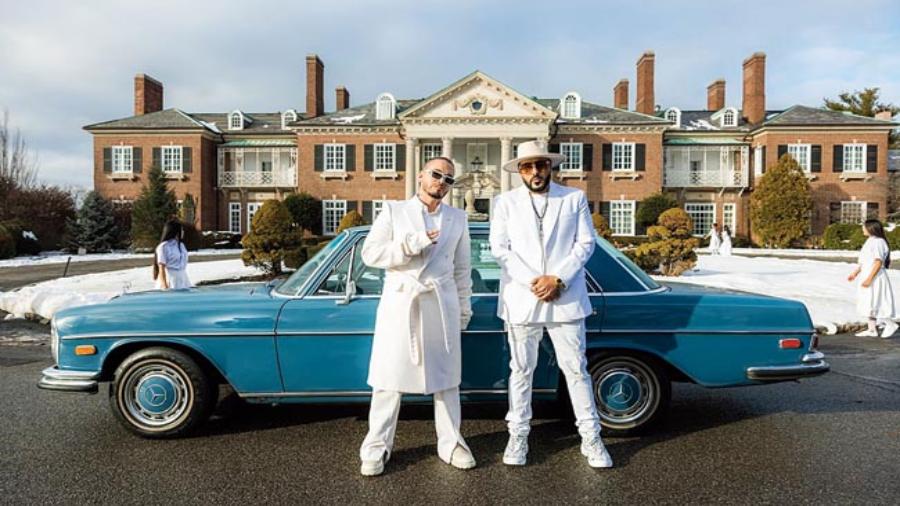 Badshah and J Balvin (left) in the video to Voodoo
---
Published 27.04.22, 03:16 AM
|
---
Badshah has expanded his global reach by collaborating with J Balvin on the track Voodoo. J Balvin, of course, is the man who has lately been making reggaeton global. Out on Capitol, Voodoo also features Tainy. The most interesting aspect of the collaboration is how Badshah goes mainstream with his rapping while J Balvin – a superstar on the international music scene — has the chance to become a household name in India.
"I think in the beginning it was purely for the love of music, which still exists, but then as I progressed through this journey, I had a lot more world to explore. Just the fact that there are people who haven't still heard our music. Our music has still a lot more to travel. My country, which is so rich, so diverse, and a lot of people haven't heard the real music.
"On this song, I haven't done anything different. I've been doing this for the last 10 years. I've just made myself enter Tainy's world and Balvin's world. I've brought my tiny piece… and like Jose, I want to do it in Hindi. I can't think of doing it in any other language.  When they listen my songs, I want them to come to our country and have a different perspective. I want them to speak. I want them to speak Hindi. This certain respect that I want them to have in their eyes when they look at our art, because I know where I come from. It's not one country. It's so many countries. It's like a continent. Every state is a different country. And I'm... of it. I'm so passionate," Badshah said during a chat with Zane Lowe on Apple Music 1's New Music Daily.
The Jose-Emilio Sagaro-directed video for the trilingual track has been lavishly mounted. Badshah and J Balvin arrive at a mansion where mystical events are taking place while a woman is in the middle of a ritual involving voodoo practices. Soon she transforms into the person she desires to be.
The music was born in a programmed studio mix but what's interesting is how Badshah's deep vocals add a sense of mystery. Then, of course, comes the Spanish beat drops. Overall, the track remains upbeat and catchy. "Jose has been a great, great inspiration of mine. He's an idol. I've been DMing him for such a long time. And no, I didn't expect him to reply. I don't think I've seen any artiste who's more adventurous, who's more focused, who knows more about the game," Badshah told Lowe.
J Balvin, at one point, was like an outsider to the industry. Growing up on Metallica and Nirvana, his focus was shifted by Daddy Yankee, whom he calls the Jay Z of Latin hip-hop. The musician is crucial to the new global Spanish wave, which has made him a global celebrity.
"My vision always has been to expand my music. I didn't even know that I was big in India until Badshah explained to me what's going with me there. So that was always my dream. I always wanted to travel my music around the world in Spanish, and I didn't want to do it in English because it just wasn't feeling that it was real to me. So way before, which I don't blame, but they used to have the Spanish version of the hit they had and then they rewrite it in English. And I was like, 'Ah, it's kind of sad that this is the only way you can get to globalise your music.' It's going to take me more time. It's going to take me more effort. It's going to take more sacrifice, but I also think it's going to be worth it. And it is worth it. They listen to us everywhere in the planet and it's in Spanish. They don't even know what I'm saying, but they're vibing to it," Balvin told Apple Music 1.
Agreed the song banks a lot on international star power to find airplay but it certain has a dance floor vibe, which won't be lost on a crowd that's rediscovering life at nightclubs after two long years.