Money plant: The newly opened RBI currency museum
The Reserve Bank of India (RBI) opened a currency museum earlier this year in Calcutta to enable people to understand money and its workings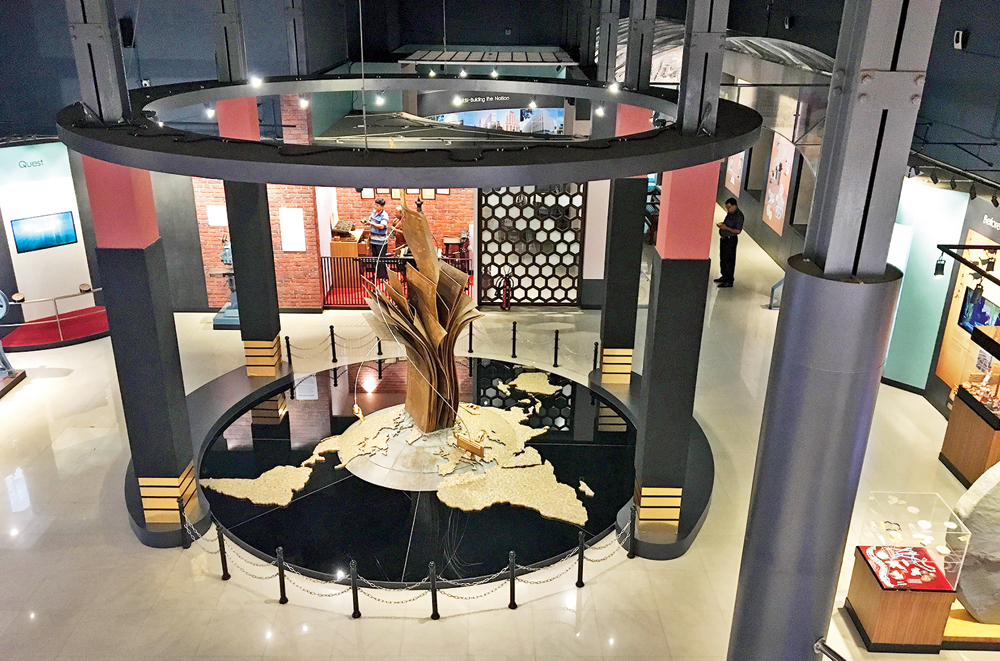 Cash and tarry: An installation work at the RBI museum in Calcutta
Picture by Upala Sen
---
Published 19.10.19, 07:01 PM
|
---
Had this been some place else, Binay-Badal-Dinesh Bagh, the former Dalhousie Square of Calcutta, would have been more than just a staid old office para. Even after office hours there would be a cafe open somewhere, an art gallery perhaps, a guided walk stopping at the GPO, St. John's Church, Writers' Buildings. A spot of live music at a street corner, a curio shop selling prints of the Calcutta skyline down the ages. On weekends, instead of looking like the emptied town from Keats's ode, venerable Calcuttans and Calcuttaphiles would tell stories about the place, at the place. There would be a kiosk on bravehearts Binay, Badal, Dinesh and another for Dalhousie of lapse and annexation. No silences, no exclusions. Alas, this might have been.
In such a heritage urbanscape, rendered invisible and pedestrian by a willing suspension of imagination, the Reserve Bank of India (RBI) opened a currency museum earlier this year. The site of the silent debut are the first and mezzanine floors of the RBI's 8 Council House Street building. "The idea is to draw people into the history of the RBI and the place of its birth," says a senior RBI official.
Indeed, upon formation in 1935, the RBI — under its first governor, Sir Osborne Smith — started functioning from this address. Those days the premises, designed by Martin & Burn, were on lease from the Alliance Bank of Shimla. Eventually, the Alliance Bank went bust and the RBI bought the Edwardian building. Writes Brian Paul Bach in the 2004 book, Calcutta's Edifices, "The building because of its exterior variations, its reflection of a specific architectural era, and its not too lofty elevation, indeed makes a stately and honourable contribution to the BBD Bag skyline."
Bach has written about this building's "austere interiors", sepulchral in the way big Deco buildings can be, and all sepia and dim and spacious". As you walk in through the one-rupee-shaped entrance to the museum, you might want to recall those words.
What you will behold thereafter is an open space punctuated with smart lighting and crisp mounts, flipbooks and interactive panels.
Much of it has to do with the history of the RBI. Its beginning as a private bank in 1935. How it came to function as the central bank of Burma prior to India's Independence. How it served as the central bank of Pakistan for six months before the State Bank of Pakistan started operation. Getting nationalised in 1949 and so on and so forth. Then there be archival gems such as the photograph of the RBI's first board. Not just a homogeneous gaggle of suits, but a bandhgala here, a pyjama there, turbans and other distinctive headgear.
Says the senior official, "It is RBI history, but please remember it is much more. After all, the history of the RBI is entwined with the history of the Indian financial sector and the banking sector."
Sections titled "Money Through Centuries", "Barter" and "Before Money" have been created with a young audience in mind. "Financial literacy has a catch-them-young dimension," says the official.
Attentive RBI staff take visitors through the exhibits, supplementing the written word with institutional knowledge. They intuitively leave you alone should you seem like the sort who'd rather amble and absorb. The printed legends against the exhibits are more or less self-sufficient. Salt (1550 to 300 BC). Used to pay wages. Whale teeth or tabua (1700 AD). Served as currency among Fijians. Cowrie shells (1200 BC). Currency in India, China and Africa. There is a section called "Funny Money", which has exhibits such as sycee or boat money from China, neolithic stone axes from India, tiger tongue money from Laos. The "How Money Moves" corner has been imagined like a game. Then there is the gold vault mock-up.
While some young 'uns are sure to proceed for the interactive money games on the mezzanine floor sooner rather than later, others might want to stop to see some of the relics from another time. There are machines that were used to stitch currency notes, UV lamps used to detect fake notes, copper shovels for bagging coins… There is a mechanical press that was once used to print RBI bonds. It has been resuscitated to print out certificates for visiting groups. There is also a sliver of a library.
According to the RBI source, this museum is still a story unravelling. Work on the second phase will start soon enough.
All of this seems to turn on a biggish installation at the centre of the room. It is a helix of notes and things, with coins and hands clutching at monitors and keyboards at the base; at certain angles it is reminiscent of a dream scene in Ray's Nayak, where the protagonist gets sucked into the quicksand of notes.
The whole point of this museum is expressly to understand money and its workings. To be overwhelmed is a function of being under-informed.