Inside a baul akhara
Sanatan Siddhashram is a gurukul to share knowledge about the baul tradition with those interested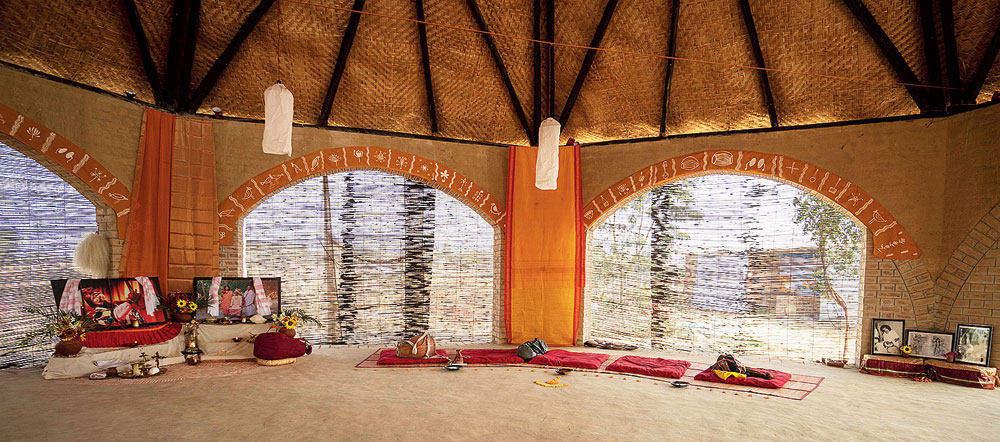 ---
---
A woman is carefully pouring spoonfuls of khejur gur, or date palm jaggery, into a cup of black tea with a wooden spoon. "No incongruous sound should shatter the peace and tranquillity that prevails in this ashram," says Parvathy Baul. The two of us are sitting inside the makeshift kitchen of Sanatan Siddhashram, the akhara of the baul artiste in Bolpur in Bengal's Birbhum district. The roof of the kitchen is thatched with palm leaves; there are no walls, only red plastic sheets on one side to prevent the wind from putting out the fire.
Parvathy is building this gurukul to share knowledge about the baul tradition with those interested — in a well-thought-out manner. She says, "Baul tradition is much misunderstood. It is not about performing a song on stage. It is a way of life. We want to discover ourselves." In her scheme of things, the ting-ting of a metal spoon in a teacup is disruption. "I am careful about the kinds of sound that reach our ears. We stay far removed from the nearest human habitation and close to nature so we can discover our inner selves," she adds.
The ashram is built over four acres. Apart from the living quarters, the kitchen and dining hall — all works in progress — there is a training area, which inmates refer to as kalari. Sanatan Siddhashram is also going to have a digital archive. Says Parvathy, "Baul is an oral tradition and much of the teaching of the masters were never documented. I have travelled the world to collect the songs of our gurus. The archive will be a place of research."
Opposite the kitchen there is a vegetable garden. Farming is a part of ashram seva and anyone staying at the ashram can lend a helping hand. "Everything we eat is grown in the garden," says Parvathy. Her associate and ashram resident, Ramachandra Roddam, says, "Besides growing cabbage, cauliflower, spinach, we also grow herbal medicinal plants."
It occurs to me that while exploring the ashram precincts, I didn't see any makeshift residential accommodation. "We stay in tents at night. There are no rooms as of now," says Valerie. She is from France and is currently staying in the ashram with her husband. "We stay here for six months and then go back to France, where we run a small eatery the rest of the year," explains the woman in her early fifties, looking perfectly at home in her white cotton sari with a thick saffron border. Her salt and pepper hair is tied in a loose bun.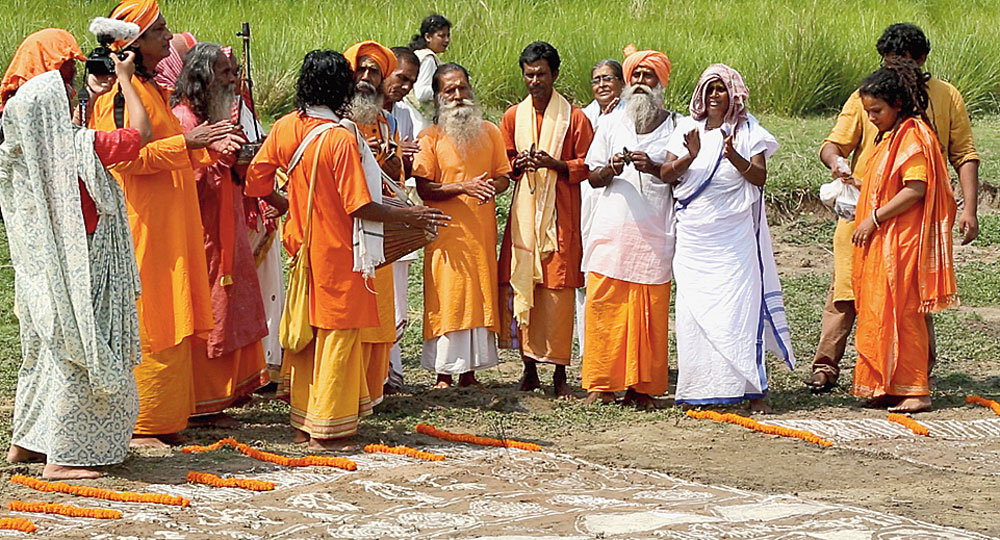 Valeri met Parvathy when she was in Kerala training to be a Bharatnatyam dancer. Thereafter their association turned into a guru-shishya kind of relationship. Valerie tells me how Parvathy and her disciples have been living in the ashram premises for the last one year. "Earlier she used to stay in the army tents. That particular area is infested with snakes; it was not very safe. The tents are better now. There is a flooring and a zipper system by which you can shut yourself inside. But it is extremely cold at night," she says.
Tomomi, one of Parvathy's disciples from Japan, who is in Bolpur at the time, says, "Here I have been given another name — Paromita." The 20-something woman is also wearing a sari, hitched a little above her ankle. "This is a peaceful place," she says. "I have been staying here for a few months. We have classes — music and dance — there are reading sessions, we learn about the teachings of the baul gurus too."
Speaking of lessons, was it easy for Valerie to pick up baul folk art since she was already trained in Bharatnatyam? "Not at all," she replies. "Baul is a very difficult art form, more so because they say baul is freestyle. But then it is not freestyle. The leg movements are intricate. You have to play the duggi with one hand, the ektara with another, sing and tap one's feet — all at once."
Neither the song nor the lifestyle of the baul is easy. "Our life is full of discipline," says Parvathy and this brings to my mind another visit from another baul akhara some years ago.
At the Gobardanga akhara in Burdwan district, I came across a university student who had decided to spend time in the company of bauls. He was dressed casually, but sported dreadlocks, had rows of rudraksha wrapped around his wrist and a chillum in hand which he shared with other minstrels. "People often get attracted to the baul way of life for the wrong reasons — the bohemian lifestyle where you can be hooked to your hookah all day," he had said, blissfully unaware about the inherent contradiction in his remark.
Says Parvathy, "A baul is a sadhak. Some might opt to be fakirs, some become performing artistes, but at the end of the day, each one of us is out to discover the self." It seems that is exactly why a baul akhara must be on the outskirts of the city. She adds, "Baul songs are personal musings and self-realisations. You will not be able to write songs and give voice to your thoughts unless you have let the quiet enter you."