How to organize an intimate holi party
Here are some of the key points to remember while hosting the festival of colours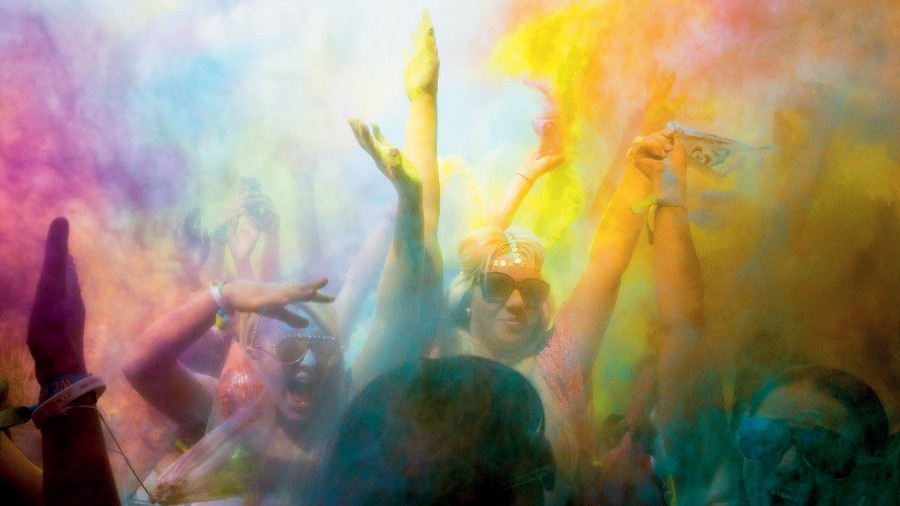 ---
---
Invites
This Holi season, you might want to keep your guest list small and intimate to minimise the number of people gathering in one space, but who said that's a bad thing? A couple of old friends, close family members, and a day spent going down memory lane? Count us in, please!
E-invites are super-in, super easy to make and there's absolutely no contact required! There are a ton of free apps like Canva, Lightroom and Picsart that you can download on your phone to help you design your invites exactly as you want them to be. Bring out your hidden artist this Holi and play with colours all you want but in a smart way.
Disclaimers are important, mostly if you don't want the after-party to be a Covid disaster. Ask your guests to mask up and carry a couple of extra with them just to be on the safe side. Better safe and sanitised than sick and sorry, we always say.
Venue
The perfect place to party this Holi season would be open-air venues, preferably your backyards, front lawns, garden areas, terraces, or even a large balcony if you can spare the space. Let's face it, we all prefer a large, open space for our Holi shenanigans, and this year you have all the more reason to opt for open-air spaces for a carefree Holi experience!
This next one depends on the amount of space you have to work with, but try and spread out your chairs and food counters as much as you can to maintain some distance between seated guests.
Dress Code
This Holi we would want you to give the colours a miss due to the ongoing pandemic. Touching on the face should be as minimal as possible but if you're going to be playing around with colours, then you might want to choose something light and easy to move in. Holi parties can get wild, and we mean wild! Protect your eyes from the flying colours by donning a pair of funky sunglasses. It's time for those quirky, larger-than-life sunglasses that you have stashed at the back of your closet to make an appearance and tie your hair with a scarf that saves your hair from the colour too. Opt for masks in breathable fabric and stay protected.
F&B
What's a party without food? This Holi, opt for a sit-down, table service-style brunch to keep with your no-contact serving commitments.
Instead of busting out the expensive china for this party, opt for disposable plates and cups. They are easy to clean up, come in several colours and patterns to fit with the theme you're going for, and best of all they're pandemic friendly. If you're working on a low budget, consider turning your party into a BYOB (Bring Your Own Beer). Pros? You're not the only one splurging on the booze, everyone holds a cup of their favourite drink, and most importantly, there are fewer hands dipping into the punch bowl. Cons? None that we can think of.
Music
Whether you are playing with colours or not, you are likely to be grooving or just chilling to your fave track. "Holi being a festival of colours, my playlist always has a lot of tracks based on the theme to create the mood as per the occasion. Old classics to some new-age, a blend of both but it is always the old-school remixes that highlight the mood and the celebration. Some of these tracks are such that we never play otherwise for any parties and club nights, so this list is very different from my regular set. The playlist has to one that creates a colourful and happy vibe. Brown rang, Brown munde, Chunari chunari, Tera rang balle balle, Balam pichkari and Rang barse are some of my all-time recommendations for a Holi party," said DJ Vicky Metharamani.