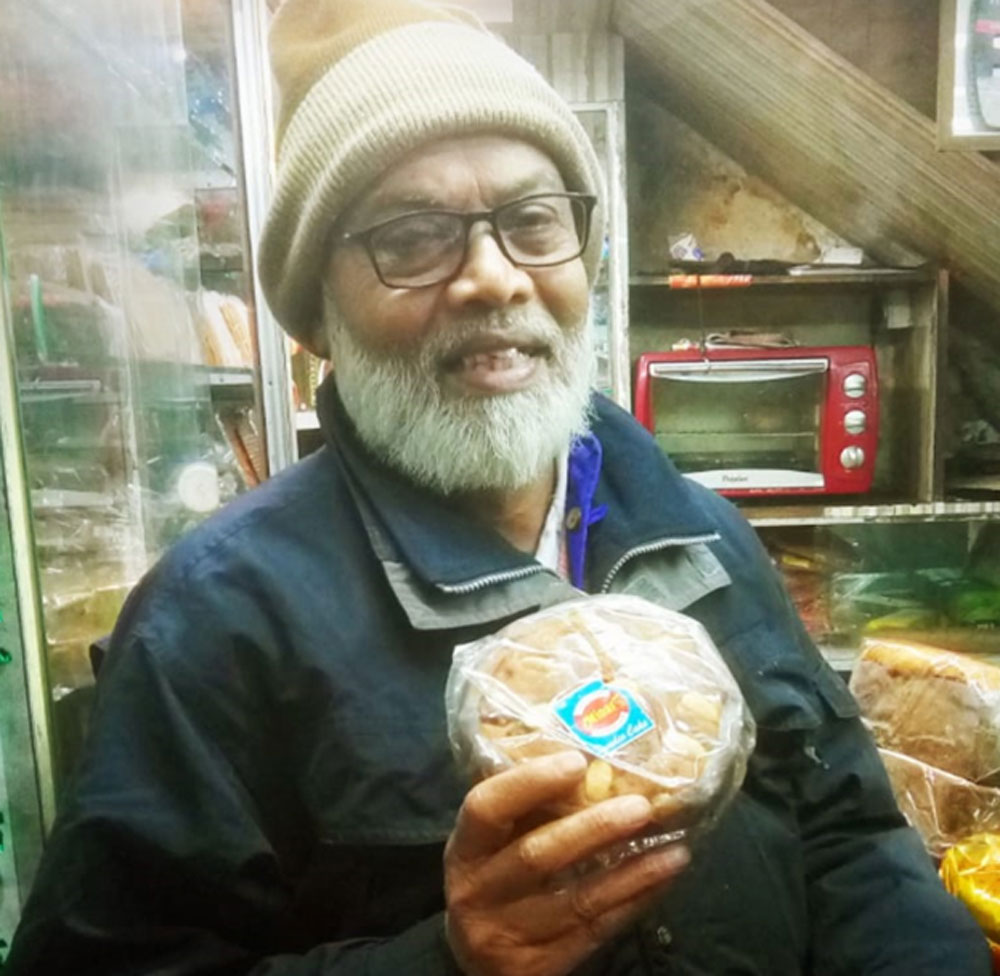 S. Anwar of Asansol with his version of a Dundee cake Sourced by The Telegraph
The European connection altered the flavour of life in Asansol. The sahibs employed a lot of the local people as khansamas or head cooks. Says Mishra, "Many of these khansamas were trained to cook European fare by the wives of railway officials." And that is how, most likely, the recipe for the Dundee cake changed hands.
Time and again a skilled hand was inspired to strike out on his own. In 1879, Wahid's Confectionery was set up. It was followed by Meher Ali's and Minar's Confectionery. All three confectioners exist to date.
S. Anwar is the current-day owner of Minar's, which is located in another part of Bastin Bazaar. "We use flour, brown sugar, margarine, date plum, dried grapes, almonds and murabba while baking the Dundee cake," says Anwar.
The recipe also includes orange zest and it was once typically flavoured with single malt. "Brandy or even sherry can also be used," says Anwar and then adds quickly, "But we don't use it in our Indian version here."
Abu Tahir, sixth generation owner of Wahid's Confectionery, talks about how the scenario changed post Independence with the exodus of the European and Eurasian population. The shop Tahir runs was set up by his great-great-grandfather Abdul Wadid, who also used to be the city's mayor. "Britannia produced the Dundee cake for a while, but after 1980 it was withdrawn from the market," he says.
Come Christmas and New Year, the demand for the authentic Dundee cake is spontaneous, almost reflexive. Says Suvojit Chatterjee, who is research associate of the Asansol Heritage Research Group, "It goes by the name of fruit cake though. The reference to Dundee has faded from memory. And quite often, the cake is not at all up to the mark."
It is indeed a long way, from Dundee to Asansol.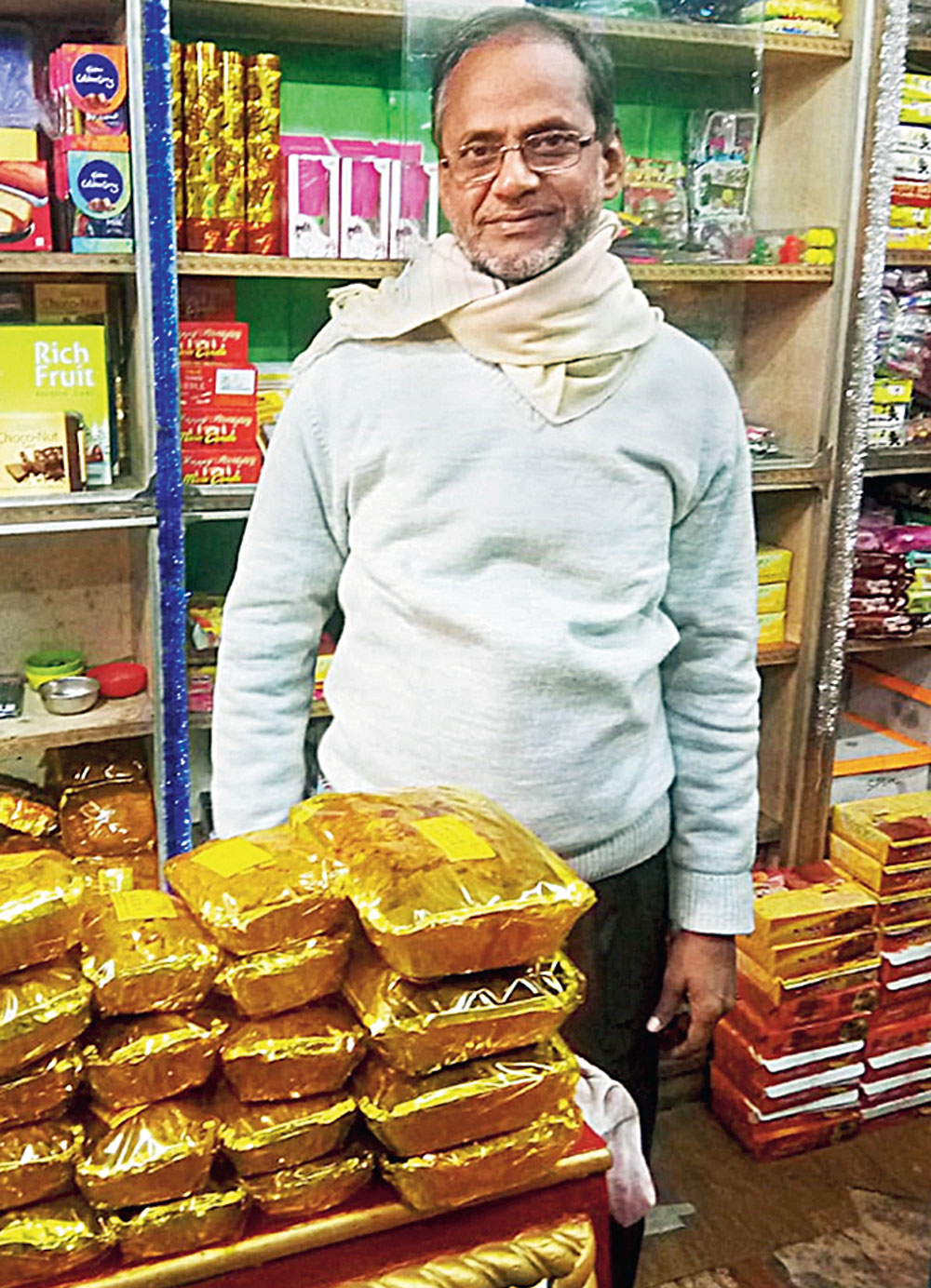 Asif Osman with his version of a Dundee cake Sourced by The Telegraph
When asked what goes into his cake, Asif Osman replies with aplomb: "History." The train ride from Howrah to Asansol Railway Junction takes three hours. Asansol lies in the West Burdwan district.
Thereafter, a seven-minute bus journey to Bastin Bazaar TP Market, a brisk walk through the narrow Leighton Street to what is known as the Ganja gully, and a few more twists and turns are all it takes if you are searching for the Dundee cake in the heart of Bengal.
"The city of Dundee is on the east coast of Scotland, and the cake derives its name from that very place," says Santanu Banerjee. He is assistant professor of English at Kazi Nazrul University in Asansol and seems to take equal pleasure in reciting Robert Burns and recounting cake history.
We — heritage researcher and Indian National Trust for Art and Cultural Heritage (Intach) member Kamal Banerjee and I — are standing before a hundred-year-old dilapidated building. It houses several shops and one of them is Meher Ali Baux and Sons Confectionery. This is no ordinary shop. Among other things, this is where rebel poet Kazi Nazrul Islam started his career as an accountant, or so claims Osman, the grandson of the man after whom the shop has been named.
Banerjee says the Dundee cake was first prepared in Asansol possibly in the late 1800s. But the recipe is way older. Lore has it that it had been first baked for Mary, Queen of Scots, who reigned over Scotland from 1542 to 1567. The story goes that the queen didn't like the cake and the bakers were sent scurrying back to the drawing board.
Dundee Cake 2.0 had an almond topping instead of the older cherry one. "With concentric circles of almonds, the cake then emerged as a Dundee favourite," says Banerjee, who has written about it in one of his papers on postcolonial cultural studies. The bottomline: version 2 was a runaway hit.
Asansol owes its Dundee cake to the railways. P.K. Mishra, the divisional railway manager, says, "After the introduction of railways in eastern India — more precisely Asansol and Raniganj in 1855 and 1863, respectively, via Searsole [now Ranigunj and Kalipahari] — there was an influx of Europeans in this region."
The coal business started flourishing and train movements increased manifold in the region. The big boss of this railway network was Sir Rowland Macdonald Stephenson, a man of Scottish lineage. The man who is called the first railway engineer of India, John Turnbull, was also a Scotsman.