The past preserved in a Marble Palace
Rajendra Mullick built the museum and zoo because he was a botanist, ornithologist and an art lover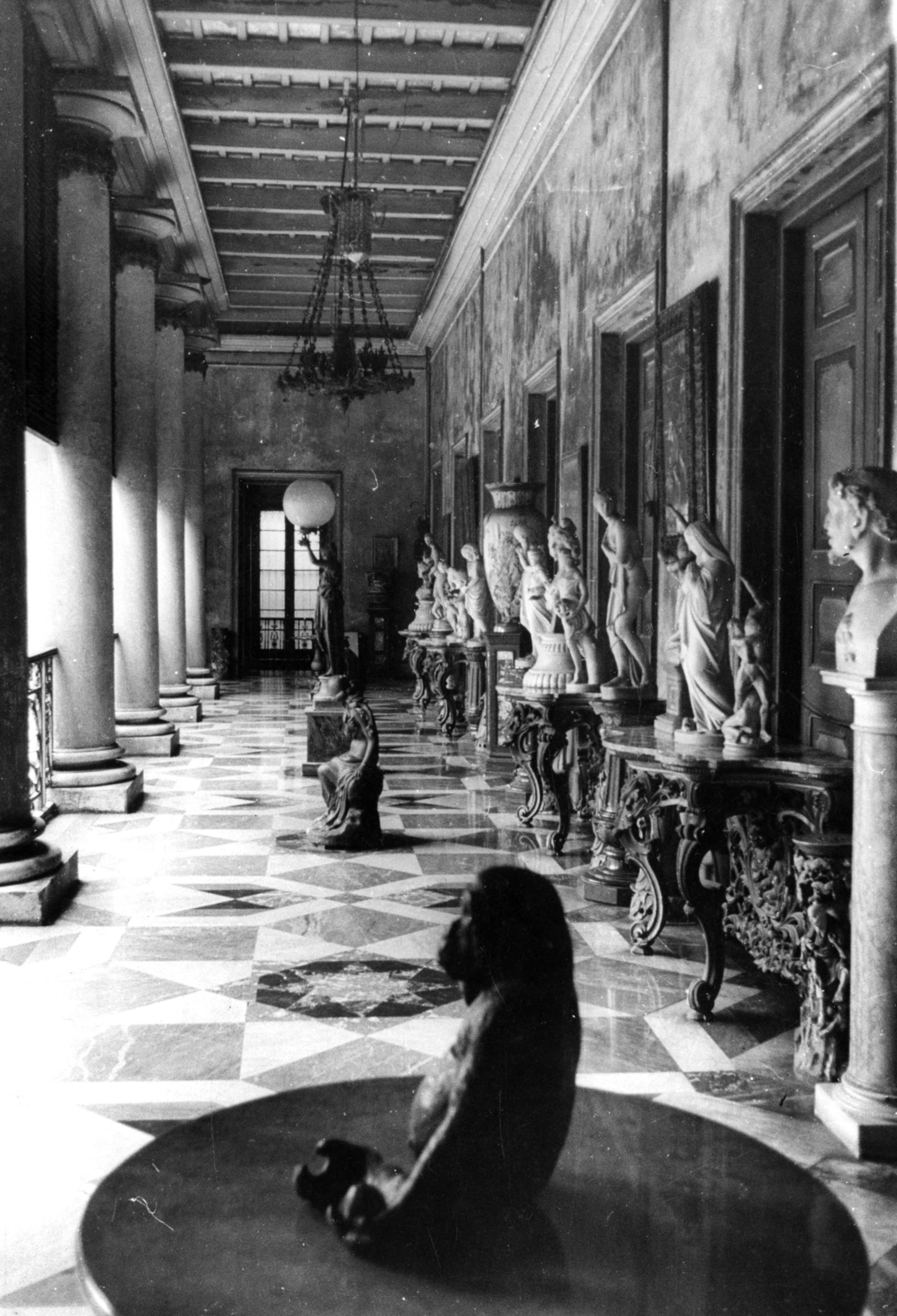 Inside Marbe Palace.
Telegraph file picture
---
Calcutta
|
Published 31.10.18, 06:15 PM
|
---
In the heart of Calcutta lies a quaint time-bubble, the Marble Palace. I walked in to see and feel what the walls, pillars and statues of the Marble Palace had seen through the many generations they had endured.

Rajendra Mullick, one the pioneers of modern Bengal, founded this Western art museum and a private zoo at Chor Bagan, North Calcutta in 1835 and 1855 respectively. This establishment came to be known as Marble Palace. Walking in was like walking into many cultures and histories simultaneously.
Hirendra Mullick, resident and curator of Marble Palace, helped me go back in time and space. He said Rajendra Mullick built the museum and zoo because he was a botanist, ornithologist and an art lover.
"Rajendra Mullick was also religious. He built six halls for prayer and mid-day meal centres, all depicting different times and myths, all designed in different architectural patterns," he said.
There are only five rooms for family members and they are in the five corners of the palace. Misra Gharana, he called the style of the architecture, which calls for the bedrooms in the corners. It's easy to lose your way trying to navigate your way through the corridors. It feels a lot like the maze outside the Overlook Hotel in The Shining.
Mullick says the land was given by the British in exchange for land around Fort William in central Calcutta. "An agreement between Job Charnok, Charles Sayer and Shabanya Roy Chowdhury's family was signed in 1698, which permitted the government to take land for an amount of Rs 1298. These lands were taken from Sils, Borals, Tagores, Mullicks, and Sheiks. In exchange, they were given undeveloped lands in Jorabagan, Jorashankho, Kolabagan, Mechuabajar, Bnashtola and Chorbagan."
The museum is a combination of various styles of architecture like the doory columns, the Corinthian style, wage-wood style and the French arch style. There are two gardens, larger than two football fields-length. They are filled with cast iron chairs and tables. There are three fountains as well in the courtyard, all made of marble. That leads visitors to the main worship hall, thakurdalan, which was made for worshipping Jagannath, one of the ten avatars of Vishnu.
Outside the hall stand marble representations of Greek gods Phoebus Apollo and his twin sister Diana — offspring of Zues and Latona. Cupid and Psyche from Lucius Apuleius Madaurensis's Metamorphoses are the next representations that my eyes go toward. Cupid, also known as Amor, is not the spitting image of a baby in diapers with a quiver full of arrows with hearts on the tips. His statue is just as large and erect as he was in the story.
Then there are also sculpted figures of Antigone and her sisters, which have been inspired from The Theban Plays by Sophocles. The sculptures are replicas of Praxiteles Phidias, an ancient Greek sculptor. Replicas of Dancing Girls and Dancing Fauns are present throughout the palace.
Hirendra Mullick said most of the sculptures and paintings were purchased from auction houses and art collector houses.
One of the halls with replicas by Rembrandt, Michelangelo, Josho and Praxiletes Phidias, is floored with 76 kinds of Italian marble. The adjacent reception hall displays a 12-feet statue of Queen Victoria, which was carved out of a single block of wood.
Each hall has Austrian chandeliers and Venetian candelabras. The entrance of the museum side of the palace displays sculptures made in Miroy Foundary in France. Four statues of women depicting the four seasons of summer, autumn, spring and winter.
While looking at these figures, Antonio Vivaldi's rendition of the Four Seasons rings in my ears.
Now, imagine.
A different work of art.
In a scene in Satyajit Ray's Charulata, there is a scene where the protagonist is on an old-schooled swing reminiscing about what had happened in her life and what could have happened. I feel the same nostalgia walking down the winding path in the garden and into the private zoo, which is more or less an aviary now.
The zoo, called Nilmani Niketan after Rajendra Mullick's father, displays rare animals and birds. Mullick brought animals and birds in exchange of money and through submission of legal papers and approval of the Zoo Authority of India. The zoo was made for preserving and displaying herbivorous because the institution was vegetarian.
There are rare birds like albino peacocks, Hyacinthine Macaw, bird of Alexandria, Trucan, Hawk-headed parakeets, silver and golden pheasants, magpies, hornbills and mute swans. Birds of Paradise are missing because they have become extinct. There are also long-tailed monkeys, spotted deer, barking deer, red-butt baboon and porcupines.
Hirendra Mullick tells me proudly that this is the only private zoo in India. "I visited one in Bikaner in the '80s, but now that has closed down," he said.
Mullick, who has been looking after the museum and zoo for the past 30 years, says the founder laid guidelines for maintenance that have been followed rigorously. "Everything is preserved to protect the glamour and glory of the tradition, history and ambience of the past. Everything is religiously followed as instructed by the founder."