Old wounds
Anya Theatre's 110-minute-long tour de force is among the best Calcutta has produced in recent years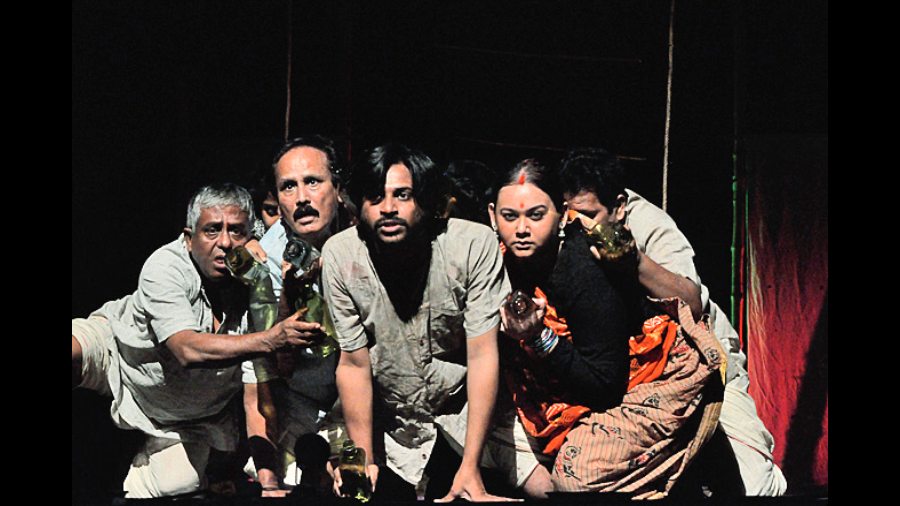 A scene from Dhulomakha Ruti
Anya Theatre
---
Published 29.01.22, 04:12 AM
|
---
With the centenary of the Chauri Chaura incident round the corner, here is a remarkable Bengali theatre production that goes deep into the incident and its aftereffects. Anya Theatre premiered Dhulomakha Ruti (The Dusty Bread) on February 5, 2021. Written and directed by Debasish Ray, the production was staged for the second time at Madhusudan Mancha on December 12.
It's been a long time since Bengali theatre took an empathetic look at events that unfolded in the Hindi heartland. Ray structures his play around Dinanath whose father (Surajit Ghosh), a policeman at Chauri Chaura, was burnt to death on that fateful night. This childhood trauma takes its toll on his mind, and eventually shapes his life and relationships, especially with his grandmother (Krishna Dutta) and his wife (played in turn by Ditipriya Sen and Minakshi Pramanik).
But one cannot put Dhulomakha Ruti in a nutshell. Ray keeps shifting the narrator, facilitating multiple perspectives. The language also shifts effortlessly between standard Bengali and rustic Bhojpuri. The director trifurcates the protagonist. The three guest actors (Aphrodite Ray, Bhaskar Mukherjee and Partha Sinha), playing different ages of Dinanath, match one another. Ray infuses a dynamism — both in terms of movements and choreography — that the Anya Theatre actors negotiate quite commendably. Dhulomakha Ruti also explores the community life in Gorakhpur where marriage is a ritual and communal hatred has different ramifications. It connects, albeit slightly, to other violent moments in India's freedom struggle, especially the one led by Bhagat Singh and Batukeshwar Dutt.
As the narrative moves back and forth, the flexible proscenium space designed by Ray, where moveable bamboo structures and suspended ropes play a crucial part, pulsates with the rhythms of percussion instruments rooted in rural life. Subhadeep Guha's music design matches the earthly impulse. Ray's versatility reaches a new high in his light design which smartly uses unconventional sources like laser torches to demarcate national boundaries.
This 110-minute-long tour de force is among the best Calcutta has produced in recent years — it is not to be missed.