Boston Ice Party
Two hundred years ago, after 20 failed attempts, the first consignment of ice arrived in Calcutta from Massachusetts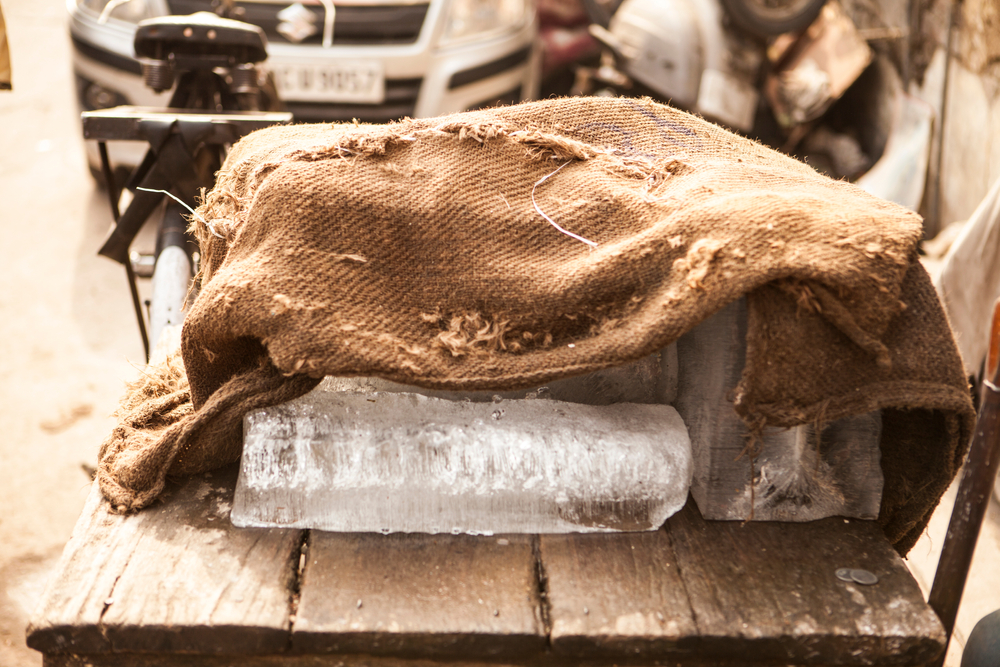 Blocks of ice for sale in a market in India.
Shutterstock
---
Published 28.03.20, 08:28 PM
|
---
This was not very long ago, but a period that may well now be time stamped as BC or Before Corona. The exhibits at the Jadunath Bhavan Museum and Resource Centre in south Calcutta were arranged in a certain way to present the history of ice in the city — yes, it wasn't such a taken-for-granted item as it came to be.

The photographs on display were pickings from Fulbright-Nehru Scholar Christine Rogers's research. Exhibit 1, a black-and-white-photo of a young man driving a rickshaw laden with blocks of ice through the streets of Calcutta. "The boy is carrying the ice to the fish market. It is a photo from present-day Calcutta," said Rogers. The second exhibit, a photograph of commercial projects of snow parks that are now being created for entertainment. The third, people sitting on the banks of the Hooghly where the ice used to be downloaded after it arrived all the way from the US.
Once upon a time, ice was a rare commodity, procured all the way from America. The exhibition, in consonance with Rogers' talk, is a detailed history of ice trade in India. The now, followed by the then.
In the 19th century, the British army in India and people in the administration found it difficult to cope with the intense tropical summer. In a letter dated May 1833, Daniel Wilson, the fifth Bishop of Calcutta and the man who built St. Paul's Church, writes to his family in England: "The weather is perfectly suffocating. None can pity us but those who know our suffering."
Wilson's immediate predecessor had not been able to endure the extreme temperatures and had died in office. Thus, to ease things for their own, the East India Company set about arranging for a regular supply of ice for all seasons.
Those days, what was available in the market was "Hooghly ice". It used to come from Chinsurah in the winter months and was so named because it was made from the river's waters. Said Rogers, "This ice was filthy and more like slush. It was made by freezing water in shallow pits and was dirty and unfit for drinking. This was not the kind of ice that the British were looking for."
In 1833, a businessman in Boston, Frederic Tudor, arrived in Calcutta in a large vessel stacked with ice. Bringing ice to India was no easy task, not even for as enterprising a fellow as Tudor. According to Rogers, he failed 20 times before he met with any success. The challenge was to keep the ice from melting the entire length of the two-month journey to Calcutta and thereafter.
Tudor was not in this project alone; he partnered with Nathaniel J. Wyeth, a supplier of ice and a businessman. Together, the two cracked issues such as the technology of cutting ice, thereby making large-scale ice exports from Massachusetts possible. The two evolved the technique of harnessing horses to a two-blade ice cutter to cut more ice in less time.
David G. Dickason writes in his book, The Nineteenth-Century Indo-American Ice Trade, how Tudor took up this project only because he was in dire need of money after failing to dominate the global coffee market. Dickason writes: "He inaugurated his India venture only after experiencing a desperate need for adequate cash flows and profits in order to repay enormous debts incurred through his misadventures in coffee."
With ice, Tudor got lucky. He was based in Massachusetts that had the requisite climate for producing natural ice in excess. Ice was cut from the Walden Pond, a lake there, where pure ice was easily found. Also, the Boston port was close by.
In 1847, when American essayist, poet and philosopher, Henry David Thoreau, was staying near the Walden Pond, he witnessed the cutting of ice. In one of his essays titled "The Pond In Winter", he writes: "Thus it appears that the sweltering inhabitants of Charleston and New Orleans, of Madras and Bombay and Calcutta, drink at my well."
The route was a long one. The ice, according to records, would be covered with fly ash and salt and then packed in jute to keep it from melting. Tudor earned such grand profits from Calcutta the next two decades that he came to be known as the Ice King.
The trade continued for almost 50 years. The price of the ice was only 4 annas per pound (one pound equals half a kilo), much cheaper than Chinsurah ice. It later came down to 2 annas per pound.
Records show that the ice was hugely in demand during that period and it had to be rationed at times as the ships were delayed and there would be a crunch. In fact, people had to produce a doctor's certificate to get the ice. The British living in Calcutta even raised funds to set up an icehouse to preserve the cargo. Around this time, many Bengali businessman also got involved in the trade.
Rajinder Dutta was one of the pioneers of ice trade in Calcutta. His progeny, living in central Calcutta today, however, has no related documentation. Sanat Kumar Ghosh, who is one of the eighth generation Duttas, rattles off names of some others who eventually joined the trade — the Debs of DarjiPara in north Calcutta, Chhatu Babu and Latu Babu, and the Mitters.
"Rajinder Dutta was more famous as a homeopath. He had treated Ishwarchandra Vidyasagar, the Maharaja of Jaipur and also Raja Naba Krishna Deb of Calcutta," says Ghosh as he hands over a book titled History of Homeopathy in India in the 19th Century. The book has a few lines on ice trade too. It reads: "In 1836, 12,000 tonnes of ice was shipped to Calcutta and 10 years later, the figure spiralled to 65,000 tonnes."
That day at the Jadunath Bhavan Museum, Rogers spoke at length about how ice was transported to Madras and Bombay from Calcutta. Dickason also notes how eventually ice came to be used by Indians too. It was used to preserve food, for refrigeration, in drinks. Rounding up he wrote: "Even Hindoos, otherwise so scrupulous, do not hesitate to mix the frozen waters of America with the sacred stream of Gunga, whilst the stricktest Mohummudans use it with unlimited freedom (sic)."