An Indo-French project has added utilities to the Chandernagore Strand
The result has been seats and swings, some new and some innovatively repaired, using discarded material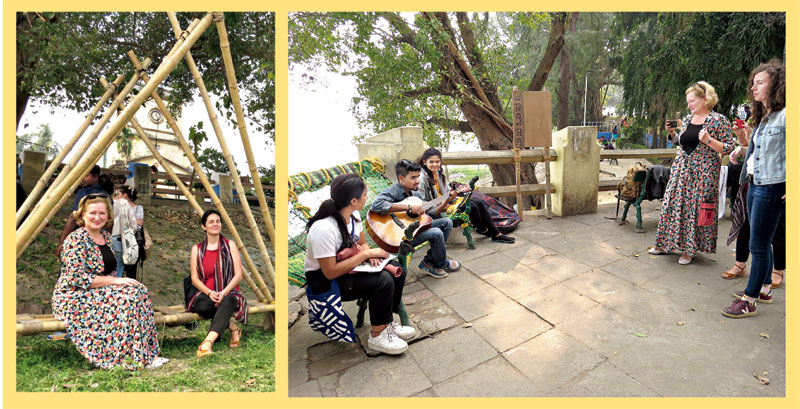 Consul general of France Virginie Corteval records a musical performance on a bench repaired as part of the project on her mobile. (Left) Corteval and cultural attachee of the French embassy Alice Brunot on a bamboo seat installed on the riverbank
Sudeshna Banerjee
---
Published 15.03.20, 01:00 PM
|
---
This spring, people of Chandernagore are enjoying their riverbank more, thanks to a week's collaborative intervention by design students of India and France, facilitated by the consulate general of France. The result has been seats and swings on the Strand, some new and some innovatively repaired, using discarded material.
The week-long project was titled Reimaging the town: upcycling in the public space. "We wanted to bring together students of design from institutes in India and France. They have been working on the idea of creating urban furniture in a sustainable way. They didn't want to do it by themselves. So they discussed it with people of Chandernagore, seeking their inputs on what they wanted on the Strand. Today is the restitution of their work," Virginie Corteval, consul general of France, told The Telegraph on her way to the Strand.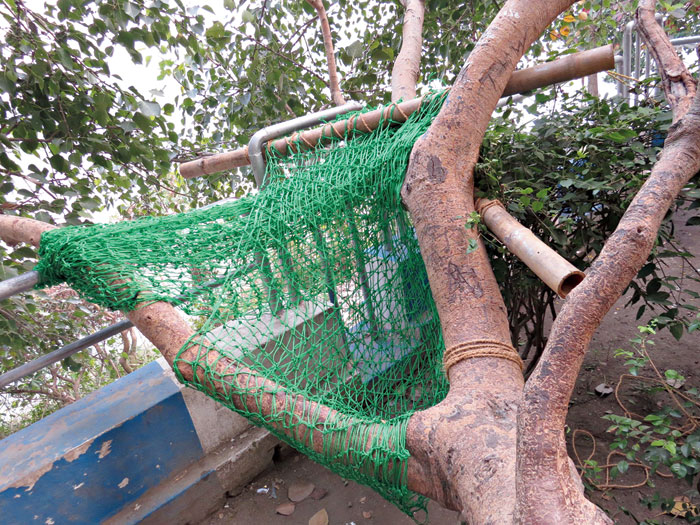 Twelve students were waiting to display their work to her and the commissioner of Chandernagore Municipal Corporation Swapan Kundu. Six were from the design studio at the Maharashtra Institute of Technology (MIT), Pune and six from the India Studio of the Ecole de Design Nantes Atlantinque.
"We are hosting a two-year Masters course in transcultural design in partnership with MIT, Pune. This project is about coming up with ways to address local heritage with an eye on future sustainability. We interacted with people and identified ways in which we could intervene. For instance, people complained about a bench lying broken. One group looked at how to repair it, while another identified a tree and brainstormed on ways to turn it into a part of the urban landscape," said Helene Thebault, the director of the institute's India Studio.
Also guiding the students were three architects — Aishwarya Tipnis, who has been working on French colonial built heritage in Chandernagore, Samuel Remy, whose focus is sustainable buildings, and Sayantan Maitra Boka, the head of an interactive design firm.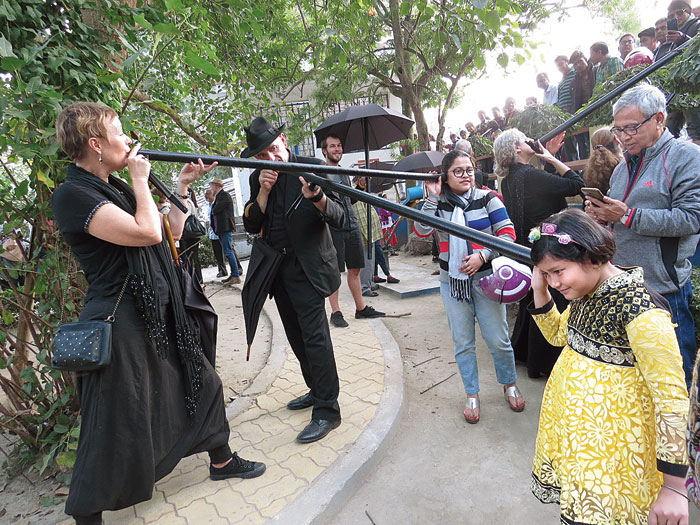 "We chose the Strand as there is a diverse and dynamic community usage of the space. The first couple of days of the workshop went in mapping and understanding the usage. Once we figured out the issues and developed the solutions, we shared them with the craftsmen of Terra Indica, who have the technical skills of furniture-making, and picked up discarded materials lying in their factory. Once we figured out how they could be used on the Strand they were upcycled," said Tipnis.
The cast iron framework of a broken bench became a seat once again, using thick chords woven khatia-style.
The benches on the Strand face the river. "We found that many people prefer to face the street. So we added a wooded bench with a clip-on system to hang from the back of the existing bench to allow people to sit facing either side on the same structure," said Emma Sioufi, a student of transcultural design from Paris. "It can be removed and put elsewhere any time," added her friend Elsa Sadiez. Some low-hanging branches tied with thick strings became a cosy corner seat.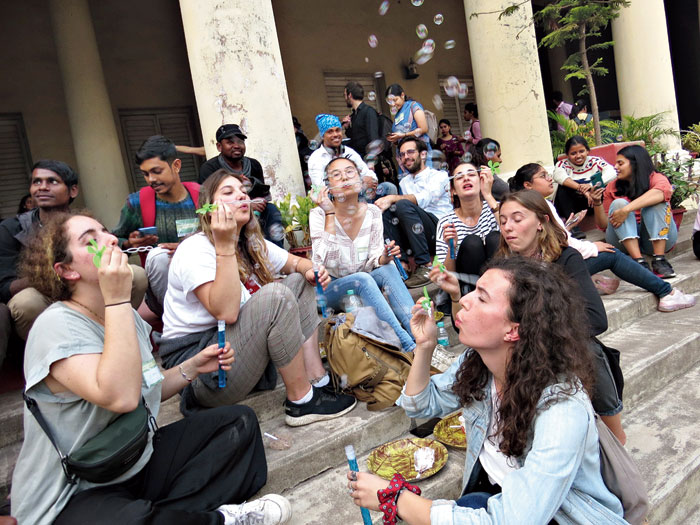 To the iron framework of another bench, they added a clip-on table. Remy demonstrated how easy it was to make the table out of a discarded door. "Take pictures of how they have done it. I will reduce funds for new furniture henceforth," commissioner Kundu joked, turning to his engineer.
Since there was no seat at the water level, they created a wooden bench with a welcoming arch over it.
"This project is unique as it is an Indo-French collaboration. It was interesting how the students debated their ideas. We have studios in India, China, Brazil and Canada. India is fascinating for the skills people have as also the materials available here. In France, they could never, for instance, get a chance to work with bamboo," said Thebault.
The day ended on a novel note for pedestrians on the Strand. Not only did they try out the new seats and swings, they were also invited to a performance by Les Souffleurs. The team of six from France, dressed all in black, carried a long hollow pole in one hand and a black umbrella in the other. They invited people to hold one end of the pole to their ear and listen. From the other, they whispered into the pole in a soothing tone. Local children making merry on the newly installed swings were thrilled to hear Bengali being spoken by the firangs, albeit with an accent. "This is a magic stick. It turns their language into ours," one told the other, wide-eyed. Passersby came forward in numbers to listen to the poetic whispers. Some even sung or recited back in Bengali through the pole for the French performers.
"This happens a lot. Listeners offer to give back to us. Poetry slows down the frenetic pace of life, even if only for the length of our performance. Our group has 36 members in France. Nine of us have come on this India tour. We selected Hindi and Urdu poetry for our Jaipur and Delhi shows. Here we chose Bengali pieces. We carry umbrella because, in our experience, the listener often becomes emotional and prefers to hide his tears," said a member of Les Souffleurs, which calls its members "poetic commandoes".