Good Bye, Bad Bye
The virus has altered life and also the experience of death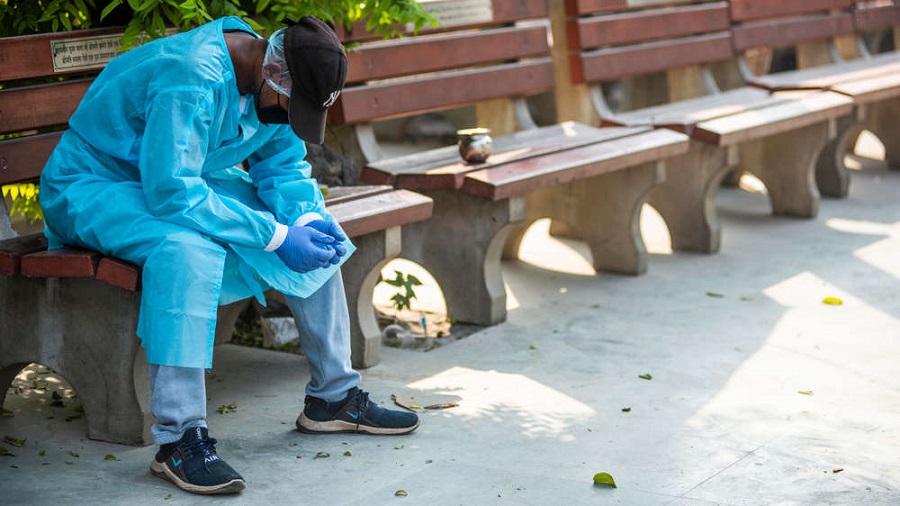 ---
---
A funeral has always been a community thing. Rows of people in white standing around, family members meeting after so long that you don't recognise the strapping young man next to you as the son of a favourite cousin. Casual acquaintances and neighbours stand on the fringes with long faces though they may not have known the dear departed at all. In all likelihood, there will be an aunt, who you can barely tolerate, lamenting long and loud. A nosy relation with a disapproving expression will be spouting much talk about how things are done in "our family". I say, "Oh really? And where exactly is this family in any time of need?" but only in my head.
Funerals make me weep, yes, but usually tears of exasperation. I never thought I would miss not having a funeral for anybody. Yet when Covid-19 robbed me of a fond brother-in-law, it also stole my right — and that of many others — to closure and a proper send-off.
His wife, my sister-in-law, broke down when she couldn't touch him for the last time; he had already been wrapped in plastic. She just stood quietly and wrapped her arms around herself.
The nieces complained bitterly that he had again cheated them of their right to touch his feet — he never did hold with that tradition. I stood some distance away — 12 feet to be precise — from them all, unable to do any of those things one normally does to convey support, offer comfort.
Comfort, did I say? That day, every gesture, every action of mine seemed to do anything but. A short while before, I had called the other sister-in-law and her elderly husband and forbade them from coming to the hospital. Said the elder sister, "I can't even stand by her now when she needs me most?
What kind of a sister does that make me?" The kind, retorted her brother, who would stay alive.
It is very typical of eastern cultures to not grieve alone. And I am not talking about funerals but the entire duration of grieving. There is always someone aflutter with concern — making sure you eat, sleep, cry and talk and listen, coaxing the disjointed mind, body and soul to come together once again. But this time a virus kept all well-wishers away. Physically away, that is.
I have lost count of the number of calls I had to field — that was the only comfort I could provide my sister-in-law who could not take calls. The callers conveyed their condolences, expressed shock at his sudden demise, remembered him and his help with gratitude or just wanted to talk about what a fine man he was. At any other time, many of these people would have made it a point to be present at his funeral. And that is what I was thinking as we, his immediate family, waited to see him one last time.
Only four people would be allowed to see him off to the hospital door. The rest of us were outside the hospital because we could not bear to be anywhere else. We would have huddled together but Covid restrictions meant we were a line of stragglers. A day later, a cousin who had driven for more than two hours to offer the bereaved support had to be satisfied with a glimpse of her beloved sister at her first-floor window. She did not get to see the brother-in-law she had so adored.
The big man — in every sense — with the cheeky grin and crazy hair set out on his final journey in the KMC-provided hearse. The same big man who bought me something elegant and expensive every Puja because a catty relation had once remarked on the poverty of my wardrobe within his hearing. The man who had put more children through school than I can count on all my fingers and cringed every time someone mentioned it, who preferred staying home with a book over all else, who loved pulling people's legs in private but had a very reserved public persona, who put family above all else and principles over them too. That day, he who was never really comfortable in the company of strangers left with four total strangers in PPE suits.
Soon after, my sister-in-law donned widow's weeds ignoring all urgings to the contrary — there is only so much you can do over the phone.
Worried friends and family left meals outside her door. Neighbours, acquaintances and well-wishers too had the same idea. She finally turned on her phone after a whole week to call her brother — to come and rescue her from the avalanche of fruits outside her door.