Love, loss & beauty; Love longing & hope in the time of coronavirus
FD Block resident Sohini Das and her American husband Scott Hartmann, currently posted in Indonesia, write to each other
---
---
My dearest Sohini,
It's been over seven years now since a new chapter started in our lives. Since our marriage, I've moved twice to get closer to you, but I'm still almost 4,000 km away — in Indonesia. Our lives still follow the cycle of the night and the cycle of the moon. Once a month in the middle of the night and in the middle of our daughter's dreams, I arrive, resplendent, and several days later as she falls asleep, I depart once again into the darkness. And at least once every night, when the twilight disappears, we meet through the light of a tiny window of our phone screens, through video conference, sometimes just the two of us, sometimes all three of us, but never a night missed. It's a certainty that sustains me in this time of uncertainty.
Life here in Jakarta has become surreal. I have no neighbours left on my floor and I'm the only one left in my office. The crazy endless traffic is gone. The endless rows of hawkers and the scent of fried rice and snacks are gone. But even in this ghost town, the ojek (bike taxi) drivers are still there, huddled together in small groups, sometimes in masks and sometimes not, illicitly peddling rides and awaiting a call to deliver a food packet or some medicine. On my daily walk, I've noticed for the first time, the families who have made the street their home and butterflies flying across empty roads. In the once-bustling neighbourhoods by the train station, you can finally hear the songbirds calling out to each other. The sky has opened up to reveal sunsets of a different hue altogether.
We are living in suspended time. The numbers of the affected add up every day. Each number a story. Some numbers hide stories much like ours. Others a father, a colleague, a sister, a lover. The sense of loss and what could come is overwhelming. I worry about all my uncles in Brazil, my brother and my mother in the US, your parents in India, our dear friends everywhere who this plague can break like a twig in an instant. There's a huge mass of collective grief bubbling just under the surface. Just scratch it a little and we shed tears easily.
Thus, I welcome the night, every night. The fleeting smile you try to hide. The devious laughter of our daughter. I have not missed the first words she read — you trapped them on a video clip and saved them for me. All these years, once a month a late night flight would take us to each other through the light of moon, resplendent as ever. All that seems a distant memory now.
Yet, as long as the night returns, we shall endure.
And for how long do you think we can keep doing this [god damn] coming and going?
Forever.
— Gabriel Garcia Marquez,

Love in the Time of Cholera, 1985
Yours,
Scott
(Scott works and resides in Jakarta, Indonesia, where he works for a foreign diplomatic mission)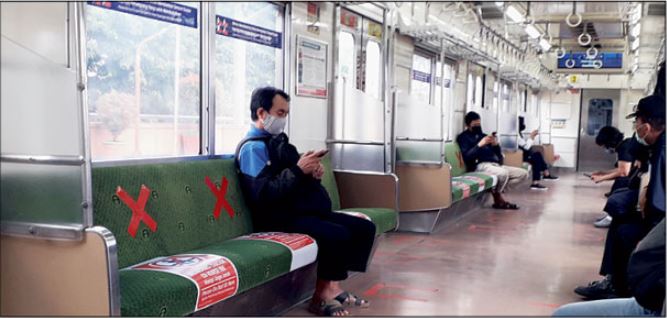 My dearest Scott,
In our seven years of marriage and all of my life that led to it, I haven't really 'moved'. My interest in education and performing arts allowed me to travel far and wide, but I am deeply rooted in the city of Calcutta — to be precise, FD Block in Salt Lake. In the last seven years, this is also the place you have begun to call home. For you, who always travelled restlessly across continents, cultures, identities, 'homecoming' is a beautiful feeling.
The world which we call our own is defined by arrivals and departures, interspersed with waiting. Some short. Some longer. Our stories are woven across our travels over continents and seas — we never really wanted to be tied down, did we? We are addicted to the local and the global, shared cultures, unique idiosyncrasies. The Calcutta and Jakarta traffic, nasi goreng and kati rolls, Javanese coffee and Darjeeling tea, the terracotta Durga and Balinese Saraswati — and amidst the to and fro, the delight of seeing our three-year old discovering and unraveling life.
It almost seems a faraway dream that you were here in February — your long-awaited trip to Santiniketan to mark our seventh anniversary. To discover Tagore and his legacy. We created our share of memories of long walks and unforgettable treasures. You left with a promise to return — as you always do.
Only that this time it was meant to be the longest. You cannot fly into India. We made a conscious decision you will not make your way back to the United States to be with your elderly mother. These are strange times. We need to stay away to show we care. When I venture out to buy groceries, my familiar world greets me with an eerie silence. The masked presence of one or two unfamiliar faces deepens the uneasiness. The other day, the ATM screen passively instructed me to open the door with a leg or elbow. I prided myself on my rigorous training as a dancer, but to maintain the same standards while punching the numbers would require a supernatural set of skills! In a way it's amusing to see how the non-descript grocery shop in FD Market is now our lifeline — something reassuring about the continuing demand for Marie biscuits, Mukhorochok chanachur and nimki, and of course the turmeric, mustard, cumin, coriander... The Bengali cannot compromise on culinary aesthetics, virus or no virus. Add to it, our daughter does enjoy her mishti doi now and then. Dessert shops are partially lockdown-exempted — you have to feed your souls!
So here I am, completing a month of lockdown — with elderly parents and our daughter. Living in the shadow of a vicious cycle of news that comes armed with death and data — the great economic divide, and the heart-wrenching story of the migrant labourers. I am adjusting to this new reality — work from home, and work for the home! The only thing constant is the uncertainty looming over what comes next.
Yet life comes with its miracles. You nurse a plant back to life in our Jakarta apartment while our daughter is thrilled to see leaves sprout out of the chilli seeds she planted in our terrace. The other day we heard thunderstorms in each other's cities through our phones and fell asleep to the sound of rain. You and I read her the same book — she sits on my lap and looks at you on the screen. Her eyes light up and she keeps repeating the words.
We remain connected in spite of the virus — there is something indomitable about the resilience of human spirit. Our daughter confided in me today with a glitter in her eyes that she will soon walk on the sands with you — by the sea! Indeed, she exudes life... we named her Vita with a purpose. Out of the blue you asked yesterday about the Durga pujo dates... there is not a single year that we have not been together to witness the celebration of homecoming.
And we will. Together.
Yours,
Sohini
(Sohini resides in FD Block and works for a foreign diplomatic mission)