Gandhi's message of peace on a mural in Kabul
Wall to wall: Dispelling Kabul's gloom with murals. An art collective attempts to paint a picture of hope in the war-torn city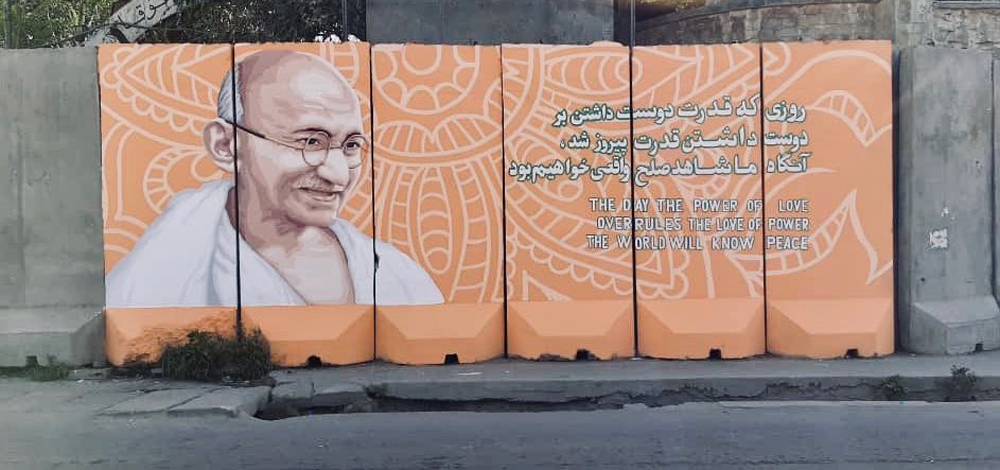 The mural of Mahatma Gandhi in Kabul
Picture courtesy: ArtLords
---
Kabul
|
Published 01.10.19, 08:35 AM
|
---
Solemn grey walls welcome visitors to Kabul as they emerge from the city's airport. The tall walls line the various diplomatic and government buildings, as well as the homes of the rich and powerful, protecting them from the onslaught of explosions that so often ensnare the man on the street.
Heavily militarised and peppered with checkpoints, the Afghan capital is one of the most dangerous places in the world. With every bomb blast that rocks the city, more of the walls are added.
But for the past five years, an art collective, ArtLords, has been etching colourful murals on the walls in an effort to dispel the gloom. From cricket star Rashid Khan and singing sensation Aryana Sayeed to the reformist king Amanullah Khan and Soraya, a modernist queen, ArtLords has brought heroes — new and old, known and unknown — to the walls of Kabul.
A new mural featuring Mahatma Gandhi was painted by the collective in the heart of Kabul outside the governor's office. "It is Gandhi's 150th birth anniversary and we wanted to promote his message of peace," said Omaid Sharifi, the co-founder of ArtLords.
An older mural of the Indian leader, which stood alongside that of "Frontier Gandhi" Khan Abdul Ghaffar Khan on a wall outside the Indian embassy, was destroyed when an explosive-laden truck struck the diplomatic area in May 2017.
Days ahead of Gandhi's birth anniversary on October 2, the art collective recreated his mural on another "blast wall".
"Blast walls are unique to Kabul and Baghdad. This is an American legacy for us — blast walls and armoured cars," said Sharifi.
He said the artists wanted to make Kabul look happy and not like a prison. "The murals are an attempt to reclaim my space where I ride my bicycle, drive my car, walk by," he said.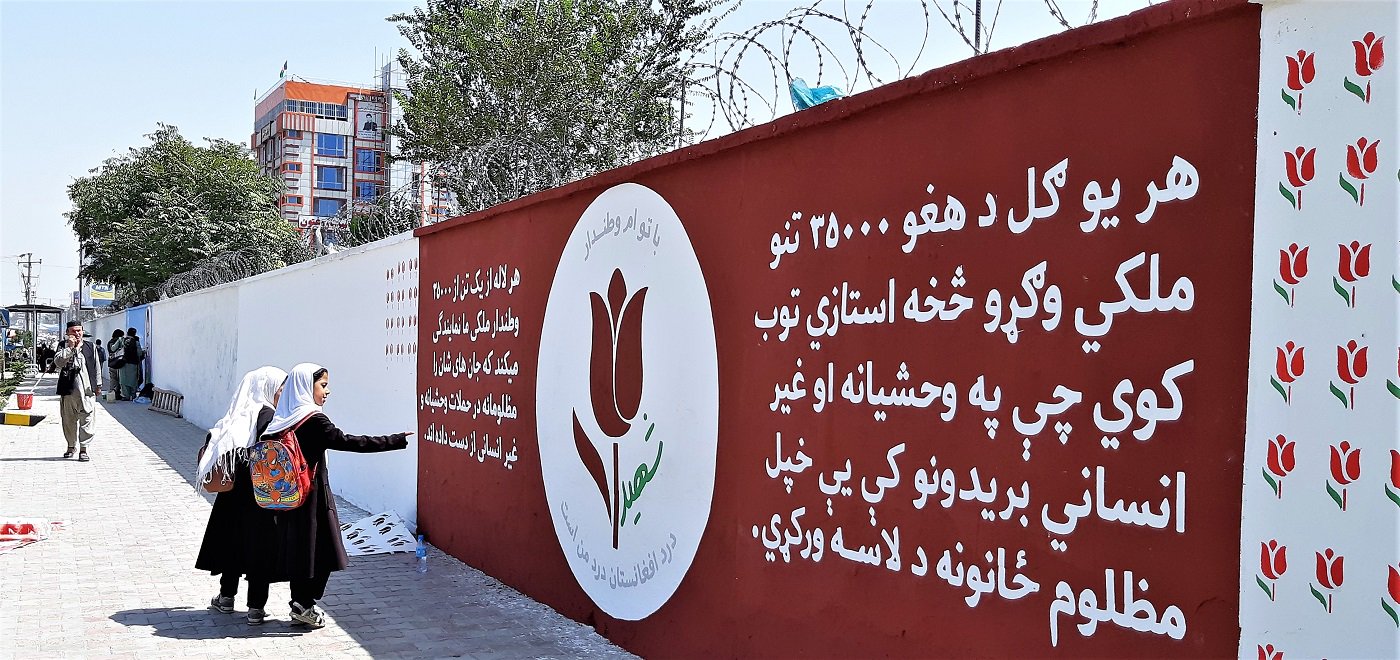 "The Talib are sitting in a room with Americans, but what about us? We're suffering. We're losing our friends and families," said Sharifi.
On August 18, a day before Afghanistan's 100th Independence Day, a suicide bomber killed 92 people and injured 142 at a wedding in Kabul.
Thousands have died in the decades-old conflict. ArtLords claims that around 35,000 have been killed in the past 18 years. In their most recent campaign, the artists are painting a tulip for each life lost.
"These are not just numbers, they have stories too," said Mokamel. The red tulips in Afghan lore represent "bleeding hearts." Tulips are also a symbol of martyrdom in Shia and Persian traditions.
A Persian ballad by Iranian poet Aref Qazvini, in a phrase similar to what Mokamel recited in Dari, described the symbolism of tulips:
از خون جوانان وطن لاله دمیده (From the blood of the nation's youth, tulips have blossomed).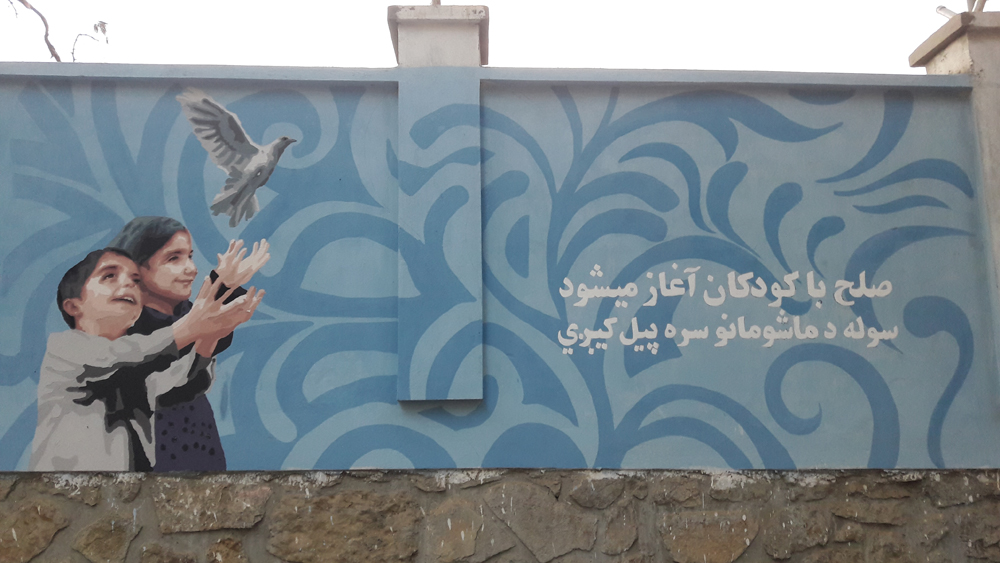 His colleague and co-founder, Kabir Mokamel, said while growing up in the house that is now an ArtLords office during the time the Russians were in Afghanistan, there were no blast walls.
"Now some government officials and the powerful have erected blast walls on every street. They are protected but not the people who live and commute outside the walls," said Mokamel, who has a blast wall around his house.
ArtLords began in August 2014 with three murals and a team of four. Five years later, they have more than 600 murals in 10 provinces and 53 members.
In their first campaign, 'I see you', the artists painted around 25 pairs of eyes to indicate that people were watching the country's corrupt. As part of another campaign, hearts were shown fluttering on walls across the city.
Sharifi said the hearts were an attempt to bring kindness and love to a city torn apart by explosions and corruption. The campaign was inspired by the works of the anonymous England-based street artist, Banksy.
"A part of our work is also to introduce heroes — those without guns. My heroes are people with pen or brush. We have a lot of journalists, women, and, of course, Rashid Khan is our hero," Sharifi added.
To change the largely male narrative of the Afghan mainstream, the collective has painted many women on walls. Women appear as students, professionals, singers and even in the blue burqa often seen as a sign of the oppressive Taliban regime.
The collective often prints labels with the names of women and pastes them at the city's streets. "Not one street in Kabul is named after a woman. They are all named after jihadis and shaheeds (martyrs)," rued Mokamel.
One of the names ArtLords used was of Komal Singh. In July 2018, an Afghan Sikh leader, Rawail Singh, was killed with 18 others in a blast in the eastern city of Jalalabad. Komal is Rawail Singh's daughter.
A few days later, the collective had painted a mural of Komal with her father. The text on the mural in Urdu, Dari, Pashto and English read: "You are not going to heaven, you have killed my kind father."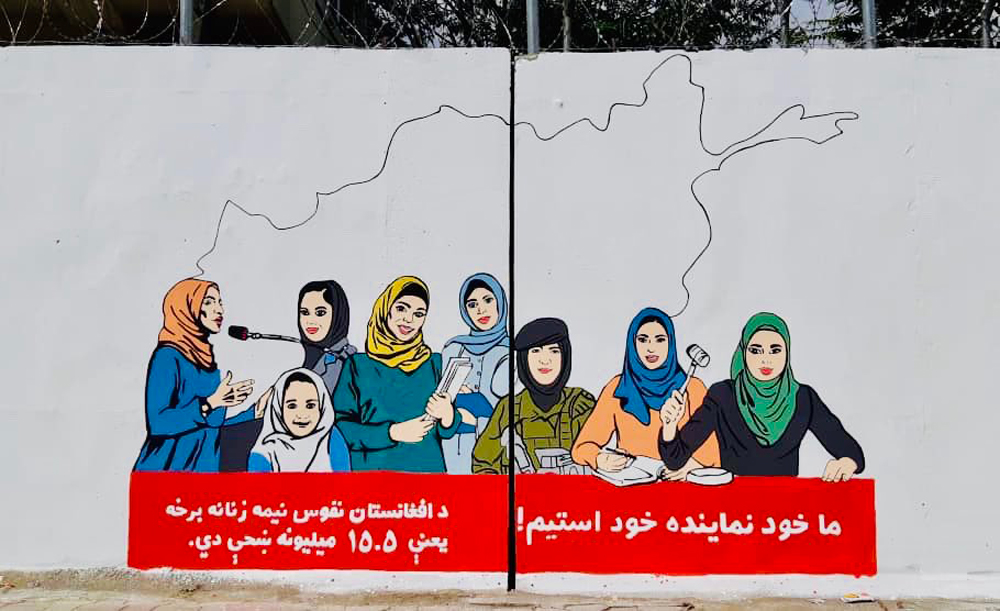 With blasts becoming commonplace in the city and US President Donald Trump pulling a plug on talks with the Taliban, a peaceful future still seems a distant dream.
"The Talib is a reality in this country and Pakistan… We just have to come to a conclusion to respect each other and find a way to live while doing our own things," said Sharifi. "Art will flourish when there is oppression."
According to an Economist report, 2018 was the deadliest in Afghanistan since the early 1990s. The publication mentioned that violence in the country was worse than even Syria. In August 2019 alone, according to the data collected by BBC, more than 2,300 people have been killed.