Yuletide yum
Spread the warmth this Christmas with these three easy recipes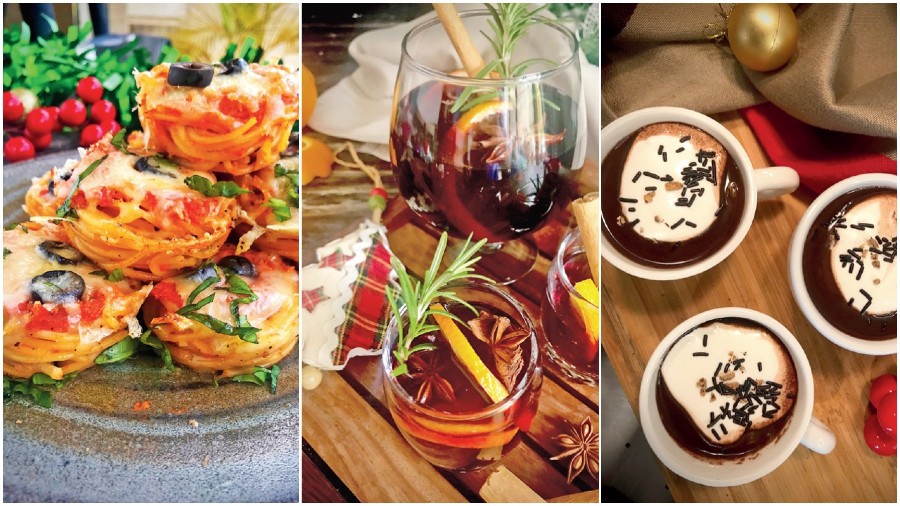 ---
---
It's the last few days of the year and that time when we all reflect on what this year meant for us and what we have to look forward to in the next. While most people will say "forget 2020" or "2020 never existed", I like to look at the silver lining and focus on the few positive outcomes of an otherwise difficult year.
We went back to living life like the good ol' times where family time at home was the centre of all activity. We ate healthy home-cooked food and even enjoyed cooking together (every second person is now a "chef"!), spent more time outdoors in the lap of nature inhaling fresh clean air rather and absorbing some vitamin D rather than air-conditioned shopping malls and stuffy gyms. We selected a few close friends to hang out with and avoided the 'crowd' that does not matter anyway.
Personally, for me, it was a nice break from all those social pressures. We spent less time and energy in traffic and on dressing up and used that time to read more books, pursue our passion and so many people have even innovated something significant! Board games and hopscotch with grandparents, watching movies curled up on the couch with warm hot chocolate rather than synthetic drinks and junk food is what my kids have been enjoying.
Yes, for many this was a year of grief, loss and suffering and my heart goes out to them. Hopefully, this Christmas will bring warmth, hope and cheer and here's my humble contribution to help you get that festive spirit going in your home and hearts. Cardamom hot chocolate, an easy mulled wine and the most addictive spaghetti muffins!
Sending you positive vibes, love and light this Christmas.
Festive spaghetti muffins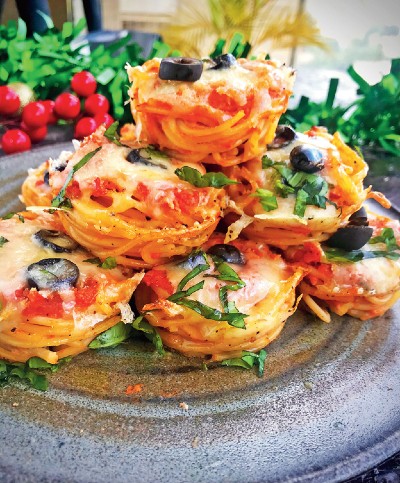 These cute things are traditional picnic food in Italian homes and a popular snack for the kids. Easy and practical for mums as you can plan a spaghetti dinner the previous night and make extra to repurpose into these cute muffins the next day. I often add some grated 'hidden' veggies or chopped spinach inside for my boys and then spice it up for the adults.
For added protein, you can always add one additional egg. If you do not eat eggs, just add in some cheddar in the beginning, which will help bind it all together.
With the gorgeous festive colours of red, white and green, you know you want these babies on your table this December! Here's how you make 12 mini muffins.
Ingredients
⦿ Cooked spaghetti: 350g-400g
⦿ Italian tomato sauce (red sauce): 1 cup
⦿ Parmesan cheese: ¼ cup
⦿ Cheddar cheese: ¼ cup
⦿ Egg: 1 (optional)
⦿ Bread crumbs: ¼ cup
⦿ Sliced black olives (optional): ¼ cup
⦿ Grated veggies (optional): ¼ cup
⦿ Fresh basil leaves
⦿ Salt and black pepper to taste
⦿ Chilli flakes (optional)
Method
⦿ In a bowl, combine half the tomato sauce and cooked spaghetti and toss together.
⦿ Add parmesan cheese, couple of pinches of salt, chilli flakes and black pepper (if using) and a few chopped basil leaves and mix gently.
⦿ Whisk an egg and add it in. If you do not consume egg then add in 2tbsp extra of cheddar cheese. Add in any grated vegetables or chopped spinach if you like.
⦿ Brush a silicon muffin tray with olive oil and fill in the base of each cavity with some breadcrumbs. You can also use a metallic muffin tin and insert paper cups or grease them well for easy removal.
⦿ Twirl the spaghetti with a fork neatly into the cavities. Top with a teaspoon of the remaining tomato sauce, olive slices and a sprinkle of breadcrumbs.
⦿ Preheat the oven to 200°C and bake the muffins for 10 minutes. Remove the tray after 10 minutes and add the grated cheddar cheese on top.
⦿ Reduce heat to 180°C and bake for another five minutes or till the cheese has melted and the top of the muffins are slightly browned.
⦿ Cool outside on a wire rack for 10-15 minutes before removing the muffins and finish with chopped basil leaves.
⦿ Serve at room temperature so one can hold them in their hands and bite in like a regular muffin. They can be stored in the fridge for up to two days and also taste delicious cold!
Cardamom spiced hot chocolate shots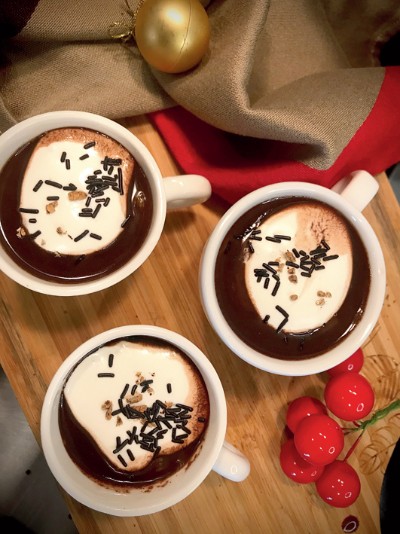 This is a classic hot chocolate that I have been making for years at home. The cardamom is my little Indian touch to take it to another level and, believe me, it makes all the difference. Sometimes, I add a little grating of fresh ginger for an added taste of India and, surprisingly, it works really well.
Ingredients
⦿ 2 cups whole milk
⦿ 2tbsp cocoa powder
⦿ ¼ cup sugar
⦿ ½ cup chopped dark chocolate
⦿ 2 cardamom pods, pounded
⦿ 1 cup whipped cream
Method
⦿ Heat the milk in a saucepan and bring to a simmer. Whisk in the sugar, cocoa and stir till combined. Add in the chopped chocolate and cardamom, stirring occasionally until the chocolate has melted.
⦿ Strain (if you want to eliminate the cardamom bits) into small cups, top with a dollop of whipped cream and some chocolate shavings or chips.
Warm mulled wine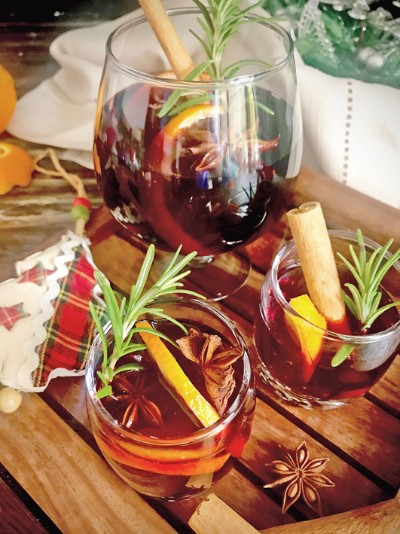 The cold gloomy weather and festive spirit calls for some fuzzy warmth and this mulled wine is sure to be your 'December drink'. At parties, I like to serve it in in shot glasses as a little welcome drink and, of course, the guests definitely come back for more! At home, this is a great one to curl up with on the couch. You can bottle this mulled wine and with some attractive ribbons, they make excellent Christmas gifts.
Ingredients
⦿ Red wine: 1 bottle
⦿ Orange, sliced into rounds: 1
⦿ Cloves: 6
⦿ Cinnamon sticks: 3
⦿ Star anise: 3
⦿ Honey: 2tbsp
⦿ Brandy (optional): ¼ cup
Method
⦿ In a saucepan, combine all the ingredients. Bring to a simmer over medium heat then cover and simmer on low heat for 10 minutes.
⦿ Serve warm and garnish with some extra cinnamon sticks, citrus slices and rosemary sprigs.
Natasha Celmi is a chef and the author of the cookbook Fast Fresh Flavourful. Her Instagram handle is @cucinamiabynatasha