The original supers: None with a cape
There are some items that have been a part of our daily diet for ages that definitely qualify for the 'superfood' tag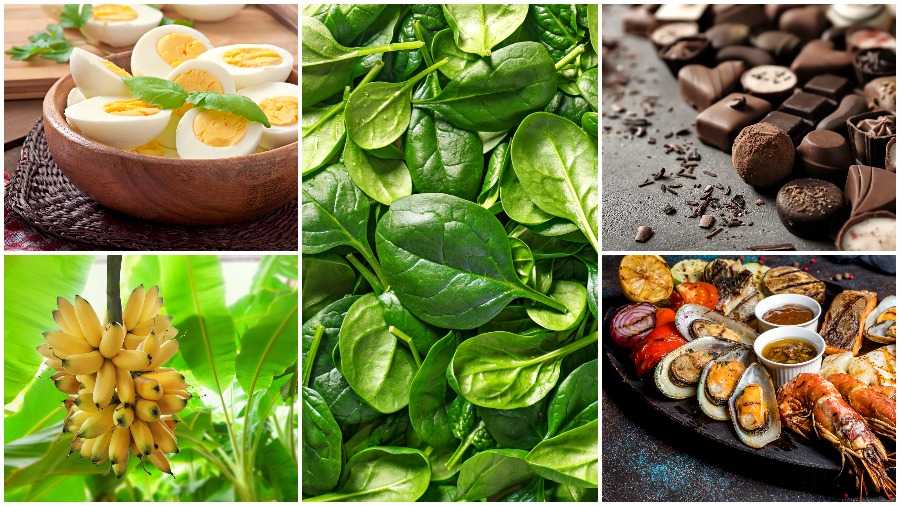 ---
Published 03.10.21, 05:55 AM
|
---
The other day, while roasting some sweet potato in my kitchen and minding my own business, my elder daughter barged in, ostensibly enticed by the charcoaled waft, and made an inquisitive face, you know like teenagers do when they're unsure of the reaction their reaction might have and if their chosen vocabulary will be accepted.
Usually a fussy eater, and a hater of all things potato, she squealed in distinguishable joy and asked when this will be ready and will I serve it with some 'pink sea salt and a squeeze of lime'. While still fathoming if and how she grew up from her craze for Kurkure and hitched the bandwagon of basic country food, she read out from what seemed like a prepared mini-speech in her head.
Before I could tell her about my own experiences of eating coal-roasted sweet potatoes and other vegetables in my childhood and how those used to be so much fun, that I appreciated that she, finally, even if momentarily, came around to enjoying non-packaged food, she went completely on a tangent and went on to describe how sweet potatoes are among the most sought after 'superfoods', especially with her chosen condiments.
She told me that, apparently, Christopher Columbus was a great fan of sweet potatoes, which are a native of Central America, and that it has beta carotenes, antioxidants, vitamin A and many other essential nutrients and was great for growing children and, therefore, it was welcome in her daily evolving diet plans that included or are on the sidelines of inclusion of some other foods such as linseeds, avocados, kale and spinach.
While I almost wished she could read earlier and we would be saved from the traumatic years of food tantrums, I did appreciate that through the different mediums people in general and kids in particular are somehow getting aware of our food heritage and the new concept of healthy foods, popularly now known collectively as 'superfoods'.
In this article, let us discuss some of the  foods that we eat regularly, or certainly should eat more regularly and see how they came about as being the new 'super's — and none with a cape.
Chocolate
As a trained chocolatier, I can vouch that chocolate indeed is a superfood, just going by the smiles it brings to the faces of people while they are eating it. If we come to children, it's what they'd probably call 'super-duper'. While all chocolates might not be super, or duper, it is true that chocolates indeed are good for us, for emotional health as well as physical.
While indeed chocolate is one superfood that tastes great and is great for us too, turns out that the flavonoids and antioxidants in cocoa have great many health benefits, including maintaining blood pressure, providing roughage and lowering cholesterol and regulating healthy fats. While all of this sounds great, it is also true that many commercially produced chocolate confections contain very high amounts of sugar and some additives such as hydrogenated fats and artificial flavours, which are best avoided.
Also, being calorie-rich, portion control should be practised, 30g-60g of dark chocolate is a good indicative portion, per day. Much more than that will be considered as being too many calories coming out of a single food source and, hence, unbalance the calorific intake. Also, chocolates contain a compound called 'tryptophan' which enhances mood and causes the feelings of 'being in love'. Well, that's all the reason I need for it being a superfood!
We at Flurys have a great collection of chocolates and we keep experimenting with new variations and recipes to take this already superfood to a more super level.
Bananas
Most among us might not know, but bananas are considered to be the 'original' superfood, in as much as commercial recognition of superfoods is concerned. The humble banana started the superfood trend almost a century back in the US in the 1920s when the United Fruit Company ran a series of colourful advertisements detailing the health benefits of bananas and multiple research was conducted towards establishing that.
Apart from the nomenclature alone, there are incredible health benefits of bananas since they are packed with Vitamin B6, Manganese, Vitamin C and potassium and are also low in fat, sodium or cholesterol. Bananas also contain quite a bit of fibre and are the most convenient healthy snack that can be.
For athletes and especially cyclists, bananas are the best form of any-time energy booster. For chefs, bananas are among the most versatile cooking ingredients, used in various forms and in a multitude of dishes. So, there's enough reason to go bananas about bananas and give due recognition to this humble superfood, one that is portable, affordable and extremely nutritious.
Spinach
Even if we choose to ignore the famous cartoon sailor-man Popeye, who famously used to get his superpowers from cans of pureed spinach, it is true that the humble leafy green is indeed eye-poppingly nutritious and considered to be among the healthiest foods that there is.
Spinach is full of antioxidants, vitamin C, vitamin K and beta carotene as well as lutein and zeaxanthin. Spinach is the greatest vegetarian source of iron and is, therefore, a complete superfood that is extremely low in calories and fats and is a powerhouse of nutrients that are good for our eyes, skin, heart and general well-being.
Culinarily, spinach is extremely versatile and chefs like to use it variously in salads, soups and side dishes. In Indian cuisine, some very iconic dishes use spinach as the main ingredient and are paired with meats, fish and our very own cottage cheese, paneer.
Seafood
Fish and seafood have nutritionally sustained civilisations and there are pieces of evidence of these being consumed even in prehistoric times; scientists believe that fish formed a regular diet of humans 40,000 years ago! While one might argue that it's an awfully long time for it to gain entry into the superfoods club, the fact is that seafood is among the most nutritionally rich known to humans.
Packed with low-fat proteins, essential nutrients, calcium, zinc, potassium and iron, fish is a true powerhouse. Fish are also very high in Omega-3 fatty acids, which are considered a superfood in their own right. Fish are known to boost heart health, enhance brain function and is great for eye and nerve health. As a chef, I can't even begin to delve into the culinary virtues of fish.
Eaten across the globe, in all cultures and communities, fish is among the most culinarily versatile ingredients available to a chef that they can create magic with. So much so that fish are also an integral part of many religious observances and festivals, even marriages. Among the shellfish, mussels are considered a powerhouse of nutrients, with high levels of zinc, selenium, iron and vitamins B12 and B3. Fish are also easily available and easily cooked, so if you need to look for a real superfood, well, it's much nearer the horizon.
At Flurys, fish is one of our most sought-after foods and we have also recently incorporated numerous mussels, salmon and squid dishes that have been appreciated by our patrons, our little bit in serving food that is nutritious, delicious and environment friendly.
Eggs
In as much as being nutritionally rich is concerned, eggs are right there at the top of the chain, truly 'eggceptional' if I were to indulge in a bit of wordplay. To say, one egg contains enough nutrients to nurture and grow a baby chicken, if there is any other definition of a true superfood, maybe we need to define that again. Eggs are considered the most 'complete' food that contain all nine essential amino acids, highly concentrated with vitamins and minerals and the best source of choline and omega 3.
Eggs also are very high on the satiety index and contain very few carbohydrates. They are also extremely affordable and easily available, making them a great choice for all. As chefs, we use eggs in almost every component of food, be it soups, salads, main course, desserts, even dressings and beverages. As a breakfast destination, we here at Flurys make the best culinary use of this humble superfood and serve it in many variations, the most popular being our Egg Benedict and the iconic omelettes.
While there are numerous other superfoods, some new and some ancient ones that have been rediscovered lately, I think that the point I'd like to make is that we should be aware of what we are eating and whatever superfoods you might or might not include in your regular diet, there is no substitute to having a balanced diet.
Recently, there have been a lot of trendsetting foods that have found due mention as superfoods — such as kombucha, hemp, avocados, chia seeds, and so on. But the purpose of this column, I believe, is to include ones that we consume in our daily diets. I would definitely want to do another column on the lesser-known, amazingly healthy foods, but I do have a word limit and a beautiful recipe to share, so check it out.
Vikas Kumar is the executive chef of Flurys. You can reach him at vkumar@flurys.com
Pictures: Shutterstock and courtesy the author
Wine Steamed Mussels with herb butter and gremolata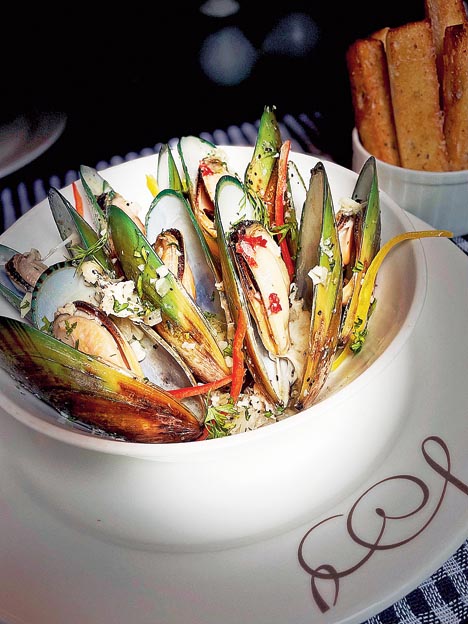 This is the superstar of superfoods if I were to put it that way. Mussels are easily available nowadays and are somewhat of a culinary revelation. Many people feel a little iffy with less popular seafood, but for me as a chef, one of the objectives is to 'take the fear out' of my readers from the foods that they think are difficult to prepare. This recipe is among the simplest fish recipes you'd ever encounter and is truly the epitome of simple seafood cooking, ready in minutes, looks beautiful and tastes better and is incredibly healthy, with hardly any fats or carbs and is gluten-free too, if you choose to serve it without the bread.
Ingredients
• Fresh mussels: 500g
• Garlic, finely chopped: 25g
• Onion, finely chopped: 50g
• White wine (use good quality, one that you're comfortable drinking): 50ml
• Lemons: 2
• Butter: 50g
• Fresh parsley: 25g
• Fresh cream: 20ml
• Salt and pepper: To taste
Method
• Clean the mussels thoroughly, discard any that are open.
• Heat butter in a pot, add the garlic and onions, cook until soft. Add the wine and a bit of water or stock if you have.
• Now add the mussels and toss them nicely. Cover and cook at medium heat for 6-10 minutes. Check if any mussels have not opened, do not use those.
• Take off the heat and add the cream and the parsley. Add a splash of lemon juice and these are good to go.
• Serve with a wedge of lemon and some good crusty bread. If you want to spice it up a bit, add a finely chopped fresh red chilli like I have done.