The breakfast club
'Luchis' and 'shingaras' to dumplings and 'dal-gosht', Calcutta has enough worth getting out of bed for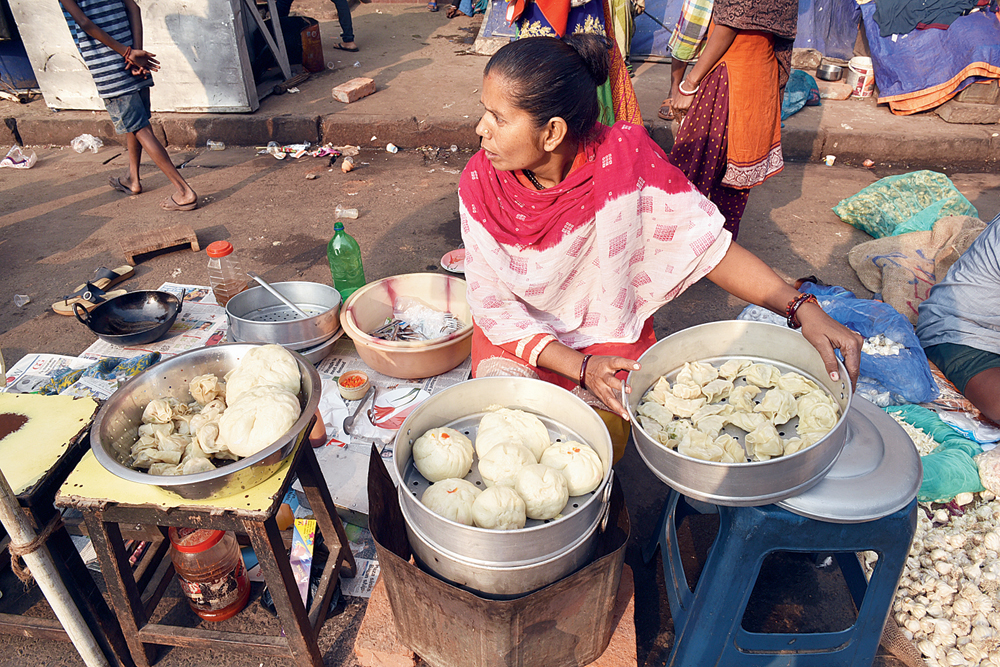 In Tiretti Bazaar, the breakfast scene is totally different. It is teeming with people selling their wares on the street... The steamed bao with a variety of fillings is most popular. This is street food. And it could not get any better than this
Picture: Rashbehari Das
---
Published 14.12.19, 01:47 PM
|
---
Sunday mornings, my father would wake us up in his booming voice: "Wake up! It's time for break-faast." He would put an added emphasis while breaking the word 'breakfast'! We would all scramble to brush our teeth and run down for breakfast because Sunday breakfast meant white fluffy luchis and aloo torkari (potato curry) or luchis with shada phulkopir torkari (white cauliflower). We never veered away from this routine and sometimes I still miss it.
Breakfast being the most important meal of the day, my parents would insist that it be a hearty one. A friend of mine would eat fish curry and rice at eight or nine in the morning before going to school/college. As far as I know, he still does that. This is a common occurrence in most Bengali households — rice with boiled egg and potato with a dollop of ghee or just rice and dal. I, too, tried it once or twice. Unfortunately, after that I couldn't keep my eyes open in class! Well, I guess it's a matter of habit.
As I grew older, that's when I began to realise that Calcutta had a plethora of places that one could visit for breakfast. The city is literally and figuratively a gourmand's delight. Every serpentine lane or street is dotted with shops selling shingaras, nimkees and sweets. As morning begins early in the east — around 5-5.30am — most Calcuttans are early risers. Therefore, the need for countless breakfast haunts.
A heavenly combination

There is a saying: "All happiness depends on a leisurely breakfast." And we laid-back Bengalis just love a leisurely and lengthy breakfast with all the paraphernalia. The typical Bengali breakfast that comes to mind is the kochuri aloo dum. The kochuri would be hot and stuffed with either green peas or urad dal, then it would be called a radhaballabhi. Sometimes these kochuris would be accompanied with a spicy aloo dum or a gravy potato curry with hing (asafoetida). But nothing like when it is combined with chholar dal — the most heavenly combination. And, of course, the dal has to be sweet and thick with bits of coconut in it. The best comes from Putiram near College Square, an institution that has been there for decades. The shop opens at 6am. And people actually line up to eat at that ungodly hour because everything finishes by 8am!
If ever you are around south Calcutta near the Lakes, you will see scores of people briskly walking around with mufflers and sweaters as winter descends. After losing a few calories, most of them make up for it by marching down to these little chai shops for shingaras and bhanrer cha (tea in earthen pot) or luchis and ghugni. And, of course, the wholesome adda that is so inherent to a Calcuttan. I have witnessed this in Sweet Bengal where these morning walkers gorge on this breakfast after a refreshing walk. Sometimes they even come in with their dogs!
As there is an eclectic mix of people in this city, there are also various kinds of breakfasts to choose from. At Tiretti Bazaar, where the majority of the Chinese in the city have settled for long, the breakfast scene is totally different. It is teeming with people selling their wares on the street — mouth-watering dim sums, momos and dumplings in a fish-ball soup. Or even their pork or chicken noodles and fried rice. The steamed bao with a variety of fillings is most popular. Visitors come from all over to partake this delectable breakfast. One has to be an early bird since everything winds up by 9am. This is street food. And it could not get any better than this.
Mughlai to English fare
Another kind of breakfast that is very popular and also my favourite is the Mughlai kind. It satiates the stomach as well as the heart. It is a really heavy one with lamb or beef nihari, chaanp or keema that have to be blotted up with hot tandoori rotis or naans. Sufia on Chitpore opens at 4.30am. Their paaya with gravy is a dish to die for. You have to be there early because everything is over by 6am. Unbelievable!
Shiraz in Park Circus also makes a wonderful dal-gosht. Taking a last lick of the gravy can keep me happy and going for the rest of the day. One must not forget the fluffy dal puris (made with chana dal) that you get in the many corners of Ripon Street. Dal puris accompanied with a cup of milky tea — heavenly!
I have some Punjabi friends with whom I sometimes go for morning walks to Victoria Memorial. They would insist that we breakfast at Balwant's Dhaba on Harish Mukherjee Road. More often than not, the lure of breakfasting at Balwant's would give me the incentive to go for a morning walk. Just the thought of their aloo and paneer parathas, their chhole bhatures and samosas would force me to wake up so early. Not to forget their kesari chai — hot milky tea with saffron... just delicious!
Then again there are enough breakfast places for those who love to eat dosas, idlis and vadas. In fact, these south Indian cafes are spread all over the city because they are also excellent for midday or mid-evening snacks.
How can I ever forget the Breakfast at Tiffany's scenario for the brown sahib. Calcutta sometimes is even more British than the actual Briton. Places like Flurys have always been an epitome for their English breakfasts — fried eggs, sausages, baked beans on toast, buttery croissants... I still smack my lips. In college, we would save money to be able to share a plate of baked beans on toast at Flurys. It never tasted the same anywhere else. Nowadays, a lot of new places have come up serving British and American breakfasts. It is becoming more and more popular with Gen Next.
I can only reminisce about all these lip-smacking breakfasts in Calcutta. Because as one grows older, one is restricted to an unappetising breakfast of oats, muesli or dry toast. However, I've still managed to sneak in a breakfast or two at these wonderful places during my visits to Calcutta. Then my day and my trip is made.
Anjan Chatterjee is the chief of Speciality Restaurants, which owns Mainland China, Oh! Calcutta, Cafe Mezzuna, Hoppipola, Asia Kitchen, Riyasat and more. And yes, he is a foodie!